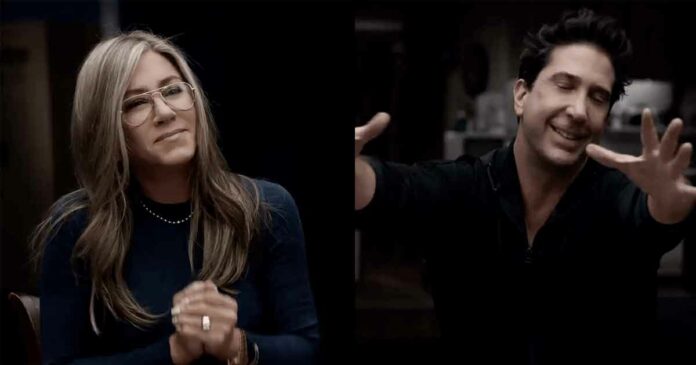 The FRIENDS reunion is finally out, and fans are soaking in the good old days of the hit sitcom from all across the globe. The reunion saw the six best friends Courteney Cox, Lisa Kudrow, Jennifer Aniston, Matthew Perry, Matt LeBlanc, and David Schwimmer come together after 17 long years and reminisce all great things about the show. However, David and Jennifer's revelation that they both crushed hard on each other might be one of the biggest highlights of the show.
During an interview with "The Late Night" show host James Corden, the six cast members gathered on a very Central Perk-Esque couch and discussed the show's amazing impact on pop culture and American television. But, when James Corden asked the cast if they have feelings for each other IRL, stars Jennifer Aniston and David Schwimmer have revealed that they had a thing for each other in real life during the early episodes of the show.
"so we just channeled all our love and adoration for each other through Ross and Rachel." – Jennifer Aniston, 2021

JENVID. THE ONE THAT COULD HAVE BEEN. #FriendsReunion pic.twitter.com/9J3bJ6kT83

— shane (@shanianiston) May 27, 2021
Schwimmer said, "The first season, we, I had a major crush on Jen." And Jennifer instantly says, "It was reciprocated." Schwimmer further continued, "At some point, we were both crushing hard on each other but it was like two ships passing because one of us was always in a relationship. And we never crossed that boundary." He admitted, "You know, we respected that, but we both…" At this point, Schwimmer was interrupted by Matt LeBlanc who said "bulls***". The cast and the crowd erupt into laughter as Aniston protests, "No, no! No. No, no."
She protested, "Honestly. And I remember saying one time to David, 'it's going to be such a bummer if the first time you and I actually kiss is going to be on national television.'" She further continued, "Sure enough, the first time we kissed was in that coffee shop. But we just channeled all of our adoration and love for each other into Ross and Rachel."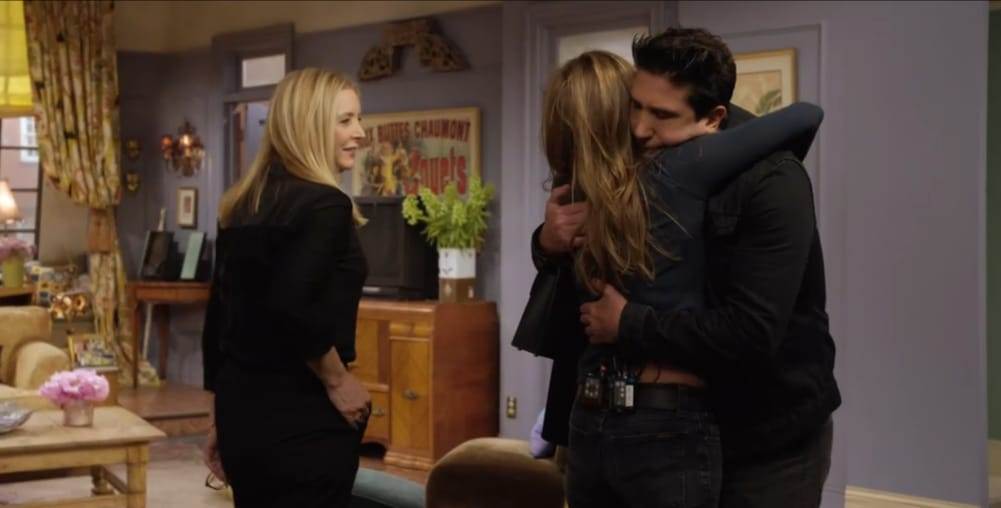 Our beloved characters, Ross and Rachel didn't date during the first season. However, eventually, they both got together in 1996, season 2 episode "The One Where Ross Finds Out." Then James said something that we are still thinking, "Is this blowing anyone else's mind?" Moreover, the pair did a table read of their first kiss scene, following the crush revelation, interspersed with footage from the episode.
As Matt had hinted, David later admitted, he and Jennifer shared some intimate moments while shooting for the show. He recalled, "I thought back on the very first year or two, you know, when we had breaks from rehearsal, like, there were moments where we would cuddle on the couch." "Or we would spoon and fall asleep on the couch" Jennifer continued by sharing. David also wondered, "how did not everyone know we were crushing on each other?"
Here, Perry jumps in and says, "We Knew! We Knew!" And Cox adds, "We knew for sure." According to his fellow friends, their low-key and secret love wasn't so secretive after all. David told his castmates, "Great, thanks. It was a situation that we couldn't, we couldn't do anything about it." Because they both were never single at the same time to take it any further.
Reportedly, until 1994, Jennifer was dating Daniel McDonald and then Tate Donovan from about 1995 to 1998. However, the Emmy winner married another FRIENDS guest star, Brad Pitt from 2000 to 2005. And after that, from 2015 to 2017, she was married to Justin Theroux. On the other hand, David tied the knot with artist Zoe Buckman in 2010 and split in 2017. He was reportedly linked to singer Natalie Imbruglia while filming FRIENDS from 1996 to 1997.
Well, Courteney seems to think it worked out for the best. She believed that it was best that Ross and Rachel's romance remained on-screen. She mused, "How great though, ultimately. Cause if you had and it didn't work out, it would have not probably been as great."
But what if it did????
As per the article of Republic World, Jennifer and David were even living under one roof for quite some time. They were afraid to reveal their relationship publically because they thought that it might hamper their on-screen chemistry. Unfortunately, the duo soon went down a rocky road and decided to split. But, none of the cast members have ever confirmed or denied these reports.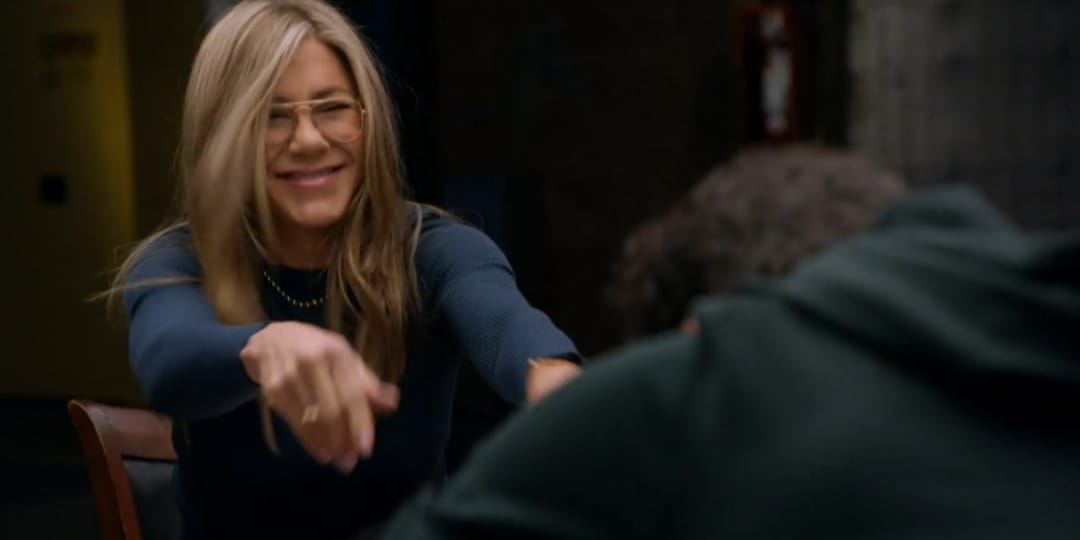 However, David and Jennifer's candid confession about their love for each other sent their fans into a frenzy. Considering both of them are single, fans took to social media to tweet frantically about how they could still start dating. As a result, "#Jenvid" gathered some steam on Twitter. Check out some of the crazy fans reactions after hearing the news:
David and Jen admitted that they had a crush on each other on camera😭😭#FriendsReunion #Jenvid

— 𝑱𝒆𝒏𝒗𝒊𝒅 𝒊𝒔 𝒓𝒆𝒂𝒍♡ (@pyaarhaigham) May 27, 2021
#FriendsReunion SPOILER❗️

This scene hits so different now 🥺 #Jenvid pic.twitter.com/cNmfqzCdzu

— tati ☽ writing a thesis (@jenhiddleston) May 27, 2021
The Roschel scenes are never gonna be the same again with THIS BRAND NEW INFORMATION 😭❤ #Jenvid #FriendsReunion

— ✨ (@BarunFanSays) May 27, 2021
Are you kidding?
It's like the door of the past opened, if you look, when LeBlanc said "Bullshit"
Jen and David were scared haha✨💛.#jenvid #FriendsReunion #FriendsTheReunion #JenniferAniston #DavidSchwimmer pic.twitter.com/52aLx29qrX

— Best of David Schwimmer. (@Schwimniston) May 27, 2021
Here's to a love that was. ❤
One that was "channelled into Ross and Rachel"
Only you two know how much you felt for each other; if if the timing is right now, I hope that you two find your way back to each other (PLEASE) ❤ #davidschwimmer #jenniferaniston #FriendsReunion pic.twitter.com/GmmQfYPaki

— ✨ (@BarunFanSays) May 27, 2021
Also, at this point, #jenniferaniston and #davidschwimmer are single as far as I know soooo… 🤷🏼‍♀️🤷🏼‍♀️🤷🏼‍♀️😜😜😜 how perfect would that be if they ended up together in real life. Ugh. The chemistry kills me!!

— Lee🖤 (@Snows8thDwarf) May 27, 2021
JENNIFER ANISTON AND DAVID SCHWIMMER FINALLY CONFESSED THAT THEY HAD FEELINGS FOR EACHOTHER.
THEY WERE CRUSHING HARD ON EACH OTHER.
AND THOSE CLIPS OF THEM TOGETHER .
OMG 😭😭❤️❤️❤️#FriendsReunion #JenniferAniston #davidschwimmer

— TeamWinget♕ (@Khushiii_21_) May 27, 2021
Now David's single and Jen's single too!! Please let them get together, I can't sleep knowing they were crushing on each other !#FriendsTheReunion #Friends #davidschwimmer #JenniferAniston pic.twitter.com/wM1mUqxkUv

— Navadeep Vedantham (@NVedantham) May 27, 2021
It's unclear if Aniston and Schwimmer wanted their "crush" to become public knowledge for a PR boost or if the cast knew ahead of time that Corden would ask about off-set romance. However, this revelation explains that why over the course of FRIENDS' 10-year grip on TV, Ross and Rachel became such a sensation. However, Aniston of course went on to marry Brad Pitt and Jennifer, and David's affection was lost in between.
But after so many years they have revived those memories and there ought to be a reason behind it. Is it possible for them to go ahead and give it a try given the fact that now everyone would be aware of it and there's no one to object? They both are single now and there's quite a possibility that it might the best for them. And not just them, even fans would be really excited to see them together. What do you think? Did they make this news public for a reason? Will they try to get together in the near future?