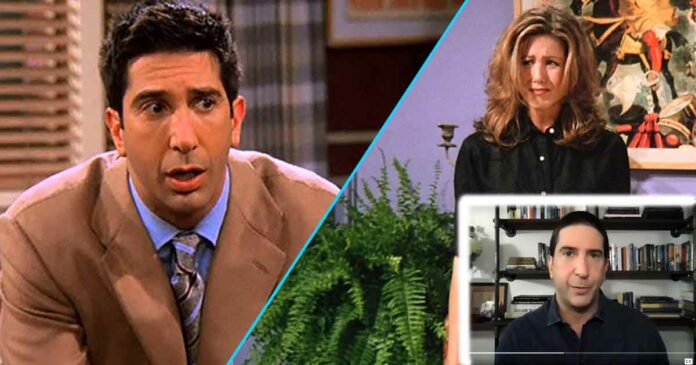 The 90's sitcom Friends is not just famous for its comedy but is also famous for romance. The show has projected multiple couples. Each of these couples was unique in their own special way. Chandler and Janice 'the chaotic couple', Monica and Richard 'the darling couple', Phoebe and David 'the adorable couple', Ross and Julie 'the winsome couple', Rachel and Joshua 'the heart-throb couple' and Joey and Kate 'the tragedy couple'. But, some couples have a special place in our hearts. The show is just as incomplete without the significant friendships as it is without the endearing romance. Chandler and Monica, Rachel and Ross, Phoebe, and Mike are the evergreen couples whom we will cherish forever. Who can forget the time when Chandler expressed his feelings and his longing for a child to Erica or the epic Ross and Rachel's 'we were on a break' phrase?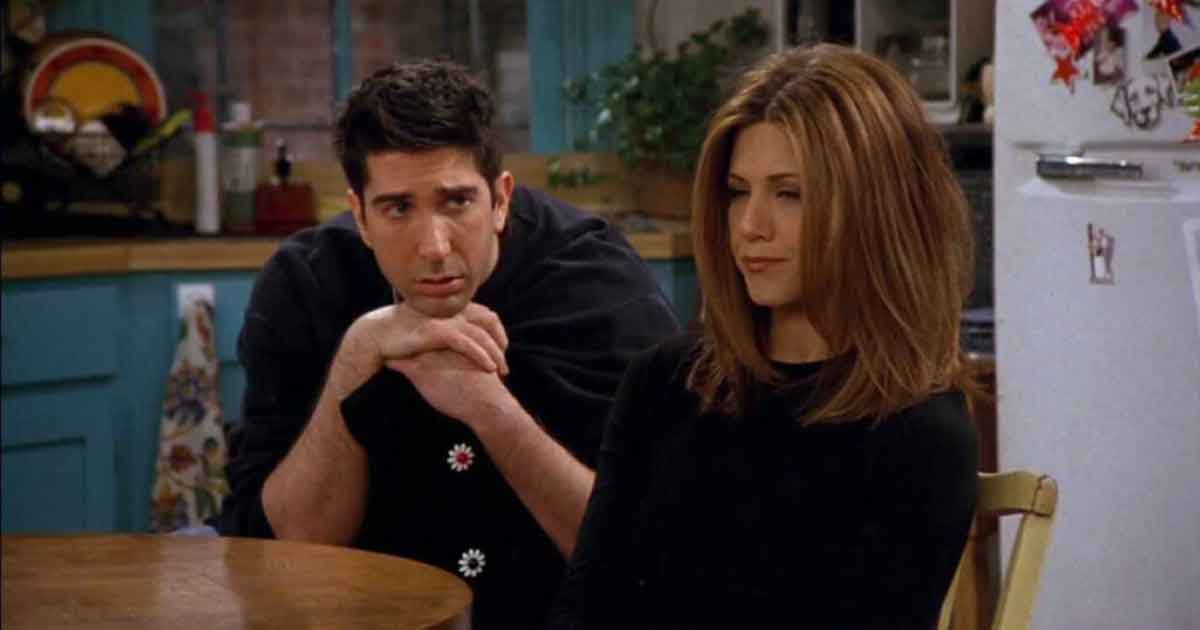 Even after years, the cast of Friends is still bothered with questions from the show. It so happened recently that David Schwimmer attended a virtual meet with Jimmy Fallon. And guess what? They started with talking about David's new web series but ended up getting stuck with FRIENDS yet again.
Jimmy asked David many questions from the show and we must admit, his answers were amusing. Friends Fans loved the interview as they learned a lot many things about David and Ross. One question by Jimmy grabbed the most attention and that was undoubtedly David's stand on the "We were on a break" fiasco. Well, what do you think his answer might have been to this?
The one where Ross and Rachel take a break.
Before we proceed with David's reply let's take a moment to cherish the phrase that became the point of debate for fans all over the world. The 'we were on a break' phrase has become an iconic line from the show. Surely, it is the first thing that comes to our mind when we talk about Ross and Rachel. This phrase alone has a different fan base! Well, everyone remembers the episode very well, where Ross and Rachel have a heated argument because Ross suspects that Rachel's interest has perhaps now shifted to Mark (a guy from her workplace). This upsets Rachel very much and this starts the whole "Break" thing. Even the time when Ross calls Rachel and Mark was with her. Oh boy, it might have been terrible for Ross! But most people forget this fact. While he did the mistake of having an affair or a fling with Chloe, he was heartbroken and drunk.
The next day, we all know how things worsened and finally, Rachel and Ross coined the phrase 'We were on a break, no we were not!'
After this day, we have heard the line a million times and every time we did, it was amusing! Never bored us at all. Even the time when Rachel and Ross were together again, but Rachel's 18-page letter ruined it back. Let's admit it here, it was Rachel's mistake to put all blame on Ross and stay clean. It was a relationship they were restarting, here you can't just put the burden on one person and expect everything to stay balanced.
Well, Ross and Rachel started it but fans have stretched it to a place where we don't have a conclusion even today. So again after years, we turned back to David Schwimmer for the final judgement. He replied to Jimmy in the interview and you are about to witness it now.
David Schwimmer's recent episode with Jimmy Fallon
But before you start watching the interview, did you know David was about to quit the part of Ross initially? Yes, that's shocking for all of us, we can't imagine a better actor to play Ross. For all the curious heads looking for details, David has disclosed the reason in the interview as well. It's an interview from 20th July 2020, where David made a guest appearance on the popular show 'The tonight show' starring Jimmy Fallon.
While talking, Jimmy asked David a very interesting question, "What do people yell out the most to you?". David replied, "It's either pivot or we were on a break". Well obviously, these are our two favourite quotes by Ross Geller.
So now sit back and hold your breath to hear out some real secrets revealed by our very own, David Schwimmer! And yes, you will enjoy it well how they started with a different topic but eventually drifted to Friends and couldn't go back. Enjoy watching…
Do comment and tell me which side you are on…..