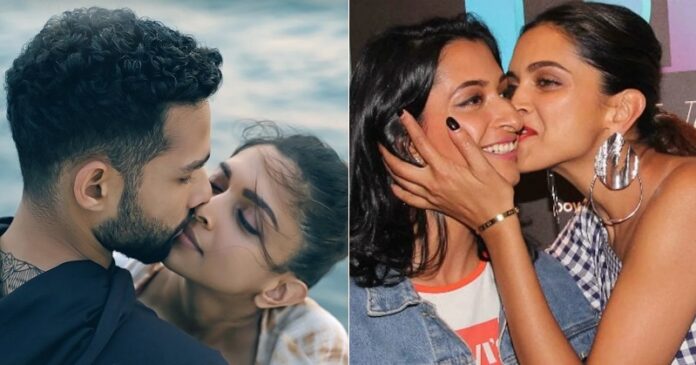 Deepika Padukone returns to our screens with Shakun Batra's third directorial, Gehraiyaan, almost two years after her film Chhapaak. Despite making a cameo appearance in Kabir Khan's 83, Gehraiyaan is her first full-fledged part in a film after a very long time. The film's trailer drew a great reception from the public, and the film was eagerly anticipated. However, the reaction from social media users and reviews have been divided since the publication.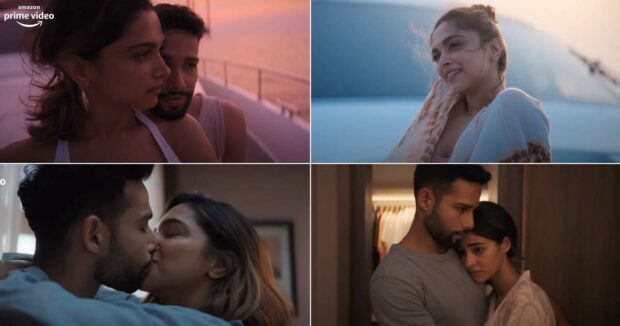 With the success of her new film, Gehraiyaan, Deepika Padukone is on a high. Alisha, played by Deepika Padukone, has been battling adulting difficulties throughout the film. Among the many mixed reactions to the film on social media, one observant fan noticed Deepika's sister Anisha Padukone in a scene in Gehraiyaan and tweeted an image of the moment.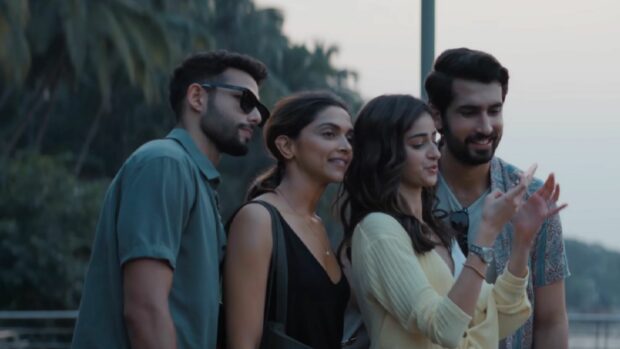 Fans may have seen a photo frame of Alisha's family at the end of Gehraiyaan. However, eagle-eyed viewers saw Deepika Padukone's real-life sister, Anisha Padukone, in one of the pictures. The photograph in question was taken during their childhood.
How Did It Happen?
For those who are unfamiliar with the film, there is a moment in which Deepika comes to her vacation house after decades and is seen looking at her childhood photos on the wall. Deepika's childhood photo, including her sister Anisha, is one of them.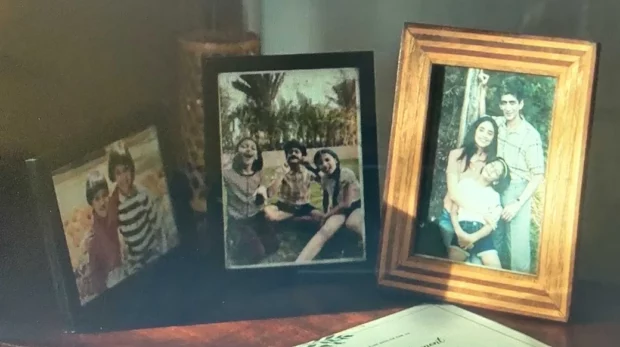 The original photo was also provided, along with a snapshot of the situation, and the user stated,
"Love that #Gehraiyaan put a portrait of Anisha and Deepika Padukone among the family portraits!"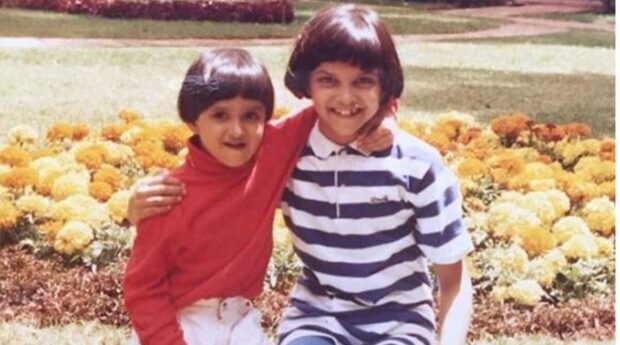 Many fans were surprised by the hidden easter egg in the film. And it is plausible how the fan spotted such a minor detail in the film. Although no official has commented on the matter, fans and viewers are going crazy about the incident.
Fans React
I don't know of it's her idea or the director's but I absolutely love it even something like this happens. The picture with papa Padukone in cocktail in 2012 to a picture with Anishu in #Gehraiyaan in 2022 ❤️ https://t.co/cvMxMcSUl4

— Alisha's Musku 🌊❤️ (@SapnoKaJahaan) February 10, 2022
Who Is Deepika's Sister?
Anisha Padukone was born in Bangaluru on February 2, 1991. She has stated that she had a great bond with her hometown. Anisha Padukone, the daughter of a prominent badminton player, decided to pursue golf as a career when she was just 12 years old. She quickly rose to become one of the best amateur players globally, representing India on international stages.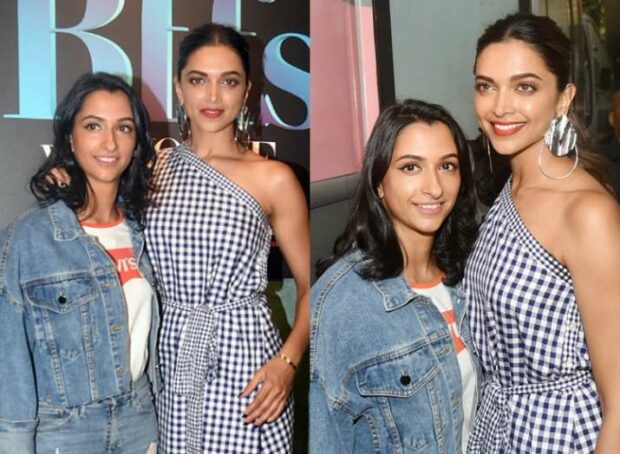 Padukone debuted as a professional actress in 2017. She mentioned in an interview that she wanted to play in the Ladies Professional Golf Association league, but she then changed her mind and decided to focus on lesser goals. Padukone is also a World Economic Forum's Global Future Council for Mental Health. She holds a bachelor's degree in economics, a master's degree in sociology, and a master's degree in psychology. Padukone has also completed the Harvard Business School and Ashoka University's Strategic Nonprofit Management India Course. She was also the carer for her sister when the Bollywood star was depressed. She currently juggles her Live Love Laugh Foundation work with her professional golfing career.
Relationship With Deepika
"Because we are five years apart in age, she is both a friend and a mother to me. Like a typical older sister, she is quite protective of me. Because of our schedules and how often we travel, we barely get to meet once every two to three months," Anisha Padukone previously told the Times of India.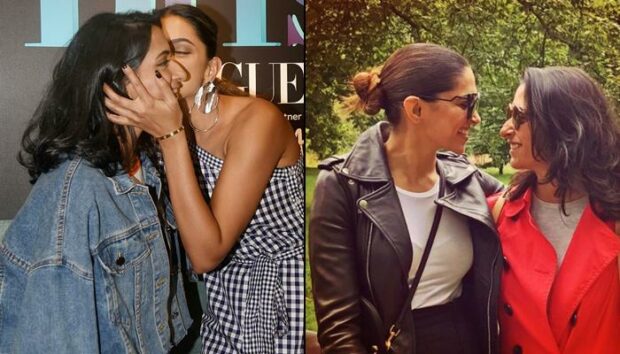 "Though we don't talk about our work much, I'm a major critic when it comes to her films," she had said. I watch them all and have told her what I like and don't like since the beginning. I'd tell her, "You could have done a lot better," or "You didn't." I'd tell her things like, "You could have done this a lot better," or "I didn't care for it at all." "Of course, I'm speaking from the perspective of an audience member since I'm not an expert on acting or film. However, I am prone to being harsh, and she always responds enthusiastically."
More About Gehraiyyan
Ranveer Singh discussed the film with his Instagram fans during a live chat session. The film also stars Siddhant Chaturvedi, Ananya Panday, and Dhairya Karwa. When asked about Ranveer's reaction to Gehraiyaan, the actor couldn't stop complimenting Deepika's performance. According to the actor, Deepika's portrayal in the film was her most nuanced.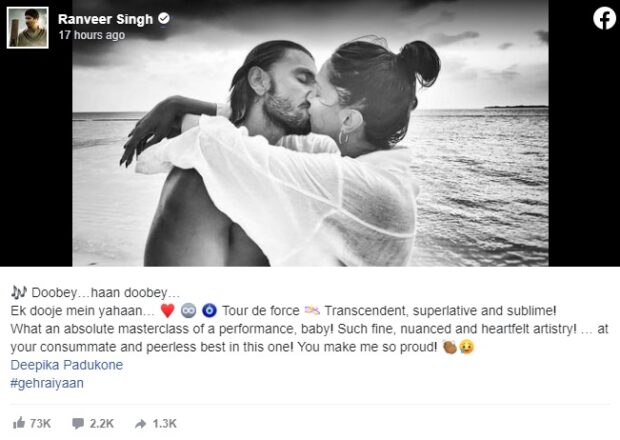 Ranveer can be heard saying in the footage provided by DeepVeer's fan club, "Oh, my goodness. Her performance just blew me away. When you see it, you think to yourself, "I'll never be able to achieve that." It was her most subtle performance to date. Her performances are always infused with these wonderful undertones."
Conclusion: It was the latest buzzing news of the B-town. Stay tuned for more spicy updates!