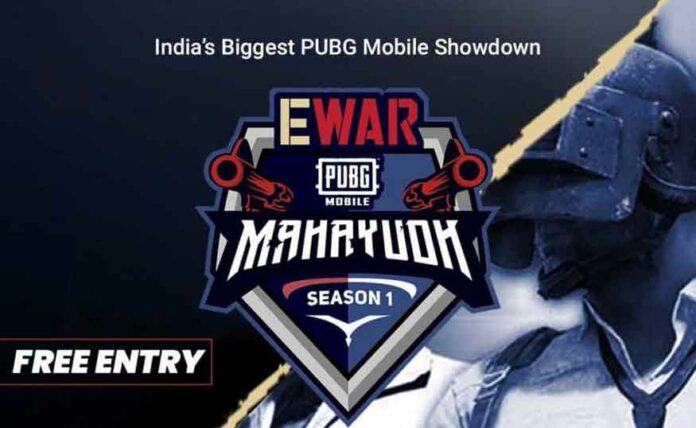 Good News for PUBG Lovers!
E-sports start-up EWar Games based in Bangalore is all set to conduct "EWar PUBG Mahayudh", a PUBG mobile gaming tournament in India. The Mahayudh scheduled to start on 18th June and continue till 19th July will feature Twenty Professional Teams (Professional Team Names listed at the End). The fact that those Twenty Professional teams will faceoff with 5000 underdog teams, make the Mahayudh even more exciting.
The whole PUBG Tournament has 3-phase wherein the teams will compete to be the best. Also, the participating teams will eye on a massive prize pool of INR 2.50 lakh. It's not just a game anymore; it is now a challenge where you get paid for your skills! 
EWar Games have kept NO Entry Fee for Teams, so if you think you are skilled enough to beat all others, then register yourself in their Official App (Limited Slots Available). Don't be late; grab your chance now.
The Tournament will be streamed live on EWar's mobile app, the same app where you registered to be a part of this Mahayudh. You can download it by Following Instructions here: Download Ewar Mobile App 
Tournament Format and Details of Ewar PUBG Mobile Mahayudh – Season 1
Date: 18th June 2020 to 19th July 2020
Match Timings: 6 PM to 9 PM
The Tournament has 3 Phases
Matches Streaming on: EWar's Mobile App
Prize Pool: INR 2.50 lakh
Four maps per day
Phase 1 – Pro Teams
Total Prize: INR 100,000 prize pool
18th June – 21st June
Prize Pool Distribution Chart:
First Place – INR 40,000
Second Place – INR 25,000
Third Place – INR 15,000
Fourth Place – INR 5,000
Fifth Place – INR 5,000
Top Fragger – INR 10,000
Phase 2 – Underdog Teams
Total Prize: INR 50,000 prize pool
22nd June – 16th July
Phase 3 – Pros vs Underdogs
Total Prize: INR 100,000 prize pool
17th July – 19th July
Top 10 each from Phase 1 and Phase 2 will come to face off in Phase 3.
List of Twenty Professional Teams Invited to EWar PUBG Mahayudh
4KING

VSG CRAWLERS

TEAM IND

HYDRA OFFICIAL

TEAM CELTZ

RIP OFFICIAL

FNATIC

MARCOS GAMING

UMUMBA ESPORTS

MEGASTARS

TEAM SOUL

7SEAS ESPORTS

TSM-ENTITY

8BIT

ORANGE ROCK

GODLIKE

REVENGE ESPORTS

SYNERGE

POWERHOUSE

TEAM INS