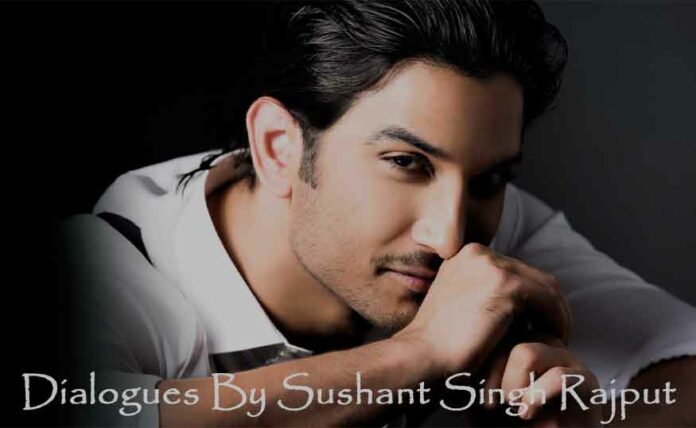 Just when we were coping with the sudden demise of veteran actors Irrfan Khan and Rishi Kapoor, Sushant Singh Rajput's death has once again stirred us up, leaving everyone numb and shocked. The world has lost a gem. He was an actor, but his mind wandered in the space, he was much interested to know the world beyond our eyes can see, he loved to explore the universe with his telescope and had a beautiful mind.
His career in Bollywood barely stretched 7 years, and we so wanted to see more of his boyish charm and acting chops on the screen for a much longer time. Sushant, you have left a void in the entertainment industry that can never be fulfilled. But, you will stay in our hearts forever, through the excellent movies that you have delivered, for us to cherish. 
Thus, in remembrance of this young, talented actor, who is gone too soon, we present before you some of the iconic dialogues uttered by Sushant in his films to date. Read them below and get to know the man, a little more. 
Movie Dialogues By Sushant Singh Rajput
Sudh Desi Romance
Sonchiriya
P.K.
Kedarnath
Raabta
Detective Byomkesh Bakshy
M.S. Dhoni: The Untold Story
Chhichhore
It's like gulping down a hard pill whenever we think that Sushant isn't amongst us anymore. May his soul rest in peace in the heavens and hope our prayers reach his ears for him to know that we all loved him. We are going to miss you so much Sushant Singh Rajput.
Sushant's Movie Dialogues About Not Giving Up
In many movies, we have witnessed Sushant play strong characters which even spoke against suicide. But sadly his situation might have been so worse that he couldn't follow his own teachings. We still wish he would have stuck to his words. But also understand it wasn't an easy decision and there were reasons we can never understand.
Let's take a look at some movie dialogues said by Sushant which focus on not giving up in life.
He was a character whom we can never forget, he is not with us, but his words and memories will stay with us forever. May his soul Rest In Peace! Love you always.