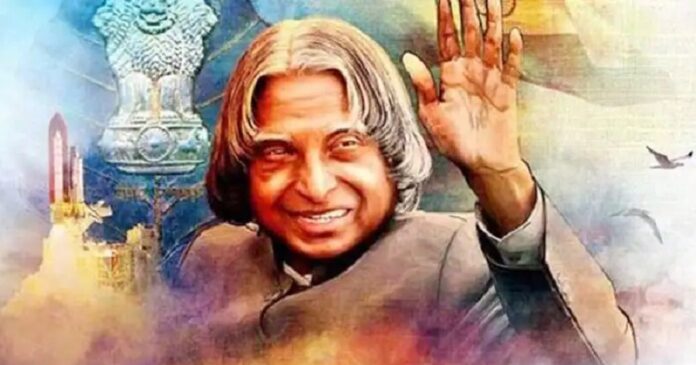 Dr. A.P.J. Abdul Kalam was a remarkable man who left an indelible mark on everybody. He was a scientist by profession and served as the 11th President of India. He held a degree in aerospace engineering and was known as "The Missile Man Of India." His books, thoughts, writings, and life is like a guiding torch to the generations. He has had many dreams for the entire nation that should not let us sleep.
That is why we have brought here some of his profound quotes that will surely inspire, motivate, and encourage you to take the necessary actions in order to transform your dreams into reality.
Contents:
1) English Quotes
2) Hindi Quotes
English Quotes:
1) Dr. APJ Abdul Kalam was born on October 15, 1931, and belonged to a very poor family.

2) From the age of just five, Dr. Kalam was very hardworking.

3) He started selling newspapers to support his family at a very young age.

4) If you don't know, his full name was Abul Pakkir Zainulabedin Abdul Kalam.

5) When he was born, he lived in a village in Rameswaram in Tamil Nadu.

6) Kalam used to get up at 4 am to study and was great at Physics and Mathematics.

7) From the beginning, Dr. Kalam wanted to become a pilot.

8) In the selection list of the Indian Air Force, he got 9th position. Unfortunately, only eight people had to be selected.

9) He moved to ISRO in 1969 and was made the project director of Satellite Launch Vehicles.

10) After the successful completion of the project, India succeeded in sending the Rohini satellite into the Earth's orbit.

11) Since he was instrumental in inventing powerful missiles, he is also known as "Missile Man".

12) Dr. Kalam invented powerful missiles like Agni and Prithvi for India.

13) Apart from that, the success of the Pokhran-2 nuclear test belongs to Dr. Kalam.

14) While he was awarded a doctorate from 40 universities, Dr. Kalam was conferred with Bharat Ratna.

15) A Bollywood movie called "I AM Kalam" was made with the inspiration of Dr. Kalam.

16) Dr. Kalam loved children very much and loved how curious they were.

17) Interestingly, he was addressing the students in IIM Shillong before his death.

18) Once Dr. Kalam was intercepted by security officials when he went to America. India opposed it strongly.

19) Dr. Kalam once said that he wanted to be remembered as a teacher because according to him, it is the noblest profession.

20) In Switzerland, 26th May is celebrated as Science Day in his honor because he visited that day there.

21) Dr. Kalam was fond of playing the veena and writing poems in Tamil.

22) Initially, Dr. Kalam was a non-vegetarian, but later became a vegetarian.

23) Dr. Kalam became the first President who was a scientist and unmarried.

24) Before becoming the President, he had been awarded the highest civilian award Bharat Ratna.

25) Dr. Kalam used to follow a total of 38 people on Twitter and among them was VVS Laxman.

Hindi Quotes:
1) Dr. Kalam formed a trust called Providing Urban Amenities to Rural Areas (PURA). In this trust, he donated his salary.

2) Dr. Kalam hoped that Rashtrapati Bhavan to be fully powered by solar energy.

3) "Wings of Fire" is an inspiring autobiography by Dr. Kalam and it has been translated into 13 languages.

4) Dr. Kalam has written at least 15 books in his lifetime.

5) Once Dr. Kalam said that writing is his love. And as per him, if you love something, you will take a lot of time for it.

6) If we talk about places, Dr. Kalam loved sea places.

7) At the time of presidentship, he found it extremely difficult to confirm the death penalty.

8) Even though Dr. Kalam was a skilled leader, he blamed himself for every failure of any project.

9) Interestingly, whenever he succeeded in any project, he gave all the credit to his team.

10) Dr. Kalam was also the Defense Advisor to the Defense Minister from 1992 to 1999.

11) The Vajpayee government also conducted nuclear tests in Pokhran during his tenure.

12) Dr. APJ Abdul Kalam was awarded Padma Bhushan in 1981, the Bharat Ratna in 1997, and the Padma Vibhushan in 1990.

13) Even though Dr. Kalam was Muslim by birth, he did not believe in any religion by heart.

14) If you don't know, he read both Bhagavad Gita and Quran.

15) Dr. Kalam completed his early education at Rameswaram and after that, graduated from St. Joseph's College.

16) From the Madras Institute of Technology, Dr. Kalam also received an aeronautical engineering degree.

17) Prime Minister Narendra Modi inaugurated his museum built in Tamil Nadu near Pekarambu Rameswaram on the occasion of the second death anniversary of Dr. Kalam.

18) As per Dr. Kalam, books are his best friends. That is why he built an in-house library.

19) According to Dr. Kalam, music and dance can ensure global peace because art has the power to bring the whole world together.

20) Dr. Kalam was a scientist as well as a psychologist.

21) Interestingly, he also knew how to read faces and used to read people's faces.

22) Dr. Kalam took over as President from KR Narayanan.

23) Dr. Kalam was pitted against Laxmi Sehgal in the presidential election and won this unilateral contest.

24) If you don't know, he did not know how to ride a bike.

25) Even though Dr. Kalam was unmarried, he once said that he has three children, Earth, Agni, and Brahmos.