India is a country rich in diversity.
Aside from commemorating various festivals, we will also showcase a plethora of completely distinct cuisines from around the states
! Eight states border the Northeastern area. The states with the most ethnic and racial variety. These states are also well-known for the wide range of food available.
Traditional foods produced and prepared by women in the Northeastern region are
inextricably
linked to their socio-cultural, ecological, spiritual, and physical well-being
.
1/2 cup Shredded fermented bamboo shoot

1 tbsp Mejenga seeds ( variety of Sichuan peppercorn)
Ginger garlic paste – ¼ tsp
Shallots/Chinna vengayam(

finely

chopped) 5-6

Tomato(

finely

chopped 1 medium size

Garlic/pound(

finely

chopped) 2 cloves

Ginger/inji(grated) 1/2tsp

Red chilly powder/milagai podi 1/2tsp

Garam masala powder 1/2tsp

Carrot(cut into thin strips) 1/4 cup

Cabbage(shredded) 1/4 cup

Green chilly/pachamilgai(chopped) 1

Cumin seeds/jeeragam 1/2 tsp
3 Green Chillies, slit into halves

1/2 teaspoon Panch Phoran Masala

1/4 teaspoon Fennel seeds (Saunf)

1/4 teaspoon Cumin seeds (Jeera)

1/4 teaspoon Kalonji (Onion Nigella Seeds)

1/4 teaspoon Mustard seeds (Rai/ Kadugu)

1/4 teaspoon Methi Seeds (Fenugreek Seeds)
Duck meat (cut into small pieces) 750 gms

A

portion

of ash gourd 350 gms

2 medium-sized red onions

Dry Red Chillies (whole) as hot as you might want

Black Peppercorns (whole) you need this bit more than other garam masala items
Bay leaves medium-sized 2 nos
Garlic medium-sized 8 – 10 cloves

Green Chilies 3 nos. slit lengthwise

Turmeric powder 1 tablespoon

Cooking Oil,

preferably

mustard oil 4 tablespoon

Coriander leaves for garnishing
Pistachios, Almond and Raisin for serving
9.

Sana Thongba from Manipur
250-300 gms Paneer cubed (Indian cottage cheese)

1 tsp Nigella Seed /Kalonji

1 tbsp

freshly

grated ginger or ginger paste

1 tbsp oil + 1 tbsp ghee (Clarified Butter) for shallow frying paneer
Fermented dry fish ( Ngari/Shidol ) : 5-6 pc.

Boiled Tomatoes-2, potatoes-2 ( or any other

locally

available or seasonal vegetables like colocasia, ladies finger, banana flower, banana stem, bamboo shoot, etc. )

Green chillies : 3-4 / King chilli: 1-2 / Red chillies : 3-4

 Onions (chopped) : 1 large

Garlic : 2-3 pods (optional)

Coriander leaves ( chopped ) : 1 bunch
11. Jadoh from Meghalaya
Ginger Garlic Paste – 1 tbs

Green Chilly Mint Coriander Paste – 2 tbs
12. Nakam Bitchi from Meghalaya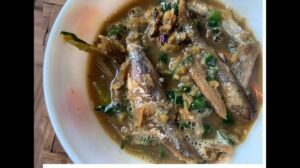 Fresh green Chillies – About 5-6(or according to taste) slit from the middle

Ginger – 3 Tablespoons crushed

Edible Soda – 1/3 teaspoon
13. Alu Muri from Meghalaya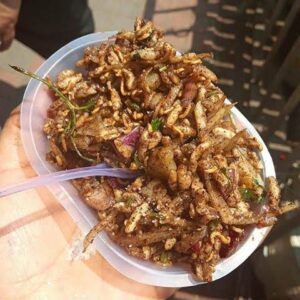 1 cup chopped medium size onions and tomatoes

2 medium-sized boiled potatoes

1/2 tsp red chilli powder

2 tbsp turmeric and dates chutney
14. Sohphlang Curry from Meghalaya
Peas (parboiled): 1 bowl :

Sohphlang (made into paste): 100 g :

Tomatoes (skinned and chopped): 500 g :

Wild coriander (

finely

chopped): 1 bunch :

Pepper (

freshly

ground): 5 g or 1 tsp :
15. Chikhvi from Tripura
500 gm bamboo shoots (peeled and chopped)

(soaked, peeled, and halved)

1 teaspoon turmeric powder

1 cup of rice flour paste
16. Bangwi from Tripura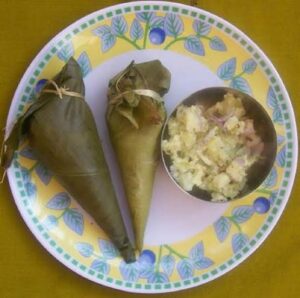 White flavored sticky rice (Binni rice/ Govindobhog Rice) – 1 KG

Ghee or edible oil- 250 gm
17. Gundruk from Sikkim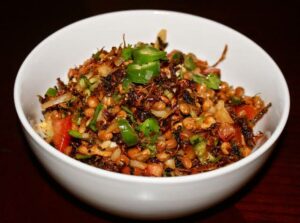 Gundruk strands: a handful

Mustard seeds: for tempering

Water: 4 glasses, or enough to make a thin soup
18. Khuri from Sikkim
19. Shapale from Sikkim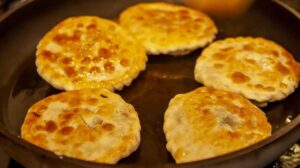 8 cups all-purpose flour (no self-rising flour, baking powder or yeast)
3 cups of cold water (Don't use warm or hot water. Water out of the tap is fine.)

2 pounds ground beef (We tend to use organic, grass-fed beef or if that is not available we go for one of the lower-fat normal varieties, though not the lowest fat since you need some juiciness )

2 cups chopped baby bok choy. You can also use cabbage.

2 stalks green onion (1/2 cup chopped)

1 and 1/4 cup chopped onion (We use red onion.)

2 tablespoons of soy sauce

1 teaspoon of salt, or to your taste

1 tablespoon of beef bouillon

2 tablespoons of cooking oil 
20. Vawksa Rep from Mizoram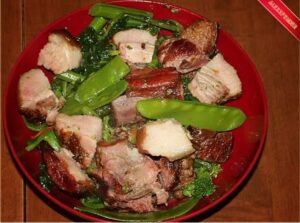 Smoked pork or vawksa: 2 large chunks

Fresh Oyster mushrooms: 1 cup

Baby spinach leaves: 2 cups

Garlic: 2 large cloves, crushed

Oyster sauce: 1 tsp (optional)

Green chilly: 1 no, chopped

A little water, if needed

Salt and pepper to season