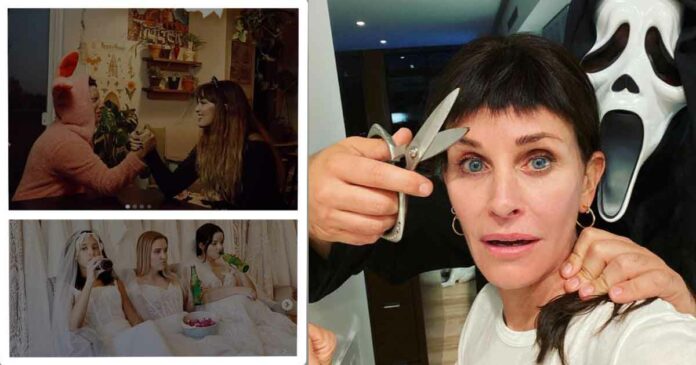 Halloween is fun! But what's even more fun is celebrating Halloween the FRIENDS Style. There was an episode in the show where we saw the six of them celebrating Halloween and their dresses were absolutely funny. Specially Chandler who had to dress up like a pink bunny!
But the Halloween from the episode didn't end even after the show ended. Fans took it further and every year they like to recreate those moments from the show. Haven't you tried it yet? Well, we tried to suggest some Haloween Costume ideas in an article earlier. Click on the link here in case you missed it.
And this year too, Fans have rocked the day with their ideas but that's not the best part: Courteney Cox posted a pic to mark the occasion too. Yes, Courteney posted a weird picture on Instagram to mark Halloween. She was not in any costume but still, something about her was scary and weird. Courteney got a hairstyle that didn't look so impressive! It's Bangs we are talking about. Yes, Courteney is seen featuring a bang haircut in the pic and fans didn't much enjoy it. Maybe that was her idea of having a scary Halloween because she herself sounded scared of the bangs!
Anyways in the background, we see someone dressed in a funnily scary mask who is responsible for her haircut it seems. From what we can make out from the pic, Courteney is having the scariest Halloween of all. Because she is accompanied by a ghost who scares people by giving very bad haircuts! Well, for girls it's not less than a nightmare, so what can be scarier than this. If you don't trust my words, then try something odd with your girlfriend's hairs and you will know it already who's more important: you or her hairs!
Now here is the pic from Instagram that scared FRIENDS Fans and I caution you, it's not easy to watch our favourite stars age. So hold your heart for a scary pic from the Halloween!
Now that we have seen Courteney, it's time to check out how fans around the world couldn't leave behind FRIENDS even during Halloween. In fact, their ideas and pics are so impressive that you too might be tempted to celebrate your next Halloween Party dressed up as your favourite star!
In case if you are short of ideas on what costume from the sitcom you might try, then here's a guide to help you out. Click here to check out some FRIENDS inspired Halloween Costumes now.
Fans have tried to recreate the moments from the series in their own way and the pics look stunning. The episode where the six of them celebrate Halloween at Monica's place is the most popular because many have copied the same costume in their own way.
Chandler trying to prove he is strong only brought him more insult. But we got some weird faces to laugh upon and this scene was recreated by a fan as below:
We feel sorry you Chandler because Monica is not the one you can overpower ever! But you are a lucky man too because she chose you over everyone else.
Now recall the time when the girls stood against the boys in a game of American football. The fight was for the Geller's cup, a really weird looking trophy that no one would enjoy flaunting, and the fight was real tough at least for Ross and Monica.
Three fans copied the costume worn by the girls and they look nothing but adorable. Well, the girls wearing the costume do look more excited and crazy and they justified the look well.
The three girls waiting to be brides someday was highly popular among the fans as many have tried to copy the scene. The episode was hilarious especially the scene where Rachel opens the door saying "I do!"
One fan took the bars high while she tried to be the Central Perk itself! No kidding, just look at her adorned with the logo of Central Perk right from top to bottom.
Oh and the Vegas baby! How can someone not be Ross and Rachel while they were all drunk and got married in Vegas? Fans copied the look by sketching on their faces and they look absolutely cute.
And then we also spotted the FRIENDS group in a pub!
We hope you too enjoyed the Halloween. In case if you didn't then don't worry. Just grab a screen and start rewatching the FRIENDS episode where they celebrate Halloween and consider the day celebrated!
In fact, no need for you to search the episode. Here's a short clip for you to enjoy.
https://www.instagram.com/p/B5UTo-OBv_W/