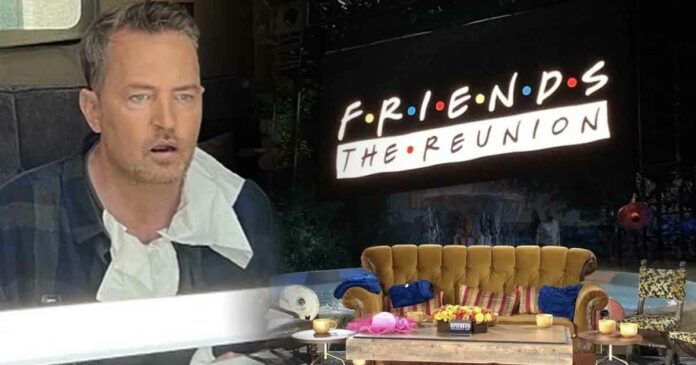 Finally, the news has come we had all been waiting for long 17 years, but now it is unbelievable to know that it is actually happening. Yes, the much-anticipated FRIENDS reunion is finally happening. Ever since the six pals walked off from Monica's apartment, viewers have been waiting for their return in some way. And in the due course, they were feverishly rewatching the series.
In November 2020, Matthew Perry tweeted that in early March 2021, the reunion was scheduled to shoot. And, David Schwimmer in late March confirmed to Graham Norton that he is leaving for L.A. to shoot for the reunion. Finally, on Saturday, April 10, 2021, Instagram broke with the news that the reunion completed filming. But back then, HBO did not release any official verdict about it. And now, on 13th May 2021, we finally got to see the first glimpse of the official teaser. But is that it for now? Well, you bet not! Because the internet world managed to record a few more hidden secrets from the sets.
When HBO Max Bombed The News!
It is much sooner than we have expected earlier, we assumed it might take a month or two to process all the shoot videos and finally bring out the FRIENDS Reunion Episode. But HBO looks to be working at an alarming speed to bring out the most awaited show on the planet currently. In the new teaser released, without giving much away, fans saw the cast walking away together from the camera. And in the end, it is revealed that it will stream on May 27, 2021. Check out the full teaser below:
View this post on Instagram
Leaked Details About The Cast
HBO has remained quite secretive about the FRIENDS Reunion. It was really difficult to find out what's going on while the shoots were on. Even the people who attended the Reunion had to maintain secrecy. But fortunately for fans, there were people who couldn't manage to keep all the overwhelming secrets to themselves and they popped open some bits about the Reunion which we are about to reveal.
You will be surprised to know that even the cast gave away a few details in several interviews or posts. Some were knowingly and a few unknowingly, you might have come across a few already but it's time to test if you understood them too.
#1 Ross Reveals A Joke On Instagram
You remember the episode where Ross and Joey fell asleep on the couch and it was their best nap ever? It was so good that they had to do it again but only this time they got caught by the whole gang. It was an embarrassing moment for the two but a moment of immense laughter for us. Turns out, they are going to play this joke again at the reunion!
Ross while posting about the Reunion left a piece to give us a hint of this joke being replayed. In his post, he confessed to having a 'solid nap with LeBlanc'! Well, this is the hint left behind for us to figure out what to expect in the new episode. So be prepared to see Joey and Ross sleeping together for one more time. Here's the post where he mentioned it.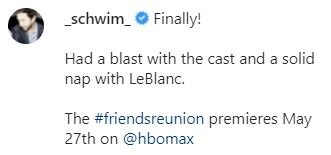 #2 Rachel's Iconic Hat To Be In The Show
Remember the time when Rachel was all dressed up in a pink dress for Barry & Mindy's wedding? Well, she looked pretty in it but for Chandler, she looked like a shepherd. If you enjoyed that scene then you will be amused to know that you will come across the pink hat at the reunion. The picture of the hat surfaced on the leaked images and it surely means that something around that plotline is going to be included at the Reunion. The internet saw the hat kept on a table where reportedly the cast would sit and chit-chat.
The pics surfaced on the internet while a bulk of leaked images came in and it was not for any FRIENDS Fans to say what it was. If you haven't seen it yet then here it is: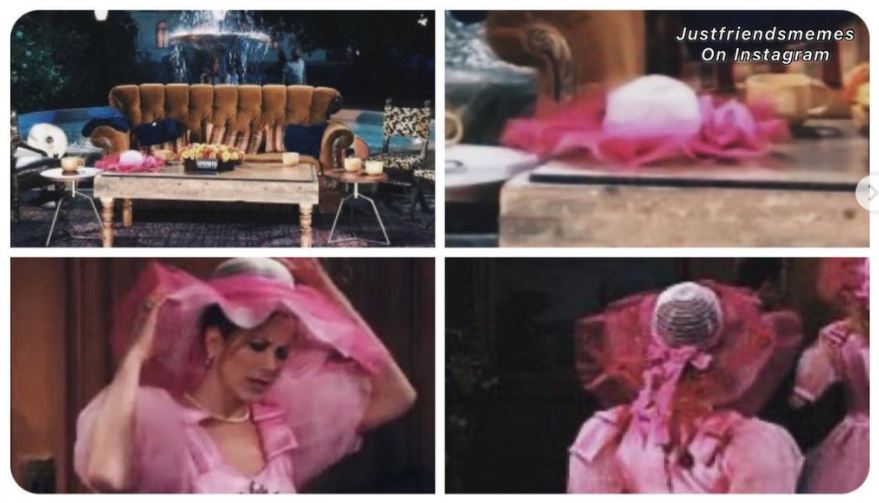 #3 Spudnik To Come Alive But Ross Is Not Doing It This Time
You can't forget Ross's Halloween costume where he dressed up as The Spudnik! The same costume is coming back in the Reunion but this time with a twist. Ross won't be the one wearing this odd potato-shaped costume but it will be carried by someone special.
You might know already that many guests are coming to the show apart from the six lead actors of FRIENDS. HBO Max also released a list of personalities whom you will see in the show. So from the list of guests, Justin Beiber was sportive enough to make a cameo appearance in the Spudnik costume.
In Sunday newspaper, a TV source told The Sun, "Justin was honored to be involved and didn't mind sending himself up wearing a ridiculous costume." He further added, "It was all run like a military operation to keep details under wraps, and Justin nailed it."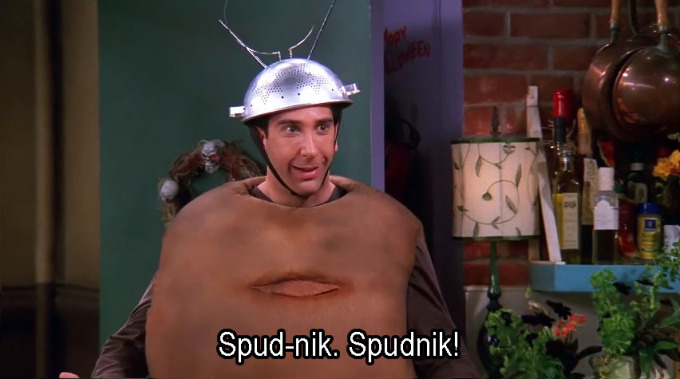 #4 Joey Will Do The Lunges Again
In the episode, "The One Where No One's Ready" we saw an iconic scene when Joey wears all of Chandler's clothes and does those lunges. The episode was quite hilarious in many ways and the lunges were surely one of the best things to remember.
As per reports, Joey is going to do it again, and hopefully this time he brings even more laughter out of us than the last time. But it raises a question in our minds, is Chandler living with Joey again? Are they roommates again? If yes, then what happened to Chandler and Monica?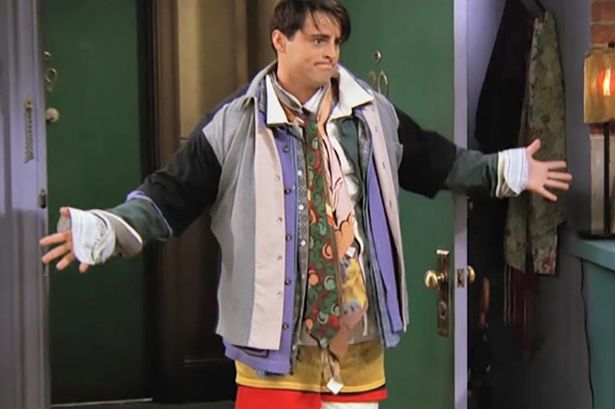 #5 Are the six FRIENDS back in the show?
In an interview with Graham Norton on April 2, David Schwimmer told that he was leaving for Los Angeles to shoot the FRIENDS reunion. He said, "I'm going to Los Angeles. We're going to be shooting the FRIENDS reunion next week." He continued, "I'm hopping on a plane this afternoon, this evening. And yeah, gonna see everyone next week for the first time in many years." Further, he revealed that they all are going to be themselves.
So sadly for fans, the characters won't be back but they will just meet as good old friends remembering those good old days. As always said, something is better than nothing. So let's stay positive and await till 27th May.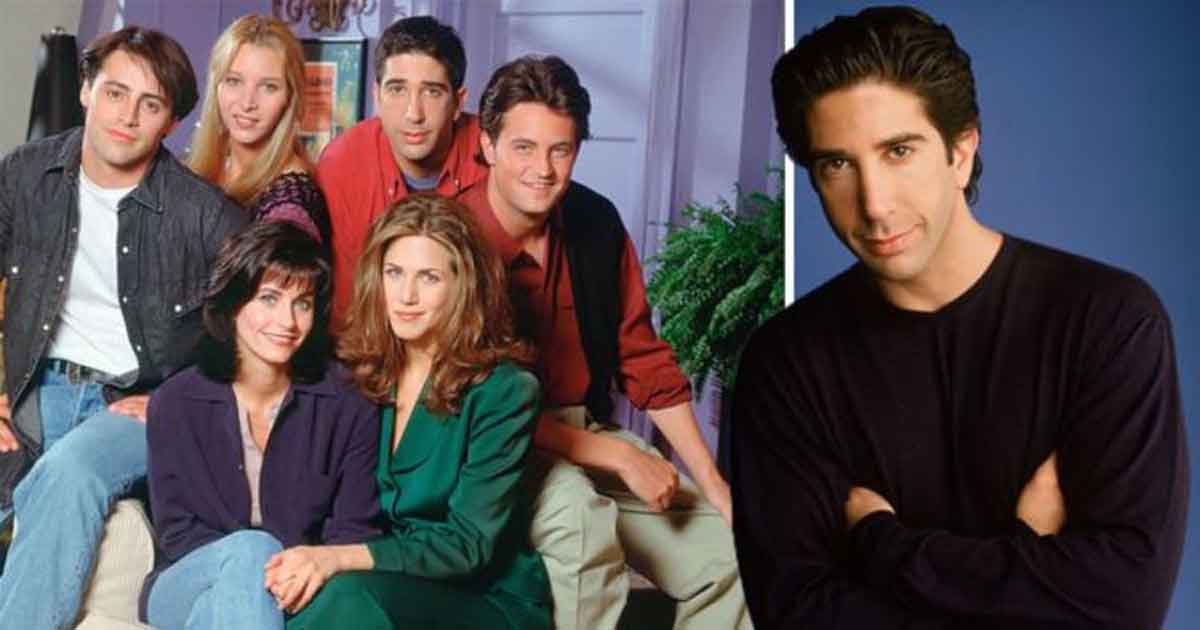 #6 What Else To Expect At The Reunion?
It was mentioned by David in the same interview that they will be doing a table read too. So you can expect the six friends sitting on a table or a couch while they say their lines. It would be a fun experience.
During a virtual reunion in June 2020, Aniston and Kudrow remained silent on reunion plans. Kudrow said that neither she nor Aniston knows everything about the reunion special. She further joked, "I think we're meant to be surprised by some things as well." However, even back then they too confirmed that they will not appear as their respective characters in the reunion special. Although there will be little fragments of them.
Interesting Array Of Guests On Reunion Special: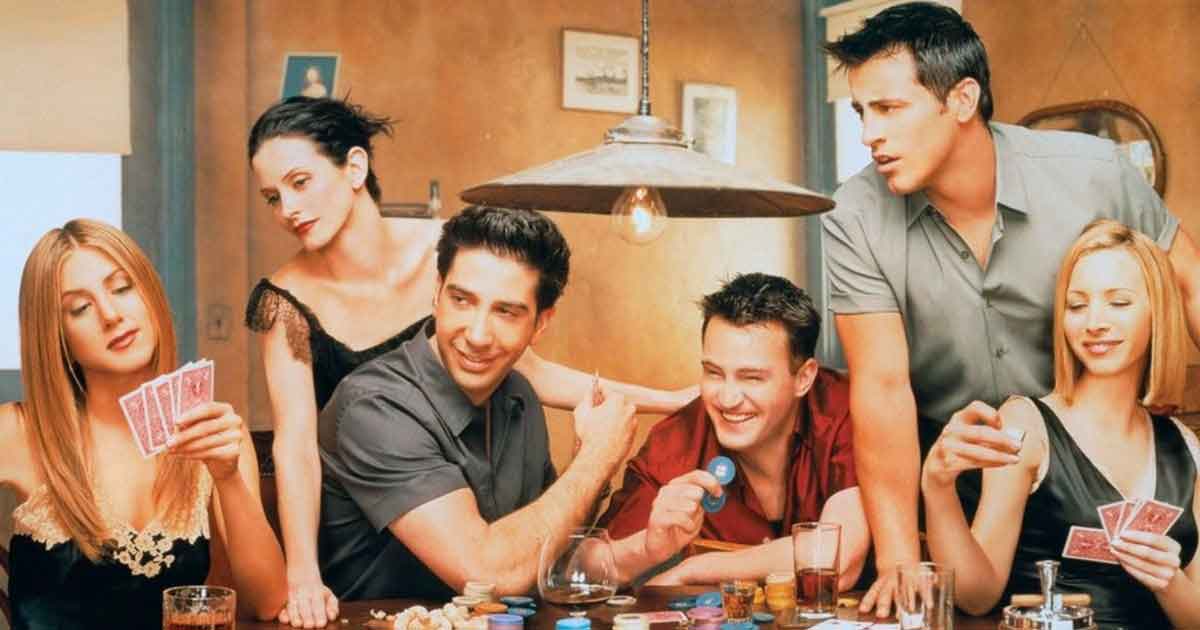 HBO revealed that guest celebrities are going to join the reunion as well. Perhaps the most important guest will be BTS among other famous celebrities such as David Beckham, Malala Yousafzai, Justin Bieber, Reese Witherspoon, James Corden, Maggie Wheeler, Cindy Crawford, James Michael Tyler, Cara Delevingne, Tom Selleck, Lady Gaga, Christina Pickles, Elliott Gould, Thomas Lennon, Kit Harington, Mindy Kaling, and Larry Hankin.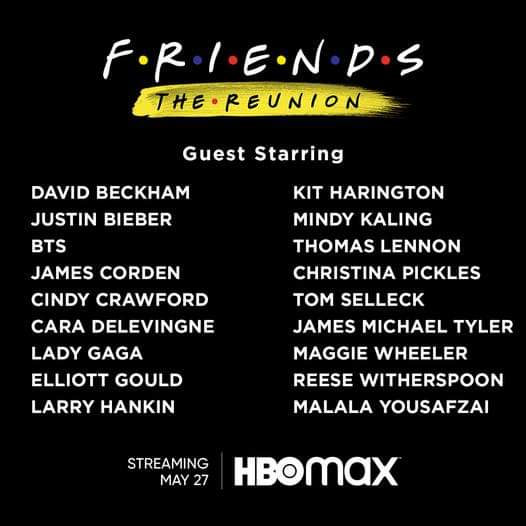 However, other than Justin Bieber who will be appearing as Spudnik in the reunion, it is not revealed that how other celebrities will exactly factor into the special.
Sneak Peek Of Leaked Photos From Reunion:
Greg Grande, the original production designer of the series shared photos of the set on Instagram. He's recreating the set for the reunion, right down to the turquoise cabinets. Check out the leaked photos below:
View this post on Instagram
TMZ reported on 11 April 2021, the reunion will include the iconic fountain used in FRIENDS opening credits. Moreover, the live audience element will mostly have paid actors who are Coronavirus tested for safety ahead of filming.
Official Wrap Of The Project On April 10, 2021:
The FRIENDS Instagram posted on April 10 announcing that the production team had finished principal photography. It means that a huge part of the filming is completed. In the post, all actors were tagged, and is captioned, "That's a wrap! Could we BE anymore excited!? Friends: The Reunion is coming to @hbomax". Check out the post below:
View this post on Instagram
Matthew Perry Deleted The Photo He Posted From Set:
Perry posted an inside photo on Friday, 9 April 2021. He posted it from his makeup chair on the set of the reunion. As per TMZ, he joked, "Seconds before eating a makeup brush. Not to mention reuniting with my friends." However, without doing much delay, the picture was quickly deleted from his social media account.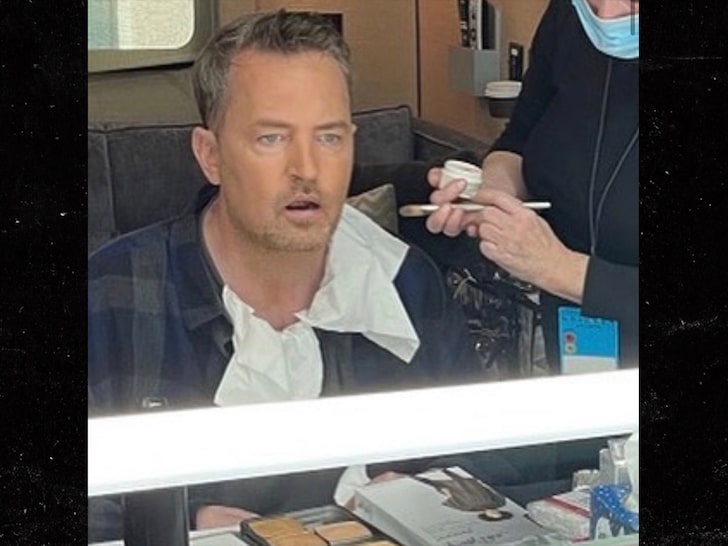 A Few Other Leaked Images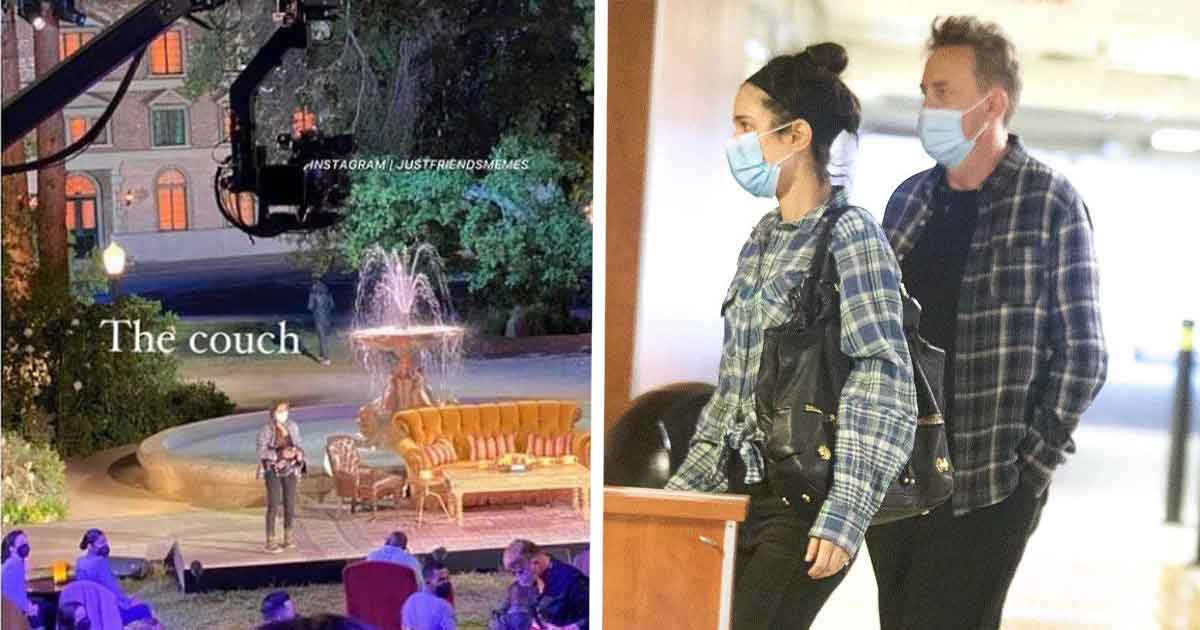 You can see Matthew Perry and his fiance, Molly walking down to the sets of FRIENDS Reunion. This was leaked by some fan who was fortunate enough to have attended the shoots. The internet also witnessed a pic from the place where they will all sit and talk. The iconic fountain and the couch will be a part of the show for sure!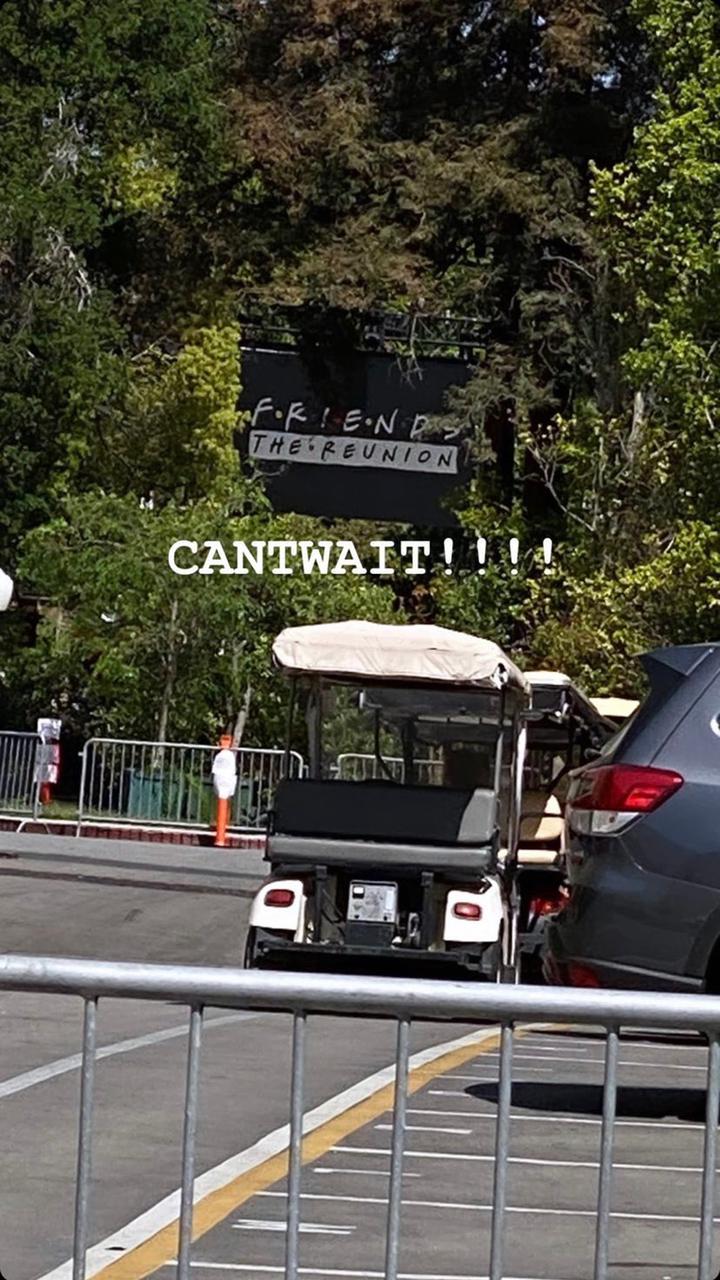 For those who didn't see this picture yet, it is from the place where the reunion was shot. In the coming years, this place might become a favorite location for many fans to visit.