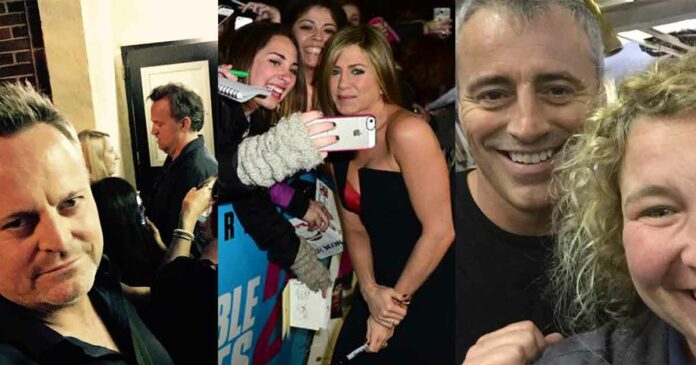 Have you ever imagined how it would be to meet your favorite Friends Cast? What would you say and how would you react if they were in front of you? It's a dream every Friends Fan wants to live!
Maybe you are staying away from their location or maybe you don't happen to be at the right place at the right time. But not everyone has the same fate, some are lucky enough to meet these special people and also manage to get an autograph or selfie with them.
If you too have a selfie with any of the six Friends then we would love to see it. Drop the pic in our FB post and flaunt it the right way! Many are going to be jealous for sure.
Spotting a Friends star is always cool for us but what do they feel about getting surrounded by fans like us? Do they enjoy the moments or do they feel disturbed? Many times, their reaction to the encounters might say it loud as who entertains their fans and who behaves like a grumpy star filled with attitude!
We have collected some clips where fans spotted their lovely cast from Friends and got a chance to click selfies or interact with them. In the clips, you might notice that not all six of them are the same. Their way of interacting with their fans and attitude towards them is different. So let's watch the video and try to find out who is the sweetest among the six and who is the grumpy head!
Monica's Interaction With Fans
Monica is on fire in this video! She signs a lot of autographs for her fans and makes us believe it's not easy to be a star because you have to sign a lot! Moreover, she behaves like classic Monica when she gets into pleasing fans with autographs so much that someone had to come and take her away. We believe Courteney Cox likes being cheered and praised just like Monica did.
In the next video, it's so intimidating to see Courteney posing with her fans at her New York City hotel. Well, the fans are lucky to have such great photos and videos with Monica!
the video below is special as you see Courteney interacting with her fans. Her quick wit and sarcasm cannot go unnoticed when someone asked her if she would get back with David. Also, her stern command and tone just like Monica is so cool for all Friends Fans.
By the end, we notice how she poses with her fans and behaves so sweetly with every one of them. She also thanks to them for being there and showing how much they love her. When a big star is thankful to the fans, nothing can be a better scene than that.
Chandler With His Fans
Matthew Perry has made quite a reputation as Chandler and his fan usually want to see and hear him the same way. The most amusing thing about him, he does the exact same thing! He is just like Chandler almost all the time, he loves cracking jokes and answering sarcastically whenever he can.
In the video below we found him in a strange mood and with a strange grumpy look on his face. We don't know why he looked so intense but we are guessing maybe he had a fight with Monica that morning!
The video below was shot Off-Broadway Stage door at The End of Longing (20170527). He looks filled with energy and ready to sign for every fan out there. But by the end of the video, we hear people shouting Jennifer's name! Why? Well, find out if you can!
Here we have young Matthew Perry who is full of energy and running towards his fans. The response Friends received in those days was phenomenal and the video is just proof of the same. Only if we could do the same, we too would have got a real signature by Matthew!
Rachel Green And Her Fans
No wonder why people love Jennifer so much! In the video below you can see Jennifer answering almost all the comments by the fans even while she is signing for them. The way she reacted to the comments or replied them surely would have made their day. Imagine a day, when your favorite star responds to you in person! Won't you be as happy as being on cloud 9?
So we can say either Jennifer knows well how to please her fans or she is genuinely a great person as listening to everyone and responding is very difficult for stars of her stature.
Yet another example of how cool Jennifer is. She treats everyone so well and the way she reacts and responds to everyone is so special. After meeting her once you will definitely fall for her simplicity and connect. The video here has just doubled our love for Jennifer than ever before.
Now, this video is something special. Here we see fans visiting the real set of Friends in Warner Bros. The video here is something like, the original set of Friends wasn't enough to make us jealous so they brought in Jennifer Aniston to do the work, And yes we can't deny the fact that we are jealous a lot! The unexpected visit of Jennifer really made the day of Friends Fans who come to visit the sets on that day. And their reactions are priceless!
Lisa Kudrow With Her Friends
Lisa Kudrow, who played Phoebe in Friends acted weird at times but is she the same in real? Well, she is really different from what we know of her from Friends. She loves
This one is truly a weird experience for Lisa it seems. The fan asks her insane questions and she really has a hard time ignoring him. God keep our stars safe from such fans! We know the guy was joking but surely a tough time for Lisa as we notice.
Joey Tribbiani With Fans
In this video, Matt looks nothing like Joey! He looks even more handsome than Joey was in the show. He has truly aged like a fine wine and fans just love him. The fans have crowded to get a pic or autograph from their favorite Joey from Friends. Moreover, it looks like, the successful star never leaves his fans upset so if you get a chance to meet him it might be easy to get an autograph.
Here you can notice how patient and calm he is with his fans. His fans needed autographs he gave it, they needed pics he did it, they had to retake pics and still no problem. That's like a real star!
David Schwimmer Facing Fans
David will always be remembered as Ross Geller. No matter how hard he tries but the character he played in Friends has somehow become his identity. It's a boon and a curse at the same time. He has suffered because the character of Ross comes in the way of other characters he plays in different movies. But anyway, he is the one who loves to experiment with his career and has enjoyed it a lot. He may not be successful in a few but atleast he is the hero who tried and did what he wanted to do.
Here is a video where David can be seen signing autographs for his fans. The crowd just loves him and why not? He is one of the best expression kings in Friends! We could never resist a laugh when Ross gives out an expression.