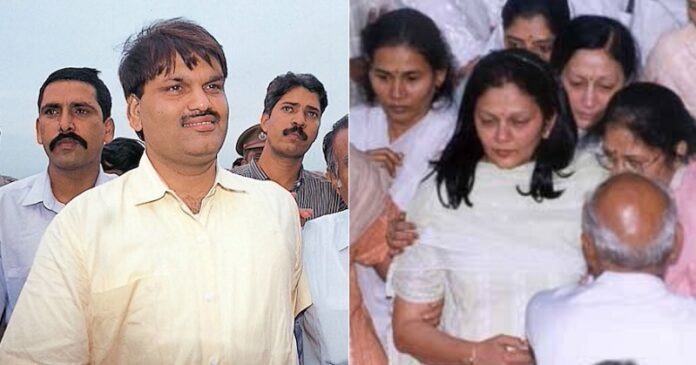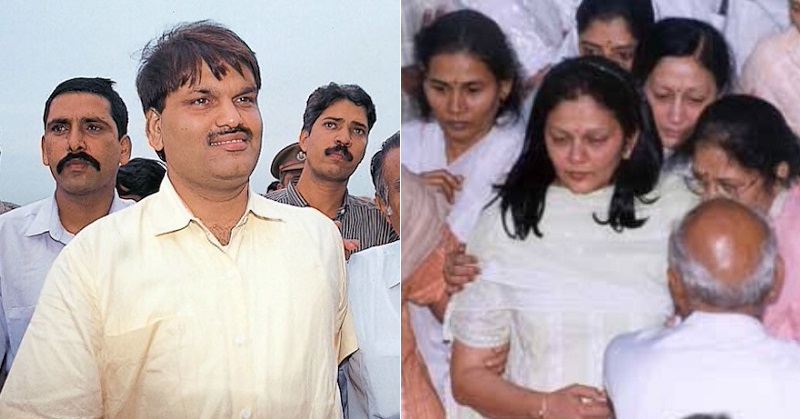 Harshad Mehta was known as the undeniable king of the stock market. However, he was caught in a scam worth thousands of crores in the year 1992. In 2001, he passed away in police custody and his family was caught in a series of legal battles. "Scam 1992" is a Sony Liv web series that is based on his life. The series stars several A-list actors like Jai Upadhyay, Anjali Barot, Hemant Kher, Pratik Gandhi, and many more. This series also tells a gripping story about Harshad Mehta's Family.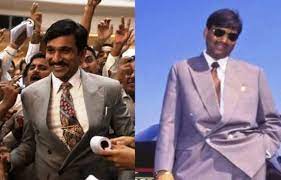 Son and Wife of Harshad Mehta:
Atur Mehta (Harshad Mehta's son)
Atur Mehta(or Aatur) should be about 42 years as of 2022. He is an investor, Indian businessman, and entrepreneur based in Mumbai, India. The reports say that he bought a significant 23% stake, in square deal Filaments as per the report by Business Standard in a BSE-listed textile company.
In 2018, Square Deal Filaments announced:
"The board of directors of the corporate has accorded its approval to agreement to be executed by the corporate, the promoters of the corporate with Aatur Harshad Mehta and Sanalkumar Kizhepata Menon for the acquisition of 1.45 million equity shares each,"
According to ScoopWhoop, the income tax tribunal in February 2019 finally scrapped almost the entire tax demand. It was worth ₹2.014 crores on late Harshad Mehta, his brother Ashwin Mehta, and his wife Jyoti.
Atur Mehta doesn't have any social media account with his real name. He is completely off the grid and keeps a low profile. A guy's photo was circulated on the internet as Harshad Mehta's son Atur but he later clarified that it was just a misunderstanding and he is not the son of the late Harshad Mehta. Things became clear when the guy turned out to be quite younger than the real Atur Mehta is supposed to be.
Here is the tweet by the guy who was misunderstood as Harshad Mehta's son: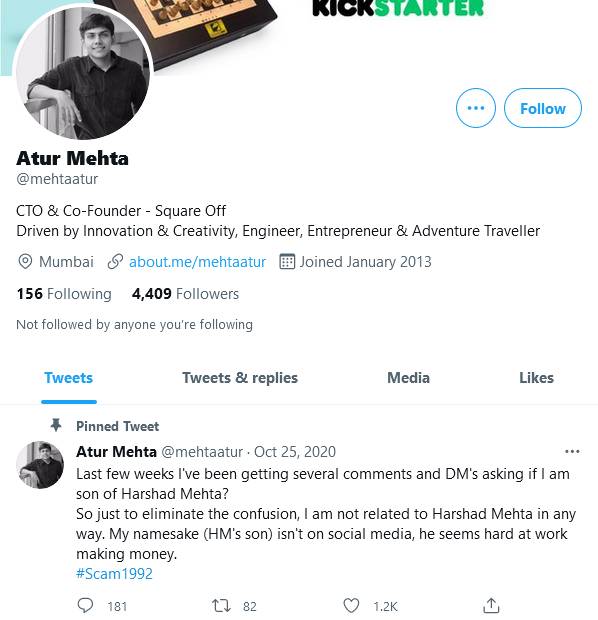 Jyoti Mehta (Wife of Harshad Mehta)
His wife Jyoti Mehta also won a case in the same year against Federal Bank and stockbroker Kishore Janani. They owed apparently ₹6 crores since 1992 to Harshad Mehta. Jyoti received the entire amount with 18% interest.
Jyoti Mehta was born between 1958 and 1960 somewhere in India. Reportedly, she is supposed to be about 62 years old as in 2022. What is the educational qualification of Jyoti Mehta? according to reports, she completed her primary education at a local school and her highest qualification is Graduate. She has been a housewife in her early years of marriage.
She has become quite popular after the death of her husband, Harshad Shantilal Mehta. Many people who did not know her before are now interested in knowing her and even about her early age as well. Atur Harshad Mehta is the only child of Jyoti Mehta and Harshad Mehta. When we talk about the net worth of Jyoti Mehta, the corporate shareholdings filed for June 30, 2021 showcases that she publicly owns five stocks with a net value of over Rs. 2.3 crore.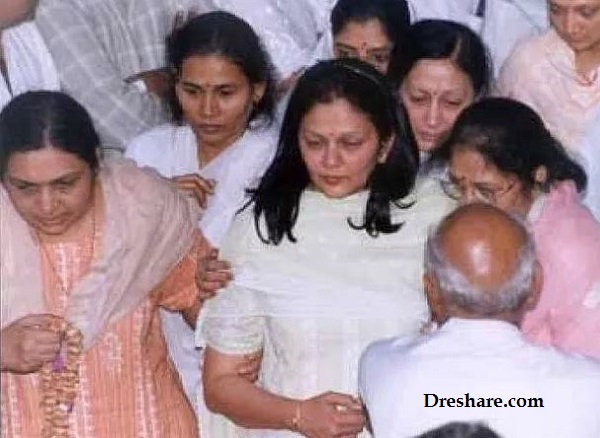 Reportedly, Jyoti and her son, Atur have left their lives in Mumbai, India, and are currently living in the US, America. They are just trying to start fresh far away from all the media.
Ashwin Mehta (Brother of Harshad Mehta)
Ashwin Mehta, Harshad's brother pursued a degree in law in his mid-50s. And currently, he is practicing in Mumbai High Court as well as Supreme Court. Ashwin Mehta's net worth as of 2022 is estimated to be $4 Million. He is a very educated person. He is very sharp and sources say that he used to handle all the stuff of his late brother, Harshad Mehta.
To clear his brother's name, he fought several court cases and paid nearly ₹1,700 crores to banks. He was constituted as attorney of Harshad. After the death of Harshad Mehta in 2001, the case against him was soon abated. Ashwin fought the battle till 2018 and was acquitted by a special court in the case of the State Bank of India. Ashwin Mehta is a vital part of Harshad Mehta's family.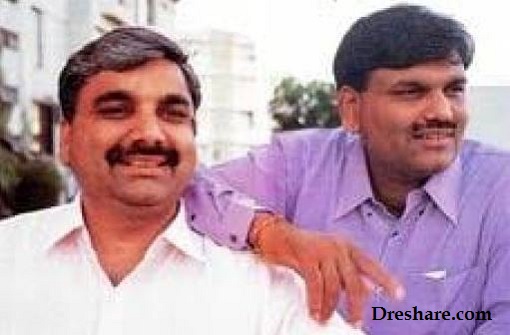 "Scam 1992: The Harshad Mehta Story" Web Series:
The "Scam 1992: The Harshad Mehta Story" series is based on the stock market crash of 1992 in India. It focuses on the life of Harshad Mehta. The series stars several A-list actors like Jai Upadhyay, Anjali Barot, Hemant Kher, Pratik Gandhi, and many more. It is an adaptation of the book "The Scam: Who Won, Who Lost, Who Got Away". This book is written by journalists Debashish Basu and Sucheta Dalal. You can watch the series to know more about how it ended for Harshad Mehta's family.
At the Asian Academy Creative Awards 2021, Hansal Mehta's web series "Scam 1992: The Harshad Mehta Story" has won Best Drama Series and Best Direction. The director Hansal Mehta expressed his happiness and gratitude for the prestigious awards. He took to his Twitter account and tweeted, "Two awards for #Scam1992 at the #AsianAcademyCreativeAwards, India for Best Drama Series and Best Direction. Now we are going to represent India in the Grand Finale in December. Thanks, amazing team #Scam1992, my co-director and son @JaiHMehta @NairaSamir @ApplauseSocial @SonyLIV."
The series bagged a lot of awards in 2021 Filmfare OTT awards, Best Drama Series, Best Director, Best Actor Male (Pratik Gandhi), Best Dialogues, Best Background Music, Best Editor, Best Cinematographer, Best VFX, and many more.
"Scam 1992: The Harshad Mehta Story" is the biography of Harshad Mehta that is set in the 1980s and 90's Bombay. It follows the life of a stockbroker who took the stock market to dizzying heights and his catastrophic downfall. With a 9.5 IMDb rating, you can watch this series on SonyLIV.
The critics gave mostly positive reviews to the series, the performances, and the writing received huge praise.
The Hindu reporter Sayan Ghosh wrote:
"Scam 1992: The Harshad Mehta Story is a well-written show with its lead characters doing all the heavy lifting. Despite its flaws, it provides an intriguing sneak-peek at the untapped potential of homegrown content creators — and what they are capable of — if allowed to run wild with their imagination."
The series received three-and-a-half out of five from the editor-in-chief of The Times of India, Ronak Kotecha. The Times of India stated:
"The fact that it's a real story that captured the country's collective imagination makes for a riveting watch. It's almost like our very own desi version of The Wolf of Wall Street and we're quite bullish that it will keep you invested."
The statement of Subhra Gupta, The Indian Express:
"The Hansal Mehta directed series does a smart balancing act, never quite tipping over into Harshad Mehta adulation, nor showing him as an unmitigated villain."
It received four out of five from Amman Khurana of Zoom TV, the statement:
"Scam 1992 – The Harshad Mehta Story, despite being significantly long, never goes off track and keeps you glued till the end. The deft direction, skilfully-stitched screenplay and thorough research do the job."
The series also got good reviews from Hindustan Times, News 18, Scroll, Firstpost, Rediff, Koimoi, and many others.
The title track of Scam 1992 got 9.7 lakh views on Youtube and went viral after its release in 2020. A beatbox band also recreated the track in France.