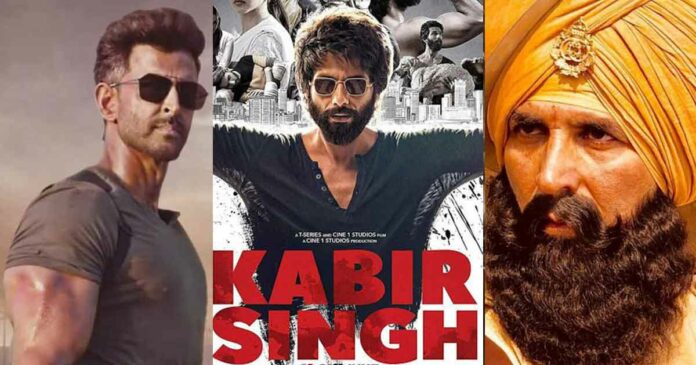 2019 surprised us with some blockbuster Bollywood movies that made good money to be in the list of Highest Grossing Movies In Bollywood. The year saw movies releasing back to back and turned out to be a busy year for movie freaks. 
Some people were crazy about Kabir Singh; others went crazy over Uri. 
Again, there were remarkable movies like Super 30 to Dreamgirl; it was like a complete year anyone could wish for. Everyone got something because almost all genres saw new releases. And, as we know, with a Great Movie comes Great Money! So we tracked down the top 15 movies in terms of their earnings.
Note: The Earnings include the total of Domestic and International earnings. And the list stands good until any new blockbuster movie comes up after the Lockdown in India.
List of Highest Grossing Movies in 2019 with Surprising Earnings
1. War
The movie starring Hrithik Roshan and Tiger Shroff became 2019's highest grosser and successfully surpassed Salman Khan's Bharat on Day 5. The action-packed flick minted money at the box office. They had brilliant action scenes and brought great entertainment to the audience. And guess what? The audience loved it. 
IMDb rating of War: 6.5
Cast of War: Hrithik Roshan, Tiger Shroff, Vaani Kapoor
Box office collection: 317.77 crores
Watch War on: Prime Video
2. Saaho
A blockbuster filled with action and excitement! Interestingly, the movie was simultaneously filmed in Hindi, Tamil, and Telugu, making it the debut for Prabhas in Bollywood. And, making it the first appearance of Shraddha Kapoor in South Indian Cinema. The plot is exciting, and the scenes are even more appealing.
IMDb rating of Saaho: 5.3
Cast of Saaho: Prabhas, Shraddha Kapoor, Neil Nitin Mukesh
Box office collection: 116 crores
Watch Saaho on: Netflix
3. Kabir Singh
A remake of the Telugu hit Arjun Reddy, portrays romance involving a toxic male hero. The film triggered a debate on the gender dynamic in Bollywood romance, but audiences viewed it in high numbers contributing to its profits. The film was close to Rs 200 crores in just 2weeks. 
IMDb rating of Kabir Singh: 7.1
Cast of Kabir Singh: Kiara Advani, Shahid Kapoor
Box office collection: 330 crores
Watch Kabir Singh on: Netflix
4. Uri: The Surgical Strike
A movie inspired by the real-life event of the Indian Army's surgical strike at the Line of Control in Pakistani-administered Kashmir. The film impressed the audience, and the box office numbers proved it. The famous statement 'How's the Josh' has managed to take the internet by storm. The movie rushed our adrenaline and shooted patriotism to achieve the level of success it possessed.
IMDb rating of URI: 8.3
Cast of URI: Vicky Kaushal, Yami Gautam
Box office collection: 244.14 crores
Watch URI on: Zee5
5. Bharat
The movie became the biggest opener of 2019 and faced competition from the film, Kabir Singh. The audience enjoyed it, especially fans of Sallu Bhai. But only a few people know that the movie is a remake of the Korean Drama 'An ode to My father'. 
IMDb rating of Bharat: 4.7
Cast of Bharat: Salman Khan, Katrina Kaif, Disha Patani
Box office collection: 423.14 crores
Watch Bharat on: Prime Video
6. Good Newwz
The movie talks about IVF, a fertilization process. However, the audience took it well because it was fun. They added humor when they created mayhem during the IVF process. Because of a similar surname, two families' sperms for fertilization got exchanged, and now you can imagine the chaos the movie contains.
IMDb rating of Good Newwz: 6.9
Cast of Good Newwz: Kareena Kapoor Khan, Akshay Kumar, Kiara Advani, Daljeet Dosanjh
Box office collection: 318.57 crores
Watch Good Newwz on: Prime Video
7. Mission Mangal
It is said to be India's first film based on space technology and has received mixed reviews at the box office. Akshay and Vidya lead a team of scientists who overcome their personal challenges and failures to serve as the brains behind one of the greatest missions in history. The launch of India's first satellite to Mars. 
IMDb rating of Mission Mangal: 6.5
Cast of Mission Mangal: Akshay Kumar, Vidya Balan, Taapsee Pannu, Sonakshi Sinha
Box office collection: 203.08 crores
Watch Mission Mangal on: Disney Hotstar
8. Housefull 4
A Diwali-entertainer in the true sense. The movie will keep you entertained from the start until the credits. The story of the movie was nicely drawn from present to past and then again to the present. During Diwali, people need entertainment, and they delivered it right to see some good numbers in their ledger.
IMDb rating of Housefull 4: 3.5
Cast of Housefull 4: Akshay Kumar, Kriti Sanon, Bobby Deol, Kriti Kharbanda
Box office collection: 280.27 crores
Watch Housefull 4 on: Hotstar
9. Gully Boy
The movie is inspired by the life of rappers, Naezy and Divine. It was well-received in the metropolitan cities. Gully Boy narrates how parents of these rappers worked hard for their education but Murad, Ranvir Singh realizes his love for Rap and focuses on it instead. He voices out his views on social issues and life in Dharavi using his rap and things change for him soon.
IMDb rating of Gully Boy: 7.9
Cast of Gully Boy: Ranveer Singh, Alia Bhatt, Kalki Koechlin
Box office collection: 238.16 crores
Watch Gully Boy on: Prime Video
10. Dabangg 3
 It is a revenge family drama, mostly witnessed in the early '80s or '90s. It is an exciting story that connects the audience to the previous stories. An entertaining and refreshing movie you must watch. Besides that, this movie features everybody's favorite, Salman Khan. 
IMDb rating of Dabangg 3: 3.0
Cast of Dabangg 3: Salman Khan, Sonakshi Sinha
Box office collection: 230 crores
Watch Dabangg 3 on: Amazon Prime
11. Chhichhore
The prime objective of the movie is to teach everyone never to give up in life and succumb to suicide. To present this message, a father tells his own story to his son fighting for life on a hospital bed. His story involves the lives of a group of friends whom he meets after decades, and they go on discussing their whacky memories from college through flashbacks.
Ironic to the message of the movie, a character from the movie, Sushant Singh Rajput, committed suicide recently. The whole nation was shocked by the news. We too express our condolences. As a tribute, we collected some memories from his movies in the article below. 
IMDb rating of Chhichhore: 8.3
Cast of Chhichhore: Sushant Singh Rajput, Shraddha Kapoor, Varun Sharma
Box office collection: 215 crores
Watch Chhichhore on: Hotstar
Click here to read the memories from Sushant Singh Rajput's Movies.
12. Super 30
Anand Kumar was an award-winning academician who left his high-paying job to teach talented students from underprivileged families. He made them capable of IIT-JEE entrance exams, but the path wasn't easy. The movie captures the hardships and beautifully shows his story. The name of the movie comes from the fact that he took in only 30 students in his class, and every one of them cleared the exams.
IMDb rating of Super 30: 8.0
Cast of Super 30: Hrithik Roshan, Mrinal Thakur
Box office collection: 208.93 crores
Watch Super 30 on: Hotstar
13. Kesari
Kesari – Inspired by real-life events, it's a power-packed performance that will keep you entertained and on your toes as well. The fact that only 21 Sikh soldiers fought against 10,000 Pashtun invaders makes it stand out. And it's not just a story, but this happened in the past in 1897.
IMDb rating of Kesari: 7.4
Cast of Kesari: Akshay Kumar, Parineeti Chopra
Box office collection: 207.09 crores
Watch Kesari on: Prime Video
14. Dream Girl
The movie portrayed 'human loneliness' in a very creative and entertaining manner. Ayushmann Khurrana as Pooja, a female character who lives on Calls brings in unmatchable humor. It's funny and gives out an important message by the end. Simply a Must watch!
IMDb rating of Dream Girl: 7.0
Cast of Dream Girl: Ayushmann Khurrana, Nushrratt Bharucha
Box office collection: 200 crores
Watch Dream Girl on: Zee5
15. Bala
Bala keeps you glued to the screen owing to its excellent storyline. The topic is relatable in today's world. The film talks about insecurities that we carry in our minds and how we allow them to take control of our life. The portrayal of the topic was bold and effective, and the audience loved it. 
IMDb rating of Bala: 7.3
Cast of Bala: Ayushmann Khurrana, Bhumi Pednekar, Yami Gautam
Box office collection: 1.72 billion
Watch Bala on: Hotstar
These are 15 blockbuster movies released in 2019 that made to the list of Highest Grossing Movies In Bollywood With Surprising Earnings. If you haven't watched these movies, now is the time!