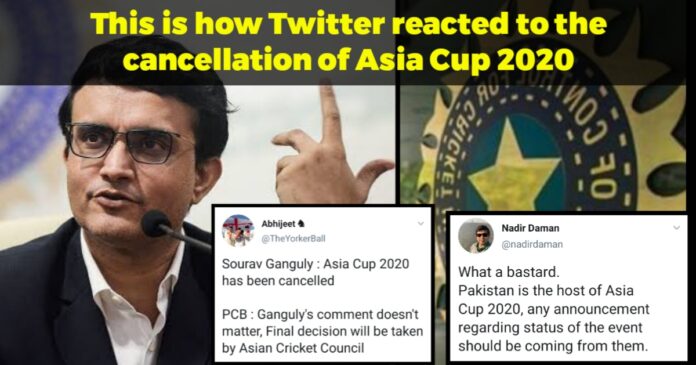 With Covid-19 pandemic raging wild, a lot of sports events across the face of the planet are postponed or even cancelled. A few managed to slip from the grip; still, they are strictly conforming with the rules and regulations which has been currently laid down to contain the impact of the menacing virus. And guess what? The fun in the game dies because of these pathetic rules!
Cricket started yesterday, and without the crowd, it feels as if the battle in the 22-yards has undergone a paradigm shift. Probably domestic crickets will be able to relate to this experience where the ground seems hollow, and also the world seems grim.
Amidst the pandemonium of this life-threatening virus, Asia Cup 2020, which was supposed to be convened by Pakistan, has been called off by BCCI, and the same was later corroborated by ACC. Though there were quandaries about the fact that where exactly will the fray be held, either in Dubai or Pakistan, Twitter did not really settle well with the fact that this tournament was cancelled.
Asia Cup 2020 was originally scheduled to be held in September is now cancelled confirms BCCI President Sourav Ganguly.

— Broken Cricket (@BrokenCricket) July 8, 2020
A Twitter user commented, "Asia Cup 2020 was originally scheduled to be held in September is now cancelled confirms BCCI President Sourav Ganguly."
Just In : To avoid another tournament loss humiliation under his captaincy, Kohli had earlier urged BCCI to cancel Asia Cup 2020, which BCCI agreed to & is now cancelled. Reports suggest BCCI are looking to host Bilateral series during that time in Sri Lanka or UAE. (File Pic) pic.twitter.com/aFBlHZaZqy

— The Expression Of India (@ExpressOfIndia) July 8, 2020
Another controversial Tweet read, "Just In: To avoid another tournament loss humiliation under his captaincy, Kohli had earlier urged BCCI to cancel Asia Cup 2020, which BCCI agreed to & is now cancelled. Reports suggest BCCI are looking to host Bilateral series during that time in Sri Lanka or UAE. (File Pic)"
Ganguly announced postponement of Asia Cup 2020. PCB Chairman reacted rightly, attributing protocols not being followed & the decision should have come from the ACC & PCB being the host. Inside a few hours, Mani Sb confirmed postponement. Strange ways shall continue haunting us.

— Dr. Nauman Niaz (@DrNaumanNiaz) July 9, 2020
Twitteratti was simply warming up as another user commented, "Ganguly announced the postponement of Asia Cup 2020. PCB Chairman reacted rightly, attributing protocols not being followed & the decision should have come from the ACC & PCB being the host. Inside a few hours, Mani Sb confirmed the postponement. Strange ways shall continue haunting us."
Just Now :
While talking live with @vikrantgupta73 on Insta Gram , Sourav Ganguly said that the Asia Cup to be played in 2020 has been completely canceled. #AsiaCup

— Cricket Lovers (official) (@Ehsancricket) July 8, 2020
Another account for cricket cited, "While talking live with @vikrantgupta73 on Instagram, Sourav Ganguly said that the Asia Cup to be played in 2020 has been completely cancelled. #AsiaCup"
Sourav Ganguly : Asia Cup 2020 has been cancelled

PCB : Ganguly's comment doesn't matter, Final decision will be taken by Asian Cricket Council pic.twitter.com/Z9u7eJM80A

— Abhijeet ♞ (@TheYorkerBall) July 9, 2020
Questioning Saurav Ganguly, another user stated, "Sourav Ganguly: Asia Cup 2020 has been cancelled PCB: Ganguly's comment doesn't matter, Final decision will be taken by Asian Cricket Council."
What a bastard.
Pakistan is the host of Asia Cup 2020, any announcement regarding status of the event should be coming from them. https://t.co/91qcQf8l7f

— Nadir Daman (@nadirdaman) July 8, 2020
Not everyone was happy with the decision as a few decided to slam it, citing, "What a bastard. Pakistan is the host of Asia Cup 2020, any announcement regarding the status of the event should be coming from them."
Now A Few More Hilarious MEME Posts By Funny Twitteraties
T20 World Cup & IPL is likely to be postponed & now Asia Cup Is Cancelled.
Me :#AsiaCup pic.twitter.com/kgIo3pEuQr

— Shubham Bhatt (@Shubharcasm) July 8, 2020
Le IPL to Asia Cup pic.twitter.com/V9GcP8CLOw

— Bhagwan RC 🇮🇳 (@ImBhagwanRC) July 8, 2020
IPL 2020 cancelled ❌
T20 World cup 2020 postponed ❌
Asia Cup 2020 cancelled ❌

Cricket fans😭😭#AsiaCup pic.twitter.com/ASoQytXJEg

— Sanghi Captain (@CaptainIndia26) July 8, 2020
#AsiaCup has been officially canceled.

meanwhile #SouravGanguly pic.twitter.com/VtM6NXcIdI

— ⚉ΛΚ🇮🇳ΗΙΓΗ⚉ (@AkshithShetty93) July 8, 2020
#AsiaCup #asiacup2020
BCCI president Sourav Ganguly on Wednesday announced cancellation of the Asia Cup T20, scheduled to be held in September, due to the COVID-19 pandemic.
*Le cricket fans: pic.twitter.com/B1fK4zxiKu

— Shubham Mohapatra | शुभम महापात्रा (@SM__TWEET) July 8, 2020
#AsiaCup has been officially Cancelled*

*Pakistani Tv seller to #SouravGanguly rn: pic.twitter.com/i6kOlOwE8k

— Spıder🍁 (@Pagal_Bandar_) July 8, 2020
#AsiaCup officially cancelled.
Cricket fans right now pic.twitter.com/uDyegzrUF8

— Anup Nair (@anup_s_nair) July 8, 2020