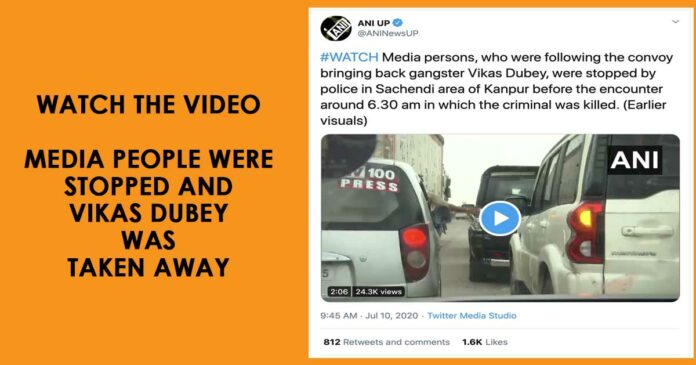 Vikas Dubey has recently hit the headlines several times. A recognised gangster with 60+ criminal records, with his recent crime involving the demise of 8 cops in UP, was arrested in Ujjain on 9th July.
It was not more than 24 hours that a new update came in stating Vikas Dubey was no more after UP Police had to shoot him down. As per records, the police vehicle carrying the criminal overturned and Vikas tried to flee the scene. Realising the situation, the police in charge had to take a stern decision of shooting the convict as he was trying to escape police custody.
However, a recent update by ANI states that the media people following the convoy carrying Vikas Dubey was stopped midway in Sachendi area of Kanpur before the enc0unter took place.
Check Video Here:
Click to Watch ANI Post and Video on Twitter
The series of events in the case arise a lot of questions in people's mind. Many have already questioned if the police statement is true or was the incident preplanned? Some are praising the police by saying they have taken the right action. But few people have condemned the act by claiming it to be a fake enc0unter as Vikas himself surrendered in the first place.
Complaint Against Authorities
A twitter user, Tehseen Poonawalla Official, stated that she filed a complaint with the National Human Rights Commission against the alleged Fake Enc0unter. She believes it was done to safeguard many politicians and police officers involved with the gangster.
Here is the post where she showcased the complaint filed:
We can't confirm anything yet, and we abide by the official statement released by the administration unless anything else comes up.
Twitter Reaction To Vikas Dubey Incident
However, the question in people's mind can't be stopped. People even took to twitter and expressed their feelings as below: