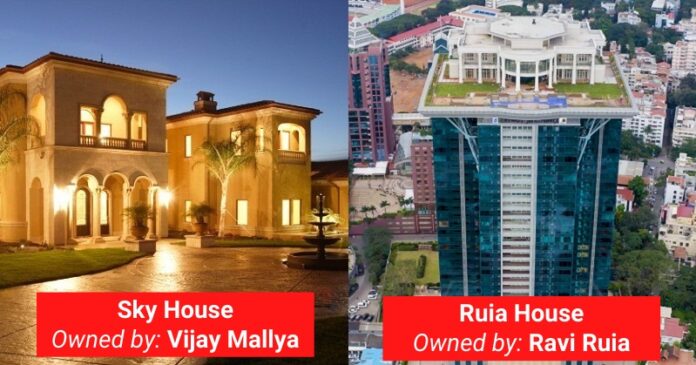 India has the third-highest number of Billionaires around the globe. With 140 billionaires in the country, the expectation of lifestyle has no limits. Luxury from a swimming pool to personal helipads, everything is within a house.
From jaw-dropping architecture to unbelievable leisure, let us take a look at the most luxurious and expensive houses built by Indian Billionaires.
1. Antilia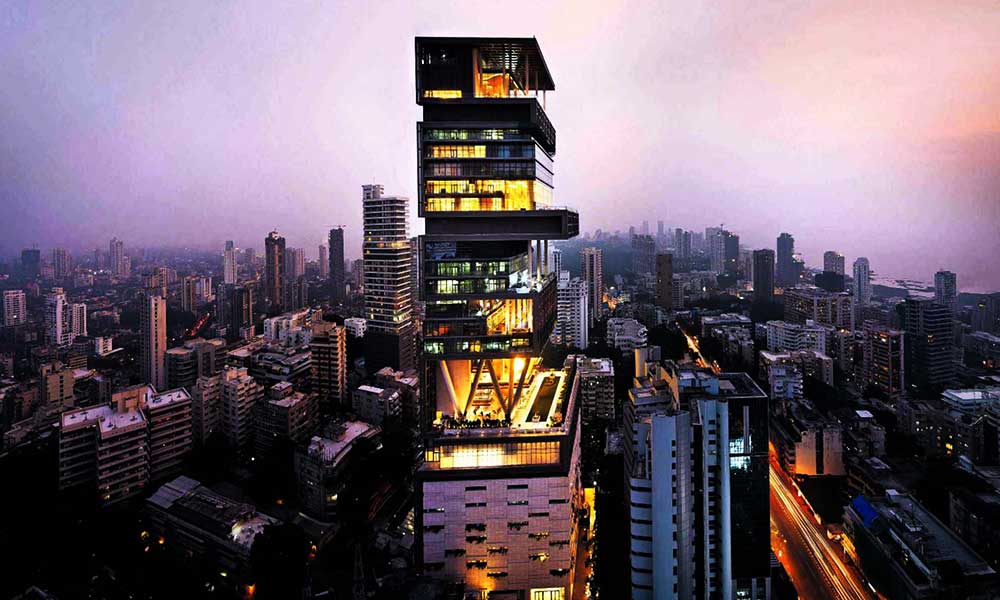 Owned By: Mukesh Ambani
One of the most expensive and widely popular houses on the globe is Mukesh Ambani's Antilia. The house or better to be called the modern-day castle is a definition of luxury. With a worth of $2.2 billion, it is the world's second most valuable residential property, only behind the British queen's residential place, Buckingham Palace. The building is 27-story high and has everything one can imagine, from 3 helipads, a salon, an ice-cream parlor, a swimming pool, a multi-story garage, a spa, and whatnot.
2. Mannat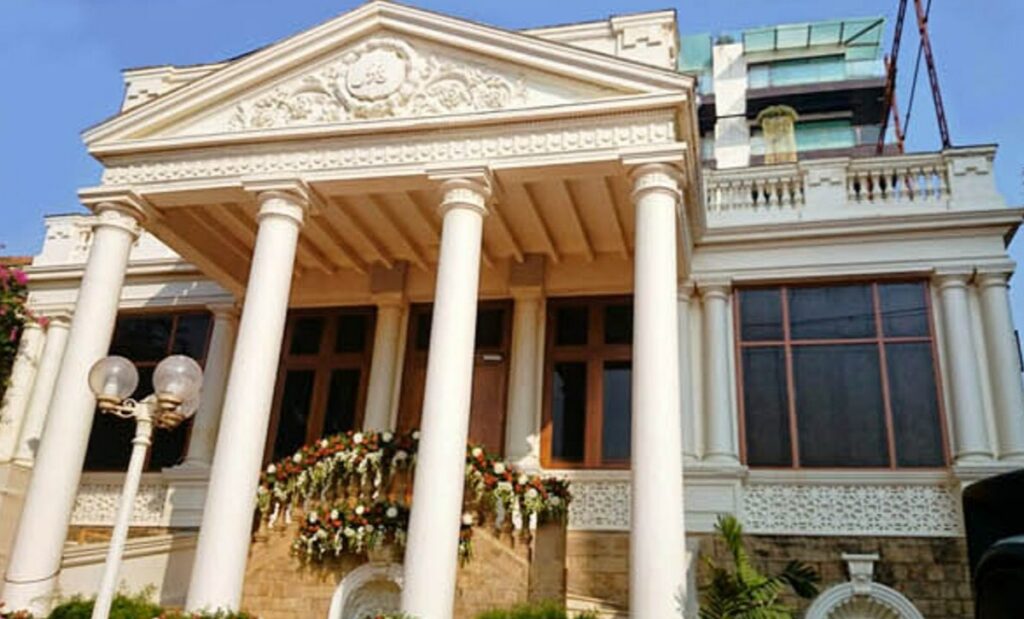 Owned By: Shah Rukh Khan
The beautiful mansion, Mannat, is a perfect residence for the king of Bollywood. Gauri Khan, Shah Rukh Khan's wife, is an interior designer and designed the house interior herself. The six-floor building is an architectural beauty, equipped with a gym, swimming pool, library, basement garage, party halls, personal auditorium, and the list goes on. Its estimated worth is to be about Rs.200 Crores.
3. JK House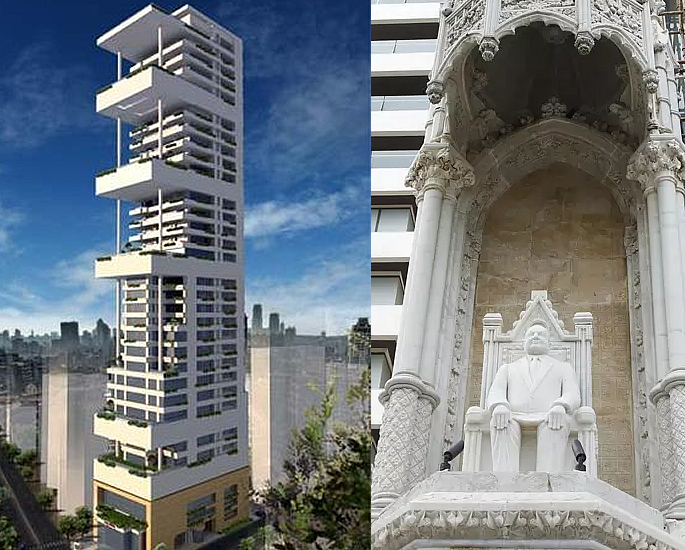 Owned By: Gautam Singhania
With 36 floors, this is the second tallest residential building in India after Antilia. Located in South Mumbai, JK house is spread over 16,000 square feet. It took almost six years to build this skyscraper and includes facilities like five-floor parking, spa, two swimming pools, gym, helipad, and more. Though still under construction, the estimated valuation of the building is said to be about Rs. 6,000 crores.
4. Adobe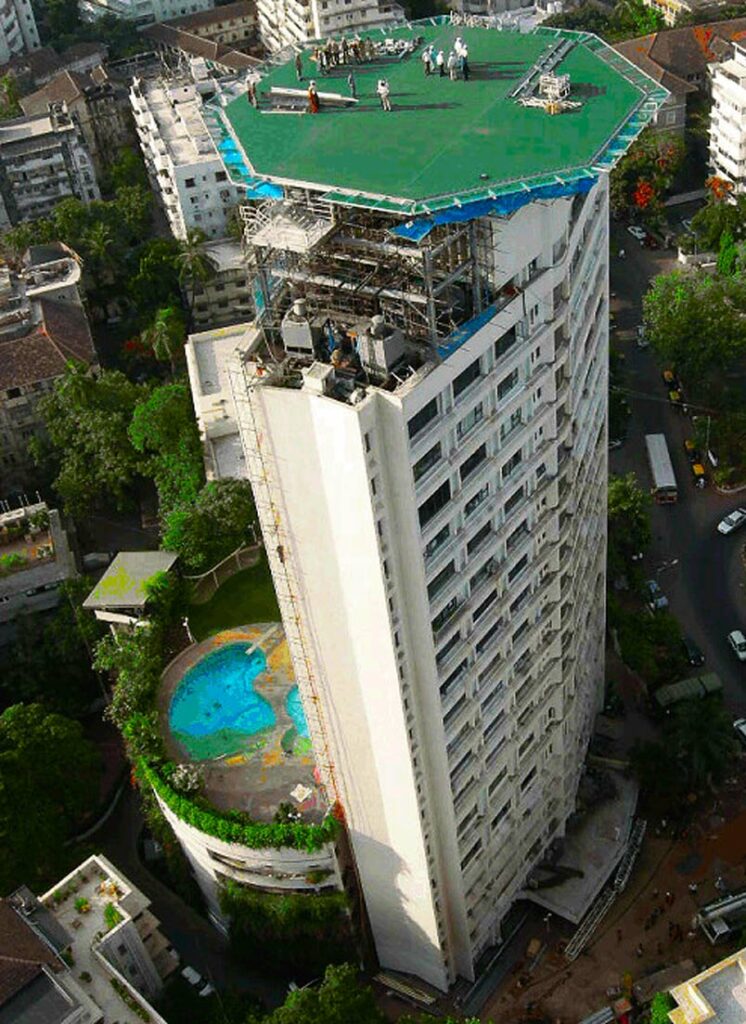 Owned By: Anil Ambani
Although the lustrous house is still under construction, it is expected to be one of India's most expensive residential places. Located in Pali Hill, Mumbai, this will be about 66-meter high and spread in 16,000 sq feet. The reported worth of the house is to be about Rs. 5,000 Crores. It will include, gym, helipad, swimming pool, spa, and many other things.
5. Ratan Tata's Retirement House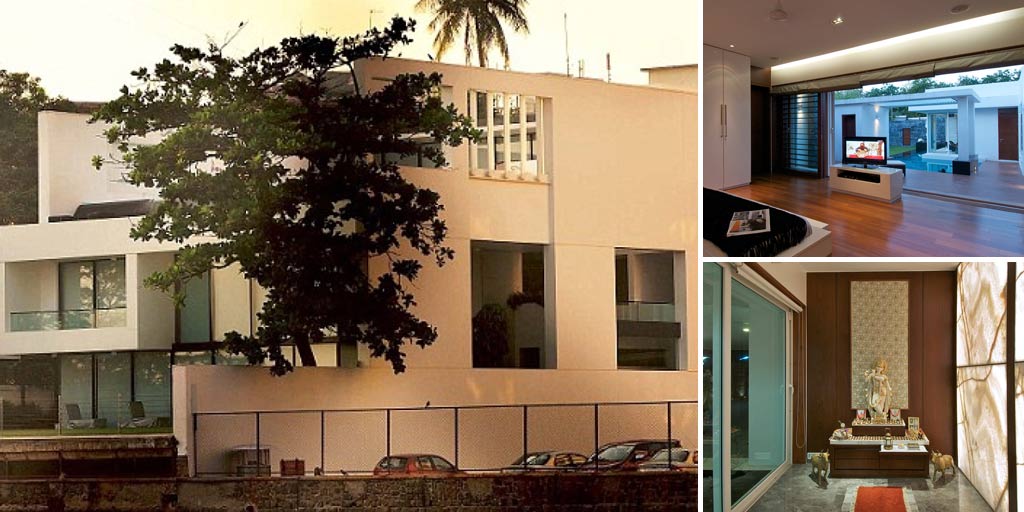 Owned By: Ratan Tata
There are not many industrialists known more for their philanthropist work, humility, and down-to-earth personality rather than their money. Ratan Tata, son of India's most prominent twentieth-century industrialist, has built a wonderful retirement home. It is spread in 13,350 sq feet land and reported to be about Rs. 150 Crores. The house is built next to the sea and has a beautiful sea view, sun deck, gym, infinity pool, and all the luxury one needs after retirement.
6. Jindal House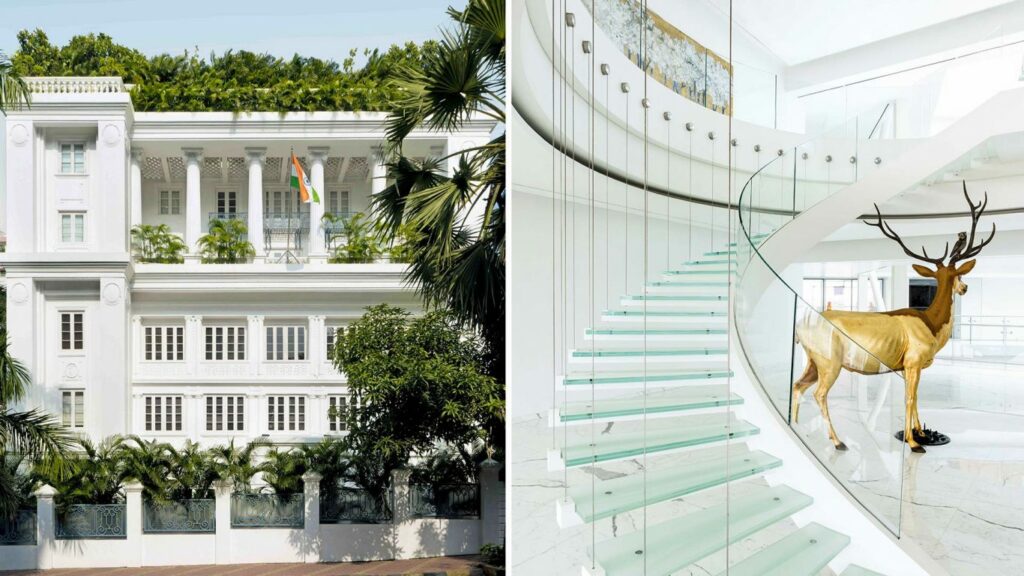 Owned By: Naveen Jindal
The Chairman of Jindal Steel and Power Limited is an influential Political industrialist of the country, which shows in his bungalow. Located in Leafy Lutyens Bungalow Zone, New Delhi, the house is spread across three acres of land, and its reported worth is Rs. 120 Crores. It is one of the most expensive and famous properties in New Delhi. This marvelous house is spacious, green, and a perfect industrialist residence.
7. Sky House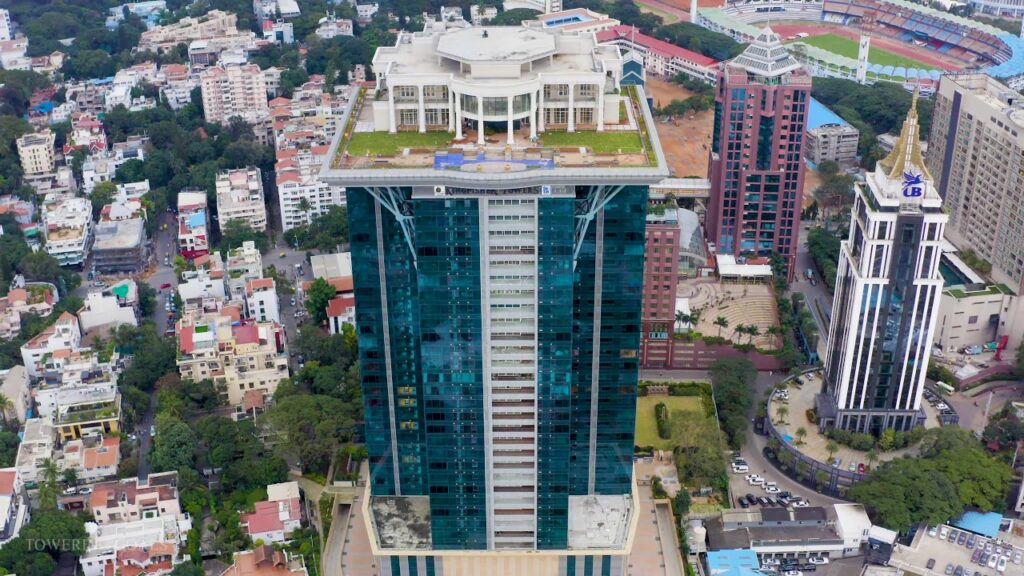 Owned By: Vijay Mallya
No matter what your thoughts about Vijay Mallya but you could agree when I say he has great taste. Sky House is a dream house any billionaire would want, but Mallya didn't even get a chance to stay here. Located in Bengaluru, Sky house is almost complete and said to be the highlight of Mansions. It has a white house-type palace on the 35th floor. The value of the Sky house is estimated at nearly $20 million.
8. Ruia House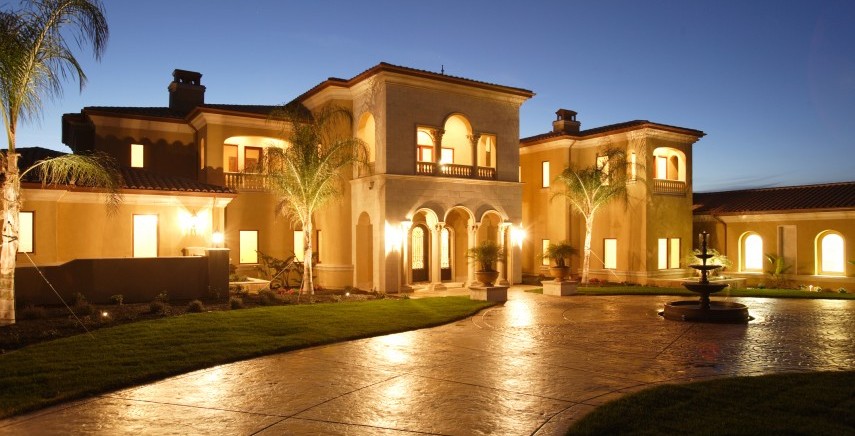 Owned By: Ravi Ruia and Shashi Ruia
The beautiful bungalow is spread over 2.24 acres of land. The house complements the real state brother's lavish lifestyle. Located in the heart of Delhi, the bungalow is equipped with a private swimming pool, lawns, and many other things. The house worth Rs. 120 crores.
9. Jatia House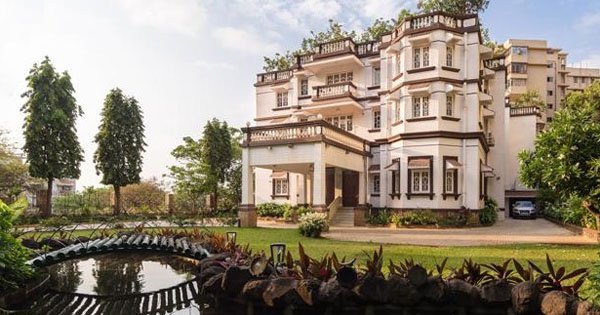 Owned By: KM Birla
Located in Malabar Hill, Mumbai, the mansion is worth a look. Spread across a 30,000 sq feet area, the house has a beautiful sea view, courtyards, ponds, lush green gardens, and many other things. The chairman of Aditya Birla Group beat four others in a bidding war for the mansion. Its reported worth is said to be about Rs 425 Crores.
10. Jalsa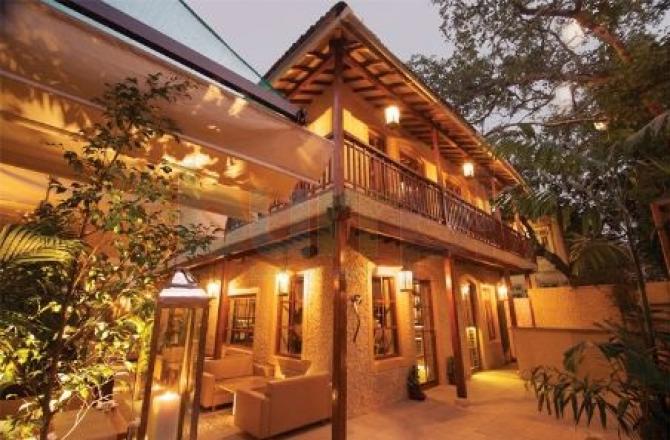 Owned By: Amitabh Bachchan
With an estimated worth of Rs 100-120 crores, it is unbelievable that this house was a gift. Amitabh Bachchan's Jalsa was gifted to him by Ramesh Sippy, Director, for the movie Satte Pe Satta. The place is spread over 10,123 sq feet and is a lavish mansion for the Bachchan Family. Its royal stay includes a front porch, verdant garden, glass chandeliers, plush rugs, and everything Big B desires and deserves.
Read more: Cost & Exclusive Interior Details About Shahrukh Khan's Houses