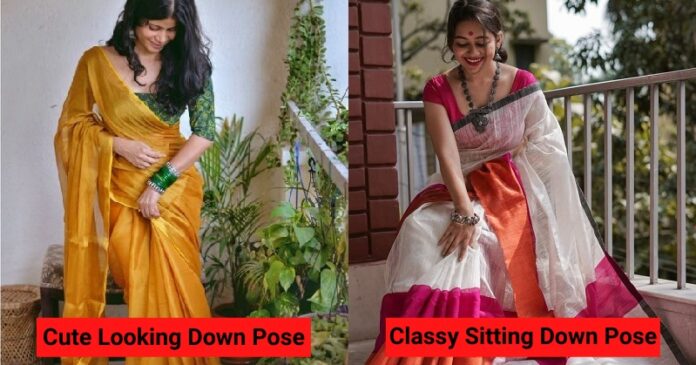 Sarees have the ability to make any Indian girl feel beautiful. They are diverse, comfortable, and perfect for all occasions. There are endless types of Sarees like cotton, polyester, chiffon, silk, etc. For all these endless Saree types, the pictures should be just as diverse and the saree poses should be different and unique.
Here are some of the best saree pose ideas for your next photoshoot:
1) The Thinking look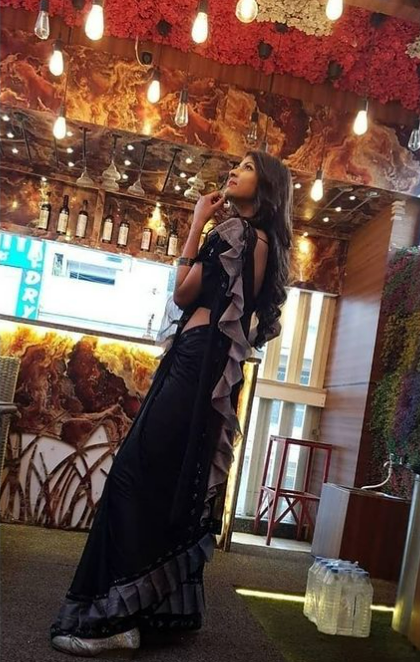 The next time you have a Saree with elaborate details like a special kind of border, use this pose. Simply turn your body to the side of the camera, one hand to the face, and there you go. In this shoot, the details of the black Saree border are noticeable due to the pose and the backdrop of wood really suits the black color of the Saree.
2) The Close Up Shoot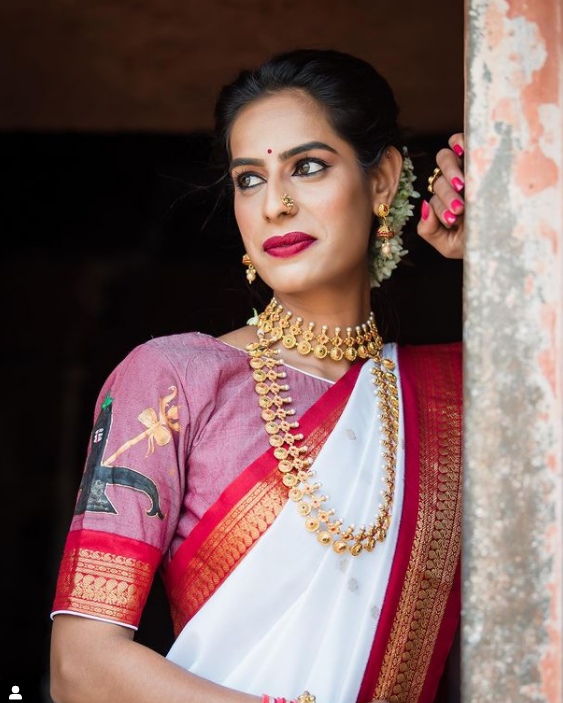 If in a picture, you want to focus more on your traditional jewelry and makeup, follow this pose. Put one hand on nearby support and confidently look at the camera. The close-up shoot pays special attention to your look while equally respecting your Saree. A simple but good pose in Saree.
3) For Backless Sarees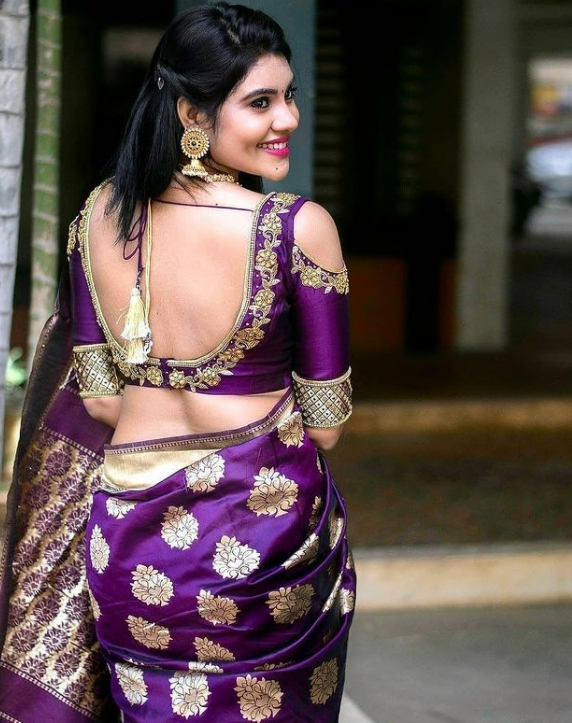 With different patterns of the blouses designed, the poses need to be just as different. For a blackless Saree, turn your body away from the camera, look behind, and flash a pretty smile. In the picture, the model has turned her hair to one side to show her blouse off and you could do the same for this pose in Saree.
4) For A Sultry Look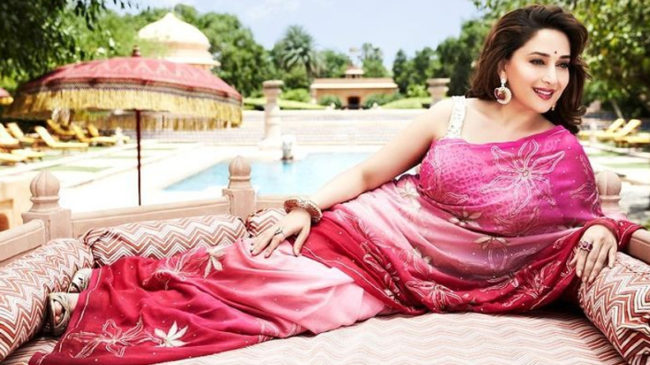 Who said a Saree cannot be sexy? Saree has the ability to make you look classy and sultry all at the same time. For this look, the best Sarees to go for would be net or georgette material Sarees as they have more flow, pair this with a good fitted padded blouse. The pose is simple, just relax on a bed and drape the saree over it.
5) A Back Photo-shoot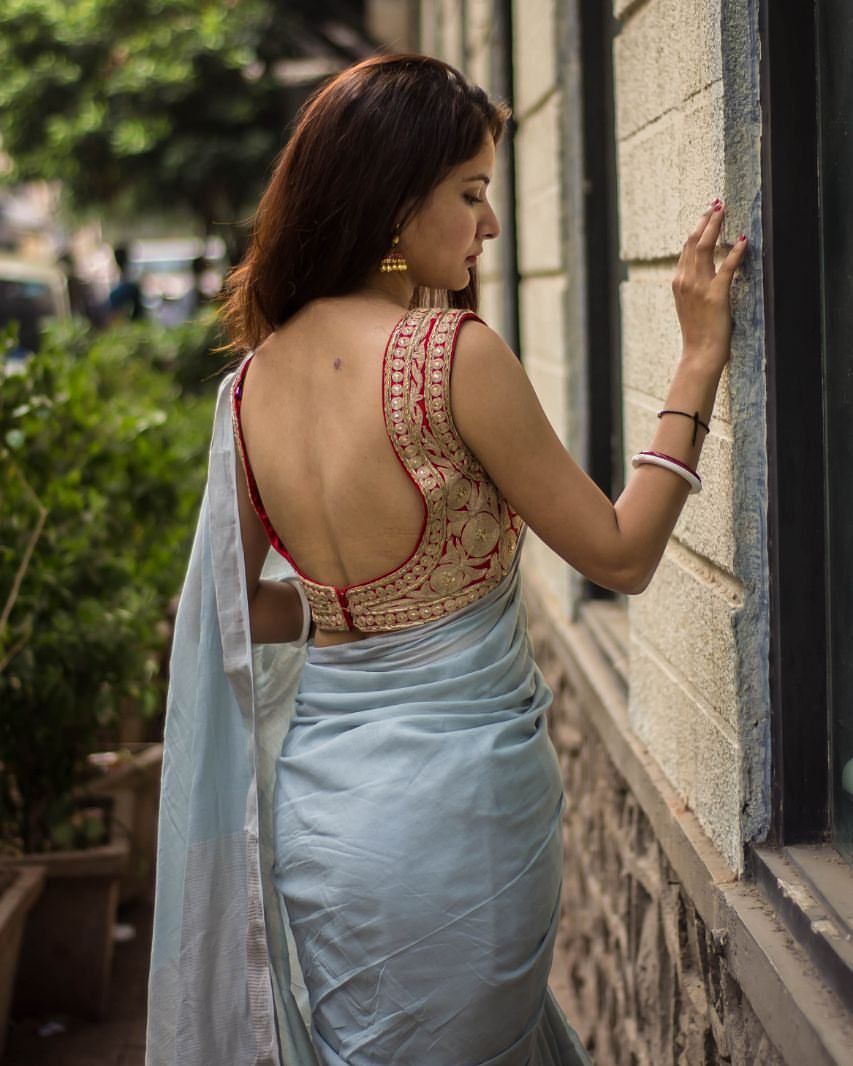 Long hair and Saree are a beautiful combination. If you have long silky hair and want to flaunt it, this pose is for you. Turn your body away from the camera and play with your hair. In this picture the brightness of the Saree compliments the hair color, so be sure to pick a Saree color according to your hair. This saree photo pose is elegant and fun.
6) A Sun-Kissed Look Saree pose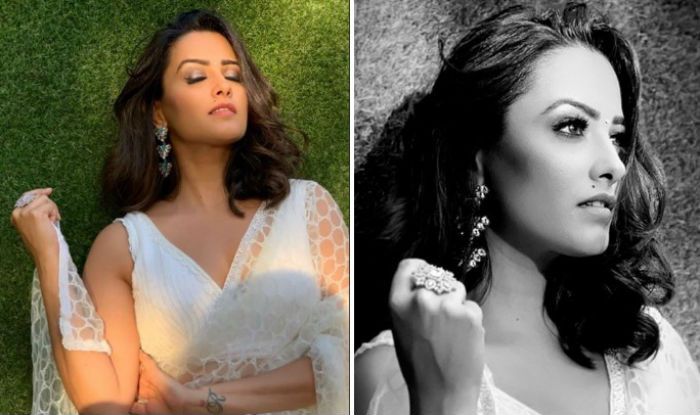 Social media is filled with sun-kissed poses for all occasions, and one of the classic ones is the Saree look. For this look, pick out the perfect location where the sun would hit your face and create some pretty shadows on your Saree as well and pose away. In this picture, the model has used her hands to play with her hair and it makes the picture more fun. This is one of the prettiest poses for girls in Saree.
7) When The Saree Print Is Beautiful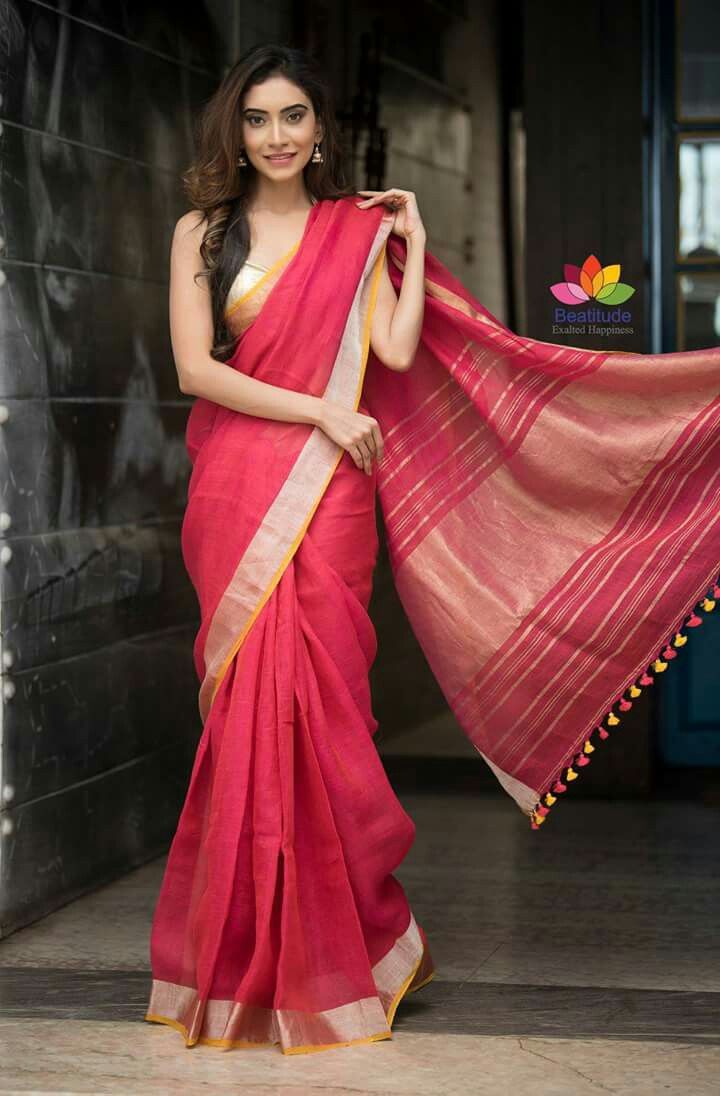 When a girl falls in love with a Saree print, it's hard to hide it. If you have a Saree with a classic or fun print, simply follow this pose. Use your hand to lift the end of your Saree a bit, and show the love you have for it off. In the picture, the outside light brings out the true print of the Saree, when you try this pose, make sure to stand in a well-lit area.
8) Simple And Classic Pose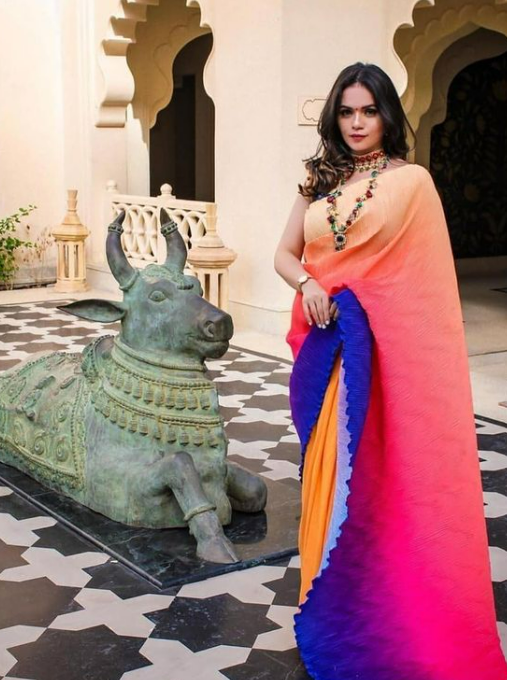 This is one of the easiest poses for girls in Saree. Simple wear a beautiful saree and keep your hands closed at the front. This pose can be elevated if it is clicked near some interesting and traditional background, like in the picture, the model is standing in front of a traditional-looking palace.
9) A Fun Look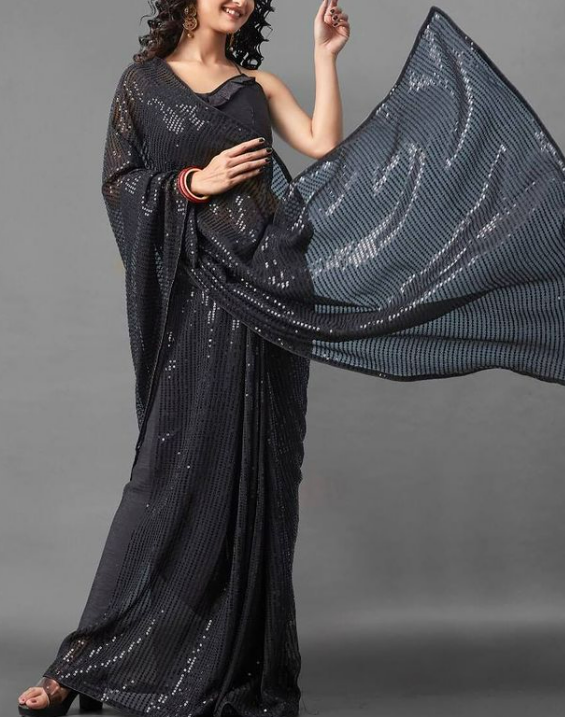 Saree for most Indian women is a go-to party look. One of the more popular designs of Sarees in recent times is the shiny polyester or georgette material. Such Sarees are slightly transparent but their shine is what makes them pretty. Saree poses for girls in this look are simple, just use your hand and throw your saree ends a little and create a flowing image of the Saree.
10) Boss Lady Vibe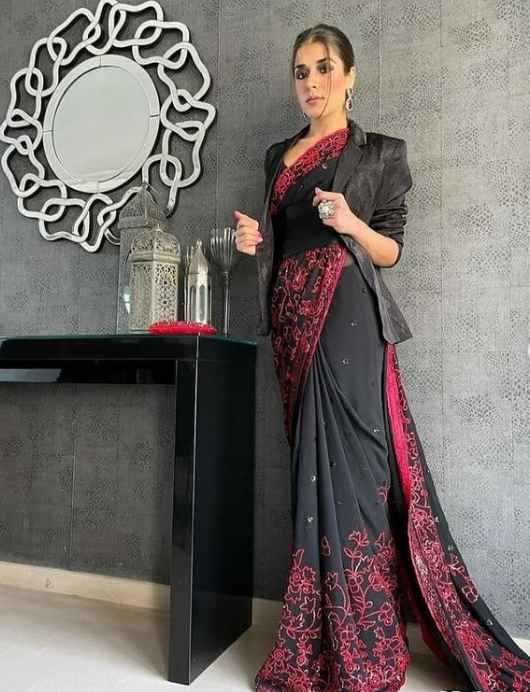 A Saree is versatile enough to go with a lot of things. A smart fitted coat looks elegant with a Saree. For this pose, hold onto your coat and look confident and straight at the camera. This boss lady look is a good spin on a classic Saree. The model has paired black and red colors together for her look, and so while picking the outfit, keep to bold colors.
11) Sitting On Some Steps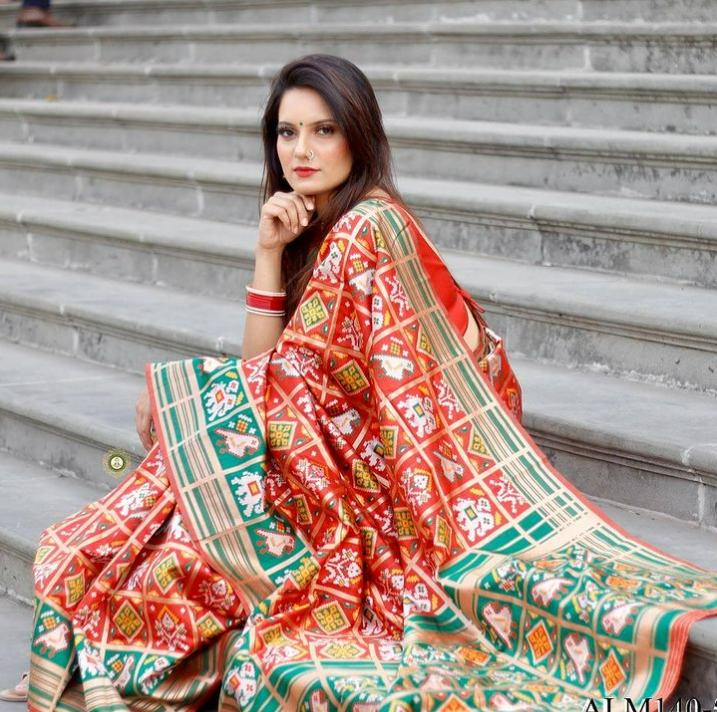 A different pose for your pictures would be sitting on some stairs. It is easy, just sit down, put one hand to your face and gaze at the camera. The model in the picture has a Saree with a beautifully printed side and you could wear something similar and show it off.
12) Lean On A Door And Pose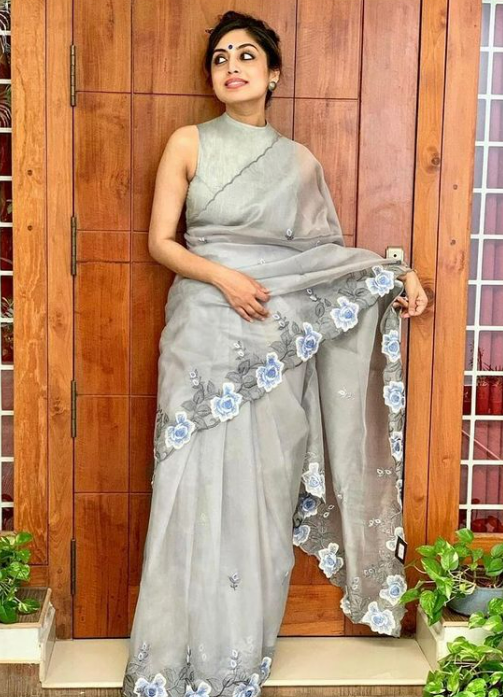 This pose is simple, just lean on the door of your house and look away. What really elevates this pose is the surroundings. Make sure that the door is of a muted color so your outfit shines. The nearby area could have plants but make sure everything is neat for a classic picture.
13) Glamour Shoot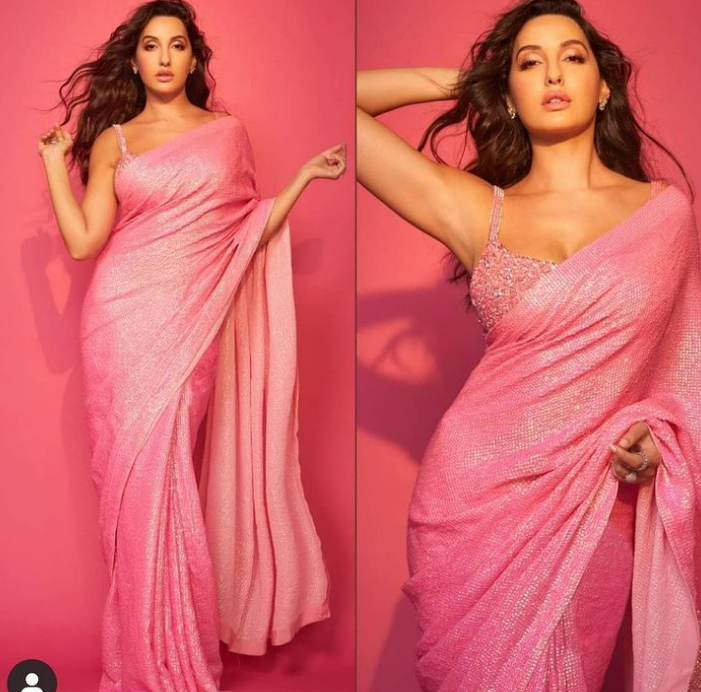 If you are all decked up for a party, with your hair ready, a shiny Saree as well as a shiny blouse, this is your pose. Just simply stand confidently in front of the camera and let your hands play with your hair or keep them slightly raised to the sides. If you are home, using a hairdryer and blowing your hair will have an amazing effect on the picture.
14) A Couples Shot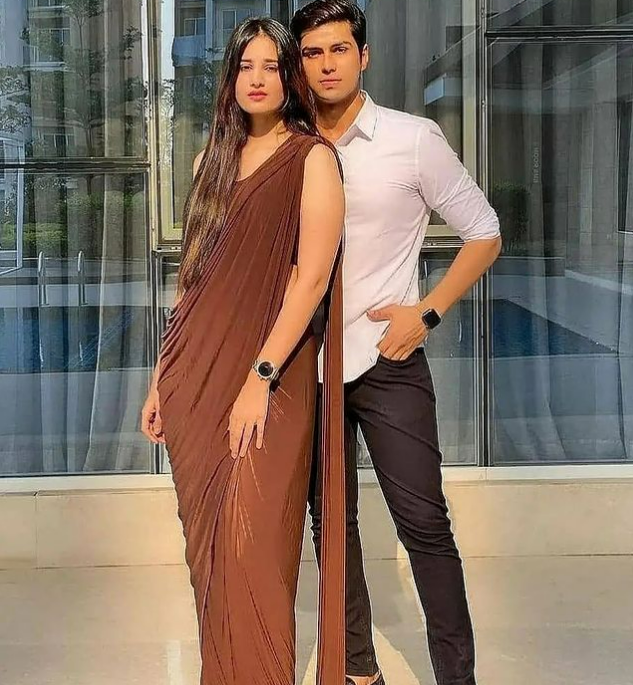 If you want a picture with your partner which is different from the usual side hugs, these Saree poses for girls are for you. Stand in front of the camera and gaze confidently and your partner would stand in the back. While there is no physical contact in the pose, the picture comes out amazing and cool.
15) A Classy Sitting Down Pose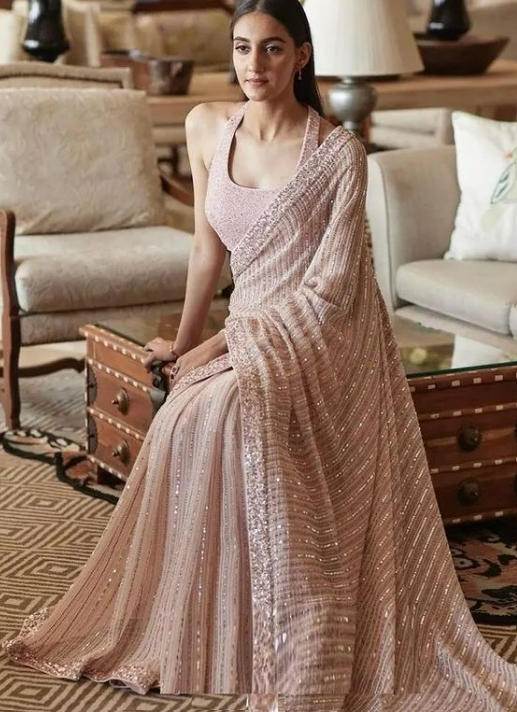 This next pose is classic and slightly common. Just simply sit down and look straight ahead, away from the camera. The pose is simple but the picture can be made better by the surroundings. In the picture shown, the entire color scheme has been kept around cream tones, and hence the picture looks classy. You could do the same and select one color theme.
16) A Cute Look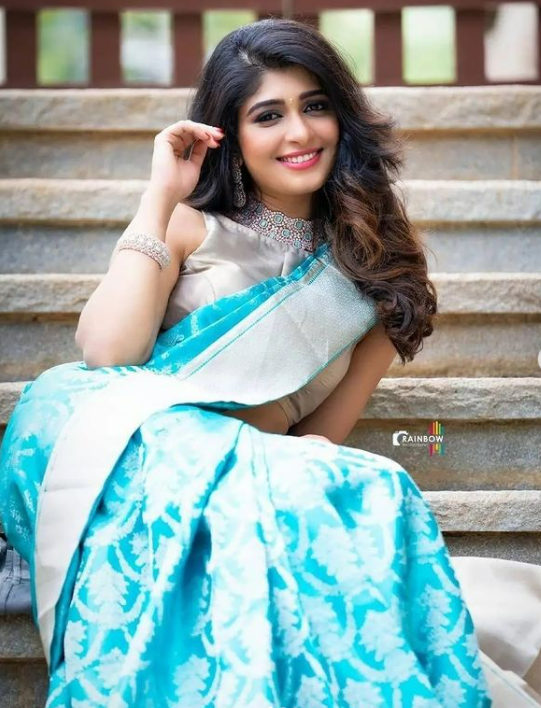 A cute and fun Saree picture is always appreciated. For the pose just lean back on some stairs, put one hand to your hair, and flash a big smile. Just like the model, wear a Saree that has a bright color to make the shoot vibrant and young.
17) A Traditional Silk Saree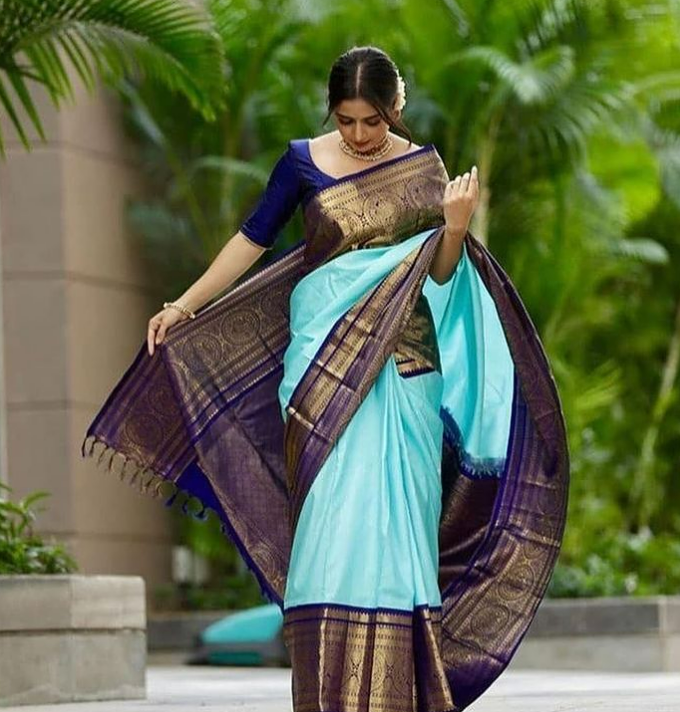 While all Sarees have a charm of their own, nothing beats traditional silk Saree. For this pose, drape a silk Saree with a good border, look slightly down and extend the corner of the end of the Saree to another side for a beautiful look. The background of this pose could be slightly muted so that the Saree shines.
18) A Moving Look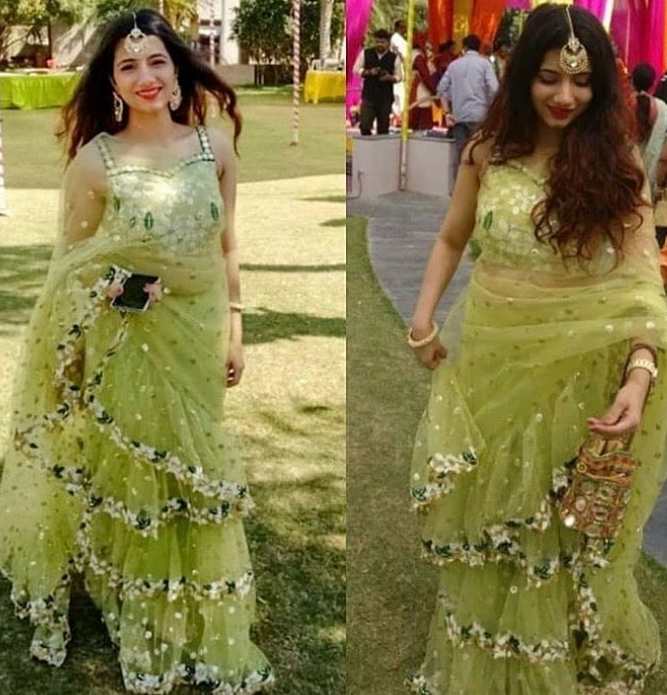 If you are wearing a net or some other flowing and thin material, this pose is perfect for you. Just carry your Saree with grace and start walking straight, the wind will create a gorgeous look with your hair and Saree flowing. For this look, make sure to open your hair and smile happily into the camera.
19) Look Away Pose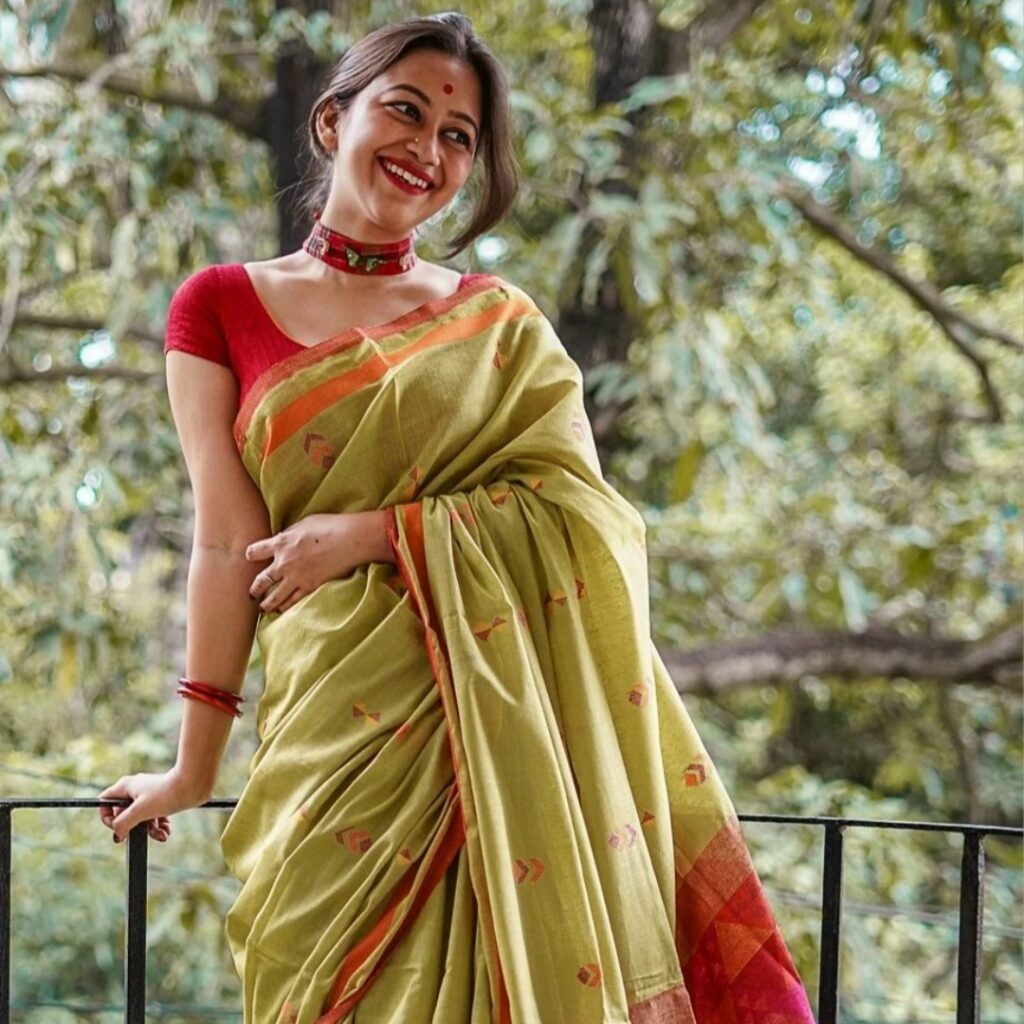 One of the simplest saree poses is to lean back, look the other way, and smile. You can try this easy pose on your balcony, the pictures will turn out pretty and you will have a great photoshoot.
20) Sitting Pretty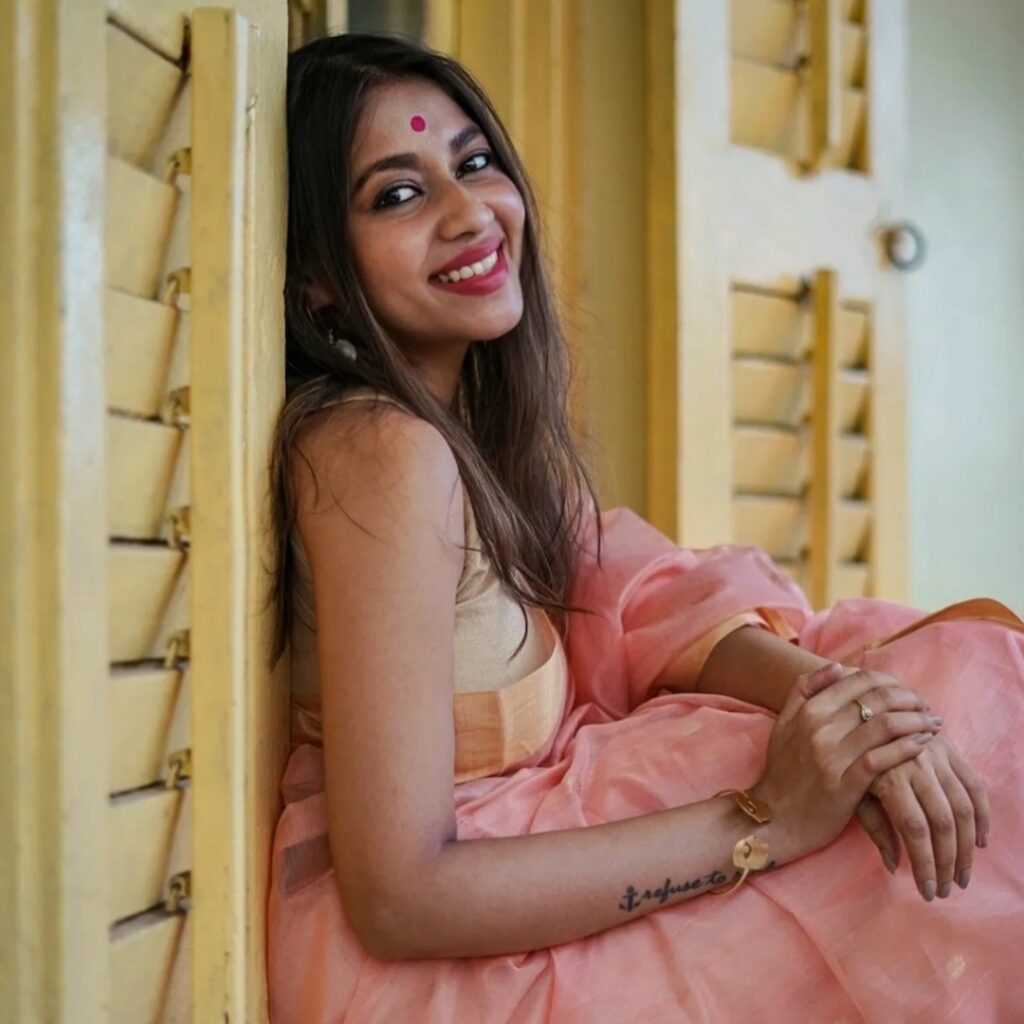 This is one of the prettiest and cutest poses that you can try with your saree look. All you need to do is sit by leaning on a wall or any solid surface with your back towards the wall and look into the camera and smile while you do it.
21) The Elegant Sitting Pose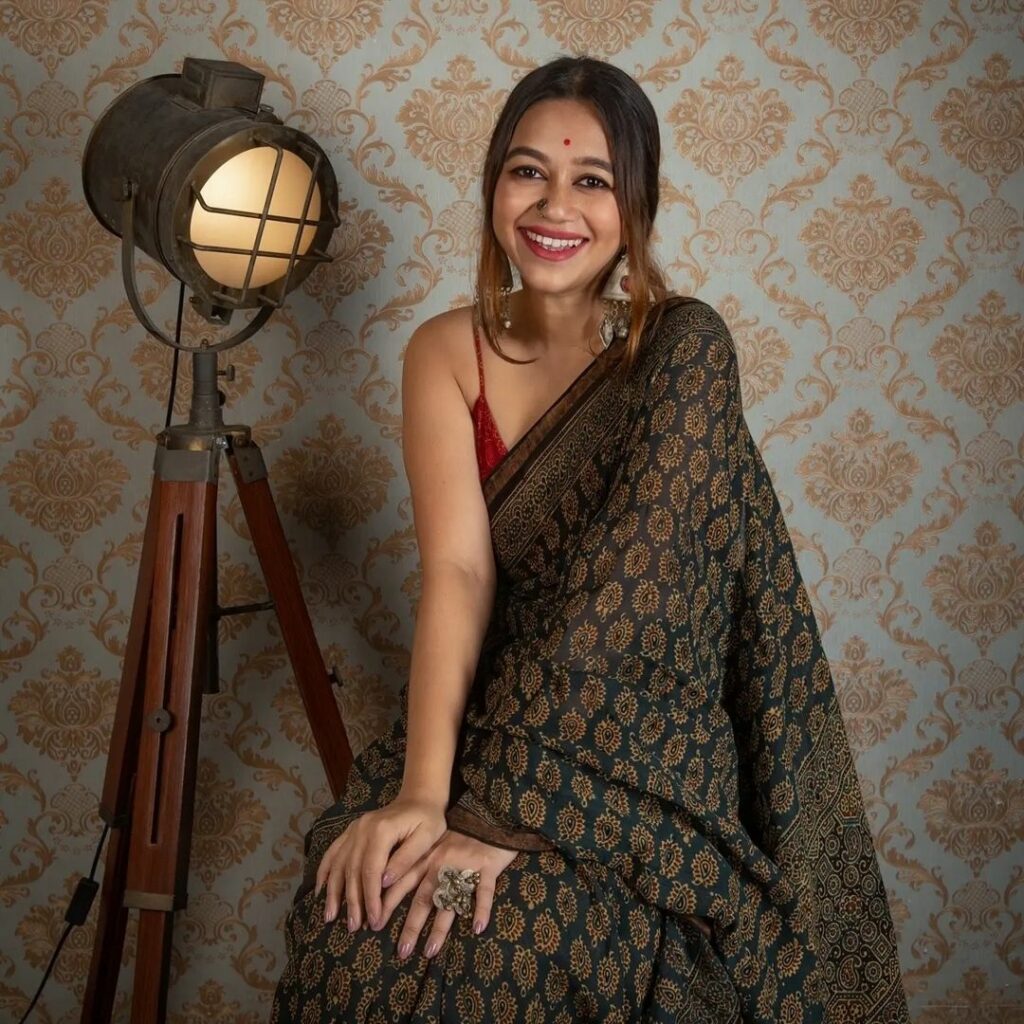 To try this pose, you have to find a stool, sofa, or chair to sit on. Then close your knees, put your hands on your knees, elevate your shoulders, and smile by looking at the camera.
22) The Closed Eye Pose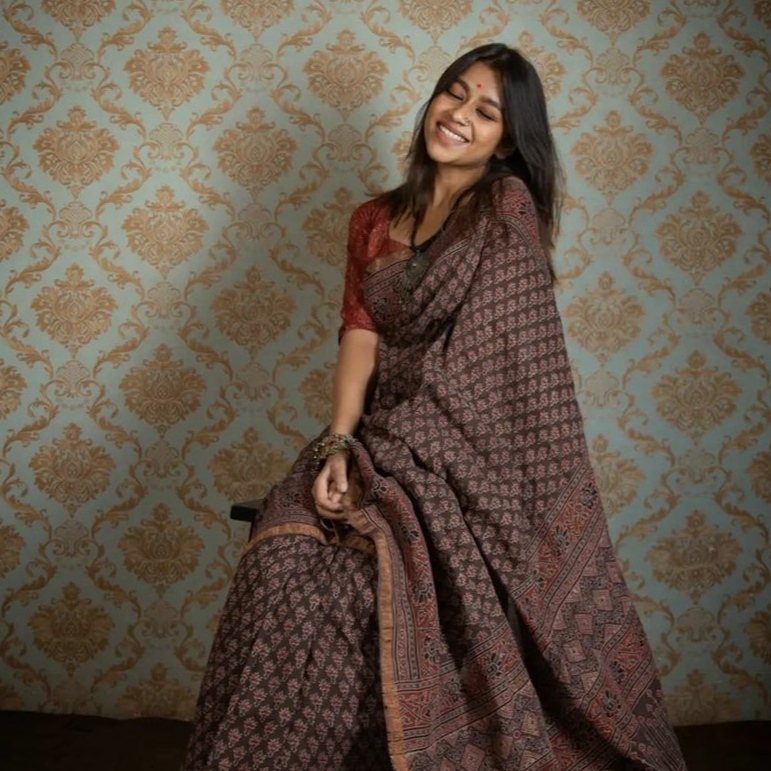 To implement this pose and get this fake candid look, sit on a stool, or chair, lean back, and smile without looking at the camera. The trick is to face the lens but close your eyes and smile for this cute pose.
23) Sit and Smile Saree Pose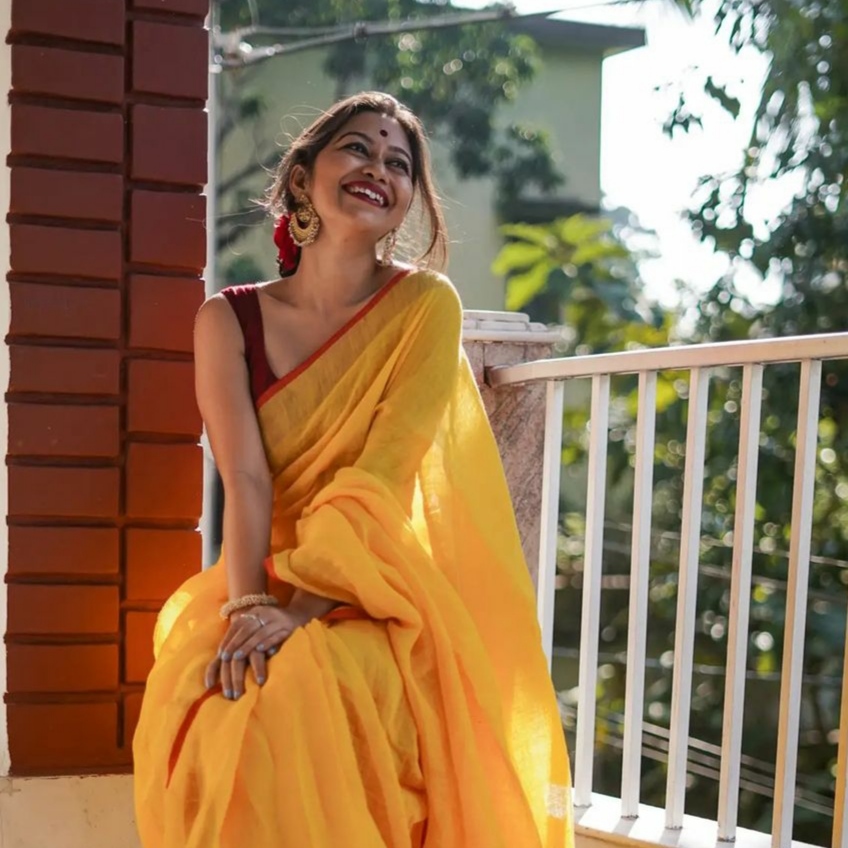 This is another sitting pose and one of our favorites. The pose is simple and the photos turn out to be beautiful and pretty. To nail this pose put both your hands on your knees, look sideways and smile.
24) The Cool Sunglass Pose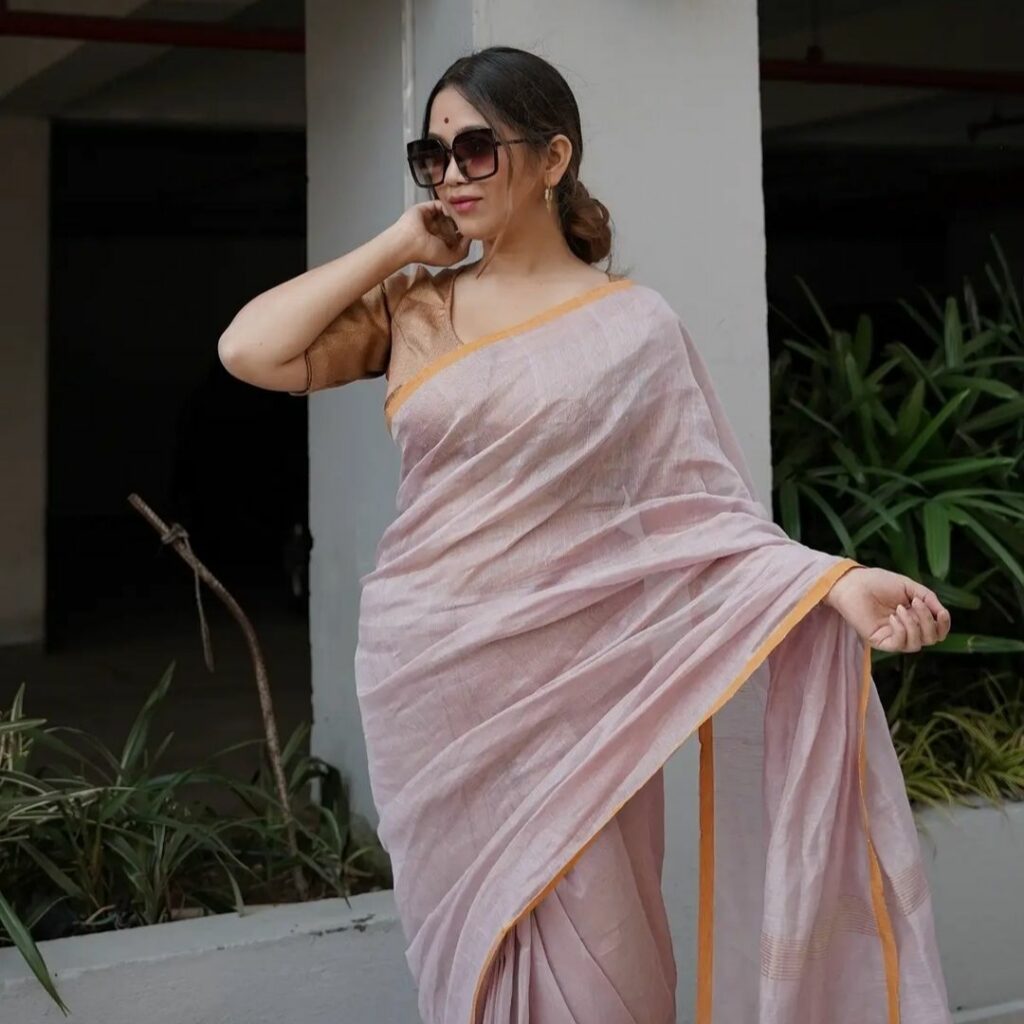 The cool desi sunglass pose is perfect for an elegant and fun photoshoot. To nail this pose let your body face the lens, lift one of your hands, and put the other hand behind your ear or hold the glasses with it.
25) Looking Down Saree Pose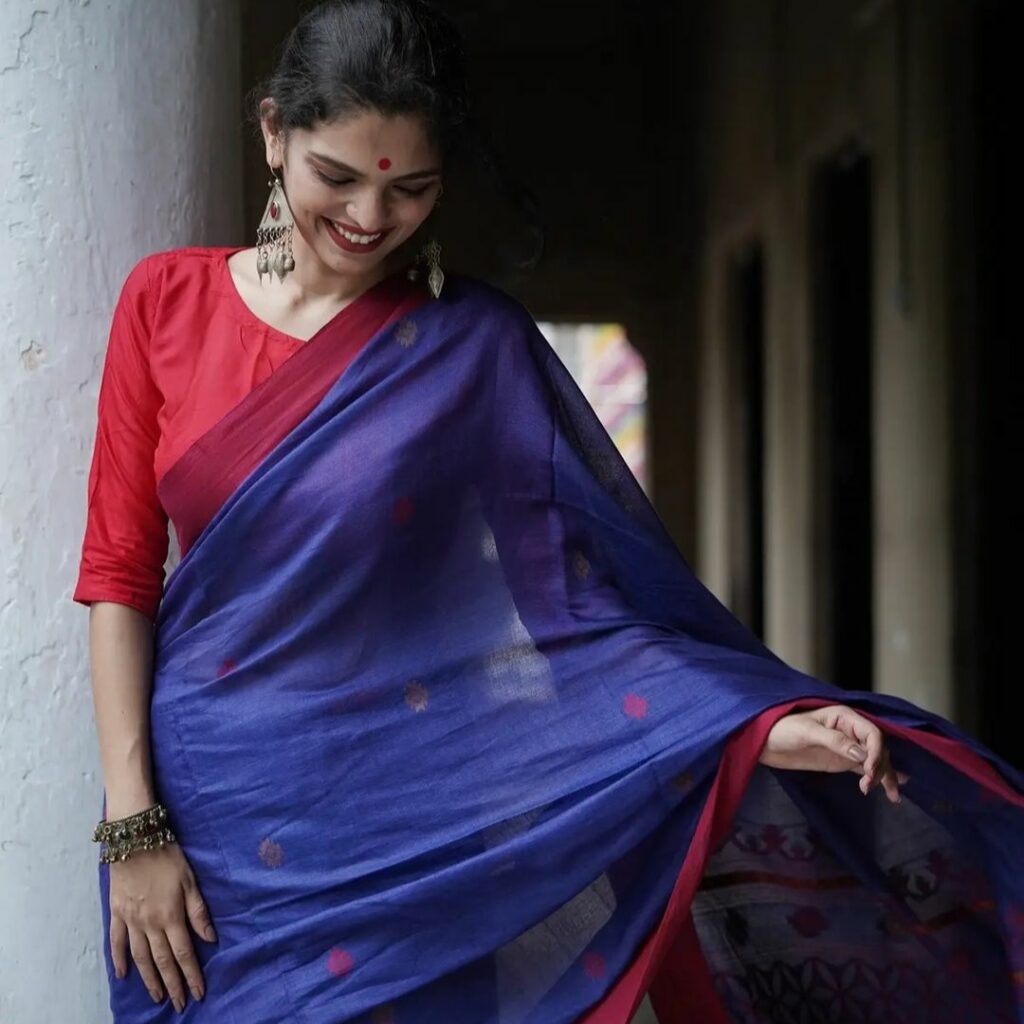 To try this pretty pose you don't have to be a professional model. This is easily doable and the pictures will come out great if you try it. All you have to do is face your body towards the camera, look down and smile.
26) The Elegant Traditional Saree Pose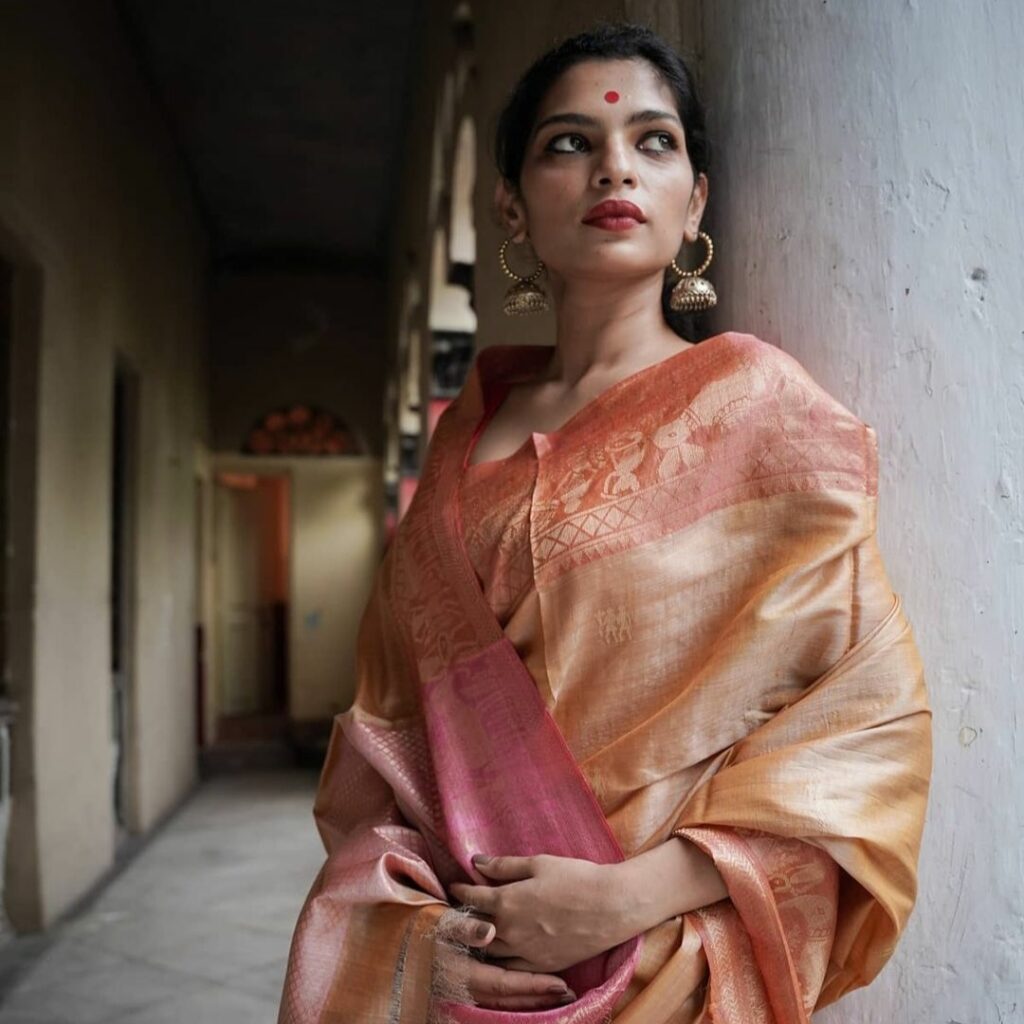 You can try this elegant pose during the festivities like Durga Puja, Diwali, etc. This will give you a traditional look. Wrap the pallu around your shoulder and hold it with both hands, look the other way and hold the expression in tour eyes.
27) The Fake Candid Pose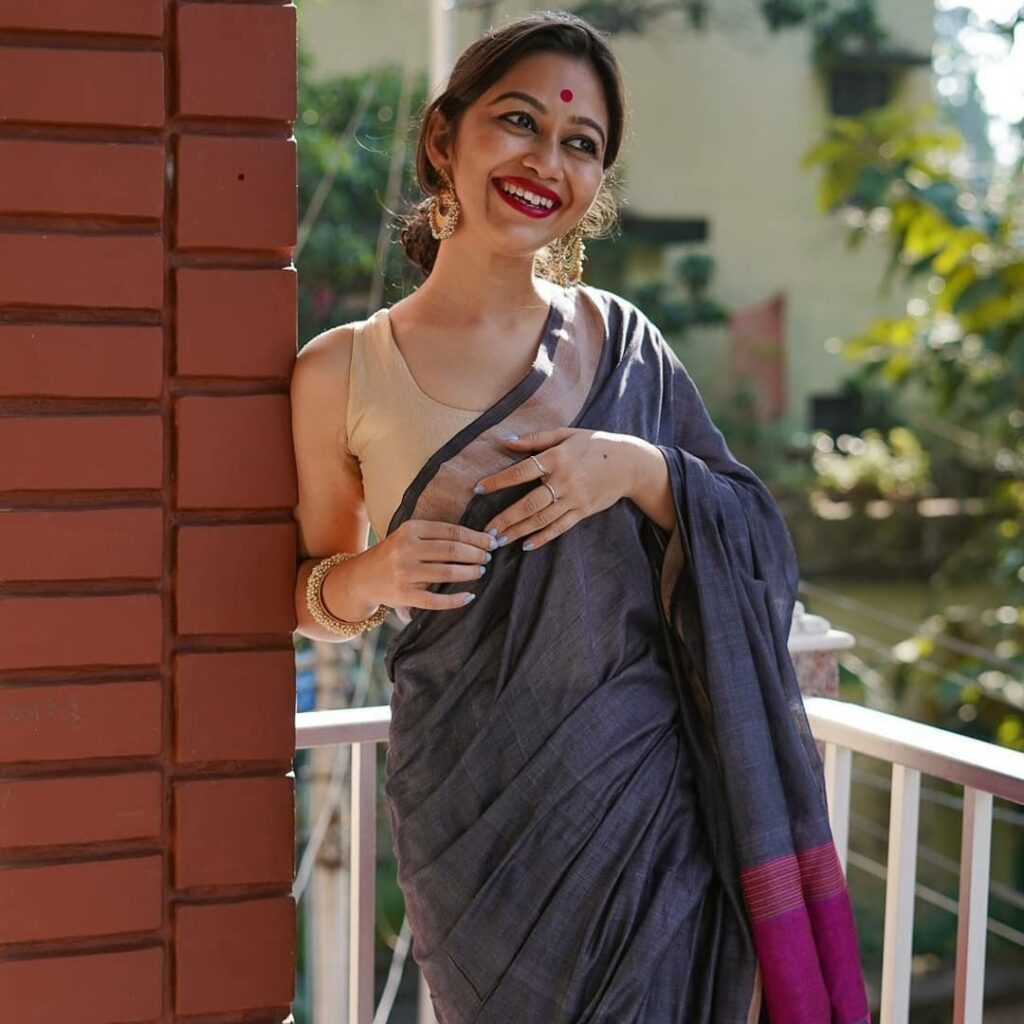 The fake candid pose can be nailed by leaning on a wall, looking sideways with a smile. Try to keep your hands together as in the picture above if you are clumsy with your hands.
28) Tucking hair behind the ear pose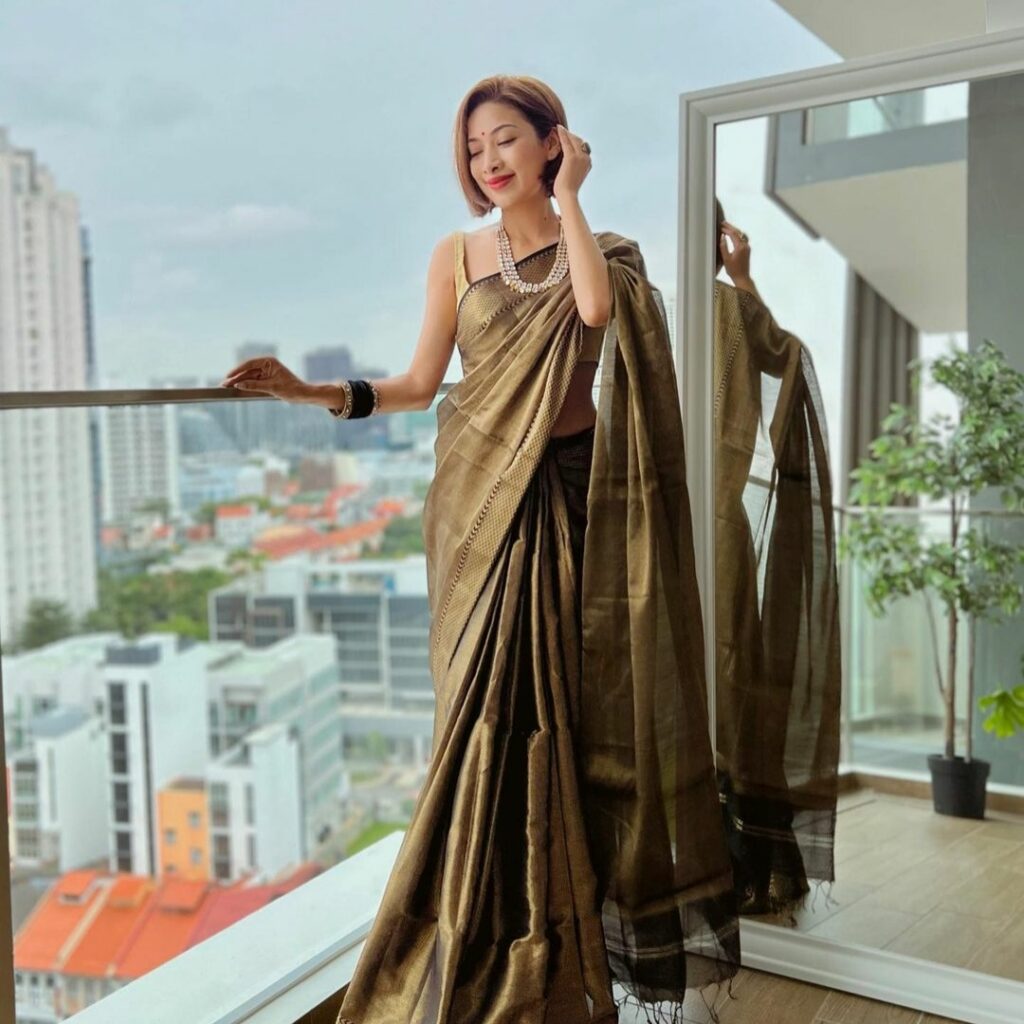 Another Instagram-worthy balcony pose, to try this one hold the railing with one hand, stand by facing your body towards the camera, look the other way, keep one of your hands behind your ear as if you are tucking your hair and you are good to go.
29) Adjusting the Pallu Pose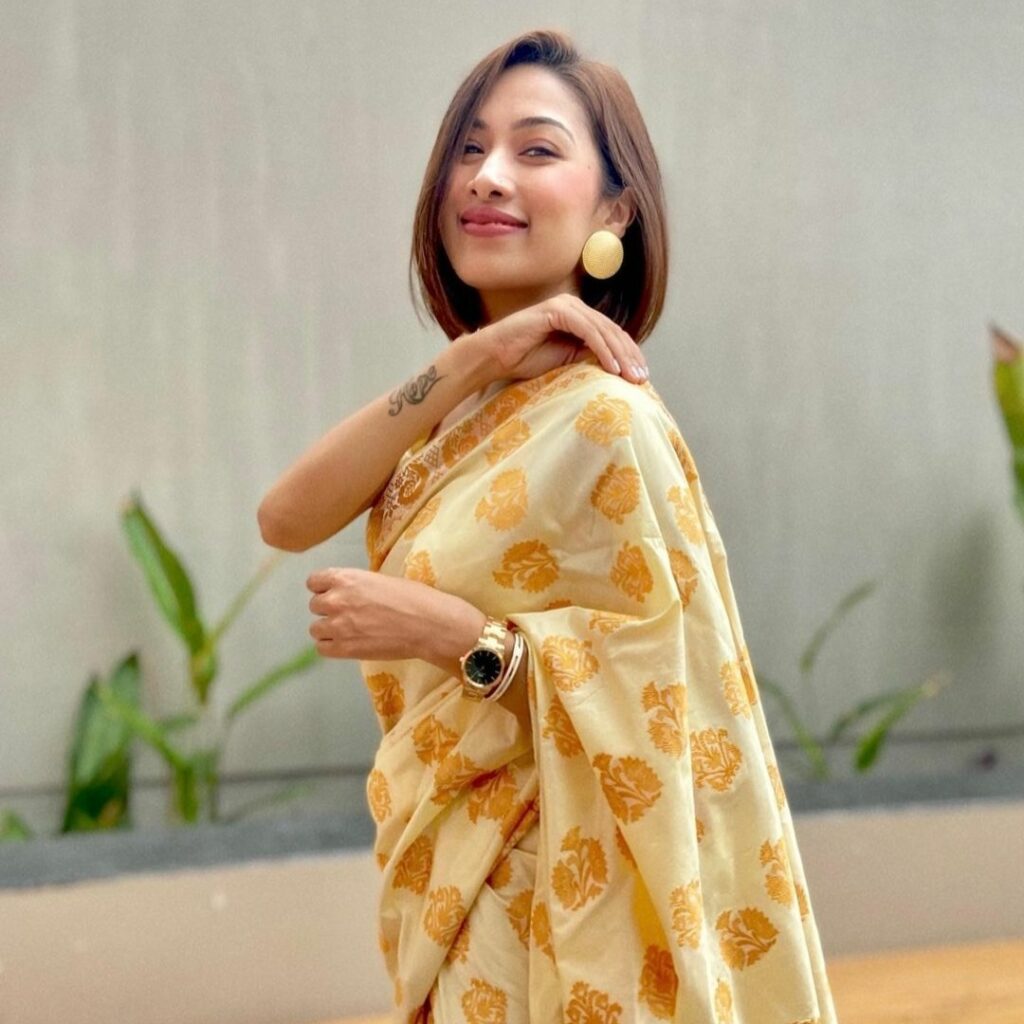 The sweet and simple pose is adjusting the pallu pose. This is a very easy pose that can be nailed by anyone. Stand sideways hold the pallu with one hand as if you are adjusting it, look into the camera, and let your sweet smile do the work for you.
30) Chiffon Saree Pose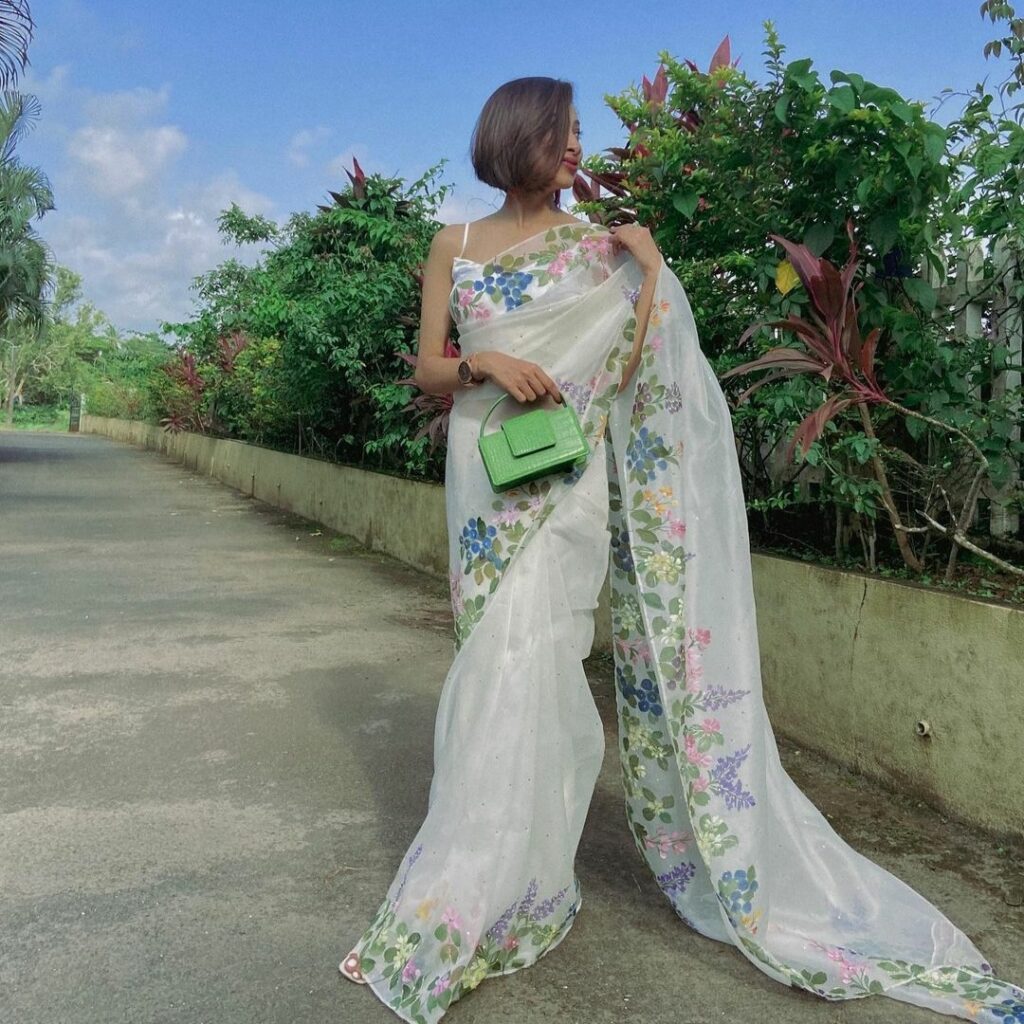 Try this Instagram worthy pose by facing the camera, standing by crossing your legs, looking the other way. If you don't know what to do with your hands, observe the photograph and do the same.
Read more: 20 Saree Poses For Girls To Make Them Look Gorgeous In Every Photoshoot