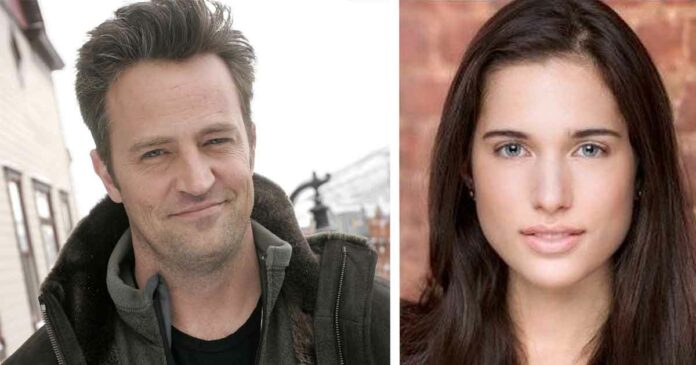 The world was shocked when Matthew Perry announced his engagement to the girl named Molly Hurwitz. Most of us did not even know this name till he got engaged but judging from Matthew's statements, we can say she is the one who would keep him happy for life.
For 51 years, Matthew didn't get married, but suddenly the news of his engagement is a shocker to everyone. He had a few affairs, and every time the names involved were huge! Lizzy Caplan, Julia Roberts, and Yasmine Bleeth are just a few names from the list of girls he has dated with, but one thing remained constant that they were all famous and in the limelight! However, going against the trend this time, Molly doesn't like to come in the limelight so often. She is surely a successful woman in her career, but her works seem to keep her away from the camera and lights. But after Matthew' engagement, everyone wants to know more about Molly, but there aren't many details available on the internet yet. So we have tried to gather all the information about the lady and present to you in this article.
Many fans wanted to see Matthew Perry with Courteney Cox forever because the couple is stuck in our mind forever. But sadly that didn't happen, and here we are discussing Matthew's fiancée.
So let's explore a few points about Molly Hurwitz which Matthew's fans would want to know:
#1
Molly is a talent manager and producer who is now 29 years old and works at Zero Gravity Management, a company that is into production and management. Some high profile celebrities managed by the company include Katherine Heigl, Maggie Grace and Angela Lansbury.
#2
Molly currently stays and works in Los Angeles. However, she belongs to New York as she was born and brought up there.
#3
Just like Matthew, Molly seems to be private about her life too. She doesn't like much media attention and preferred to keep her Instagram account private.
#4
Parties are common in Hollywood but Molly though being an insider isn't much of a party animal. She is rarely spotted in any high profile parties in the industry.
#5
In December 2019 the duo spent a romantic Christmas together. It was at Matthew's place that they had friends at the penthouse where they exchanged gifts and watched Elf on his large cinema screen. Also, the spark between them indicated that they were dating and it was reported by The Sun at the same time of the year.
#6
In March 2020, pics of Matthew Perry went viral where he was spotted with a lady outside Dan Tana's Italian restaurant in West Hollywood. The lady was a mystery back then as hardly anyone knew or expected her to be Matthew's girlfriend.
#7
If reports are to be believed, Matthew and Molly started dating back in 2018. It's reported in several media houses but has not been confirmed by the couple themselves yet.
#8
We all know Matthew went through a lot of tough times, and it's said that Molly supported her a lot during those tough times. After all, there's a woman behind every man's success. And here, if not the success, but at least she might have helped her win an important battle in his life.
#9
We assume you won't be surprised if you come to know that Molly Hurwitz owns a quirky sense of humour! We all love Chandler and his sarcasm. Even the real-life Matthew possesses some of the qualities shown in Chandler. So it's never surprising to know that the girl Matthew settled for is funny too! In fact, it's reported by sources that the sense of humour in the girl helped them bond and hit off immediately.
#10
Back in February during the Valentines Day, Hurwitz posted an update for Matthew from her Instagram account saying, "Second year being my valentine, but his first as an Instagram influencer. HVD to my favourite."
#11
Molly found space in the website stage32.com, where her bio details her background using the following lines: "Born, raised, and educated in NYC, Molly began her career in ICM Partners agency mailroom, which, yes, included actually delivering mail. Her favorite show is "Frasier", and her favorite movie is BEST IN SHOW."