Lisa Kudrow is well known for her weird and freaky character in Friends, Phoebe. No one can deny the fact that she was cute though in a bit weird way but we all love her for what she is.
For a true Friends Fan seeing the Friends' Characters on social media or on an interview is a pleasure. They can spend hours listening to their stories from the show and more surprising is the fact that every day there's something new to explore.
Lisa Kudrow once appeared on Jimmy Kimmel Live. She was at her office while talking on the live show, and she shared a short and cute story about a gift she received from the sets of Friends. Also more interesting is the fact that Matthew Perry gave that gift to her!
If you are curious to know what the gift was and why Matthew presented it to Kudrow, then have a look at the pic below. Do you notice something familiar from the set of Friends?
If you haven't located anything familiar yet, then try finding a clock that shows us the Cookie time! The Cookie Time clock is not actually a clock, rather it's a cookie jar from Monica's apartment. Yes, you read it right! The Cookie jar is an item from Monica's apartment. You might have noticed it in several episodes and is a permanent fixture in Monica's kitchen.
Lisa revealed it to us on Jimmy Kimmel Live that Matthew Perry presented her the cookie jar from the set of Friends after the series wrapped up in 2004. Well, it turns out that the cast had an internal joke going on which involved the Cookie Jar and Phoebe. And Matthew as hilarious he always is, tried to crack up everyone by gifting Lisa with the Cookie Jar.
It happened once that Lisa had a scene where she had to announce that she was late and had to point at her watch while saying it. But while recording the shot Lisa realised she was not wearing her watch and had no time to stop the shot, so she thought better to improvise the scene by pointing at a watch. But as it turns out, it was the Cookie Jar she pointed at and that became an internal joke for the whole cast.
While narrating the incident to Kimmel, these were her words, "That was the wrap gift he gave me. We were laughing hysterically and crying, because it was the end. It's funny to us because—do you want to hear why? We're shooting a scene, years before we were finished, and my line was 'Ooh! I better get going,' like, 'Oh, I'm late! I better get going!' Except I didn't have a watch, and we were shooting it when I realized it was too late—when I realized, I don't have a watch. How do I know 'Ooh, I have to get going'? So I just, as the words were coming out, I go, 'Oh good, there's a clock' and I gestured to that [pointing to the cookie jar behind her] and said, 'Ooh, look at the time, I better get going.' And Matthew said, 'Did you point to the cookie jar and say, 'Look at the time'?"
So that is how she got the Cookie Jar sitting right in her office which we see in the Live video. It's not that they were allowed to take anything they want from the set and so the moment Lisa received it from Matthew she did this, "I think the first thing I asked was, 'This is so nice, did you get permission?' because they were, I mean, my car used to get searched every night when I left," she said.
Apart from the Cookie Jar from Friends, she also showed us her Friends bobblehead keepsakes that have all the six characters but none of them looks like them. Regardless of everything, it's a proud thing she owns and keeps in her office. Unfortunately, Ross in the bobblehead collection has a broken arm, maybe because Phoebe had another bad dream about Ross and broke it herself!
And Lisa confessed it too that her Bobblehead doesn't look like her at all! Check it below if you can even recognise it!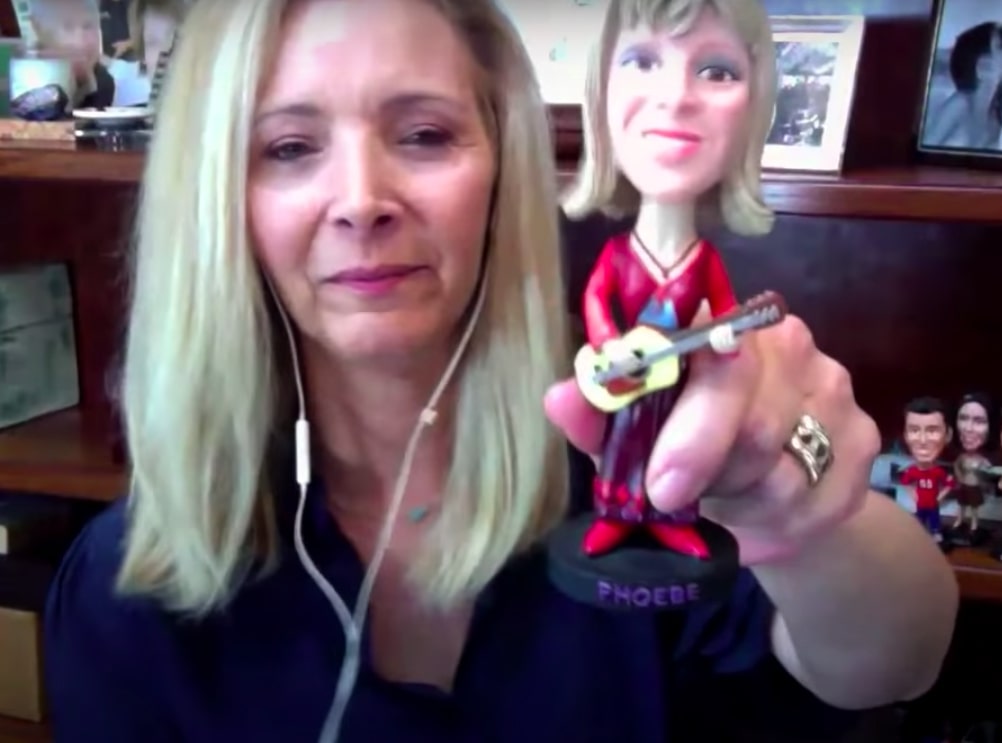 If you missed the live show then here's the recorded video on YouTube! You should watch it as Lisa has been an amazing guest throughout the show.