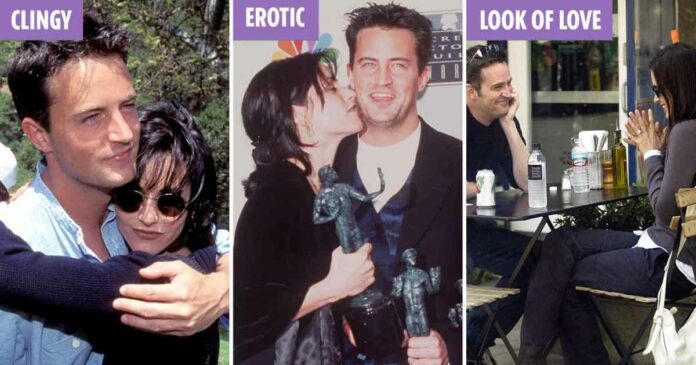 FRIENDS has featured many romantic relationships over its 10 seasons. As much as we love Ross and Rachel's ongoing and off-going relationship, Chandler and Monica's relationship touched everyone's hearts too. They were perhaps the steadiest couple in FRIENDS. It was wonderful to see them reach a point where they welcomed twins by a surrogate and later getting into the life of suburbs. We were always left to wonder if in real life too they were in a relationship. The fans couldn't keep their calm when fiction tipped over into reality. Reportedly, Matthew Perry once said that since the show ended in 2004, he had deep feelings for his FRIENDS co-star, Courteney Cox.
It's 17 years of crush!!!!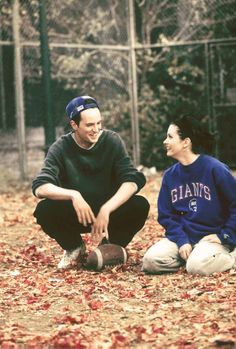 Courteney Cox was married to David Arquette throughout the half-end of the series. But, they split up in October 2010 only to date Johnny McDaid, three years later. However, during her brief separation with Johnny in 2015, she looked upon Matthew for emotional support and that bonding had finally become something more. Reportedly, a source told Perez Hilton, "It's no surprise that Matthew was one of the first people Courteney called after Johnny left her. They have leaned on each other before. There isn't any pressure to put a label on it just yet, but they are excited to see where this might go."
Shutting down the whole speculations, Courteney reunited with Johnny and Matthew started dating Molly Hurwitz.
However, a Hollywood insider has revealed that Matthew has always been in love with Courteney and has never been able to fully get over her. And, Judi James, a body language expert believes the signs are there. She says, "At times their body language suggests sibling bonding with each looking out for the other, although there are some clues in their poses that the rumors of unrequited or even reciprocated love do hold water."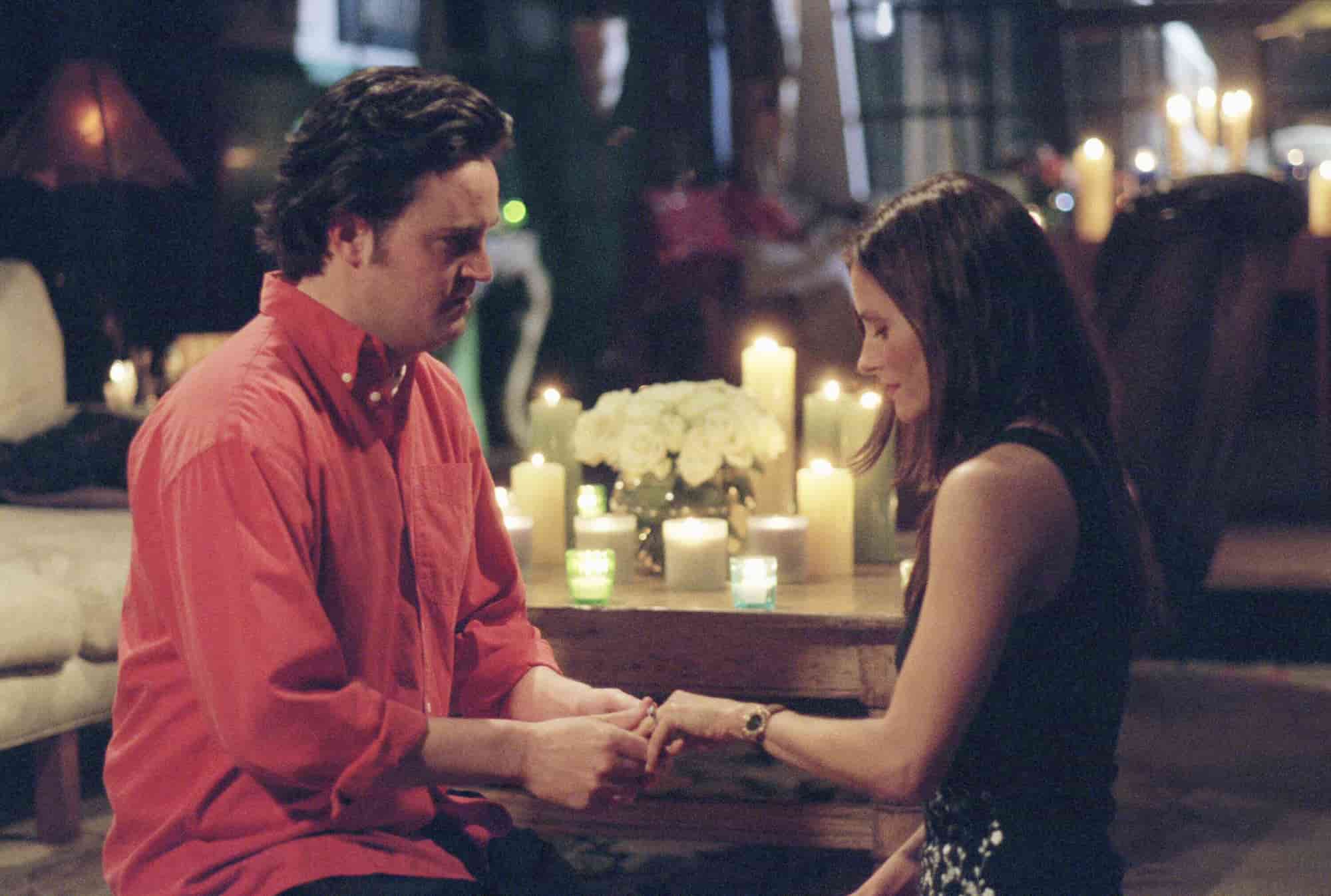 The pair have remained close since 1994 when they started filming the show. They have always supported each other in failed relationships and everything else. They leaned in each other's shoulder when needed, be it Courteney's split with Johnny or Matthew's addiction to alcohol and pills. It seems like Courteney is his lobster.
There are some moments that show their comfort and intimacy with each other. From time to time, they leave their fans wondering if something really is going on or not. Let's take a look at those moments:
1995: Courteney Cox And Matthew Perry Hug Each Other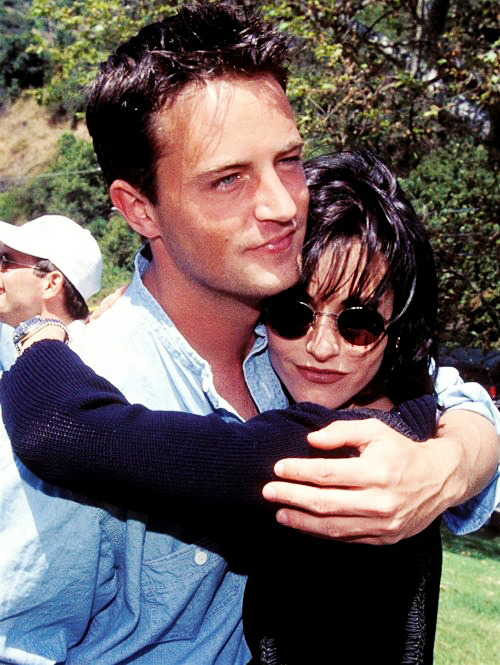 This picture was taken a year later when the show was aired at the annual picnic for Pediatric Aids. At that time, Matthew was having fun with a brief fling with Baywatch star Yasmine Bleeth and Courteney was coming out of a six-year relationship with Michael Keaton. In this picture, Matthew is hugging Courteney that shows their bond and how much they were close to each other.
1996: Courteney's Red Carpet Kiss To Matthew At SAG Awards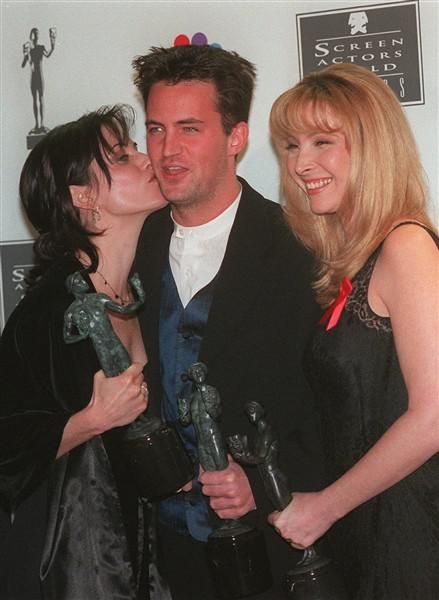 This picture was clicked at the Screen Actors' Guild awards where they won a Best Ensemble Gong. During this time, Courtney was going through a split with Batman actor and Matthew started dating Julia Roberts. Despite suffering from emotional turmoil and dating another person, the affection between the duo cannot be missed.
1997: Courteney Surpries Matthew By Hugging From Back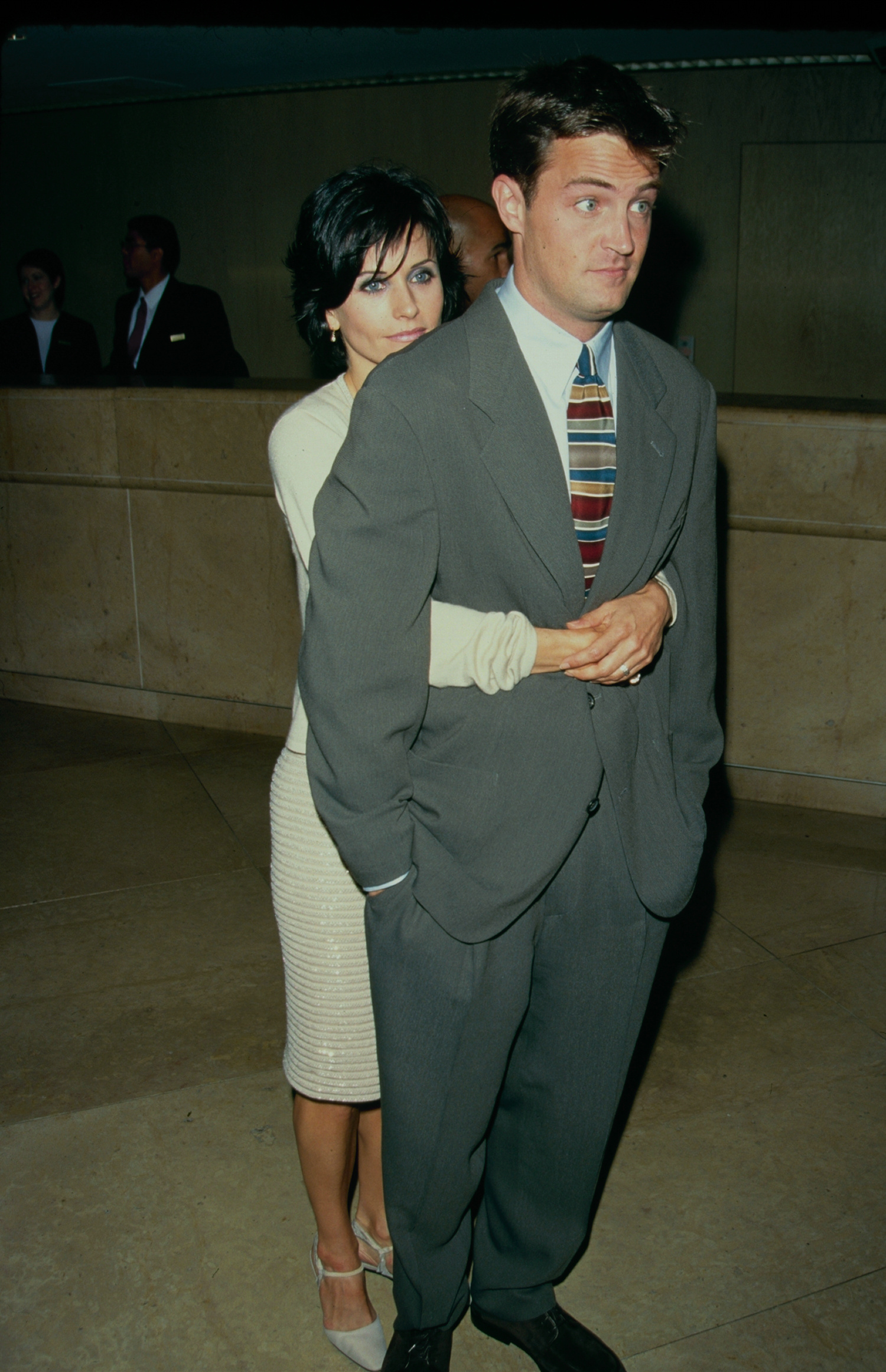 This picture was taken when Courteney surprises Matthew at an event in 1997. When this picture was taken, Courteney began dating David Arquette and Matthew was single, but battling his addiction issues. He turned to his co-star, Courteney for support when checked into rehab for treatment. And, this pure affection can surely be seen in this picture of the duo while Courteney was hugging him from behind.
2002: Getting Back Together Again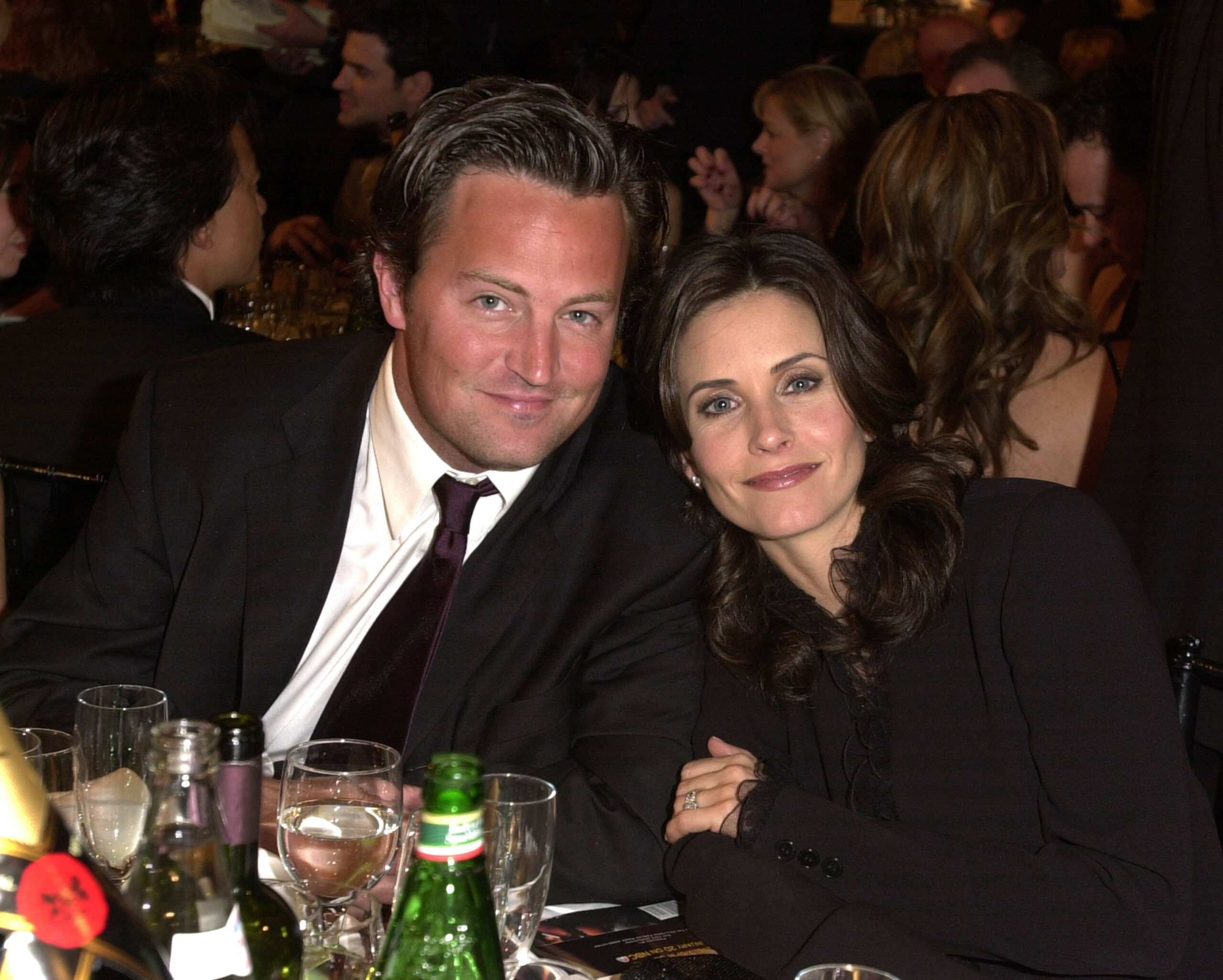 Courteney tied the knot with David in 1999 and the duo was trying to have a baby by 2002. But, Matthew was coming out of rehab after his treatment for addiction while he went there back in there in the year 2001 because of his addiction. However, when Courteney met Matthew in 2002 at the Golden Globes, it appeared like things haven't changed at all, and still shared the same comfort with each other.
2005: Courteney Gets A Protective Cuddle From Matthew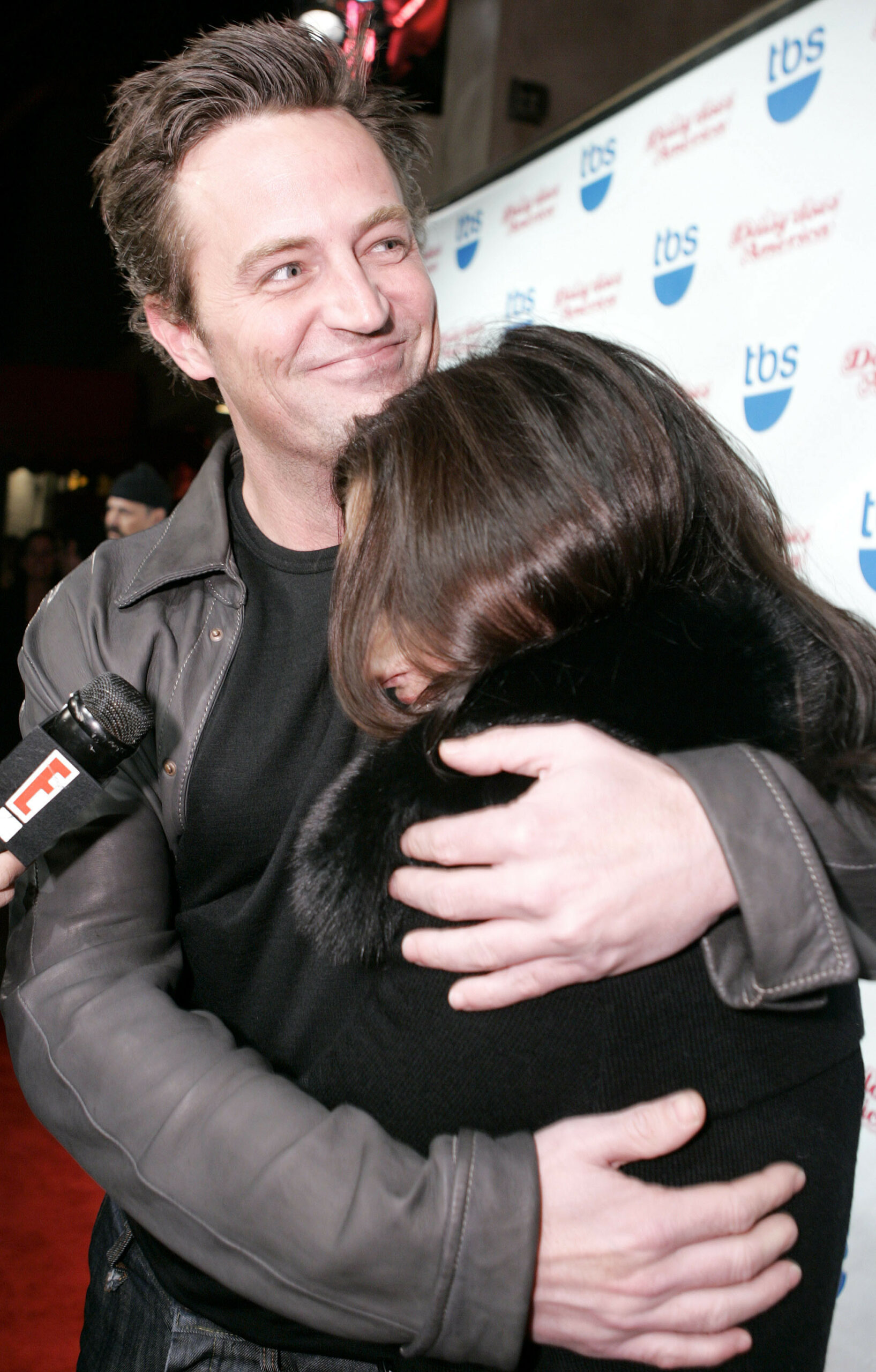 In 2004, not only the iconic show FRIENDS came to its end but also, Courteney's daughter Coco was born. Courteney and David produced "Daisy Does America". And to show support, Matthew appeared at its launch party. The duo always remained in touch and got closer than ever. Their gestures show their strong bond which only got stronger with time.
2013: Now The Waiting Game Begins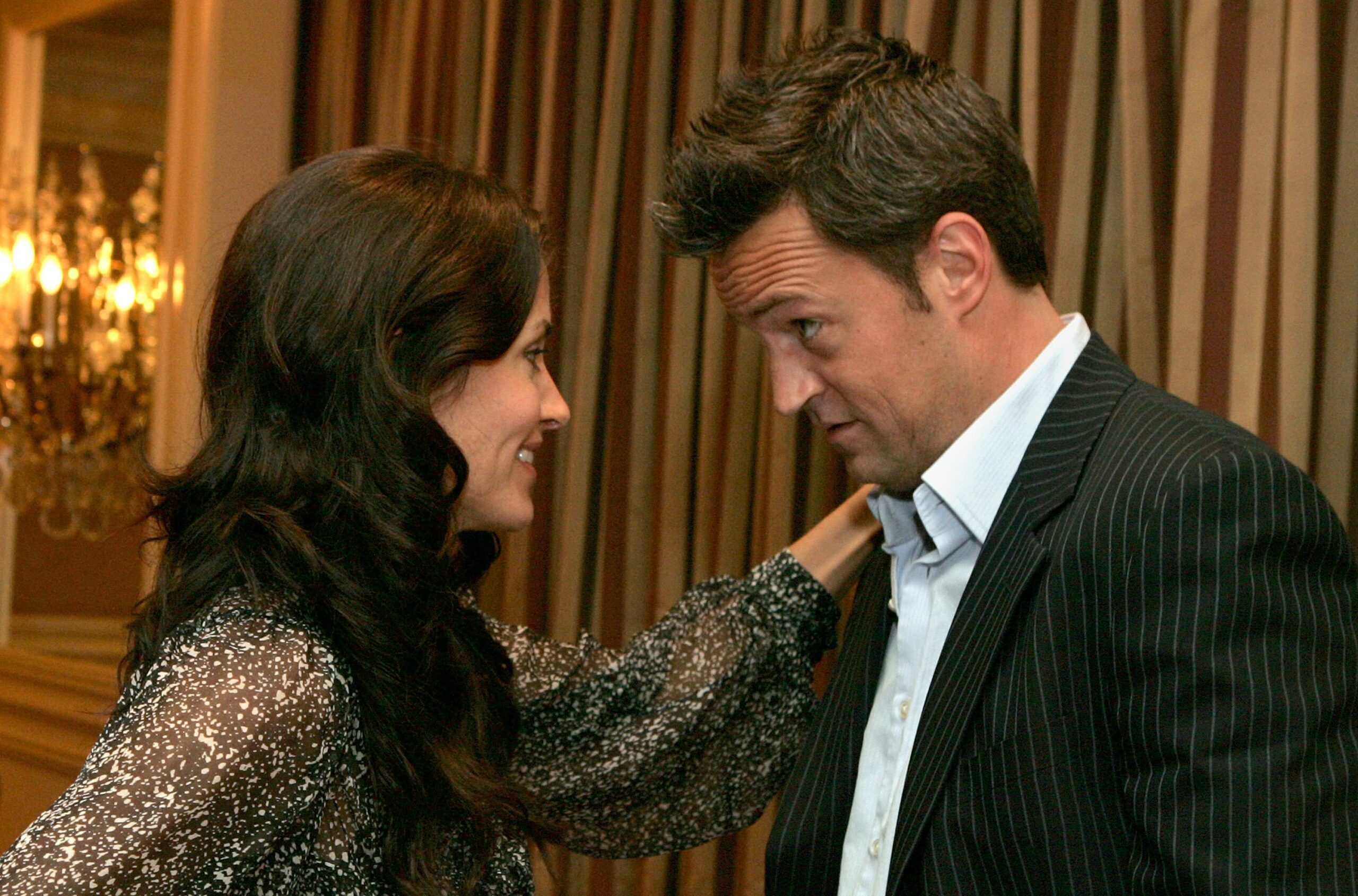 By 2010, Matthew recovered and returned from rehab. But Courteney was going through a split with her husband, David. Matthew stood with her like a rock during her tough days of separation. And, Matthew was also single by 2013 after a split with Lizzy Caplan after they dated for six years. After all that, for fans, the waiting game began to see what will happen next.
2015: Matthew's Look Of Love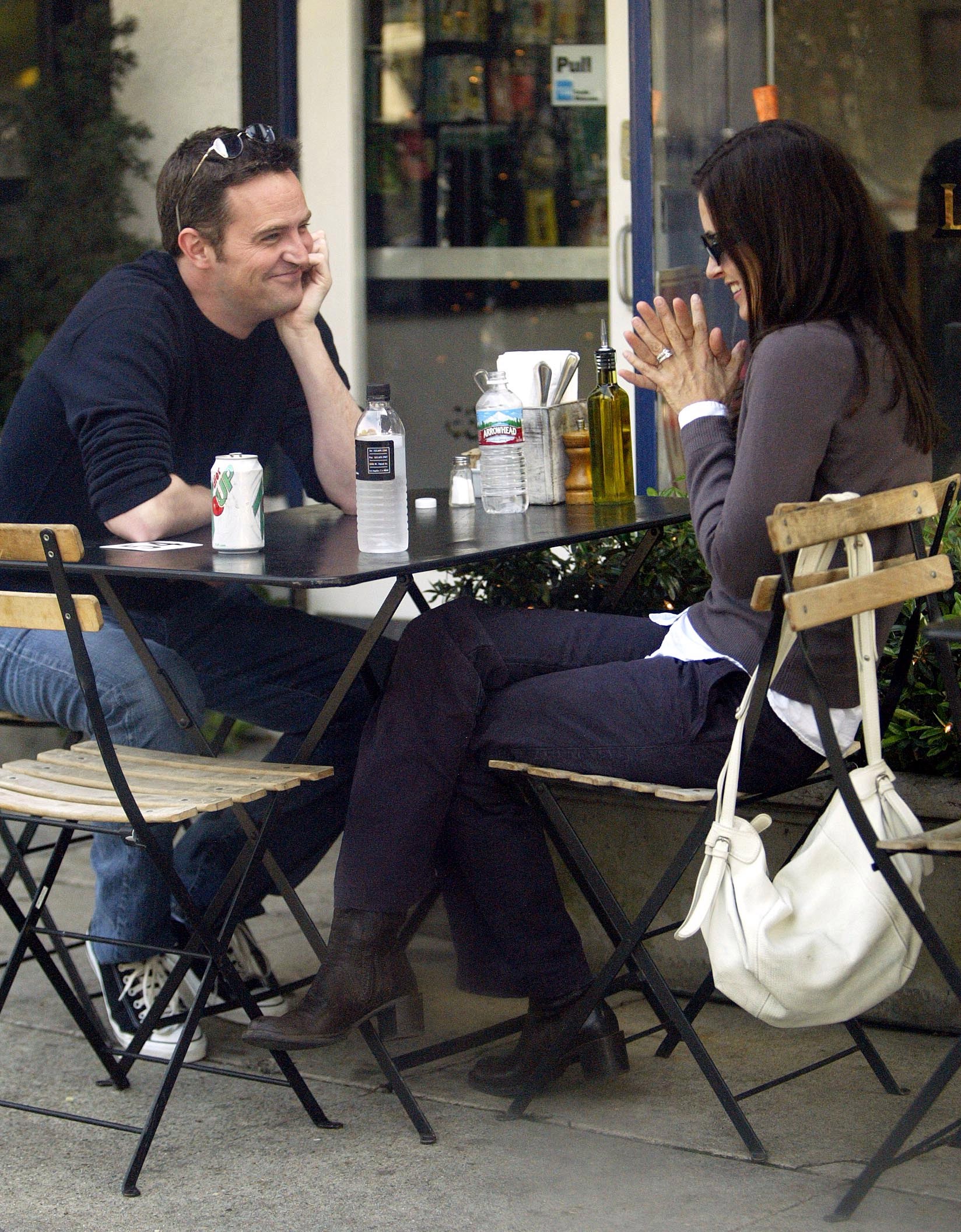 Do you remember this look from FRIENDS show? This is the same look that Chandler had while Monica convinces him to try to get pregnant. This picture started a lot of speculations of them dating and got viral all over social media. Sadly, Courteney started dating Johnny McDaid and these rumors again shut down.
2019: Looks Like Married Couple
View this post on Instagram
Courteney and Johnny remain friends even after calling off the engagement. However, Matthew and Courteney caught up in a lunch date and Courteney also shared it with her fans by posting a photo with the caption, "Guess who I had lunch with today…I KNOW!! Could I BE any happier? #realfriends"
2020: Matthew Is Engaged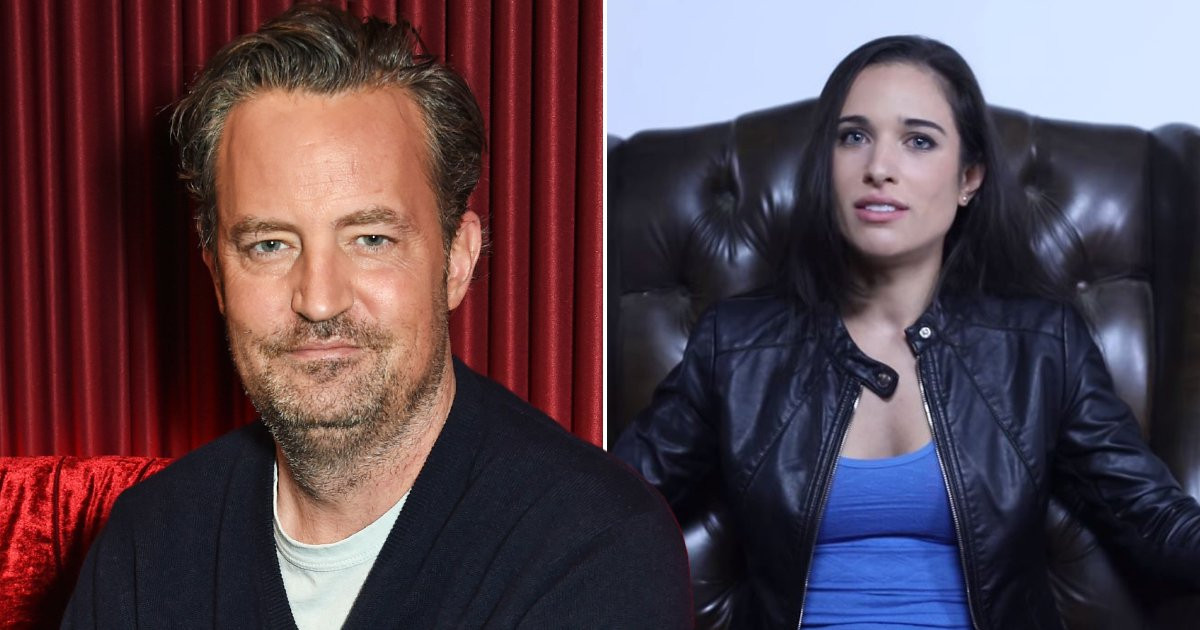 While fans were waiting for Courteney and Matthew to be together, Matthew announced his engagement to Molly Hurwitz, a literary manager. The couple started dating in 2018. In an interview with People, he said, "I decided to get engaged. Luckily, I happened to be dating the greatest woman on the face of the planet at this time." The couple time and again share pictures with their fans and keep them updated.
However, reportedly, a source said regarding Matthew and Courteney to US Weekly, "Matthew's always been in love with her. Any girl he's tried to date looked similar to Courteney. Matthew has never fully been able to get over her."
Well, we all wanted to see Matthew and Courteney together. They would have made such a great couple. But, in the end, their happiness matters the most, even if it's with different people.