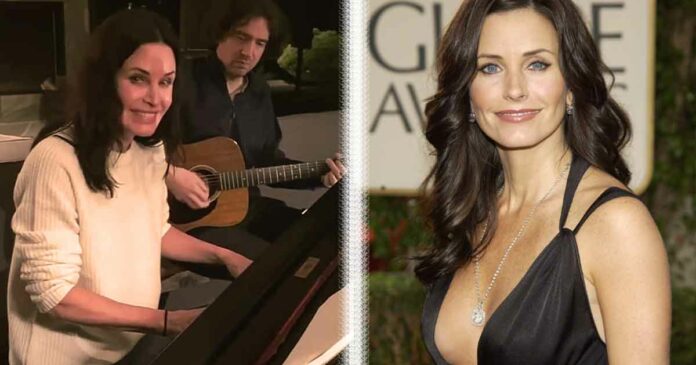 Have any weekend plans yet? If you haven't sorted that out yet, we can definitely help you out because after watching this amazing video of Courteney Cox, all you'd like to do is to curl up on your bed with a hot cup of cocoa and binge-watch the FRIENDS series. Sounds like a plan, right?
The most loved sitcom spurred many settings, lines, and scenes that have withstood the test of time. And ahead of the upcoming most awaited FRIENDS reunion special on HBO Max, Courteney took to Instagram to put her own version on the classic tune of the FRIENDS theme song.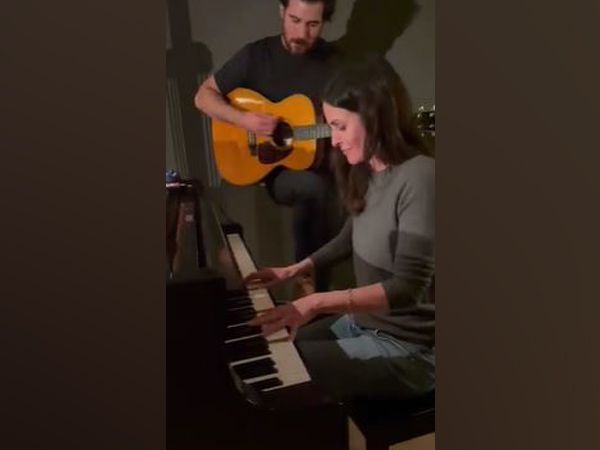 Recently, in a new post on Instagram, Courteney Cox aka Monica Geller who was cast in the hit American television sitcom in 1994, shared a video. In it she was playing the famous tune of the FRIENDS theme song – "I'll Be There for You" – on a piano. With this, she took her fans down memory lane with her rendition of the song.
Watch Courteney's Video at the end of this article! Keep reading to find out a few more facts about the theme song and FRIENDS.
Courteney Cox showed off her piano skills with a video of "I'll Be There for You" by The Rembrandts. She tickled the piano keys alongside musician Joel Taylor on the guitar and even clapped her hands along with the tune. This gave fans a major share of nostalgia (and maybe some huge excitement for the FRIENDS reunion that is surely happening … eventually).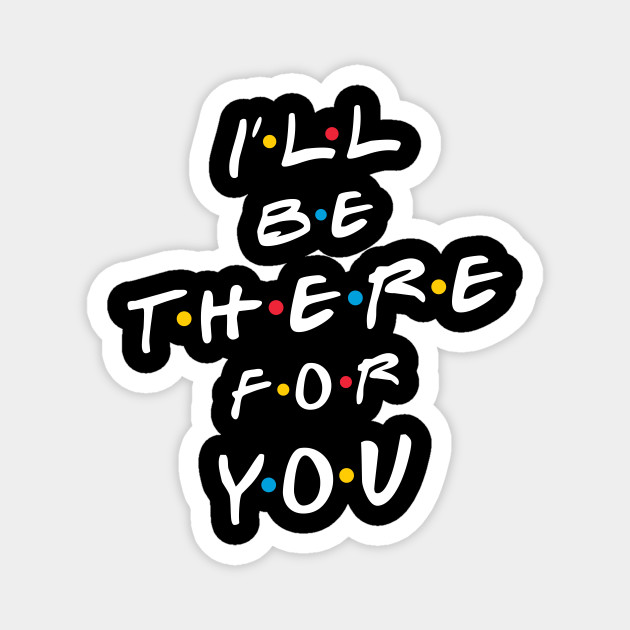 While Taylor strummed along, the clip starts with Courteney performing four claps, which is surely the best-known part of the tune, before diving into some fast-paced chords. However, the video ends with dialogue audio plays from the show, surprising the 'Scream' actor. Referencing Matthew Perry's character, Chandler Bing, "Oh, that was Chandler," she said, after realizing what the sound was.
Cox wrote alongside her video, "How'd I do? #friends #pianocover @jadeehlers @thisisjoeltaylor". She also added a request to her followers: "Let me know what I should learn next below." The fans are overjoyed after watching the video of Courteney that has garnered over a million views.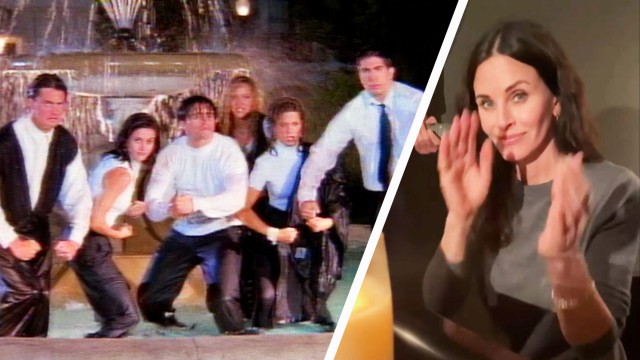 As per the celebrity reactions in the comments, Courteney did pretty well. While David Beckham wrote "OMG OMG", adding flame emojis, as well as smiling faces with hearts for eyes, 'Queer Eye' star Tan France said, "Hahaha". Then 'Law & Order: Special Victims Unit' star Mariska Hargitay added, "So awesome court!" and actor Beth Behrs wrote, "Yessss. This is amazing".
All these comments from VIPs show that this is a highly popular series created by David Crane and Marta Kauffman. In 1989, the theme song of FRIENDS, "I'll Be There for You" was composed by Allee Willis, David Crane, Michael Skloff, Phil Solem, and Danny Wilde. While it was recorded by the American duo The Rembrandts.
Though her latest song is a major throwback, Courteney's recent covers have been slightly more timely. She posted a cover of Olivia Rodrigo's "Drivers License." earlier this month. The clip caught the attention of Rodrigo herself and she noted that Cox "slew" her song.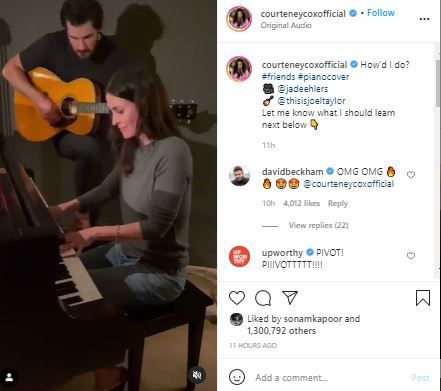 As per the reports of Fox News, Courteney also recreated a famous FRIENDS moment earlier in the celebration of Thanksgiving. In that video, she put her entire head into a raw turkey. She later shared a behind-the-scenes video where she was showcasing that how she managed to encase her noggin in poultry.
Courteney's video comes ahead of the upcoming FRIENDS reunion, which is to be aired on HBO max. In February 2020, the reunion was confirmed back when the entire six main cast members of the show simultaneously posted the same flashback photo with the caption "It's happening" on their Instagram pages. But now we have some news flowing in the air that the shoots are done and we may see the reunion sometime soon.
The American sitcom was touted as one of the most famous ones and is still the talk of the town among fans, who are anxiously waiting to see their favorite stars get back together in FRIENDS reunion.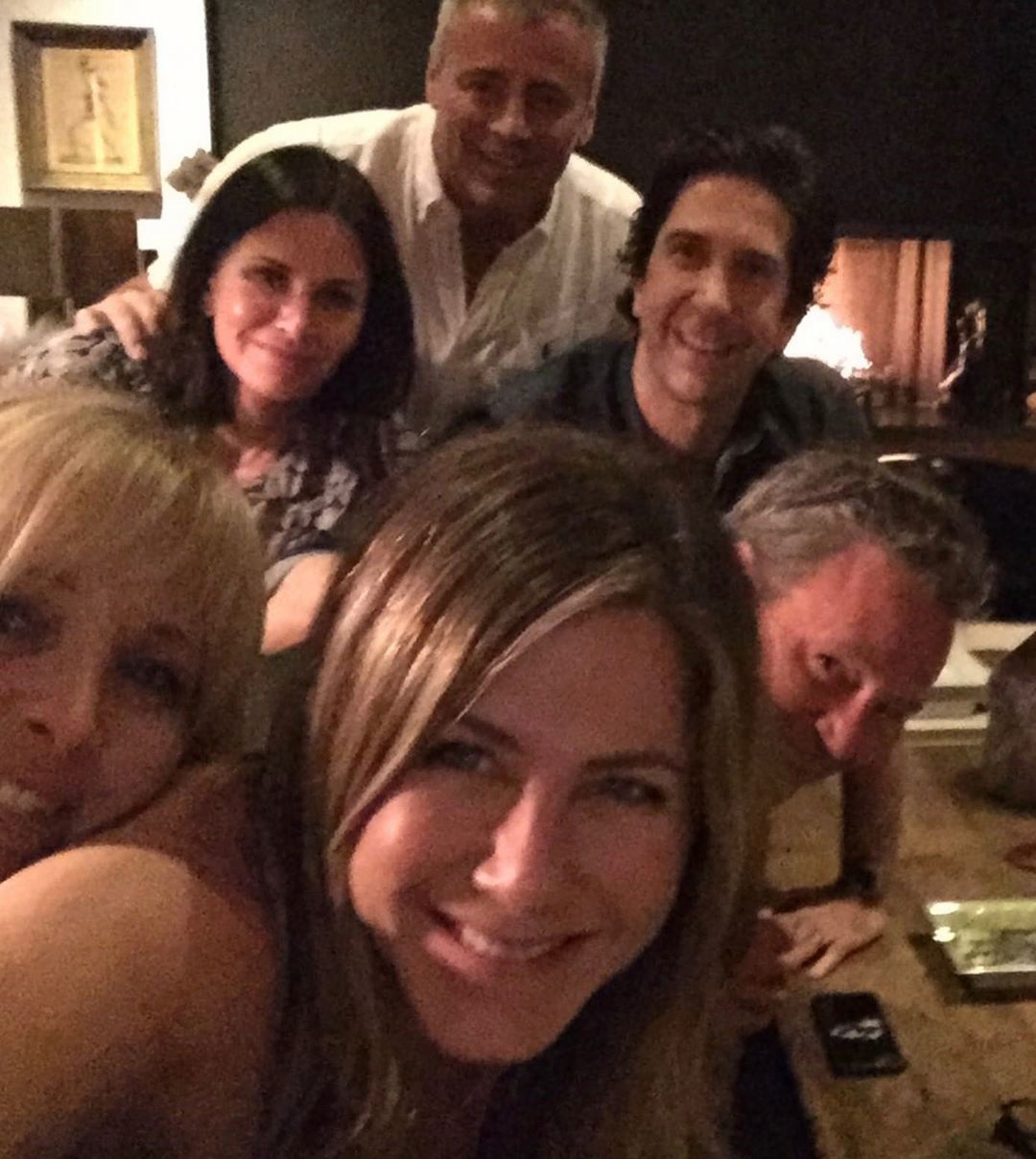 HBO has not confirmed the reunion just yet. So in the meantime, fans will have to get their fill via Courteney's Instagram feed, which has been very generous with throwbacks to the classic '90s series.
So here's the video you have been waiting for! Watch closely how perfectly Courteney has come up with this piece and it sounds completely delightful.
View this post on Instagram
Feeling excited already? You should because HBO might soon come up with a date of the FRIENDS reunion release. If you believe the rumors and the leaked pictures from the sets of FRIENDS Reunion, the shoots are done. The makers are now probably editing the recorded videos to present us with the final episode. So hang on and keep waiting! Meanwhile, you might be interested to watch the leaked images from the sets of FRIENDS Reunion. Click here to find them now!