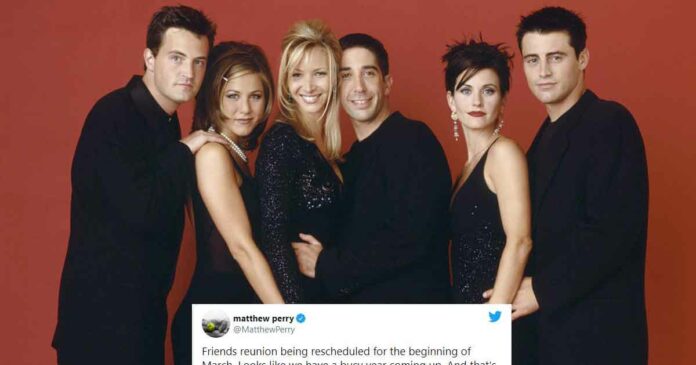 FRIENDS Reunion! The one thing that every Friends Fan is longing for. We can't forget how excited we were when the news of a reunion surfaced. But unfortunately, the pandemic took it away from us. But not for long, the world is healing already, and vaccines are on the way hopefully. Amidst all this, there's something for FRIENDS fans that came in today to keep us excited till mid of the coming year.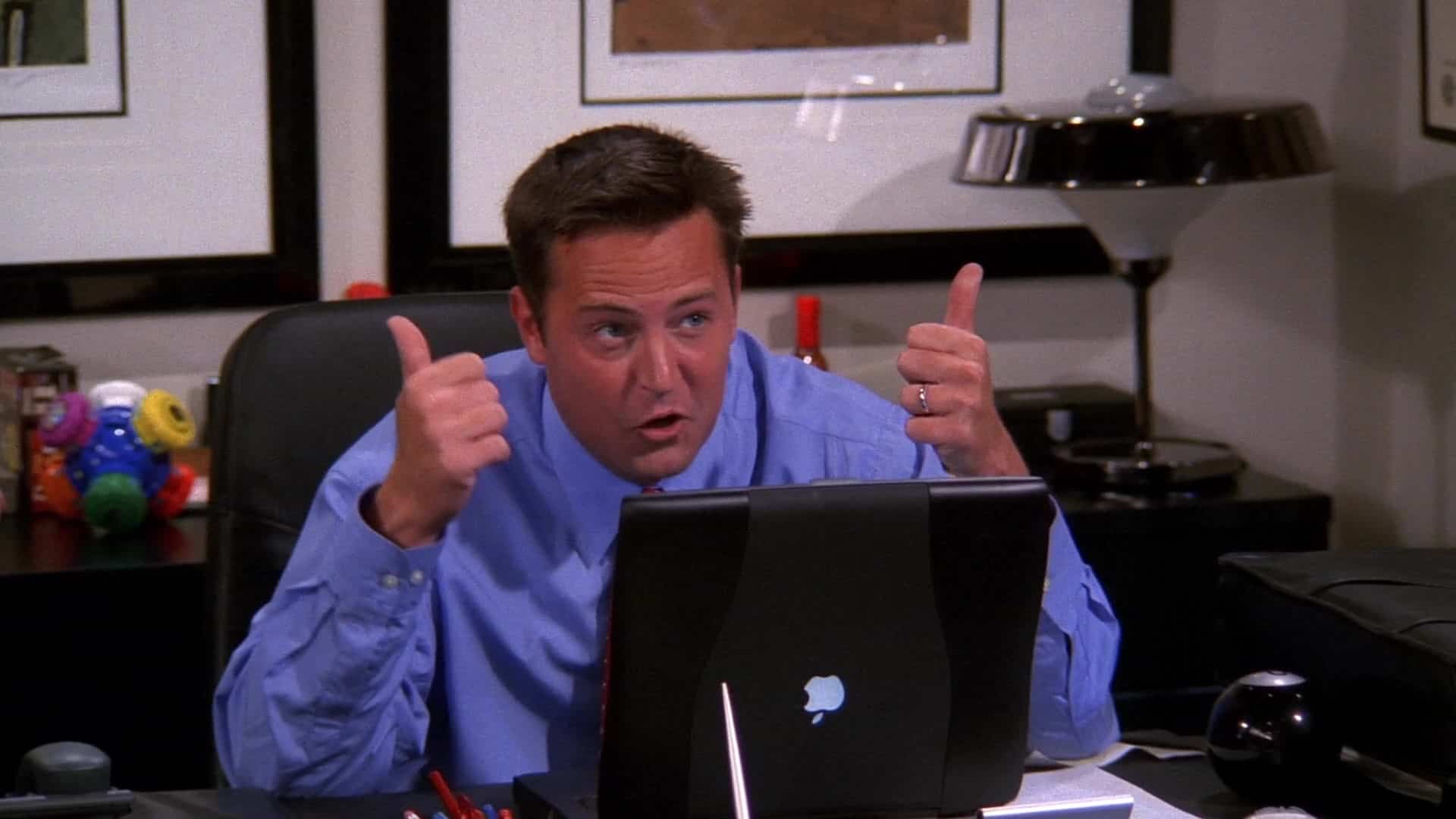 Today everyone went crazy when Matthew Perry took to Twitter and announced something special. As fans, we all are eagerly waiting to see this come to life for years now. The last episode of FRIENDS went off the TV in the year 2004. And since then we have been longing for that one new episode to continue the joy. It's been 26 years that the Fans are crying for that one special reunion of the Friends Cast. And finally, the day has come that Matthew Perry acknowledged the fact that this is going to be for real.
Matthew's Twitter account was today flooded with replies to a post that said that the FRIENDS Reunion is rescheduled for the beginning of March in 2021. Yes! You read it right. The FRIENDS Reunion is going to happen, and it's not too far away. As he said, it would be a busy year ahead because they are finally going to come together for that one extra Friends Reunion, everyone is looking forward to.
Friends reunion being rescheduled for the beginning of March. Looks like we have a busy year coming up. And that's the way I like it!

— matthew perry (@MatthewPerry) November 12, 2020
What To Expect In The Reunion?
Matthew Perry did not give many details about the Reunion Episode, but earlier, at occasions, a few scattered information already hit the shelves. From what we know already, the reunion episodes won't be a sequel or continuation of the show as we know it. Rather, you can expect the six friends, sitting together and remembering those good old days and adding a few humour to whatever they do.
How do we know it? Well, Monica said so!
"The exciting thing is that we're all going to get together for the first time, in a room, and actually talk about the show," Courteney/Monica said when she appeared for an episode of Kevin Nealon's web series named "Hiking With Kevin."
As we know that the whole cast rarely comes together, to be precise, they came together only twice after the show. And acknowledging the fact, Cox added, "We're going to have the best time, it's going to be great. We really haven't all done that and actually sat there and talked about and reminisced about this incredible experience that we had."
The reunion was not only anticipated by us, but the cast too seemed curious about it. Back in February, we saw Jennifer posting from her Instagram about the same, but unfortunately, that couldn't happen.
Here's the post from Jennifer's account that made all fans go crazy back in February 2020.
But today when Matthew announced the revival of the long-waited reunion then we can't stop imagining how it would be. To give you a small idea of how the new episodes of Friends would be, let's walk you through some comments by the cast.
In an interview with Jimmy Fallon, David Schwimmer revealed that the reunion or the special would be an unscripted episode. It will be like a really fun interview with many surprises in between. Though it's hard to picture how things would be anyways it would be fun to watch.
In case, if you are interested to watch the whole interview of David Schwimmer with Jimmy Fallon where he discussed the reunion, the beginning of the show and also took his side on the "We Were On A Break" Debate. Just click on this line and you will be headed to the article with the Interview Video in it.
So Would The Cast Be Themselves Or Enact The Characters?
As per the updates we have, the cast will be themselves. I mean Lisa Kudrow, Courteney Cox, Jennifer Aniston, Matt LeBlanc, Matthew Perry and David Schwimmer won't take up their on-screen characters in the reunion. Leaving aside the characters, they will only be discussing their journey. We all wanted them to act like the characters and take ahead the story they left behind in the last episode of Season 10. But sadly, that's not happening! We won't see Chandler pampering his wife Monica or playing with his twins. We won't see Joey saying, "How You Doing?" to the next girl he sees. We even won't see Rachel and Ross fight on petty issues. Yes, we are sad because those characters are not coming.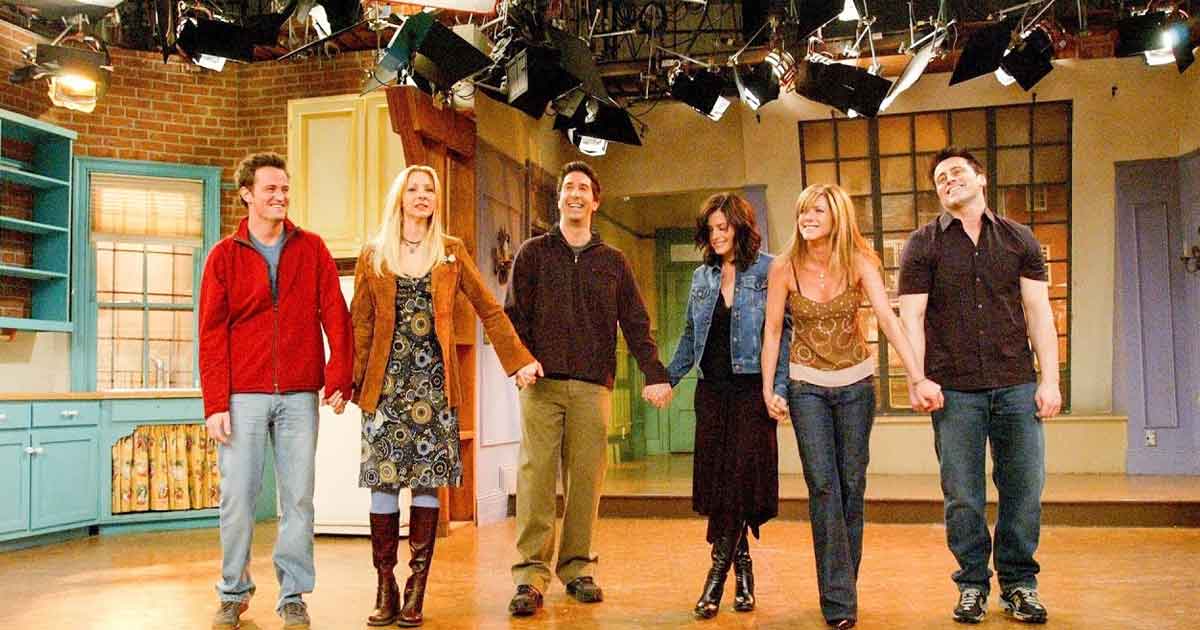 But on the brighter side, the cast will be sharing a lot about their experience. They might do a mock drill by taking up their characters but that's not a sure thing yet. We can obviously expect them to enact their characters for a few minutes at least, even though that's unscripted. We would love to watch them on March 2021 coming together and that matters a lot us as fans.
Now we are just waiting for this year to get over to go into 2021 and go into the year of FRIENDS Reunion. It's surely going to be a unique experience!