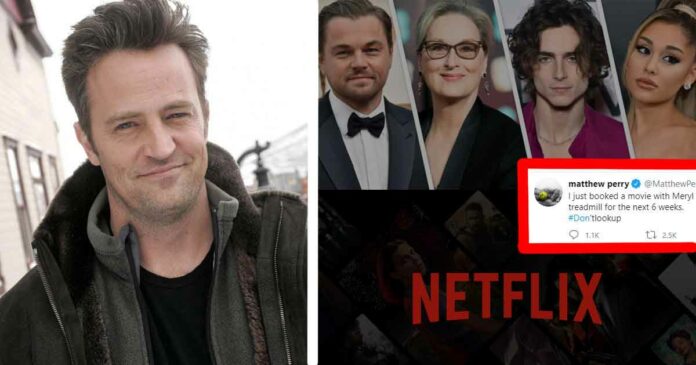 After tons of bad news in 2020, finally, a piece of information to cheer all the FRIENDS Fans. Matthew Perry is finally coming back to make us all laugh! He has signed a movie after 11 long years. Netflix today announced the final cast of an epic Comedy piece, and we were delighted to see Matthew Perry on the list. Looks like the "Chan Chan Man" is back in business!
The Movie teased by Netflix has a cast that can blow your heads out because it's nothing less than being brilliant. Turns out, Matthew Perry is not the only star to look out for in this piece of entertainment, but they have many other faces that will force you to watch it. A list of A-class actors in one movie is something everyone is looking forward to after these rigorous months of Lockdown and the harsh pandemic.
Well, if you are wondering the name of the movie, then it is named as "DON'T LOOK UP". Netflix today released the final cast on its Twitter account and must say, the movie looks promising. A lot of huge names like Leonardo DiCaprio, Jennifer Lawrence, Rob Morgan, alongside Meryl Streep, and more. Well the list is huge so why don't you take a look at the post for yourself and be awe-struck:
The cast of Adam McKay's DON'T LOOK UP is absolutely iconic:

💫Leonardo DiCaprio joins
💫Jennifer Lawrence &
💫Rob Morgan alongside
💫Meryl Streep
💫Cate Blanchett
💫Jonah Hill
💫Himesh Patel
💫Timothée Chalamet
💫Ariana Grande
💫Kid Cudi
💫Matthew Perry
💫Tomer Sisley pic.twitter.com/UODRd7r2t8

— NetflixFilm (@NetflixFilm) October 14, 2020
Matthew's Post On Twitter
Matthew is on fire today as it's not just the movie he has made a comeback. He even cheered his fans with a post on Twitter after months of silence on social media. As always, he couldn't restrain himself from being sarcastic again, after all, he is our Chandler! His post confirmed his fans about the project named "Don't Look Up" he signed recently and here is the post for you to check out and like:
I just booked a movie with Meryl Streep! If you need me, I'll be on the treadmill for the next 6 weeks.#Don'tlookup

— matthew perry (@MatthewPerry) October 14, 2020
The post indicates he is very much excited to play opposite Meryl Streep. And why not, she is a legendary actress after all.
Matthew's last post on Twitter was on June 1 and his recent post came really unexpected for the fans. They have poured in love in huge numbers and expressed how he made their day by just posting an update.
Omg yessssss i'm so happy Meryl Streep booked a movie with you. https://t.co/IZEoowu2uQ

— Joán Sebastián (@Joansebas94) October 15, 2020
Finally something to look forward to! https://t.co/h3vguwdB6Z

— Lola🧚🏼🧚🏼 (@Helana_Mikhaeil) October 15, 2020
Yass Matthew YASSS https://t.co/HoXaMB9eH9 pic.twitter.com/SdPyFImx23

— Raudhah 🇲🇾 (@raudhahfahmy) October 15, 2020
Excellent news! Beyond happy to see you back on the roll. Look after yourself. Eat well. Sleep well. Tread well. "Streep well" 🙂

Now keep at it. Don't lose the focus please! Bring it on! 😎

Love & prayers! xoxo

— Maleeha Hashmey (@MaleehaHashmey) October 15, 2020
Could you BE more excited?! https://t.co/5S2BWW9wlR

— linny.stans (@LinnyStans) October 15, 2020
What kind of wet dream is this? #DontLookUp https://t.co/GCsFOltNvE pic.twitter.com/OMZtvWdzw1

— Melissa (@melissasprofile) October 14, 2020
AAAAAAAAAAAAAA https://t.co/Uf31KG6NL6 pic.twitter.com/uUFvj7rPy9

— bibaby magali 🤠 (@ladydegotham) October 14, 2020
Are you too excited about the movie? It is set to be released in 2021 and the shoots will begin most probably in the next month. So get ready to see something wonderful because it is going to happen. Matthew is back in business and this time with a lot more fun! Tell us what are you expecting out of his character in this movie?