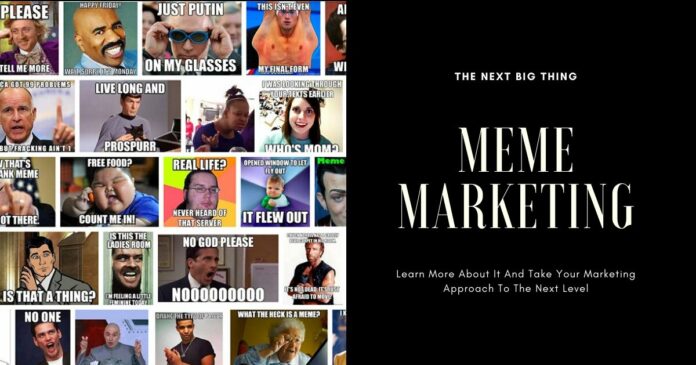 Meme marketing is the next big thing, and we know it because we have experienced its real power. Through years of practice and experimentation, we have seen MEMEs can create brands in a way no one ever imagined. Everyone underestimated MEMEs to be a social element used for humour, but it has risen to be more than that. 
You need not just believe our words unless you know the facts as to why MEME Marketing is so powerful and why it has the potential to be the next big thing. We will explain to you everything right from the roots because if you know the base, you know what else it can do in future. In case if you are wondering, why are we talking on this subject or do we really have any knowledge on this subject; then let me introduce you to MeMedia, a MEME First Influencer Marketing Company. We are presenting our views based on the analysis and knowledge of the experts at MeMedia.
To begin with, let's start with the basics but with a different perspective.
What is MEME Marketing?
You don't know yet? No problem, we'll explain but you need to focus because this is where you get the whole concept cleared out. Rest is just based on these basics.
MEMEs have become an integral part of social media, you scroll your feed, and you can be sure to find more than one MEME waiting for you to giggle and like it. Such is the power of MEMEs that people can easily relate to it and use it to express themselves.
So coming to our topic, if we explain in simple terms, the moment we employ MEMEs into marketing, we are directed towards MEME marketing. Sounds simple right? It is indeed simple if you know to do it the right way, and that's what requires experience. MEME marketing is a part of Viral Marketing because here, we utilise the juice of viral content to make our brand popular or sometimes vice versa.
If you are in par with the world through Social Media, then you have already witnessed many MEMEs online. Whatever the MEME be, one thing remains constant that they are humorous and convey the message shortly and efficiently, making them one of the best marketing tools available to us today.
Why MEME marketing?
To understand why MEME marketing is essential, first, we need to know why MEMEs have become so important in our lives and why they are considered integral. Enlighten yourself with the importance of MEMEs before heading to know the benefits you might derive out of MEME marketing.
Instant & Programmed Humour That Is Relatable
MEMEs trigger instantly and strike your funny bone in less than seconds. People nowadays don't have time for lengthy videos or long verses to get the message out of it on every post. Instead, they prefer scrolling through their feed and grasp only the info that is easily comprehendible. MEMEs take the least time to convey the message and hit hard the message to make it last for a long time.
You may argue that people who haven't come across a new MEME may take time to comprehend it or they may ignore the MEME if they know nothing about it. That's a possibility, but on the other hand, it makes the scene even more beautiful as well; when you don't understand a MEME, you seem to be more competitive and try to decipher the meaning anyhow. And finally when you crack the code, the message prints in your head for a long time.
Also, that particular MEME creates an identity of its own. You might have noticed that MEMEs are about some specific sets of Visuals which convey the message. This fact gives you the privilege of promoting your message and getting the desired result. If your message is in sync with the MEME, then it ought to reach the audience and hit the right cord.
Once the MEME gets decoded, people tend to relate to it, which triggers them to share and interact with the post, thereby increasing the much-needed engagement rate.
MEME Test Time
To test our words, take a look at these images below. These are MEMEs which are common, and most of us would be able to hear the MEMEs without any text in them. 
The MEMEs above did not have text in some portions, but still, we could figure out the meaning because we recognise those templates and the mood they want to convey. Now, imagine a MEME template that can speak out good for you, without even having to say much. Won't it be the best marketing strategy?
How MEMEs Are Helpful In Marketing
If you read the previous point right, you might have already figured out some of the benefits you get out of MEMEs or MEME Marketing as a whole; still, here we will put them forward in points, to comprehend it better.
MEMEs convey your message the right way and touch the right chord in your audience.

MEMEs have high Engagement Rate.

Grabbing Audience Attention becomes easy, reduces chances of getting overlooked.

Your message slides into your audience with humour, thereby creating a lasting impression.

Reaching the untapped youth audience becomes easy.

Appeals to people who hate Aggressive Commercial Ads.

Allows access to the Indian meme community consisting of thousands of pages and abundance of creators.

Access to Indian Meme Community means getting access to their fan base as well, which is gigantic in India. (To give you an idea, MeMedia's Network alone can bring you access to more than 400 million audiences)
Having learned the benefits we get from MEMEs and MEME Marketing, you might have made your mind to give it a try, if not then let's see why MEME marketing is going to stay here for a long time, and if you don't deploy this marketing module now, then you are losing a lot.
Why is MEME Marketing the next big thing?
A marketer who is in business knows already how costly it has become to advertise in traditional ways; the ROI has decreased significantly. People have developed a resistance towards Commercial Ads resulting in less conversion. The circumstances have forced marketers to create new marketing strategies and look out for new channels to advertise. 
Amidst all this chaos among marketers, MEMEs have created a place in everyone's heart which is irreplaceable for a long time now. The fact that MEMEs are based on humour makes them immortal for a long time. As long as humans have words, humour will prevail, only the way to express it might change over time. 
Moreover, MEMEs attract youth the most and any brand willing to get in touch with this audience group and maintain a touchpoint with them can experiment with MEME Marketing. The Gen-Z generation or the untapped generation, which will be the future of our upcoming markets reside in this horizon. So not ravelling this stone may prove to be disastrous for brands that are planning to stay forever.
MEME Marketing is a concept where you don't advertise your brand to get an instant result; instead, you express your brand and try to cultivate a positive atmosphere around it. While executing campaigns like this, you make your audience more loyal and attached to your brand. Attachment increases because the MEMEs force them to interact with your post, which creates a prolonged impression. If you can increase your attachment with the Gen-Z audience today, then it will reap the fruits tomorrow.
Many notable brands are switching to MEME Marketing and trying their best to lure in an increasing number of audience, especially the youth who love spending time on the Internet searching for MEMEs. Netflix, Amazon, Tiktok, Alibaba, Puma, Tinder, Oyo and many more have tried this marketing technique already. The fact that they are continuing with it proves that MEME Marketing works well.
To summarise, MEME Marketing gives you a platform where you can interact with your audience and make them aware of your offering in a disguised way. You do not directly place your product on the floor without having gained their trust. It creates all positive thoughts and ideas around your brand, which improves the Brand Image and awareness. And all this is done, without forcing the audience, they do it willingly, they consume your ad readily because now they love it and seek for it.
Having explained all this, if you do it right, then we can say MEME Marketing is a technique in which people come looking for your ads rather than you going behind the people to serve it. So don't you think such a model of marketing will stay in business for long?
Is It For You?
We have understood the potential of MEME Marketing by now, but will this model fit into your business? It's a very crucial question to ask yourself because however great the marketing model is, if it's not for you, you can never get desired results. So checking its viability in your business becomes essential.
The primary use of MEME includes spreading awareness and creating a positive environment. However, with increasing expertise, experts are venturing news heights to meet new challenges in the market.
If you are a brand looking forward to creating campaigns that can garner goodwill and positive thoughts, then you are always welcome. MEME Marketing will bring you excellent results with a low investment. Also, generating social fans, increasing brand loyalty, and engagement is easy using this marketing model.
However, if you are looking for a direct return or sales, then it requires more perfection and professionalism. And with time, our experts at MeMedia are evolving and trying to formulate new ways to harness the MEME Power. So it's always better to consult us regarding your requirement, and we can brainstorm to get things done the right way.
How to make the best use of meme marketing?
Once you have figured out your need, that's not the end. It would help if you execute the campaign in the right way and use the right channel. 
For instance, there are many MEME templates available, and as discussed, every template triggers a predefined mood. If your message does not fit around that mood, then you may become an element of troll which will never be good for the brand image. Therefore it's preferable to employ experts while executing campaigns efficiently.
We at MeMedia have a proud record when it comes to MEME Marketing, we have served clients like Alibaba, OnePlus, TikTok, Oppo and more. And we boast a network wherein you get access to 400mn+ audience, 1000+ Social Media Channels, 600+ MEME Influencers and 100+ Content Creators. So if you are planning to explore this new and growing Marketing Horizon then let's have a chat to see how we can help. We will love to see you grow with our MEME Knowledge.