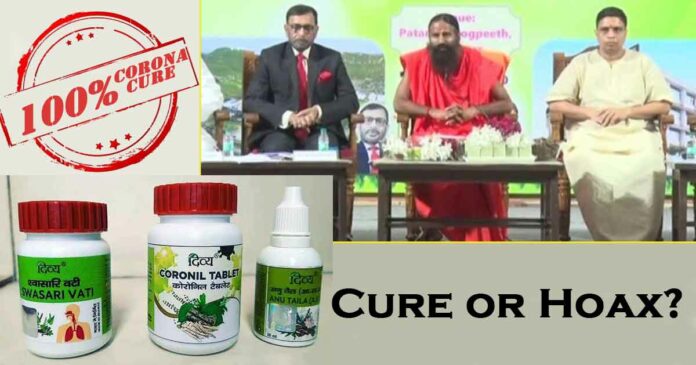 On 23rd June 2020, Patanjali unveiled "Coronil and Swasari", their Corona Drug which claims to cure COVID-19 within 7 days. CEO Acharya Balkrishna and Ramdev Baba were present at the event where they claimed the medicine showed a 100% recovery rate during the clinical trials.
However, the Ministry of AYUSH stated the facts and claims by Patanjali are not known to them; they also denied acknowledging the facts and numbers related to the scientific study conducted by the company. Further, Ministry of AYUSH has also asked Patanjali to stop all advertisements related to the proposed Corona Kit and provide the needed information ASAP. Until which they cannot take it public.
In defence, Patanjali Ayurved CEO, Acharya Balkrishna said they provided all necessary information to the Ministry of AYUSH and also took all the required permissions to carry on their clinical trials and launch. He also took to twitter and cited miscommunication a reason with the scenario that arose and even mentioned it had been done away with.
यह सरकार आयुर्वेद को प्रोत्साहन व गौरव देने वाली है जो communication gap था वह दूर हो गया है व Randomised Placebo Controlled Clinical Trials के जितने भी Standard Parameters हैं उन सबको 100% fullfill किया है इसकी सारी जानकारी हमने आयुष मंत्रालय को दे दी है @moayush @yogrishiramdev pic.twitter.com/0CAMPZ3xvR

— Acharya Balkrishna (@Ach_Balkrishna) June 23, 2020
Translating the above Twitter post, it reads: "This govt encourages and bestows pride to Ayurveda. Communication gap has been done away with, and we have 100% fulfilled all standard parameters for Randomised Placebo-Controlled Clinical Trials. We've given info for the same to Ministry of AYUSH."
During the conference with media, Ramdev Baba said the medicine, "Coronil and Swasari", was developed by the joint efforts of Patanjali Research Centre and NIMS. He also mentioned that the Clinical controlled study involved 280 patients from cities like Delhi, Ahmedabad and more where 100% of those patients recovered within 7 days of the treatment.
Ramdev also mentioned the fact that they conducted tests on all kinds of patients except those who were in critical stages and were on life support systems. Reconfirming the facts, Dr Jaideep Arya, central chief co-ordinator at Patanjali Yogpeeth, tweeted saying the tests conducted jointly by Patanjali and NIIMS, Jaipur showed 100% recovery within 7 days. His tweet reads as follows:
#Patanjali and #NIMS #Jaipur jointly did #Clinical_Control_Trials the results are Amazing–
Within 3 Days 69%#Covid_19 Patients got cured from Positive viral infection.

Within 7 days all 100% Patients got Cured .#आयुर्वेदविजय_कोरोनिल_श्वासारि @yogrishiramdev@Ach_Balkrishna pic.twitter.com/kzIDl4lSym

— Dr Jaideep Arya #Patanjali (@swabhimani1) June 23, 2020
If all things go well and Ministry of AYUSH gives a green signal to the proposed drug by Patanjali, then they are all set to sell the Corona Kit for just Rs. 545/- and the sales would start within a week.
For now, there is no clarity regarding the proposed drug. Until the Ministry of AYUSH reviews and approves the drug, it won't be made available to the public. Hopefully, the claims by Patanjali come true, and the proposed drug works as intended.
The world is eagerly waiting for a cure. If Patanjali succeeds in developing the right drug, then it could be a great success for the firm as well as India. Let's hope for the best. Humankind needs a cure soon.