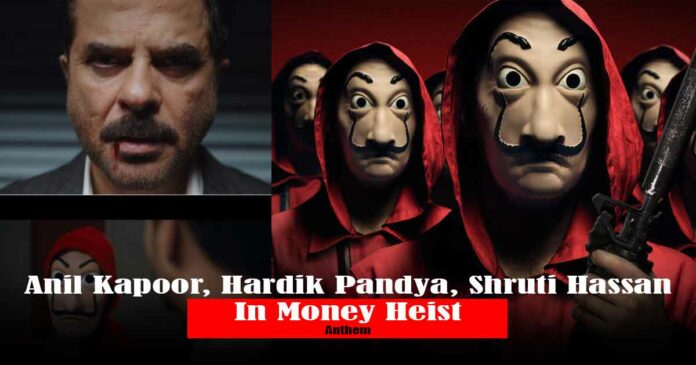 Volume 1 of "Money Heist" Season 5 is set to release on September 3. And with that, fan theories and promos of the show have started to tease the new season. Well, it wasn't enough, looking into the fan following of the series in India, Netflix decided to do something special. So Netflix India recently released a new song to cheer up the fans based in India, and they titled it the "Money Heist Anthem". Undoubtedly, it hyped up the two-part series finale. The new song features big Indian actors such as Rana Daggubati, Shruti Haasan, Anil Kapoor, Radhika Apte, Hardik Pandya, and Vikrant Massey. The anthem is set against Money Heist's iconic Bella Ciao tune and chants 'Come soon' in different Indian languages.
In the music video, you will notice a few moments from "the Money Heist" series has been recreated. The video includes Anil Kapoor dancing on a money-laden bed as Denver did on their first heist, Shruti channeled Nairobi with a flower in her mouth, Hardik was seen packing the iconic red jumpsuits, while Rana was seen lip-syncing the song in Telugu. Radhika Apte was also seen in this video who features along with Vikrant Massey. On the behalf of every Money Heist fan, Radhika said it loud that we wish to see Arturo dead in the final season.
Take a look at the amazing "Money Heist Anthem":
To celebrate the fifth and final season of the popular Netflix show "Money Heist", Electronic Dance Music (EDM) artist Nucleya composed this anthem. The 41-year-old musician said, "I'm a huge fan of 'Money Heist', so working on this anthem was super fun. As someone who loves the series, the song expresses what I and all other fans are feeling." Nucleya, whose real name is Udyan Sagar, while talking about "Jaldi Aao" added, "Shooting the video was such an amazing experience, and all the great artists who are featured in it have made it come to life. The song is peppy and in multiple languages, truly celebrating the spirit of fans who are spread across the nation." He continued, "Lastly, all I can say is – 'Money Heist – Jaldi Aao'!"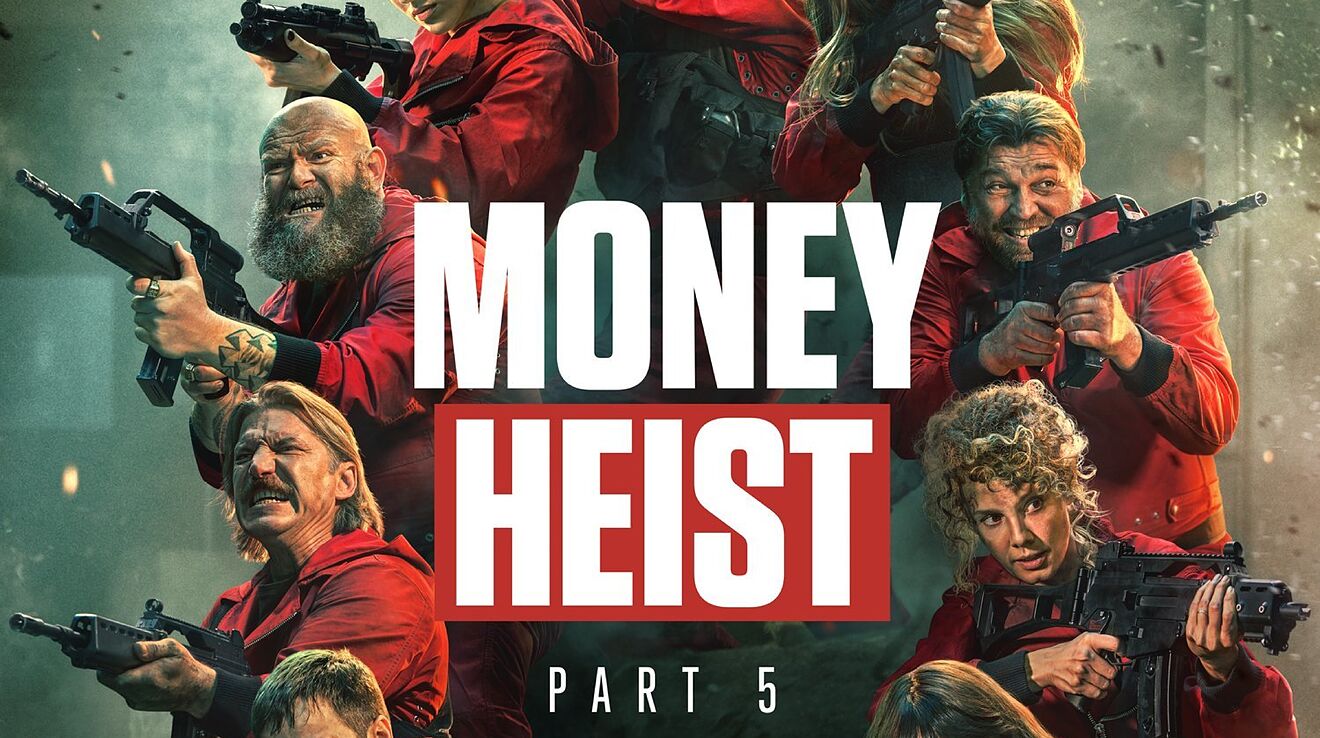 "Money Heist" Season 5 is divided into two parts with five episodes each. The first volume will release on 3rd September, and the second volume will release on 3rd December. Fans are waiting patiently for the last season of this thriller series. It will be really interesting to watch who dies at the end and who survives.
If you didn't know, the show is also dubbed in a few Indian languages. You can watch it in Hindi, Telugu, and Tamil and that's also one of the reasons why the Anthem features these languages.
"Jaldi Aao" is dedicated to the fans of the show and is a funky recreation of the iconic Bella Ciao. The anthem highlights our love for the characters and encapsulates all our emotions perfectly. Right now, "Jaldi Aao" is trending big time on social media. It has received mixed reactions from social media users.
Check out some of the reactions of netizens to the "Money Heist Anthem":
Can't wait anymore #MoneyHeist #JaldiAao

— Vignesh | விக்னேஷ் (@vignesh_satya) August 23, 2021
Waiting for 25th August #indvseng 3rd Test > Waiting for 3rd September #JaldiAao #MoneyHeistSeason5

— MysticalBug (@BugMystical) August 23, 2021
S1-S4 revision is complete…really #JaldiAao 😅

— Bumble Bae (@iOmarAzami) August 23, 2021
The whole song for s5 of #MoneyHeist kuch zyada nae ho gaya😂 #JaldiAao

— Shubhrika Bhalla 🇮🇳 (@shubhrika17) August 23, 2021
#MoneyHeist5 This is sick! @NUCLEYA uv blown us away🔥#JaldiAao sounds funkier than #BellaCiao I love that these awesome peeps are revving up da video 🙌@AnilKapoor @radhika_apte @RanaDaggubati @hardikpandya7 @VikrantMassey @shrutihaasan Check it out yall! https://t.co/bkdSvuS1dz

— Hrishikesh Kannan (@HrishiKay) August 23, 2021
#MoneyHeist #JaldiAao song is an abomination. I appreciate the effort but it's too bad. They killed #bellaciao

— I'm Stupid (@im100stupid) August 24, 2021
Netflix hits this one out of the park by making an Indian fan anthem with Indian actors & cricketers.

Unprecedented appreciation and love for this Spanish show.

And no wonder, it is worth it !#MoneyHeist #JaldiAao

— Bobby Ansary (@SNOWYEVENINGZ) August 23, 2021
Please, I wish!!!!
Most awaited day!! Beautiful Anthem #JaldiAao #Netflix #MoneyHeist #Anthem

— MySparkleBox (@MySparkleBox) August 23, 2021
Recently, Netflix has also unveiled the first trailer of the first half of the show. The trailer gives us a glimpse of what to expect in the upcoming season of "Money Heist". It is also known as "La Casa de Papel" in Spanish.
Take a look at the trailer of the famous "Money Heist" Season 5:
We can hear an unseen voice in the trailer that says, "Locked up for a hundred hours, trapped, about to be killed, and having lost a best friend, it feels like a hundred years have gone by" before Alicia confronts The Professor: "Checkmate." After knowing about their upper hand once Alicia Sierra(Najwa Nimri) arrested The Professor (Álvaro Morte), the Spanish authority sends in the military to destroy the heist. It seems like the police have realized where the team is and where they wanted to be and that intelligence pushed them to go on with the military: "They'll come out victorious or come out dead." Of course, with heavy casualties on both sides, the confrontation should be brutal. We can see Sergio aka the professor being tortured by inspector Alicia Sierra. So all now we need to wait is to see how the professor plans to escape.
Netizens love the show and are waiting eagerly for the last season of it. While they are expressing their feelings and support for the anthem in tweets, they are also sharing thoughts via memes.
Let's check out some of the amazing memes that netizens created for the show's final season: