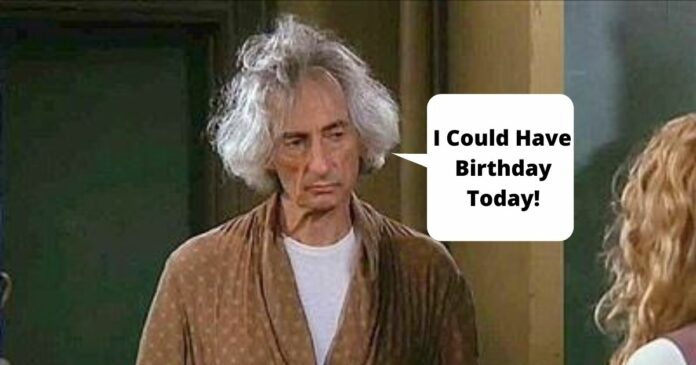 Mr. Heckles from Friends is a memorable character who was a grumpy old man but we still love him. His lines are unforgettable and typical which has made him a legend. Though he said some far-fetched and absurd lies but was delivered amusingly in the series. We can't imagine someone more annoying and loving at the same time! Today the actor is celebrating his 80th Birthday and we can't stop remembering all his dialogues from Friends here!
We wish Larry Hankin a very Happy Birthday and thank him for a character like Mr. Heckles. Though his part was short in Friends still he managed to make a mark that will last forever within all Friends Fans.
It's shocking when you realize that Mr. Heckles made an appearance in only 5 episodes but it seems like he is one of the main characters from the show! We really wanted to see more of him but unfortunately, the character was killed too early.
On the occasion of Larry's Birthday, we have brought in a collection to help us celebrate and enjoy the day. The list of things within the article to help navigate:
How Mr. Heckles Changed Friends?
Furious Mr. Heckles After He Was Killed
Unforgettable Dialogues By Mr. Heckles
MEMEs From Facebook Featuring Mr. Heckles
How Mr. Heckles Changed Friends?
Mr. Heckles is a very important character in the Friends series. It was for him that the whole group oi six came into existence. Remember the flashback episode where Chandler was looking for a roommate? He had almost selected Eric who was a model photographer and had a hot sister who starred in adult movies. But, Mr. Heckles lied to Eric at the right time that forced him to turn back and leave the apartment. And finally, Chandler had no choice but to bring in Joey as a new roommate. So all thanks to Mr. Heckles!
Also, Heckles helped Chandler rectify himself. The episode where Mr. Heckles died and left all his worldly possessions for "the two noisy girls upstairs." In the same episode, Chandler read Heckle's diary and drew parallels between Heckle's life and his. To his surprise, Chandler discovered that he had similarities with Heckle's past thereby scaring him about his own future. However, Chandler's friends manage to soothe his phobia and maybe that was the point where he realized for the first time it's better to commit yourself to someone.
So in a way, Mr. Heckles had done a lot for the group and deserves the credit for it.
Furious Mr. Heckles After He Was Killed
Larry Hankin who played Mr. Heckles in Friends admitted once that he almost lost it with producers Marta Kauffman and David Crane when he came across the fact that his character was killed in Friends.
He said, "In my mind, and this is really true, when [my agent] said you've got the fifth episode, [to me] the sixth is pretty inevitable. I got a house, I started to pave the driveway – Friends took my house away! I had a house for five seconds, maybe 10. I say that as a joke but in my head that registered, I was so angry, I kept that in.' And then the day came to film Mr. Heckles' swansong, and Larry blew up.
Larry continued his story by saying, "I walked in with a chip on my shoulder. And I didn't know this was the first day of the new season, at least with filming, so that's party time for all sitcoms. They invite everyone who's been on the show, who's going to be on the show – the producers, everybody in the building to come down."
"I found the three producers, I headed right for them, they were very pleasant just the three of them with drinks in their hands, and I go up to them: "What did you do? What did you do? You killed my character!"
Marta replied to Larry by saying, "Larry, can we talk about this another night?"
Larry then suddenly realized that the entire room shut up because he was shouting. Seems like Larry was quite into Mr. Heckles and at times could go crazy like his character. But the moment must have been quite embarrassing for all of them.
Anyways, we love Mr. heckles and his short but amusing part played in Friends sitcom. He has made a mark with his character.
Though Mr. Heckles lost it after losing his character in Friends but, as expected the actor's talent brought him more work. He starred in Breaking Bad, Matlock, Seinfeld (as Tom Pepper), Escape from Alcatraz (1979) with Clint Eastwood, and more. He is a wonderful actor and his characters say it loud already.
Unforgettable Dialogues By Mr. Heckles

MEMEs From Facebook Featuring Mr. Heckles
Mr. Heckles has a unique style and people love using it! We have often noticed some great comments on Friends posts and they are so good that we always crave for more! So here we have listed a few comments from our Facebook Page that were made the Heckles style!