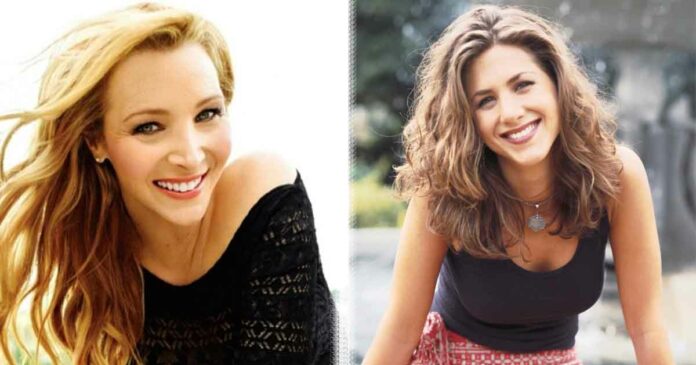 In a world full of mass-produced Pottery Barn apothecary tables, Ms. Phoebe Buffay is one unique vintage piece. She was the friend who always stood out from the gang. During FRIENDS ten years journey, she didn't go to London, never dated another friend, and when the rest of the gang was playing an iconic trivia game, she was busy getting pregnant. She jogged, sang, and danced in hilarious and unpredictable ways. All thanks to Lisa Kudrow for her enigmatic performance that lead her to become the first friend to win an Emmy award for her performance on FRIENDS.
But for all the times, Phoebe's style never seemed to be appreciated like Rachel Green (played by Jennifer Aniston). She had her own damn haircut and rocked countless memorable looks. Phoebe was never considered a style icon. It seems like that they distracted us from Phoebe's incredible fashion sense intentionally else Phoebe would have stolen the show. But, "they don't know that we know what they know".
Fans know she is beautiful but somehow when it comes to fashion, she is often ranked below Rachel. But do you remember the numerous times when Phoebe wore some really iconic dresses and rocked them like a boss? Not even Rachel would have the guts and the personality to carry the dresses well as Phoebe did. She made a style statement of her own and here we are going to realize the same in some time. So, here is the list which shows that Phoebe was the unsung style icon of the show FRIENDS. Let's check it out:
1. The Pilot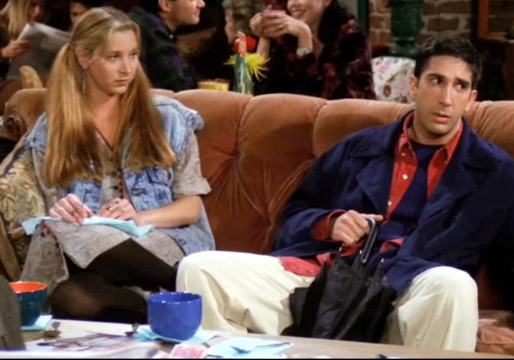 Seconds before Rachel stormed into Central Perk as a runaway bride in a sopping wet wedding gown, Phoebe's iconic style was stealing the show with oversized tops, midi rings, and pigtails. This was just the beginning of a model who would show the world how well she could carry variation on herself. She was never limited to a single kind of dress rather the directors of the show could experiment with her whichever way they wanted. And that was her specialty.
2. The One Where Heckles Dies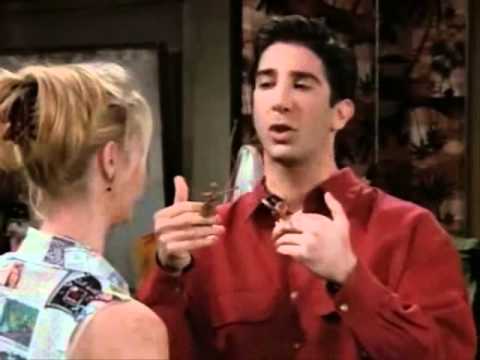 Phoebe started the trend of this bold graphic blouse before Carrie Bradshaw used the newspaper in her John Galliano for Dior newspaper dress. Again, it shows that a range of styles Phoebe can pull off. Several times she wore dresses that were not in trend in those times but she dared to bring them in her wardrobe.
3. The One With Phoebe's Husband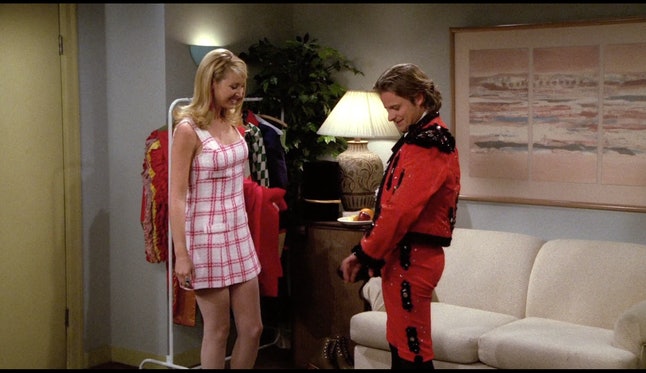 In this episode, Phoebe was trying to impress her gay husband, Steve Zahn by looking flawless and rocking a retro, mod mini dress. She looked pure classy and amazing in that dress. Even though Steve Zahn's red Ice Capades matador outfit tried to overshadow her look, but she still managed to upstage him.
4. The One Where No One's Ready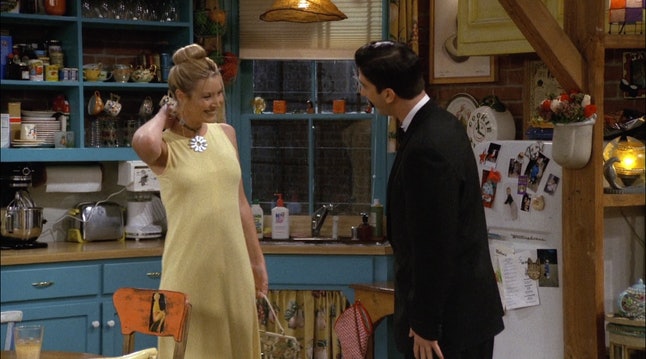 In this episode, Phoebe wore this sleek understated yellow maxi dress and paired it with her signature oversized floral necklace. Later, she spilled hummus over her dress and used Christmas ornament to cover it. Well, that became the most memorable moment in Phoebe fashion history. We don't know if the Christmas ornament is something you would be interested in sporting but before that, she looked gorgeous.
5. The One with the Flashback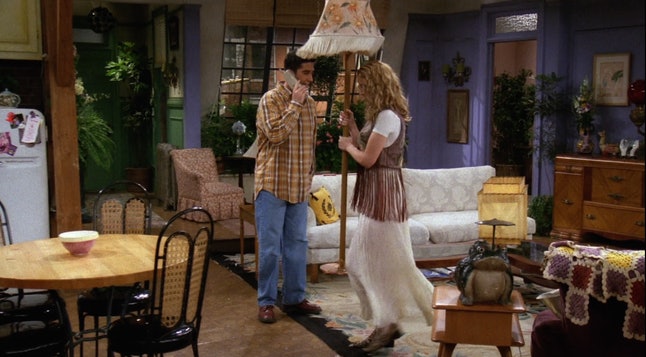 Phoebe was seen in an ultra-boho outfit in the flashback episode. And, this fringe-plastic lamp shade enhanced her aesthetic even more. These flowy silhouettes are quite easy-going just like Phoebe. We often saw her wearing skirts and dresses that had a flowy, yet enchanting silhouette.
6. The One with the Yeti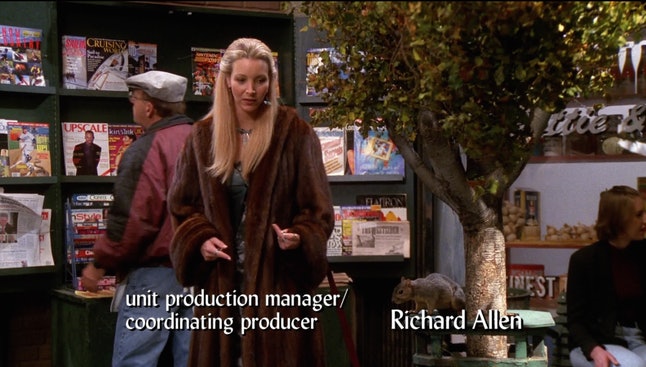 It was a surprise when Phoebe wore this gorgeous mink coat and had an identity crisis over it. To guilt her even more, a squirrel had to come along and that lead her to give it away to the guy behind her. Even though we respect her principle and morals, this was one the best coats in Phoebe's wardrobe and she looked simply gorgeous in that mink coat.
7. The One That Could Have Been Pt. 1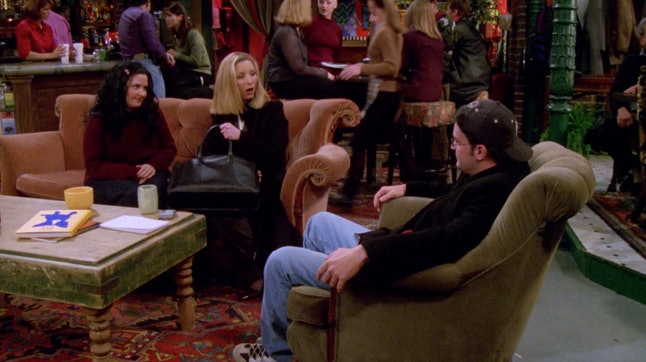 Here we saw the sleek and sophisticated Phoebe in a "what if" world with her long black coat and short hairstyle. She was getting all the attention from her friends until Rachel came along. She looked gorgeous even in her sophisticated style though a little off-beat from the character we know.
8. The One with the Ring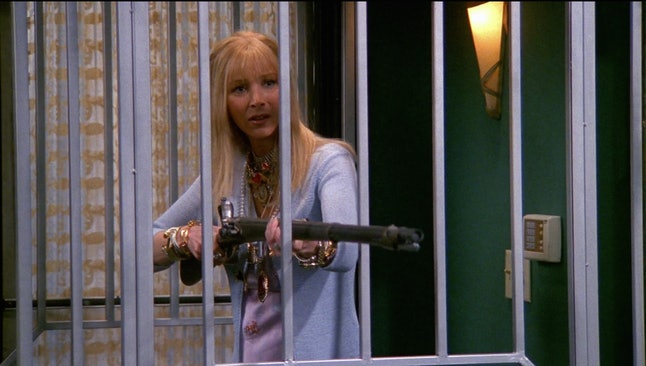 Phoebe is the only one who can pull off this gaudy look. She took her iconic over-accessorizing look to epic heights with an ample amount of jewelry and a much-needed tiara. And then, Phoebe was jailed for looking too good, even in this over-accessories look. No one else could have pulled it off so elegantly.
9. The One with the Donor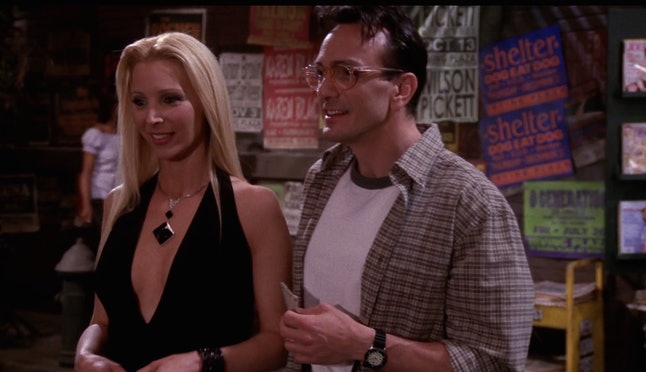 Phoebe looks gorgeous in this plunging neckline halter dress. She is looking "stop-eating hot" which is way hotter than Rachel's fashion & style. She pulled off this cutline dress very elegantly and drew everyone's attention towards her. Can you deny the fact that she looked way hotter than Jennifer in here?
10. The One Where Joey Speaks French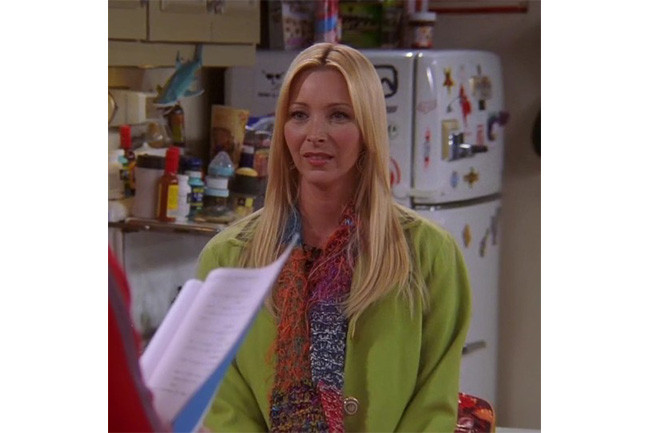 Very few people can pull off a light green long coat and Phoebe is definitely one of them. She prefers one-of-a-kind pieces and has made it clear on many occasions. And, this green long coat proves that. She surely had the best collection of coats in her wardrobe. And many people at that time were surely influenced by her unique sense of fashion.
11. The One With The Baby On Bus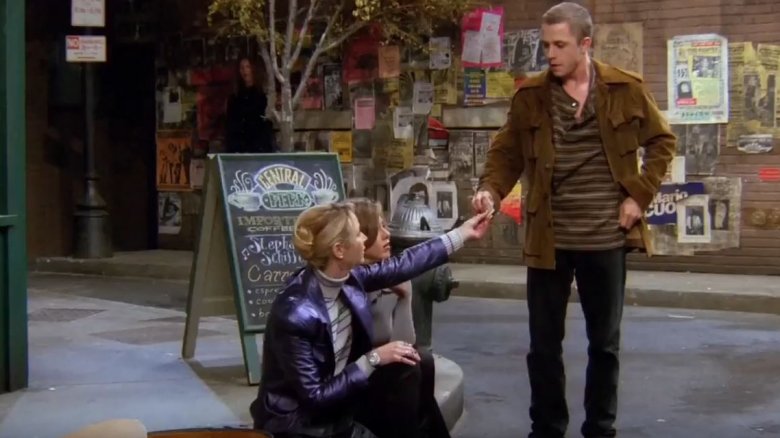 In this episode, Phoebe gets fired from her Central Perk singing gig and is replaced by a professional. Phoebe takes it hard and sings hate songs outside the coffeehouse for charity in her purple leather jacket, which by the way looked stunning and not everybody can look good in it.
12. The One Where Everybody Finds Out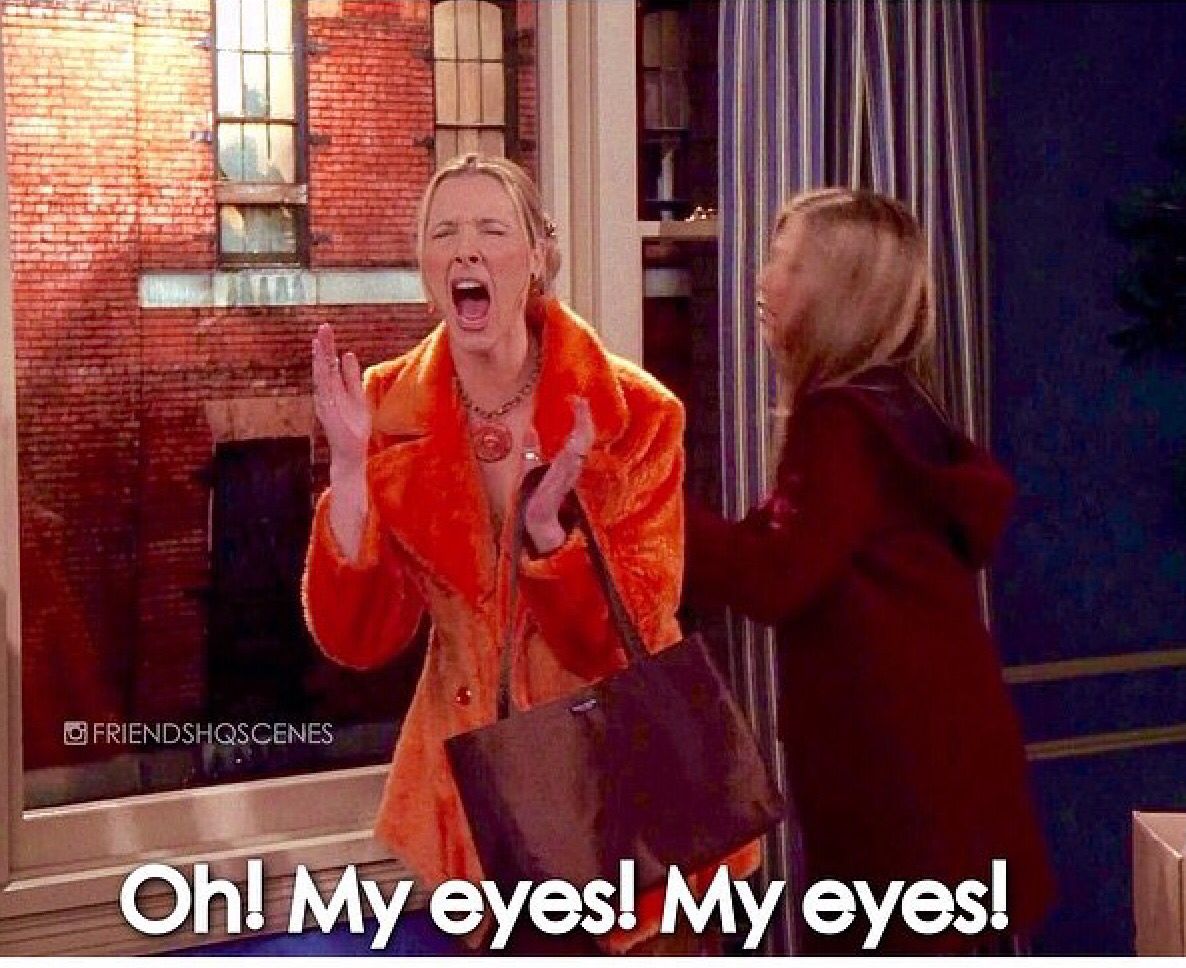 It would not be wrong to say that Phoebe definitely had the most colorful wardrobe among all the friends in the show. In this episode, Rachel, Ross, and Phoebe are taking a look at Ugly Naked Guy's apartment because Ross was about to move in there. While looking around, Phoebe in her bright orange faux fur coat looks over to Monica's place to find out Chandler and Monica making out. While dealing with all the excitement and laughter in the episode, many of us forgot to notice the stunning girl in orange. Her collection of coats ticked all the boxes.
13. The One With The Red Sweater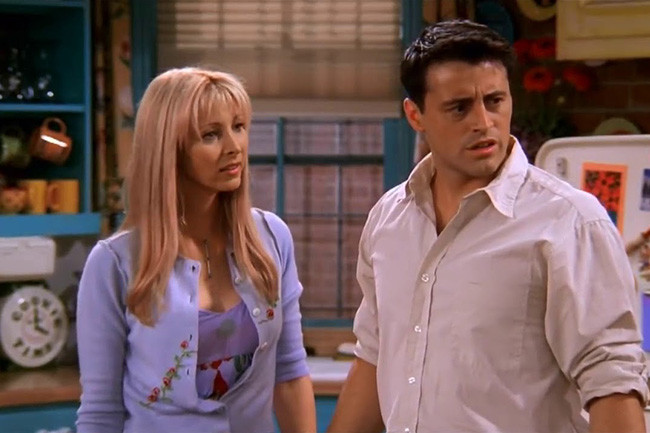 In this episode, Joey thinks that Phoebe is pregnant and proposes to her. But she stole the show with her purple cardigan in which she looked really amazing. Often we have seen her mix and match her cardigans with a whole lot of dresses and skirts on several occasions. Cardigans were definitely Phoebe's wardrobe staple.
14. The One After The Superbowl: Part 1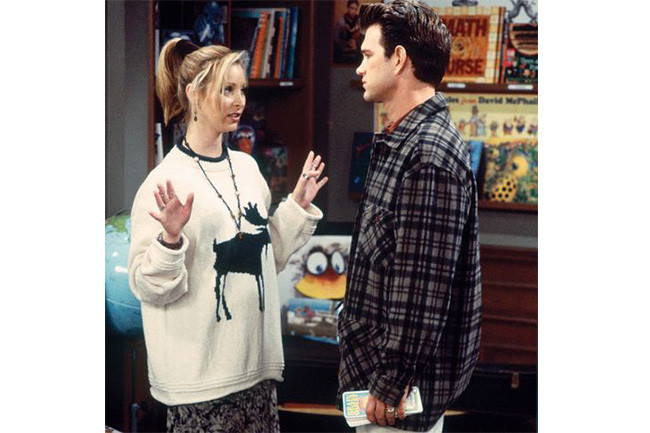 She surely brought the culture of baggy clothes. In this episode, she wore an oversized top with a skirt and high ponytail while singing for the children's program at the library. Nobody can look this cute and beautiful at the same time. This wildfire trend is still popular than ever. And, Phoebe knew how to rock oversized clothing way before it was cool.
15. The One with Phoebe's Wedding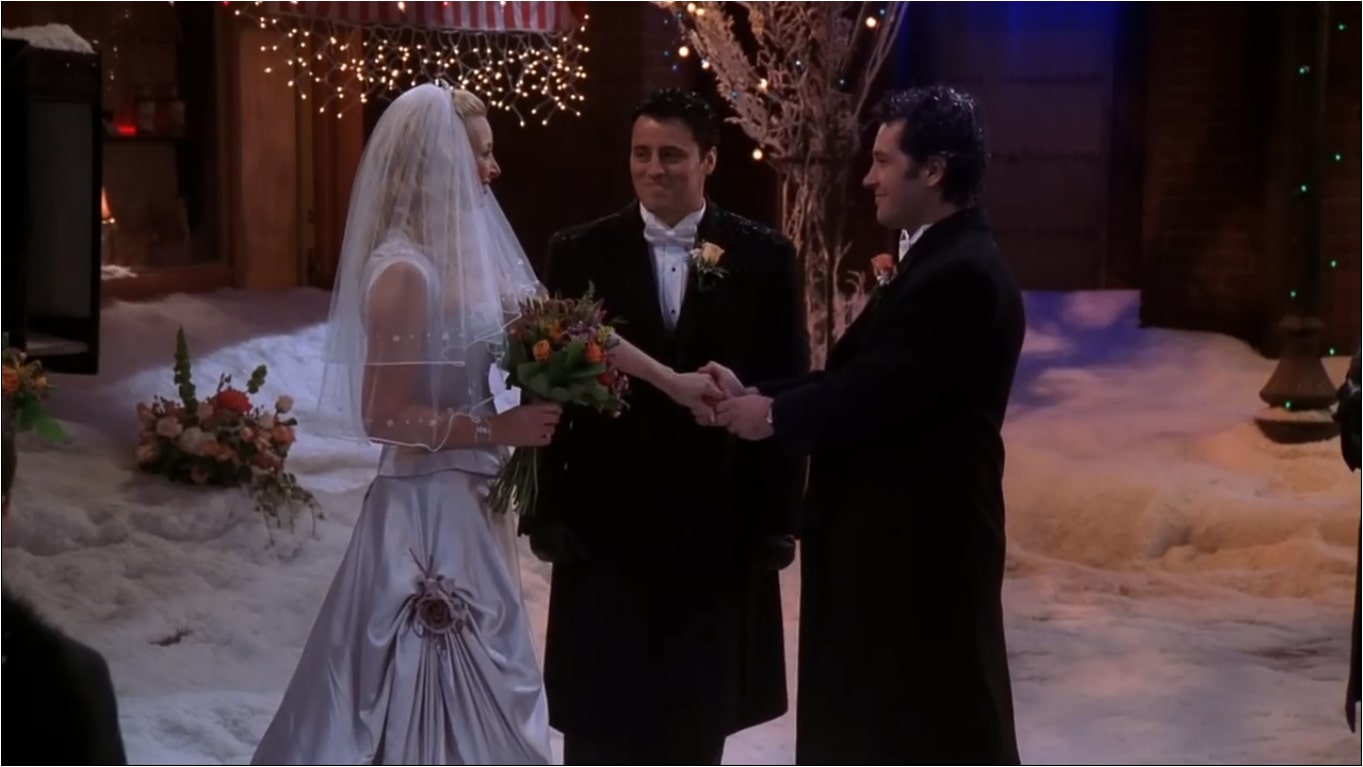 In the end, Phoebe faced off against Mother Nature herself. She didn't let a blizzard ruin her wedding and got married outside as per their plan. She refused to cover her ethereal, light purple gown while walking down the aisle. She opted to be her own 'something blue.' She definitely knew how to look gorgeous and steal the show among everybody. And why not, it was her wedding after all.