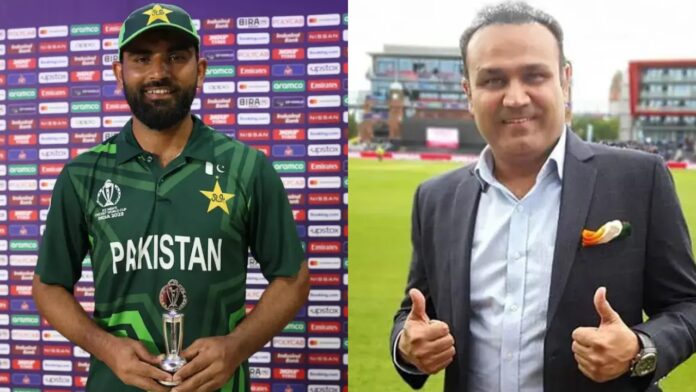 Pakistan is on the verge of elimination due to their disappointing World Cup performance. Their recent match against New Zealand at the Chinnaswamy Stadium in Bengaluru saw them achieve a remarkable victory, keeping their hopes for a semi-final spot alive. New Zealand, on the other hand, finds themselves in a challenging situation.
In the match, New Zealand was asked to bat first and managed to score a massive 401-6 in 50 overs. Rachin Ravindra and Kane Williamson delivered an impressive partnership of 180 runs for the second wicket. Ravindra secured his third century of the tournament, while Williamson narrowly missed a well-deserved hundred by just 5 runs. Following that, some effective contributions from their middle-order batsmen propelled them past the 400-run milestone.
View this post on Instagram
While chasing a massive target, Pakistan faced a disastrous beginning when they lost opener Abdullah Shafique early in the second over. Nonetheless, Fakhar Zaman launched a fierce counter-attack, unleashing powerful shots to keep Pakistan in contention. The left-handed batsman achieved his 11th ODI century in just 63 balls, making it the fastest century by a Pakistani batter in a World Cup match.
Following a series of subpar performances, Zaman was omitted from the team after the opening match against the Netherlands. However, due to Imam-ul-Haq's struggle with form, the left-handed batsman was reinstated for the match against Bangladesh. In that game, he played a crucial role, scoring 81 runs in Pakistan's victory at the Eden Gardens. He continued his impressive form in the do-or-die battle in Bengaluru, where he notched up a scintillating century against the 2019 runner-up.
Virender Sehwag's fondness of Fakhar Zaman sixes
The former Indian opener, Virender Sehwag, expressed his admiration for Zaman's exceptional performance and his aggressive approach while chasing a target exceeding 400 runs. Sehwag used his Twitter handle, now known as "X," to praise the batsman. He also raised questions about the decision to exclude the 33-year-old from the initial matches. Additionally, Sehwag humorously remarked about Pakistan opener Imam-ul-Haq, who had previously suggested that the team's lack of sixes was due to insufficient protein consumption.
View this post on Instagram
In a tweet, the 45-year-old former Indian opener Virender Sehwag lauded Fakhar Zaman's exceptional innings, hailing him as Pakistan's standout batsman. He expressed his bewilderment over the decision to keep Zaman on the bench for a significant portion of the tournament, stating that "What an innings by Fakhar Zaman, by far Pakistan's best batter. Which brains kept him on the bench for the best part of the tournament, God knows. Protein ki bhi kami nahin, jajbe ki bhi."
What an innings by Fakhar Zaman, by far Pakistan's best batter. Which brains kept him on the bench for the best part of the tournament, God knows.
Protein ki bhi kami nahin, jajbe ki bhi . #NZvsPak pic.twitter.com/t6GdvKRjJ5

— Virender Sehwag (@virendersehwag) November 4, 2023
During a press conference earlier in the tournament, Imam-ul-Haq was questioned about Pakistan's top-order batsmen's lack of sixes. In response, he mentioned "Maybe we want to eat more proteins and not that much carbs, but it's just that there's nothing we want to talk about it. We really don't feel it if we are not hitting sixes or fours. It's just what are we doing for the team."
Fakhar Zaman's smashing hundred
Remarkably, the top four batsmen of Pakistan have only managed to hit 36 sixes in the World Cup so far, ranking fifth among the ten participating teams. Contrastingly, Fakhar Zaman alone struck 18 sixes in his last two innings, with 11 of them coming during his century innings.
View this post on Instagram
Following the match, Fakhar Zaman shared his thoughts, stating, "Our plan while chasing 400 was to initially navigate the first 4 overs, and fortunately, it turned out to be my day. We understand that every game is crucial for us, and we've committed to playing aggressively, focusing on scoring runs. This innings ranks among the best in ODI cricket for me, although I'll always hold my 193 in South Africa in high regard. Nonetheless, I thoroughly enjoyed this game, especially against a strong New Zealand side. We were aware of the potential impact of the DLS method, but we maintained our aggressive approach, and we intend to continue this aggressive style in the upcoming game."
Read more: Fan Asks Rohit 'World Cup is our, no?', Hitman reacts