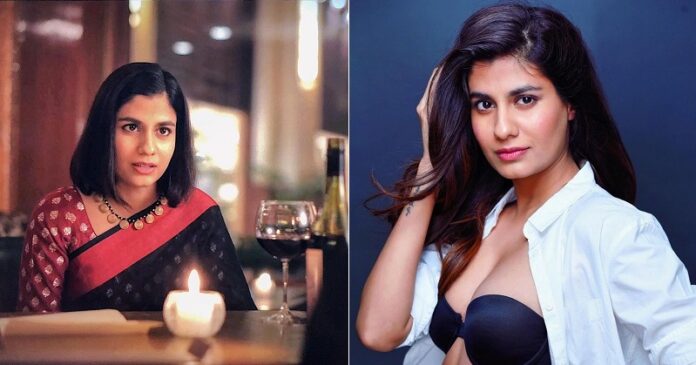 Shreya Dhanwanthary is an Indian Model, actress, author, and director who worked with numerous languages in numerous web series. But, she got acclaimed after playing Zoya in the web series "The Family Man" and Sucheta Dalal in "Scam 1992". She says that starring in "Scam 1992 – The Harshad Mehta Story", a Hansal Mehta's web series gave her the opportunity to do something "very assuring".
View this post on Instagram
"Scam 1992" follows the life of stockbroker Harshad Mehta, who was known as the king of the stock market. He single-handedly took the stock market to amazing heights. The series is based on the book "The Scam", written by journalists Sucheta Dalal and Debashis Basu. On the show, Dhanwanthary plays Dalal.
View this post on Instagram
Last year, she earned acclaim in the Amazon Prime Video series "The Family Man". She told to PTI, "Hansal was very clear, he said he didn't want to hire robots. He doesn't want to tell people what to do. He expected his actors to come on set prepared. That was so assuring." She also said that she always admired Mehta's ability but understood his process of extracting the best from his actors while shooting for the series.
View this post on Instagram
The web series opened the door of opportunities for her. However, she doesn't believe in rushing into things and has always chosen stories she could relate to. In an interview with Hindustan Times, she said, "I've always been mindful of the work that I want to be associated with. It's not like now that my show has become successful and I'm on a different high, so my approach would change."
View this post on Instagram
Dhanwanthary did English theatre for 17 years before the web series "Scam 1992". She started her Bollywood journey with the web show Ladies Room in 2016. Later she was also featured in The reunion, The Family Man, and A Viral Wedding. She debuted in a Hindi film from "Why Cheat India".
View this post on Instagram
Dhanwanthary says, "Web has given everybody a lot more opportunities. There are so many actors, DOPs, writers, editors, technicians, who wouldn't have these many opportunities if it wasn't for the web." She further added, "Earlier, films used to be an exclusive club, which got opened up a bit with TV and now with the web, it has given more playing area both in front of and behind the camera."
View this post on Instagram
When asked if it will affect having big names featuring into the web space to the content-driven approach of the medium, she said, "I genuinely hope it doesn't. OTT has been backing talent and I'm not saying stars don't have talent." She again said, "I just hope it'll continue to move in the direction where equal opportunities will be given to all."
View this post on Instagram
While the tremendous success of "Scam 1992" has given her many opportunities, she points out that hurdles never get over. She explains, "Anybody who tells you anything else is just being polite. It's obviously hard because we're very dynasty, legacy-based people and in this industry, preference is given to lineage and bloodline over merit." She continued, "So yes, it's tough, but you've to find innovative ways to go on. Crap is going to happen, you'll meet people who give you useless advice, people who troll you, and every time you'll have to keep getting up."