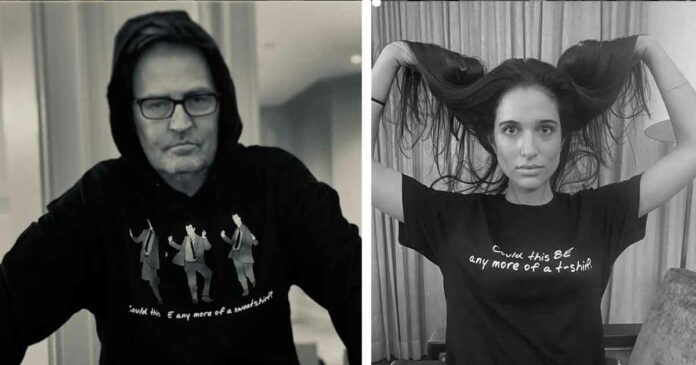 Could this be any more exciting?
Our favorite Matthew Perry aka Chandler Bing is promoting a limited edition of Chandler Bing inspired T-shirts with one of his famous one-liners to benefit the World Health Organisation's Covid-19 relief efforts. Perry and his fiance modeled the t-shirts in, of course, a hilarious way, which fans loved. It is definitely a holiday treat for FRIENDS obsessed fans.
Perry modeled in one of the t-shirts when the actor announced the new line on Instagram. It features a cartoon drawing of his character dancing (the one where Chandler describes he can't even dance at weddings) with the slogan, "Could this BE anymore of a t-shirt?" In the picture, he used a banana as a telephone, and joked about it by saying, "the banana is not included in the order." Like we didn't know! Typical Chandler. Isn't it?
In the caption, he also added, "For two weeks only, I'm releasing an apparel collection! Proceeds will support the World Health Organization's COVID 19 relief efforts." The full collection includes t-shirts, mugs, sweatshirts, and all these come with Chandler's cartoon on them. Supporting the cartoon is a one-liner, exactly the Chandler style like we always love. The site specifies that a portion of the amount will go to the World Health Organisation relief fund. It's great to see that he is putting in huge efforts to support such a great cause.
The second version of the t-shirt was modeled by Molly Hurwitz, his fiance. She can be seen in a plain T-shirt with the same text as Perry but the caption was different that read, "You don't have to pose this way while wearing the t-shirt, but please feel free." The duo is working for the charity of Covid-19 relief fund for WHO together. They are not just a lovey-dovey couple it seems, rather they are partners made for greater causes.
Perry, who recently got engaged to his girlfriend, Molly Hurwitz, was not quite active on Instagram earlier. The last post from him came in the month of July, where Perry noted that David Beckham is wearing a T-shirt featuring him and Matt LeBlanc aka Joey from the famous Lunges scene in FRIENDS. But after getting engaged to Molly, he has already posted a good number of posts. Looks like Molly has changed Matthew's life in a good way and we love it.
The new merchandise line of Perry isn't the only thing FREINDS fans are looking forward to. Giving hope to fans, in a tweet, Perry wrote, "Friends' reunion being rescheduled for the beginning of March. Looks like we have a busy year coming up. And that's the way I like it!" We know that the exclusive, unscripted FRIENDS reunion was put on hold after the Covid-19 pandemic which sent the world into lockdown. But Perry didn't let it get in the way of his love life.
He got engaged with his long time girlfriend, Molly Hurwitz. While talking to the People, Perry said, "I decided to get engaged. Luckily, I happened to be dating the greatest woman on the face of the planet at this time." Isn't it romantic?
However, before he found love with 29 years old Talent manager, he enjoyed some high profile romances over the years but he seldom shared things about his love life until he got engaged to Hurwitz. In his most recent relationship, his affection grew for a woman behind the camera instead of someone in front of it. They secretly dated for a year and a half and in February she declared their relationship with a romantic Valentine post on Instagram. The duo makes a great pair and we feel happy for him. Perry went through some serious turmoil and she was the rock supporting him throughout.
After having so many breakups, fans were surprised when he revealed that he was getting hitched. Even after having so many relationships, he never made it down the aisle before. Also, Perry and Hurwitz have their share of ups and downs in the relationship. Luckily, they worked it out and are heading down the aisle soon.
Also, they are working on the WHO project together to help people in this pandemic situation. So, there is no reason why not to purchase one of everything. Could this BE the only place this holiday season we shop from?