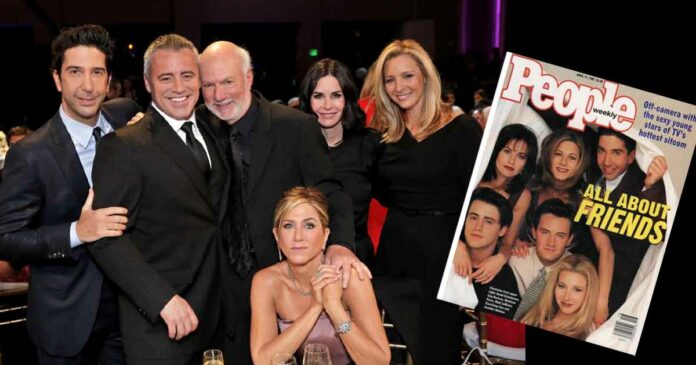 FRIENDS is one of the most successful TV Series of all time. People have loved it for ages and encouraged it a lot. Even after 26 years, the episodes are refreshing and brings not just smiles but rigorous laughs to every fan. The concept was unique and ahead of time but never failed to loop in everyone in contact. For times like now, we are ok with flings, different methods of pregnancy, different types of marriages, and more. But back in 1994, it wasn't so common. Despite the odds, the show managed to open up people's minds and make way for themselves.
But did everyone enjoy the change? Often people try to resist change. And Friends was a change, a revolution in itself. It tried to widen the narrow storytelling boundaries, tried to bring on TV some taboo topics, and also tried the way the audience interacts with the show. Yes, it's interesting to know that FRIENDS changed many of their plots and scripts according to the response of the live audience on the show. So it was something different and new to be practised on such a production scale.
It's wrong to say that the show creators were always confident and weren't scared of experimenting. Actually, in many instances, they were worried that they might receive backlashes from the viewers. After the pilot episode where Monica forgot the name of the guy she slept with, they took a survey to confirm that viewers didn't start to hate her.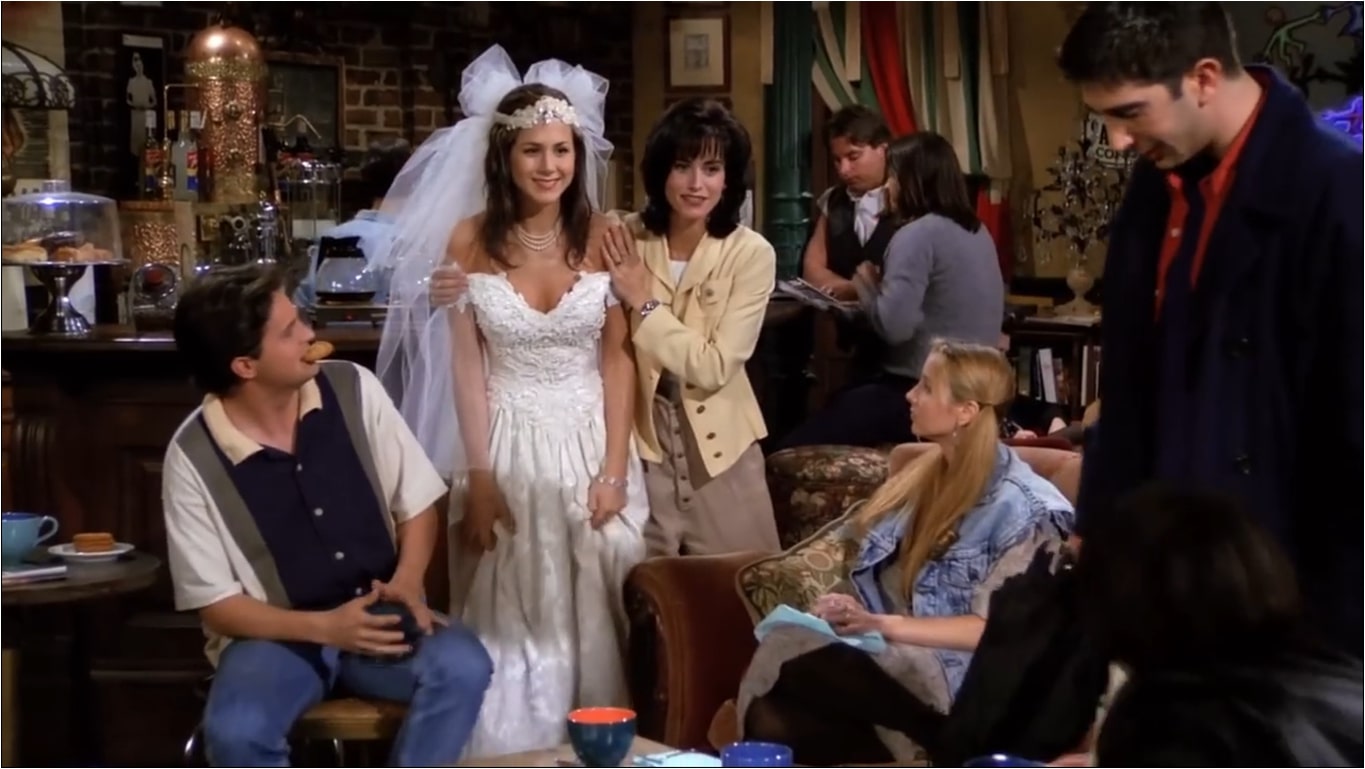 The creators had to face tough times at places because of their modern and radical approach. In the episode where Carol married her lover Susan, they were cautious the most and had to face the heat a bit. Censor boards were tough on them and banned the scene on TV in many countries. But later, they received an award for the same.
To sum it all, there were instances where the viewers or the critics did not take the new show well. Out of all those, People Magazine was one who didn't give many high ratings to the show while it started. They rated the sitcom a mere D+, and what we could figure out from their note was that they didn't have much hope from this radical series.
Here's a portion of the review by People from the year 1994.
The scripts are filled with pop references—e.g., gags about David Hasselhoff, Shari Lewis and Mentos mints.

A game cast delivers the barrage of banter with an arch coyness that suggests they think they're in some Gen X Neil Simon play.

The show's saving grace is that as the weeks go by, the characters begin to grow on you. That has more to do with the actors' animation than it does with the rimshot writing.

NBC (Thursdays, 9:30 p.m. ET)

D+
While most of the readers might not get the negativity in the lines because of course it's written by some professional critic and they have their own way of describing things. In case they have to let you down then they do it very professionally like a 'knife dipped in honey'. But their rating speaks it loud! D+ to a show like FRIENDS is obviously too low.
However, despite all the resistance, the show proved to be an instant hit after going on TV. And the cast became a household name where everyone looked at them like stars. People went so crazy that many copied Rachel's haircut, while others tried to fill their wardrobe with dresses to look like their beloved sitcom stars. The show created history and is still continuing to do the same.
In case if you are wondering, how did some other critics react to the show then here are some reviews to check out:
New York Times:
Oh, no, you might well moan, not another group of pals sitting around whining and nursing their anxieties, getting up once in a while to test the passing Zeitgeist. Oh, yes. But click into NBC's "Friends" anyway. The creators and executive producers are Marta Kauffman and David Crane, whose "Dream On" has been exploring new boundaries of zaniness (and permissiveness) on HBO. "Friends," more conventional on the surface, promises to be equally offbeat and seductive …

The cast is appealing, the dialogue is pitch-perfect 1994, the time-slot is between the solidly established "Mad About You" at 8 P.M. and "Seinfeld" at 9 P.M. "Friends" comes as close as a new series can get to having everything.
The Hollywood Reporter:
There's a sustaining humor at work on the new NBC entry Friends.

This ensemble comedy about a pack of young adults holed up in Manhattan starts in a capable manner, evidencing a solid understanding of the forces at work within the series' architecture. True, there is some forced shtick, but nonetheless, Friends makes the lives of its protagonists humorously involving …

The interplay of characters is kickily, if slightly inartfully, accomplished in Friends' commencement, as rendered by a story pertaining to Monica's going out with a line-skipping cad and Rachel skipping out on her wedding ceremony.

While Friends sometimes does appear more like a clumsy parody of MTV's The Real World than as a knowing effort to comically report on the real world, by and large the series puts its band of actors into engaging predicaments, resulting in good laughs.
Variety:
Concept is OK, but the humor's less sophisticated than expected from the exec producers of HBO's comedy series "Dream On," and the dialogue is not exactly snappy. Ross: "I honestly don't know if I'm hungry or horny!" Chandler: "Stay out of my freezer."

Moral and health issues are sidestepped altogether: "Friends" touts promiscuity and offers liberal samples of an openness that borders on empty-headedness. It's not much of a positive example for juves, though.

Pilot centers around Monica's bad luck with previous dates and what happens when she welcomes a new man to her bed. An embarrassing situation seems to be the worst that comes of the encounter—at least, for the time being.

All six of the principals, especially Cox and Schwimmer, appear resourceful and display sharp sitcom skills. But even the best tightrope walkers need dependable rigging, and the pilot, a getting-to-know-you script, offers little support.
Time:
Life on Seinfeld may be laid back, but its characters always seem to have someplace to go. In Friends the crowd is always around to share their latest personal woes or offer a shoulder to cry on. But who would want advice from these dysfunctional morons, with their obsessive pop-culture references?
Chicago Tribune:
Wedged happily between "Mad About You" and "Seinfeld," this comedy series from the producers of HBO's "Dream On" would have to be an utter disaster-which it isn't-not to finish as the season's highest-rated new comedy.

What helps "Friends" is that the show's creators have come up with a highly likable group of actors who are talented and charming, if not rip-roaringly funny.

"Friends," like "Ellen," like "Seinfeld," like "Mad About You," wants you not merely to laugh at its characters-but to identify with them …

The humor derives mostly from a litany of complaints and wisecracks that spring from such subplots as Monica finding a beau her friends approve of, and Ross coping with the fact that his ex-wife, who left him for a woman, is pregnant.

Unlike "Ellen" and "Seinfeld, which pride themselves on exploring the trivial, "Friends" wants to be about something-which I suppose is its attempt to be a deeper, more poignant show.

It isn't, not yet anyway. But "Friends" is clearly a show of demographics-which is why it should do extremely well among those who, between the snappy dialogue, find themselves among the crowd.
Chicago Sun-Times:
Whether Generation X is a genuine social phenomenon or a marketing concoction, it's the motivating principal behind NBC's "Friends."

The new series, wedged between "Mad About You" and "Seinfeld" at 7:30 tonight on WMAQ-Channel 5, is a hip urban comedy for people who are old enough to be on their own but young enough (almost) for Jerry to date.
Entertainment Weekly:
Because the show looks and behaves like so many other sitcoms, the originality at the center of Friends (NBC, Thursdays, 8:30- 9 p.m.) comes as something of a surprise. If I tell you that it's a show about a bunch of attractive yuppies sitting around talking, what do you think of? thirtysomething, Seinfeld, Mad About You, yadda-yadda-yadda.

Well, not in quite this way. At its best, Friends operates like a first-rate Broadway farce, complete with slamming doors, twisty plots, and intricately strung together jokes. And even when it's not at its best, the crack acting and piquant punchlines give Friends a momentum and charm that win you over even if you're not laughing …

Created by writers Marta Kauffman and David Crane (Dream On, The Powers That Be), Friends bulldozes past its confusions and clichés on the power of its zippy dialogue. Kauffman and Crane can take an utterly standard sitcom scene—a discussion among the chums about whether foreplay is more important to women than to men—and turn it into a tensely funny playlet with a beginning, middle, and end, all before the opening credits….

It's just another sitcom, but even so, Friends is pretty irresistible. A-