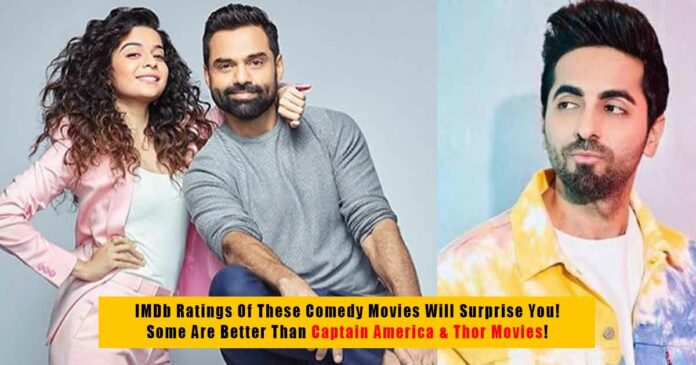 The best medicine is laughter. Laughter offers many health benefits, including reducing stress and strengthening our immune systems. But, unless you want to spend a lot of money to go to a circus or a stand-up comedy show, there aren't many options for receiving a daily dose of laughter. That is why we've come up with the greatest options for a hearty dose of laughter which you can get with the help of some of the comedy movies Bollywood. We've put together a list of the best comedy movies Bollywood that will have you laughing out loud.
Here's a list of the top 15 best comedy movies from Bollywood with IMDb ratings:
1. Andaz Apna Apna (8.1)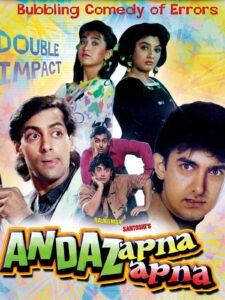 Two friends, portrayed by Aamir Khan and Salman Khan. Compete for an heiress's heart and end up protecting her from criminals. The picture received mixed reviews at its initial release, it has now become a cult favorite. This film's dialogue, repeated, re-quoted, and incorporated into current society. This is what makes this oddball comedy so enjoyable and is one of the top comedy movies.
2. Chopsticks (6.5)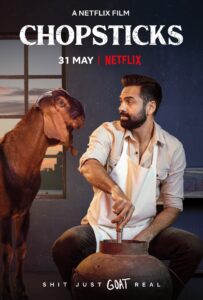 Abhay Deol, Mithila Palkar, Vijay Raaz, and Achint Kaur are in this Netflix original film. This amusing film provides viewers with a slice-of-life experience. Each character is amusing in their own way and brings out the humor in the most natural way possible. Nirma Sahastrabuddhe is a shy young woman. She works in the hospitality sector and is self-conscious about her appearance. Artist, a clever conman with a talent for cuisine. Directed to her when her brand new automobile got stolen. Their search for the car leads them to a violent don named Faiyaz Bhai, with his goat Bahubali. This is one of the top comedy movies.
3. Hera Pheri (8.2)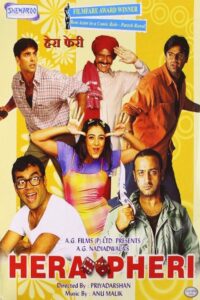 A Hindi remake of the Malayalam film from 1989. Ramji Rao is an Indian politician. Hera Pheri is a cult masterpiece, to be sure. The story follows a troubled trio. As they become entangled in a hazardous kidnapping case. Sunil Shetty, Akshay Kumar, and Paresh Rawal play the key characters.
4. 3 Idiots (8.4)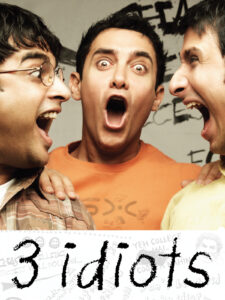 3 Idiots, based on Chetan Bhagat's novel Five Point Someone. It was the highest-grossing film of its time and a hit in China. Two pals are searching for the third 'idiot,' who was the different one. And has been missing since the last day of college. To put, it's a roller-coaster ride. Keep an eye out for Omi Vaidya's bizarre monologue, in which he delivers a speech in Hindi. This is one of the top comedy movies.
5. Chachi 420 (7.4)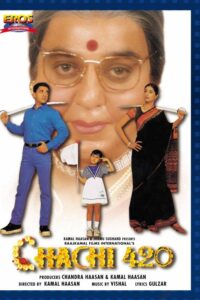 A tangled tale in which a father-in-law falls for his son-in-law who, disguised as a lady. This is a thrilling ride. Although influenced by Robin Williams' Mrs. Doubfire. Kamal Hassan gave it his all in this lovable comedy.
6. Vicky Donor (7.8)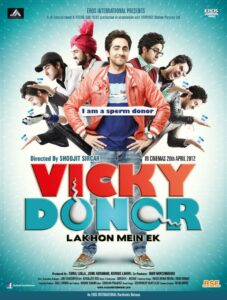 A fertility specialist is looking for a healthy sperm donor. When he meets Vicky, he persuades him to become one. Everything is fine until Vicky marries and his secret got discovered. Besides, his wife is unable to conceive. Consider this one of the best comedies and coming-of-age pictures of recent years. One of the popular comedy movies.
7. Karwaan (7.6)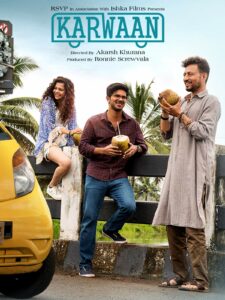 Avinash, a Bengaluru-based corporate employee. Always wanted to be a photographer, compelled to take a road trip after his father. Dies in an accident and he receives the wrong body. Shaukat, whose van they use, and Tanya, the granddaughter of the woman. And her body is with Avinash, are his associates. To get to their target, the unlikely squad has to travel through many strange situations. This is one of the best Bollywood comedy movies.
8. Badhaai Ho (8)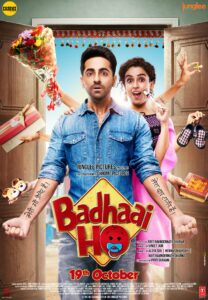 The primary narrative of this film revolves around a 25-year-old man. Got forced to deal with a great deal of embarrassment. When his mother announces that she is expecting a child. Things do resolve well, but not without us having to roll about in fits of laughter. The film is doing well at the box office and is sure to leave us all speechless. One of the popular comedy movies.
9. Stree (7.6)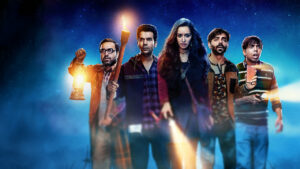 This film, directed by the brilliant Amar Kaushik and got released in 2018. This film's primary plot centers around a town. That is actually terrified of a woman who abducts men after calling their names. Those men have never got seen. Things take an unexpected and hilarious turn, leaving us gasping for air. This film hits the ideal mix between the humor, horror, and drama genres.
10. Sonu Ke Titu Ki Sweety (7.1)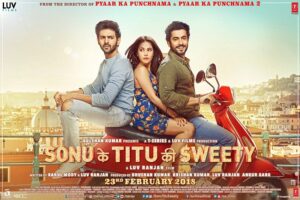 This film, directed by the renowned Luv Ranjan, got released on February 23, 2018. At the box office, this film also did well. Sonu and Titu, two childhood friends, are at the center of the film's main plot. Titu's friendship, put to the test when he decides to marry Sweety. A lady who is chasing his money and also wants to break up Sonu and Titu's friendship.
11. Hindi Medium (7.9)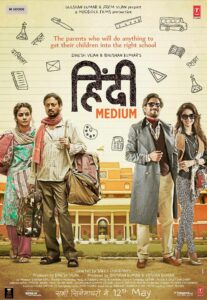 Irrfan Khan, Saba Qamar, and Deepak Dobriyal appear in this 2017 film. It takes a humorous approach to a societal issue. According to rumors, a sequel to this film is in the works. The film is set in Delhi and explores problems like social and class divisions. A fixation with the English language, and admissions scams at prestigious private schools. This is one of the best Bollywood comedy movies.
12. Shubh Mangal Saavdhan (6.9)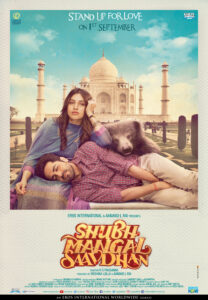 Mudit Sharma, a marketer based in Gurgaon. Proposes to Sugandha Joshi, his love interest. Sugandha realizes Mudit has erectile trouble when becoming intimate before the wedding. The pair attempts a variety of approaches to solving the problem. That results in some amusing scenarios. The film demonstrates what true manhood is and how we as a culture perceive it.
13. Bareilly Ki Barfi (7.5)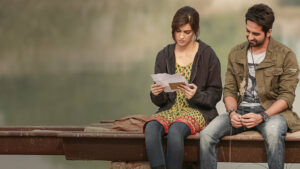 This film, directed by the gifted Ashwiny Iyer Tiwari and got released in 2017. With the latest gem of a Bollywood comedy film. Ashwiny Iyer Tiwari does not fail to have us rolling on the floor with laughter. The primary plot of the film centers around Bitti. She is eager to meet the author of the book she adores and believes has had a significant influence on her life. In her search for the book's author. Bitti comes across Chirag, a publisher by trade, who convinces Bitti that he is the author of the book. She adored in the first place.
14. Phir Hera Pheri (7.1)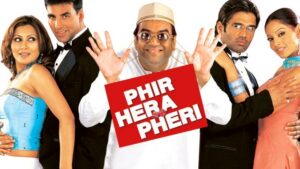 Phir Hera Pheri is a sequel to the 2000 film directed by Neeraj Vora. Phir Hera Pheri is one of the year's most entertaining comedies. The film has some of the most talented comic actors of today's generation. It stars Paresh Rawal, Akshay Kumar, and Sunil Shetty. As well as Bipasha Basu, Johnny Lever, and Rimi Sen, among others. When three people, defrauded by a con artist, their lives turn upside down. They're forced to come up with a strategy to repay a feared gangster for a debt.
15. Kapoor and Sons (7.7)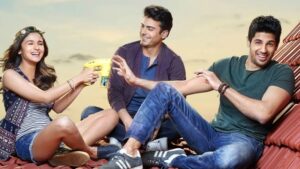 Shakun Batra directed the film. Produced by Karan Johar under the Dharma Productions and Fox Star Studios banners. Fawad Khan, Siddharth Malhotra, Alia Bhatt, and Rishi Kapoor star in the film. Arjun and Rahul, two brothers, pay a visit to their ailing father. At home, but a split develops between them over a young girl, compounding the family's woes.