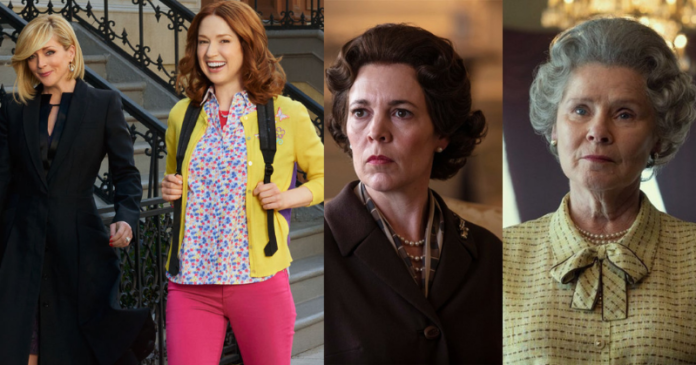 What does having a "strong female character" in a story mean? The phrase is frequently used to describe shows with badass female characters. However, if you ask us, strength has little to do with physical prowess or the capacity to wield a sword. As these Netflix shows indicate, strong female leads can be found in all walks of life and all roles. Whatever you consider a "strong female character," you'll find them in these Netflix episodes, which range from thrillers to comedies.
Here, you will find the best 10 Netflix shows that have strong female leads,
1. The Big Bang Theory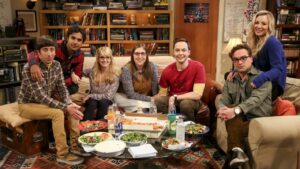 One of the best educational series that ran for more than 13 years has a few strong women leads. Penny is a street-smart, chirpy girl who is not afraid of anything and anyone. The way she brings Leonard and Sheldon out of their shells slowly throughout the series shows how much of a strong person she is. The same goes for Bernadette and Amy who show that being smart is also cool and awesome.
IMDb rating: 8.2/10
Creator: Chuck Lorre
2. Orange Is the New Black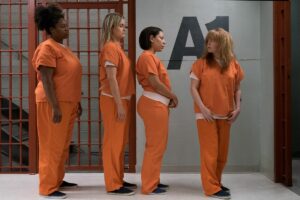 Orange Is the New Black's female characters are diverse, and the show is dedicated to sharing all of their tales, no matter how devastating or shocking they may be. Each episode, set inside a women's prison, focuses on the backstory of a new individual while also weaving in the realities of life in a minimum-security prison. It's hilarious, socially conscious, and the epitome of must-see television.
IMDb rating: 8.1/10
3. Derry Girls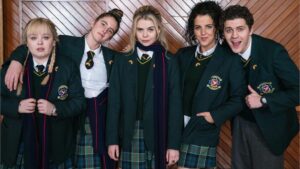 Do you want to laugh? The girls of Derry are coming to provide you with two seasons of outrageous escapades that will make you laugh out loud. This British sitcom follows Erin Quinn, 16, and her four best friends as they navigate the difficult times that her little town faces in the early 1990s. Derry Girls took a while to establish itself as that uncommon thing: a modern comedy classic, but it now feels as if it has always been there. Though it will be missed, there is a distinct sense that it hasn't outstayed its welcome. Instead, it's been a complete blast.
IMDb rating: 8.4/10
Creator: Lisa McGee
4. Grey's Anatomy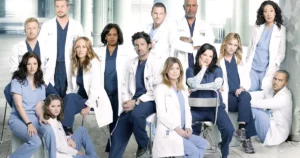 Grey's Anatomy follows Dr Meredith Grey (played by Ellen Pompeo) as she progresses from intern to chief of general surgery at Grey Sloan Memorial Hospital. Fans have laughed, grieved, and shared the heartbreak of seeing their favourite characters go through the wringer for nearly two decades. Meredith Grey has had it the worst of all the physicians in the famous medical drama.
Meredith is usually always in the middle of the action. Trauma has played a significant role in Meredith's life, from growing up with an emotionally aloof mother to losing her spouse. It's difficult to pick her biggest adversity, but she emerges stronger than ever with everyone.
IMDb rating: 7.6/10
Creator: Shonda Rhimes
5. The Crown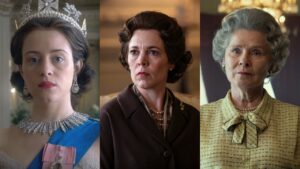 The Crown is an American-British biographical drama series based on the reign of Queen Elizabeth II of the United Kingdom, and it offers the strong female lead you've been yearning for. This show illustrates that being a queen is not always as glamorous as it appears, from love to rivalries. The Crown is one of many tv shows on Netflix with strong female leads.
IMDb rating: 8.7/10
Creator: Peter Morgan
Also Read: Top 10 Women-Centric Bollywood Movies That Made The Most Impact
6. Unbreakable Kimmy Schmidt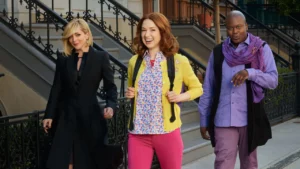 This is a dark show with a grim premise: Kimmy (Ellie Kemper) is an ex-mole who has been held captive in an underground bunker since she was a teen. Unbreakable Kimmy Schmidt is an inspirational show about the power of positivity and never giving up. Kimmy's path of self-discovery can go from amusing to devastating in the blink of an eye, but what makes this programme so compelling is Kimmy's unwavering faith in humanity, even after witnessing the worst it has to offer.
IMDb rating: 7.6/10
Creator: Tina Fey
7. Jane the Virgin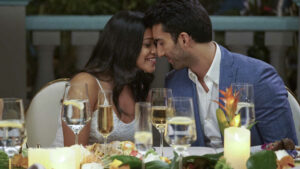 Three generations of Hispanic women live under the same roof in Jane the Virgin, but the series is mostly a coming-of-age story centered on Jane (Gina Rodriguez). Jane is accidentally artificially inseminated after going in for a routine exam, which changes her life forever. It's an utter joy to see Jane blossom with the help of the incredible women in her life, and it only gets better with each passing season.
IMDb rating: 7.9/10
Creator: Jennie Urman
8. Unbelievable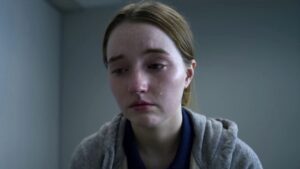 This fantastic true-crime series pulled straight from the news stars Kaitlyn Dever, Toni Collette, and Merritt Wever. The show looks into how authorities handled one young woman's brutal rape while also delving into a string of similar crimes being investigated by two female detectives in another state. Unbelievable shows on Netflix with badass female leads.
IMDb rating: 8.4/10
Creator: Susannah Grant
9. The Good Place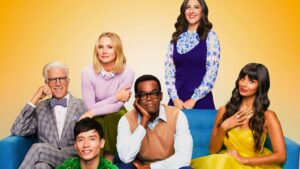 This comedy's plotline is — what happens if you're sent to the "good place" after you die — and one charmingly flawed central character is Kristen Bell's Eleanor. Eleanor was a self-centered, shrimp-eating woman who lived her life for herself alone. Hence, she shouldn't be in The Good Place, but that's where the story starts to get very interesting, as Eleanor gradually begins to question whether people can be classified in such narrow categories at all. The Good Place is a famous Netflix show with female characters.
IMDb rating: 8.2/10
Creator: Michael Schur
10. Grace and Frankie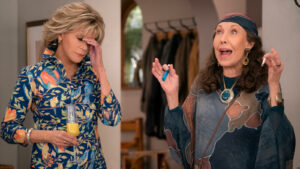 When two middle-aged ladies discover that their husbands have been having an affair for years, they do the only logical thing: they move in together and begin their second act. However, Grace (Jane Fonda) and Frankie (Lily Tomlin) aren't exactly best pals. They've only tolerated each other for the sake of their husbands all these years. Despite this, the odd duo develops a bond that allows them to explore dating, entrepreneurship, and the strength of female friendships in the most beautiful beach house you've ever seen. It is one of the shows with two female leads.
IMDb rating: 8.2/10
Creator: Marta Kauffman
Strong female leads have been dominating the big and small screens lately, giving audiences a glimpse into a variety of diverse, fascinating, intriguing, and inspiring female characters. Netflix has titles that pack a punch with solid narratives and badass female leads, from motivational shows to veg-out series. The above list has some best Netflix series with strong female leads.
Also Read: Top 10 Bollywood Movies Releasing In May 2022 To Watch This Summer
The best part is that you don't even have to leave your house to get some inspiration from these fierce ladies. The streaming service boasts a fantastic range of films about young women who are mature, take risks, kick some asses, and take on new identities.