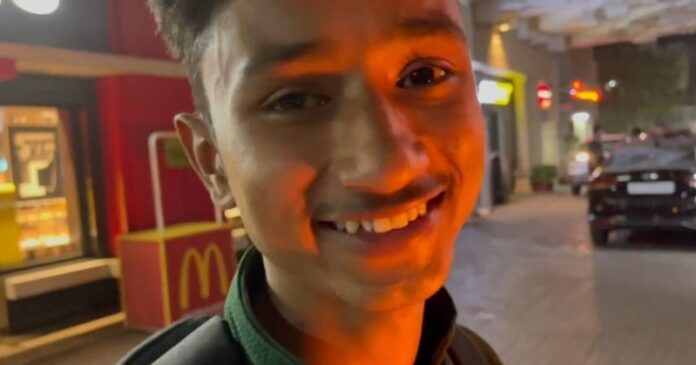 A single viral video has made this 19-year-old, a household name overnight. The boy, Pradeep Mehra, was stunned when people chased him for selfies as he never expected that the video would make him so popular.
Pradeep Mehra gained fame by the name 'Midnight Runner' after filmmaker and author Vinod Kapri shot and posted his midnight run's video on social media. The 19-year-old is employed at McDonald's, Noida. His dream is to join the Indian Army.
Here is everything you need to know about the internet sensation Pradeep Mehra:
Mehra's video received a massive response on social media as soon as it was uploaded. The boy says that his life changed overnight as there are media gathered outside his house, his phone is ringing nonstop, even some top government officials want to meet him, and that he has appointments fixed with them.
Mehra is being hunted by the crowd who gather outside his workplace and is often forced to enter the fast-food outlet in Noida where he is employed from the back door to escape the crowd.
Check out Pradeep Mehra's reaction after his video went viral:
#PradeepMehra ( स्कूल रिकॉर्ड में पुष्कर मेहरा ) से अभी 11 बजे पूरा काम करने के बाद @McDonalds में मुलाक़ात हुई।

उसे बता दिया गया है कि देश उसे कितना प्यार दे रहा है। एक बर्गर तो बनता है ❤️ https://t.co/Qf65Eql5Au pic.twitter.com/WOD3DTLjvg

— Vinod Kapri (@vinodkapri) March 20, 2022
In a recent interview with HT City, he talked about his childhood, his passion for the Indian Army, and his life after his newly found stardom.
When asked about how his life changed after the viral video, he said,
It happened so suddenly…I still can't believe it. Not even in my dreams I expected my video to go viral. People are chasing me for pictures and reels!  My world has changed overnight! People are walking up to me and asking for selfies! I feel shy
and how is he dealing with all the attention, Mehra says,
Who doesn't like attention? But you enjoy it more when you have spare time. However, I am busy running errands, so non-stop calls are overwhelming. I am reporting late to my office because of this
The midnight runner also added,
I don't take my mask off fearing that I will be chased by a crowd. I don't know how to handle people. When they say, bhai Pradeep lage rehna, it does feel good, but I don't know what to say, so I just nod
who is making sure not to take off his mask even for a second when he is outside.
When asked about his time management, he said that his brother Pankaj and cousin Govind have been taking care of his schedule and coordinating for him since the video went viral and that he is not getting any time. He is flooded with back-to-back interviews from the media. He added that at one instance while he was returning from the DM's office, a news channel from Uttarakhand started interviewing him in the car. His phone is filled with messages but he has got no time to check and respond.
He also shared some updates about his mother's health who has been hospitalized. He said that his mother has an infection in her blood and has been admitted to the hospital and that she hasn't been well for a while. He updated that he visited the District Magistrate's office and that the authorities have assured him to help with his mother's treatment. He said that he is happy that she will get proper treatment.
He also revealed when he started running, he said,
I have been running every night for the past one month. I run from Sector-16, Noida to Barola. Due to my busy work schedule, I don't find time to workout, so running from office to work helps me save money and keeps me fit and healthy. 
About his family, he said,
I am from Almora District, Uttarakhand. We are a small family, my mother, father, and two siblings. It has been two months since I came to Delhi.
He and his brother work in Noida to help their family. They have a single-room house in their hometown, built after much hard work and they have struggled a lot financially. They moved to Delhi to earn a decent livelihood. His father lives in Almora and suffers from mental illness.
His passion to serve the country and join The Indian Army:
It's my passion to serve our country. I have seen many people in my village joining the Indian Army and it's a proud moment for the family and entire village. For the last two years, there has been no recruitment in the Indian Army due to Covid. I am practising everyday so that I can join the Army. I love to watch movies based on the Indian Army. My favourite is Border (1997).  
His Education:
Pradeep couldn't study after class 12th due to financial difficulties. He completed his schooling in his village.
His Determination:
I have faced many struggles in my life, have seen worse times but I never gave up. Aur jahan tak rahi Army ki baat, woh toh khud hi mehnat karni hogi. I have a long way to go. Now, I feel even more determined to fulfill my dream as the entire country is standing by me.
Stay tuned for more updates!