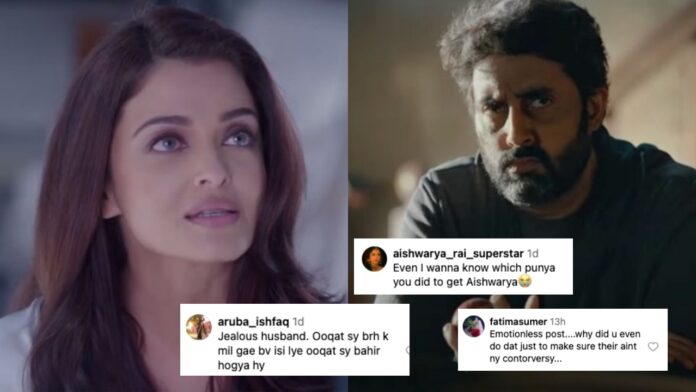 Internet users are known for not holding back when it comes to teasing or poking fun at public figures. And this behaviour has been observed on numerous occasions.
Abhishek Bachchan took to Instagram to wish his wife Aishwarya Rai a happy birthday. However his post received criticism from Aishwarya's fans. They found it lacking in warmth or somewhat brief.
Abhishek Bachchan and Aishwarya Rai's marriage
Abhishek Bachchan and Aishwarya Rai tied the knot on April 20, 2007. It was a lavish ceremony graced by a multitude of celebrities and dignitaries.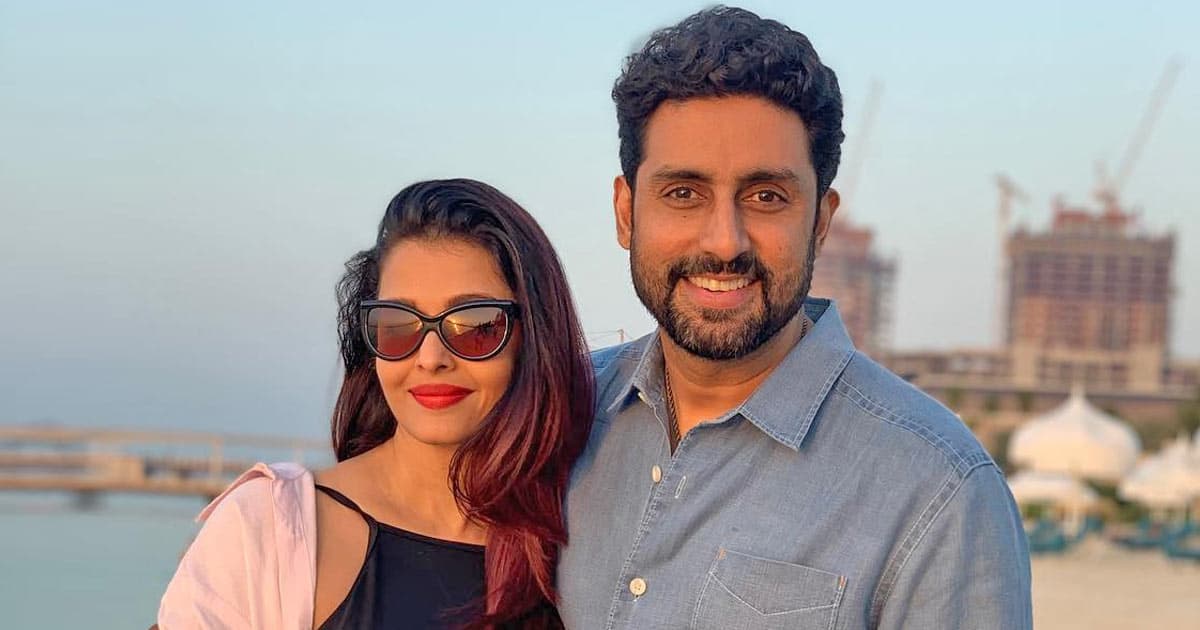 Their initial on-screen collaboration occurred in the film "Dhaai Akshar Prem Ke" in 2000. But it was while working on "Guru" in 2006 that their reported love story began to unfold.
Aishwarya turned 50
On Aishwarya's 50th birthday, her fans were upset with actor Abhishek Bachchan for what they saw as a lackluster birthday post for his actress-wife. Abhishek had posted an old black and white photo of the former Miss World with a straightforward message, "Happy Birthday." He also included a red heart and an evil eye emoji in the picture. But this seemingly unenthusiastic gesture didn't sit well with internet users.
View this post on Instagram
 Some of Aishwarya's fans expressed their dissatisfaction with Abhishek's birthday post by commenting, "You wrote an article-sized wish for your father and only 'Happy Birthday' for your wife? Aishwarya deserves better!" 
Another user expressed a similar opinion, saying "Please add some personal touch. Like Happy Birthday to my dear wife or Darling. Why so dry?"
And the third one added, "Nalayak it's her 50th birthday which is very special to her. Her fans did everything for her they trended her in Twitter while your nalayak husband wrote only Happy Birthday! . She deserves better, biwi se itna jealousy kyun?"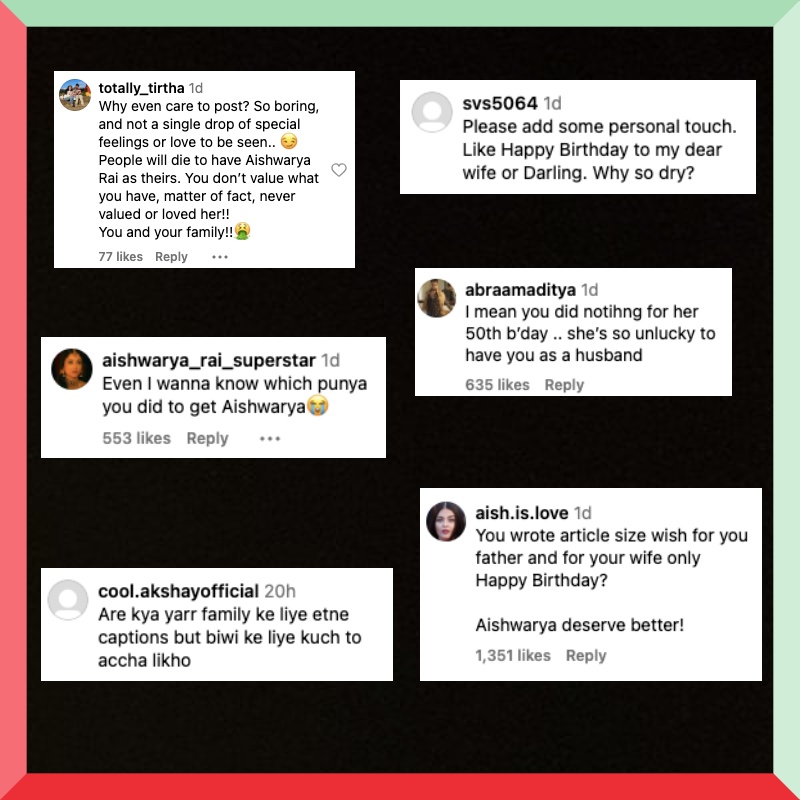 Aishwarya Rai's unique birthday celebration
On the occasion of her 50th birthday, Aishwarya Rai Bachchan opted to commemorate the day by visiting cancer patients. She was accompanied by her daughter, Aaradhya and her mother, Vrinda. With the noble intent of imparting happiness and solace to those valiantly facing the challenges of cancer. The framework of this heartfelt event designed to boost the morale of cancer patients. Aishwarya actively participated in the ceremonial cutting of a birthday cake. Hence contributing to a profoundly memorable and motivational experience for all present.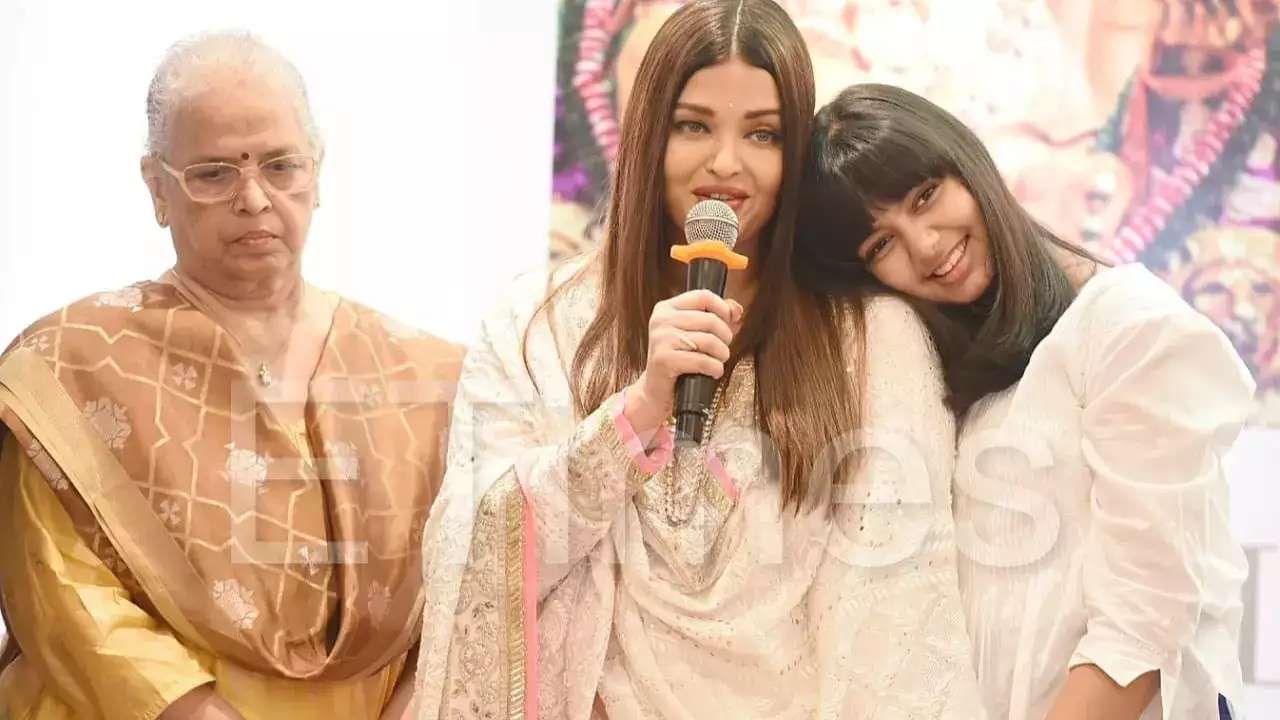 In an earlier instance Aishwarya Rai celebrated her birthday by cutting a cake. She was accompanied by her daughter Aaradhya and her mother Brindya Rai. They stood by her side at the event. Unfortunately, Abhishek Bachchan was unable to join the celebration. In a video capturing the essence of Aishwarya's birthday festivities, she could be heard gracefully declining a slice of cake. She was abstaining from it due to her observance of the Karwa Chauth fast.
Abhishek Bachchan's sister previously ghosted Aishwarya Rai
A controversy stirred a few days ago when fans of Aishwarya expressed their disappointment with Shweta Bachchan, Abhishek's sister. She was trolled for not acknowledging the actress on social media. It's worth noting that Shweta shared a heartfelt Instagram post to celebrate her daughter, Navya Naveli Nanda.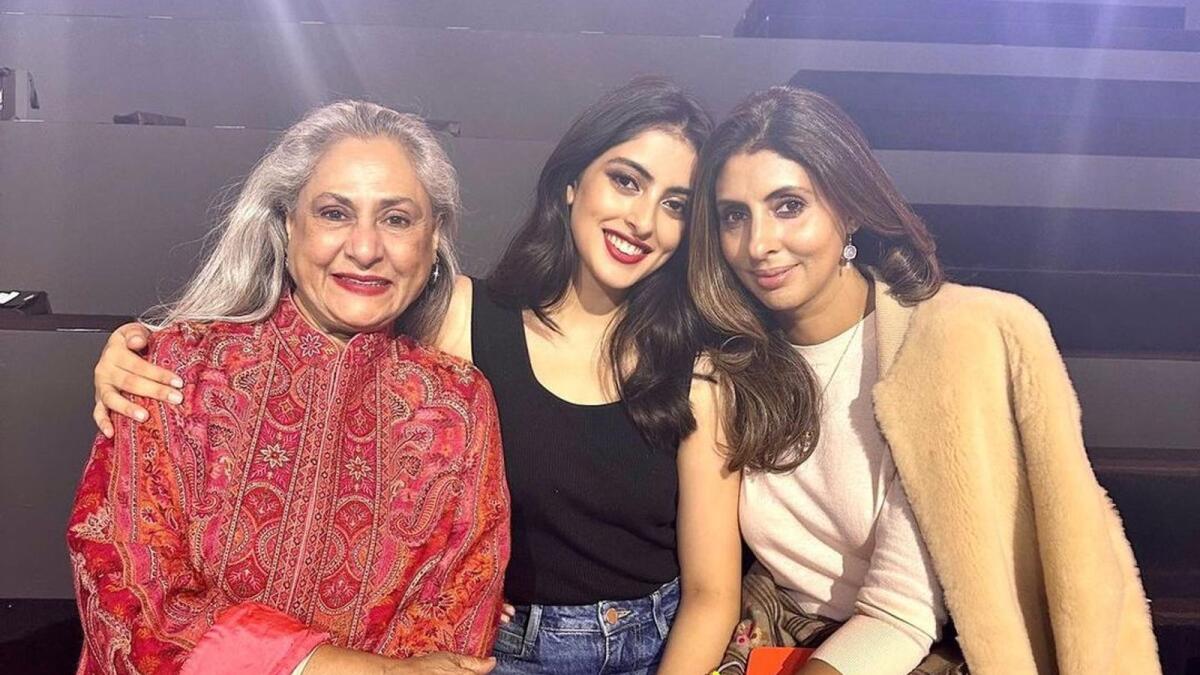 Her daughter recently made her debut on the runway for L'Oréal at the Paris Fashion Week. In her post, Shweta described the moment when she and her mother, Jaya Bachchan witnessed Navya's runway debut. However, what drew attention was the conspicuous absence of any mention of Aishwarya Rai.
Read more: Few Lesser-Known Facts About Elvish Yadav Aka 'Systumm'