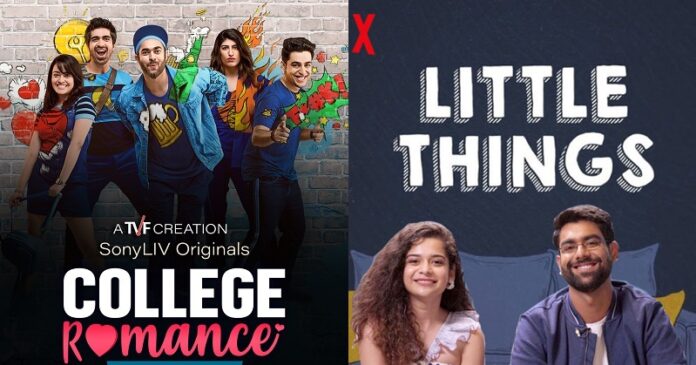 Love is, without a doubt, the most difficult. Nonetheless, it is the most treasured emotion in our lives. It has the ability to both construct and destroy. As a result, there is likely no better feeling than falling in love. And being heartbroken is the worst feeling in the world. All of this, however, is a part of our life's cycle. The time we spend learning about our own love lives and hearing about the love lives of others.
Netflix has a plethora of romantic web series to pick from. A little romance never hurts to keep a series interesting, thrilling, and oh-so-romantic. Whether you want to laugh, cry, or do both, we've compiled a list of the best romantic web series on Netflix right now. With everything from forbidden love to romantic dramas to spicy rom-coms containing love triangles and more, these series will keep you engaged for hours, so get ready to push play!
Here's the top 15 Romantic web series in India to watch on Netflix:
1. Taj Mahal 1989 (2020)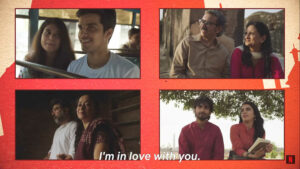 IMDb Rating: 7.5
Starring: Anud Dhaka, Paras Priyadarshan, Geetanjali Kulkarni
Seasons: 1
Three intertwined love stories make up this desi romantic web series in Hindi. The first is about two college teachers, Sarita and Akhtar, who are imprisoned in a loveless marriage because they are too preoccupied with the daily grind. The second story follows Sudhakar (Akhtar's long-lost friend) and Mumtaz, who defy societal expectations to be together.
Their partnership radiates joy, but it isn't without its challenges. The last one is about two college students, Dharam and Rashmi, who adore one other but are torn apart by politics, jealousy, and competing priorities in their relationship. This surely tops the list of desi romantic web series in Hindi.
2. Little Things (2016)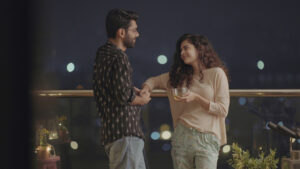 IMDb Rating: 8.3
Starring: Dhruv Sehgal, Mithila Palkar, Palvi Jaiswal
Seasons: 4
Little Things was not a Netflix original, although it was eventually purchased by the streaming site. On Netflix, you can watch all three seasons of this desi romantic web series. It is based on the lives of Kavya and Dhruv, a young, unmarried couple who live together in Mumbai. Little Things covers the couple's daily lives and their love through time, as the title suggests.
What the audience will like about this desi romantic web series is that it's lighthearted while still being current and real. One discovers that the couple has a lot of "small things" in common. It's almost as if it's a relationship mirror for young couples who are still trying to make their way in the world. If you're looking for a quick and enjoyable way to relax,
3. A Suitable Boy (2020)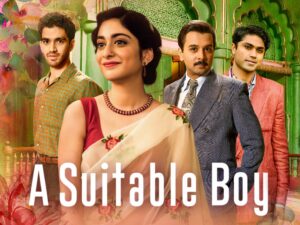 IMDb Rating: 5.7
Starring: Tabu, Ishaan Khatter, Rasika Dugal
Seasons: 1
Lata, a passionate literature student in a newly independent India, resists convention and her intrusive mother's desire to choose her husband. She begins on a voyage of love and heartache as three very different men try to capture her heart, torn between family responsibility and the exhilaration of romance.
Mira Nair directed this romantic web series Indian desi Netflix, which stars Ishaan Khatter, Tabu, Tanya Maniktala, Rasika Dugal, Ram Kapoor, Namit Das, and other notable performers. This romantic web series Indian desi is a must-watch.
4. College Romance (2018)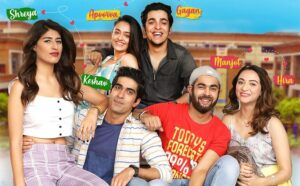 IMDb Rating: 8.8
Starring: Gagan Arora, Shreya Mehta, Hira Ashar
Seasons: 1
This desi web series romantic is meant to remind you that college romances have a delicate charm about them! College Romance, possibly one of the top desi web series romantic for streaming on the digital platform in 2021, will undoubtedly remind you of your own college days.
The online series is a favorite among the younger generations because of the fresh, youthful character performances, improvisational use of the Delhi University college campus, and approachable conversational language styles of the characters' talks. Because the series' directors were themselves Delhi University students, the portrayal has a more authentic appeal and resonates with the audience.
5. Mismatched (2020)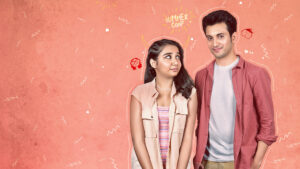 IMDb Rating: 5.5
Starring: Prajakta Koli, Rohit Saraf
Seasons: 1
Mismatched is a Netflix romantic web series based on Sandhya Menon's 2017 novel When Dimple Met Rishi, a coming-of-age romance story. It was adapted by Gazal Dhaliwal, and it was directed by Akarsh Khurana and Nipun Dharmadhikhari.
The romantic web series is being produced by RSVP Movies, which is owned by Ronnie Screwvala. Rishi, a traditional romantic who falls for Dimple, a gamer, and eventually wants to marry her, is the subject of the series, which stars Prajakta Koli, Rohit Saraf, Rannvijay Singha, and Vidya Malvade.
6. Bhaag Beanie Bhaag (2020)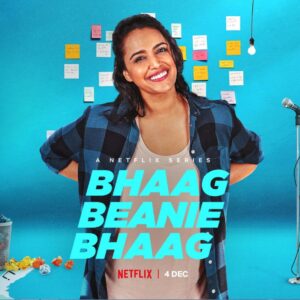 IMDb Rating: 4.0
Starring: Swara Bhaskar, Ravi Patel, Varun Thakur
Seasons: 1
Bhaag Beanie Bhaag, a romantic desi web series India, stars Swara Bhasker as the primary character. Abi Varghese, Debbie Rao, and Ishaan Nair directed the film, which stars Mona Ambegaonkar, Girish Kulkarni, and stand-up comedians Varun Thakur and Ravi Patel.
It will be released on Netflix on December 4, 2020. This romantic desi web series India will make you laugh the most.
7. Feels Like Ishq (2021)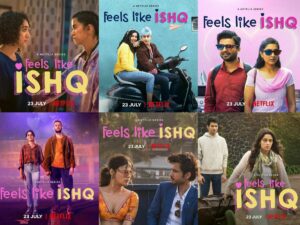 IMDb Rating: 6.4
Starring: Tanya Manikala, Rohit Saraf, Radhika Madan
Seasons: 1
It's a collection of five boy meets girl and plus one girl meets girl story that takes about half an hour apiece. The short stories in this book, unlike Lust Stories (which also dealt with relationships), are light-hearted.
The authors and filmmakers of this web series desi were apparently given the task of creating a "sweet love story" that would give the target demographic of teens and 20-somethings that classic "warm, fuzzy" feeling. This web series desi went on trending for several weeks in India.
8. What The Love (2020)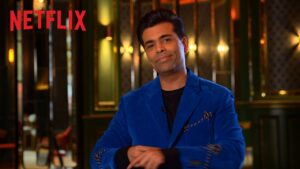 IMDb Rating: 4.3
Starring: Karan Johar, Sahil Brown, Rameez Rizvi
Seasons: 1
This seven-part desi new web series, produced by BBC Studios for the OTT platform, sees famous film director and host Karan Johar play, quote, "the light at the end of the deep dark tunnel called love," giving six "wrecked" singletons a chance to mend their broken hearts.
Karan is the cupid, love guru, and psychotherapist on this makeover-dating program, with the help of his celebrity friends, including actors, anchors, and comedians, as well as a stylist (Maneka Harisinghani) and a cosmetics artist (Shaan Muttathil). This desi new web series surely made a gossip in B-town.
9. Stories By Rabindranath Tagore (2015)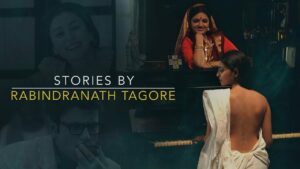 IMDb Rating: 8.8
Starring: Bhanu Uday, Atul Srivastava, Radhika Apte
Seasons: 1
The Indian desi web series is set in 1920s Bengal and is based on Bengali writer and Nobel Laureate Rabindranath Tagore's renowned short works. Tagore's literary work was centered on relationships marked by human imperfections and oddities.
Confident women, strong in their own right while cocooned in a limited Indian culture, were the protagonists of Tagore's writings more often than in other fiction of the time. Tagore's stories were revolutionary, inspiring a shift in traditional Indian ideals in a culture where adultery, rebellion, sadness, and death were frowned upon. All of the episodes of this Indian desi web series are accessible on Netflix.
10. Zindagi In Short (2020)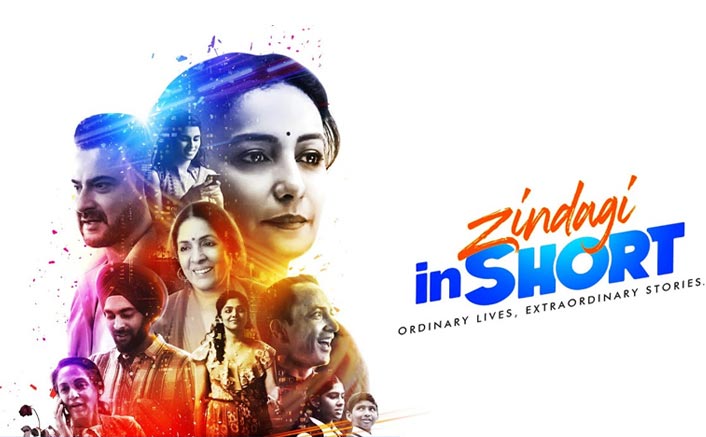 IMDb Rating: 7.1
Starring: Divya Dutta, Neena Gupta, Swaroop Sampat
Seasons: 1
Zindagi In Short is an Indian Hindi-language anthology film. It comprises seven short films and is a Flipkart Video Original. This web series is directed by a host of directors and showcases different stories. Every story depicts different stages of life and what accompanies them is bittersweet moments in it.
These films touch on online romance, the confusion of old age, the innocence of childhood, a woman owning her role in the family and standing up for herself, and more. All of the stories of this Indian desi web series are accessible on Netflix.
11. Yeh Kaali Kaali Ankhein (2022)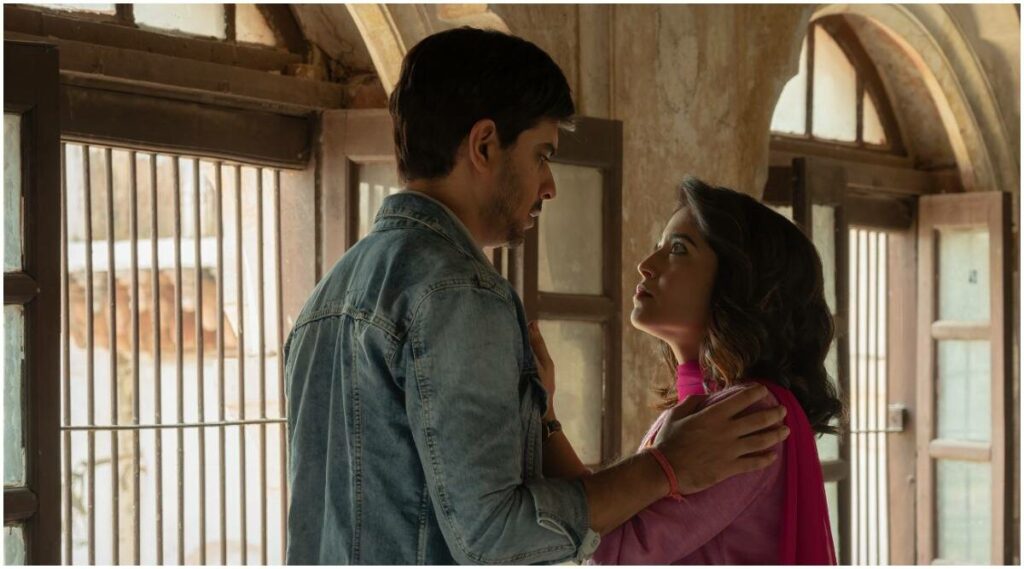 IMDb Rating: 7.1
Starring: Shweta Tripathi Sharma, Tahir Raj Bhasin, Anchal Singh
Seasons: 1
A guy is pursued by the daughter of a powerful politician. She is obsessed with the man and decides to do anything to make him hers. The man has to risk his girlfriend, family, and more to get his life back from the thugs. The series stars Shweta Tripathi Sharma, Tahir Raj Bhasin, and Anchal Singh as the lead and is directed by Sidharth Sengupta.
12. Decoupled (2021)
IMDb Rating: 8.1
Starring: Madhavan, Surveen Chawla, Sonia Rathee, Dilnaz Irani
Seasons: 1
The story revolves around a couple who have a hard time getting divorced due to the annoyances and ridiculous instances in their affluent world. The leads are a misanthropic writer and his wife, who is a startup founder.
13. Masaba Masaba (2020)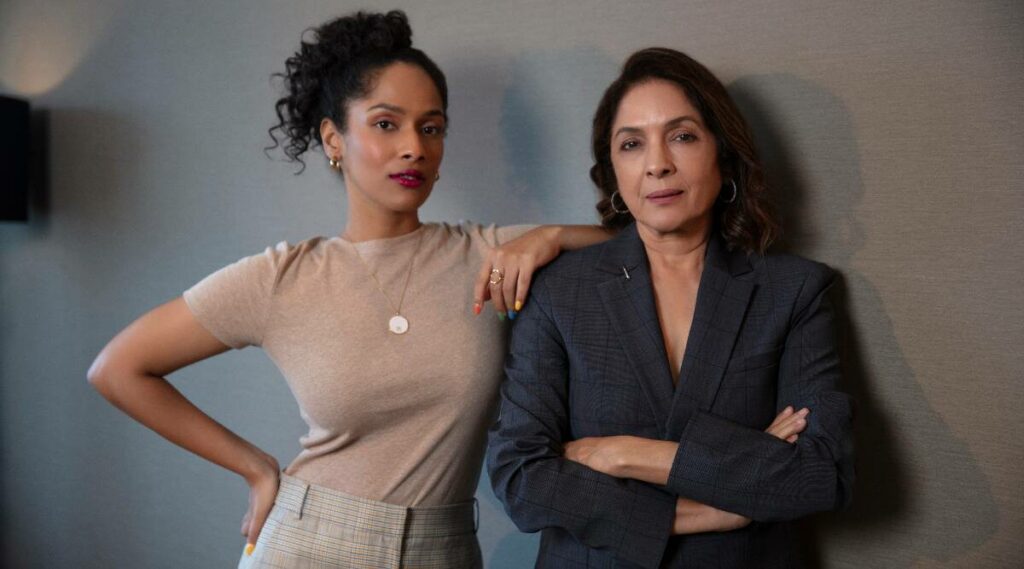 IMDb Rating: 6.8
Starring: Masaba Gupta, Neena Gupta, Neil Bhoopalam, Rytasha Rathore
Seasons: 1
The story revolves around the popular Fashion designer Masaba Gupta and her struggles to survive and get back into the dating world while juggling the worlds of fashion and family. Look for some awesome performances by Masaba and Neena Gupta.
14. The Fame Game (2022)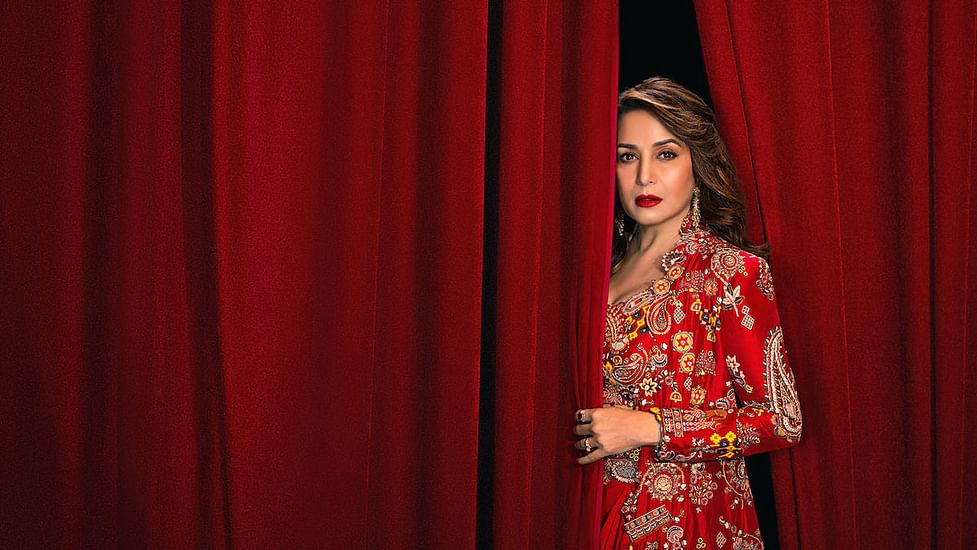 IMDb Rating: 7.2
Starring: Madhuri Dixit, Sanjay Kapoor
Seasons: 1
This drama features some of the prominent actors from the Bollywood and television industry. The story revolves around the life and journey of individuals in the entertainment industry. As of 2022, it is among the top 10 series streaming on Netflix in India.
15. Kota Factory (2019)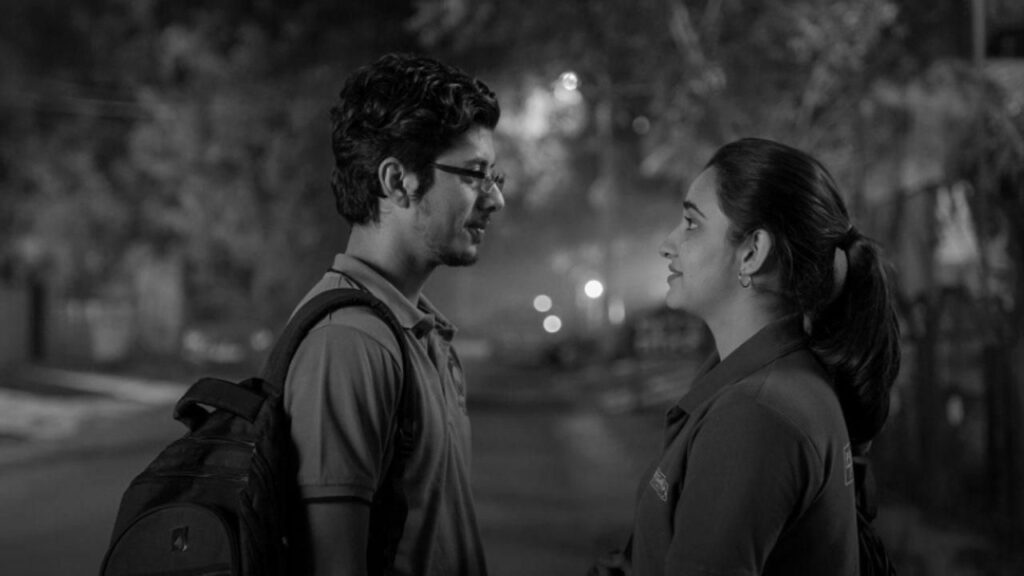 IMDb Rating: 9.3
Starring: Ahsaas Channa, Jitendra Kumar, Urvi Singh
Seasons: 2
The series portrays the life of IIT aspirants. A student named Vaibhav comes to Kota to prepare for the competitive exams JEE and NEET. How he explores campus life, makes friends, and works hard to get into IIT.
Read more: 10 Romantic Web Series In India To Watch On Amazon Prime