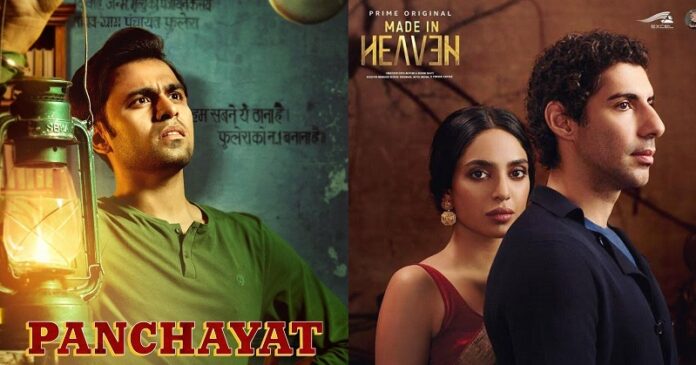 Amazon Prime is one of the biggest and most successful online streaming platforms. With its fast and efficient service coupled with a variety of genres of shows and movies, it has quickly become everyone's favorite. The romantic web series on Amazon Prime is especially a fan-favorite.
To know more about some of the best desi romantic web series in Hindi, read along and pick yours.
1) Made In Heaven (2019)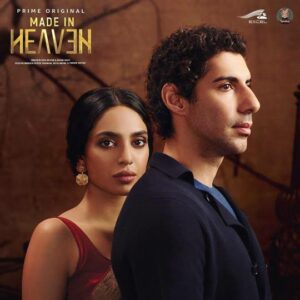 IMDb Rating: 8.3
Starring: Arjun Mathur, Sobhita Dhulipala
Season: 1
Made In Heaven is an amazing Indian web series that highlights two wedding planners and their experiences conducting marriages. The show deals excellently with the typical Delhi wealthy class, their relationships, and the class struggles and narrow-mindedness in Indian weddings. Be it Angad Roshan's fight with his parents for his fiancé's honor, Gayatri, a widow wanting to give marriage a second try for love, or one of the most powerful moments of the show which showcased Karan and Nawab admit to their love, Made In Heaven is filled with powerful love stories. A must-watch romantic web series in Prime.
2) Four More Shots Please (2019)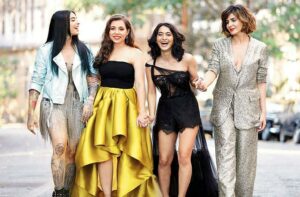 IMDb Rating: 6.9
Starring: Sayani Gupta, Maanvi Gagroo, Kirti Kulhari, Gurbani
Season: 2
One of the most talked-about shows on Prime, Four More Shots Please, is a romantic web series Indian desi audiences loved. Four friends D, Umang, Anjana, and Siddhi regularly meet at Jeh's Bar and discuss their life, struggles, and mishaps. Their life is full of twists and turns involving their friends and love. Between blind dates and exploring new partners, Four More Shots is an entertaining desi web series romantic in nature.
3) Hostel Daze (Gandagi 2019)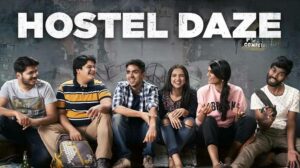 IMDb Rating: 8.6
Starring: Ahsaas Channa, Nikhil Vijay, Ayushi Gupta
Season: 2
One of the desi new web series in Amazon Prime is Hostel Daze. Engineering life can be tough but hostel life makes it better. From seniors, study anxieties, fun, and jokes, hostel life brings a silver lining to the at times dark cloud of engineering degree students. Hostel Daze brings to us the classic college romance and the generic but true first love struggles. The young love between the characters of Ankit and Akanksha brings loads of cute moments to the show. This romantic web series has it all, comedy, love, and a solid script.
4) Mind The Malhotras (2019)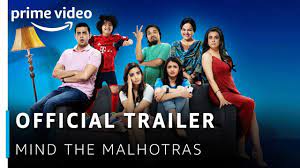 IMDb Rating: 6.6
Starring: Mini Mathur, Cyrus Sahukar, Denzil Smith, Jason D'Souza
Season: 1
The perfect blend of drama, love, and comedy, Mind The Malhotras is an extremely entertaining show to watch. This romantic desi web series India has produced follows the life of a couple who decide to go for therapy when they suffer from a midlife crisis in their normal happy family life. To avoid getting divorced like the rest of their friends and save their marriage, Shefali and Rishabh Malhotra seek professional help. The show depicts the couple's love and faith in their marriage as they try their best to sustain their marriage. Their journey comes with several comedic and dramatic moments. This web series desi in origin has been a hit on Prime.
5) Pushpavalli (2017)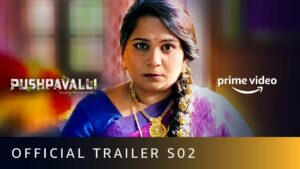 IMDb Rating: 7.4
Starring: Sumukhi Suresh, Manish Anand
Season: 2
The next Indian desi web series on the list is Pushpavalli. This comedy-romantic web series is one of the most popular shows on Prime. Pushpavalli is a small-town girl who wants to complete her education and is not a fan of getting married early. However, life takes a funny turn for her when she becomes infatuated with Nikhil Rao. Her love for Nikhil makes her stalk her love and follow him all the way to Bangalore. The performance by Sumukhi Suresh steals the show.
6) Bandish Bandits (2020)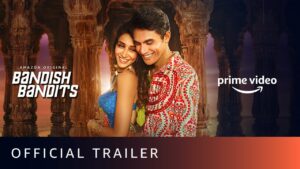 IMDb Rating: 8.8
Starring: Ritwik Bhowmik, Shreya Chaudhry
Season: 1
The next desi romantic web series in Hindi is Bandish Bandits. The musical drama focuses on classical singer Radhe and Tamanna who wants to become pop star. Their unconditional love for music unites them and presents us with a light and romantic watch. The music score and the acting in the series make it an enchanting watch and one of the best desi romantic web series on Prime.
7) Panchayat (2020)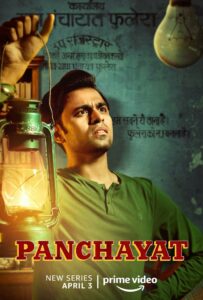 IMDb Rating: 8.9
Starring: Jitendra Kumar, Pooja Singh, Neena Gupta
Season: 1
This romantic web series Indian desi audiences adored is Panchayat. The series is funny and brilliant. This show follows Abhishek Tripathi an engineer who struggles to find a good job and then takes up the post of a Panchayat Secretary in a village called Phulera. His journey involves several hilarious incidents involving solar-power lighting, revolving chairs, and family planning slogans. Throughout the show, the lead is shown to be disappointed with his life in the village and despising it. The turning point comes when he falls for Rinky, the daughter of the Pradhanji, and then starts to love the village more. This desi web series romantic and comedic in nature has a cult-like following owing to the performance of the leading man.
8) Afsos (2020)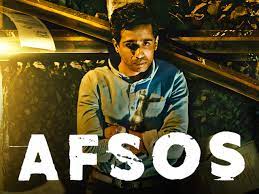 IMDb Rating: 7.6
Starring: Gulshan Devaiah, Sulagna Panigrahi, Anjali Patil
Season: 1
The next web series desi and brilliant is Afsos. Afsos is a dark comedy. It follows Nakul, a struggling actor in Mumbai who has depression and wants to commit suicide but always fails due to some reason. Nakul goes through and tries everything to end his life, including taking external help but always survives. Things look up for Nakul when the character of Shloka admits her feelings for Nakul and professes her love. This gives Nakul a will to live and makes him believe that someone must care for him. The power of love and fate in this comedy-romantic web series makes it an excellent watch.
9) Rasbhari (2020)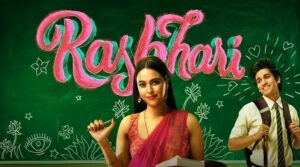 IMDb Rating: 4.2
Starring: Swara Bhaskar
Season: 1
The next romantic desi web series India has on Prime is Rasbhari. The story Shanu, a teacher in Meerut who is being pursued by many men including Nand. Nand discovers Shanu's alter ego which is a sex-obsessed spirit called Rasbhari. This discovery completely changes their relationship. This interesting take on a coming-of-age love story makes Rasbhari worth a watch.
10) Skulls And Roses (2019)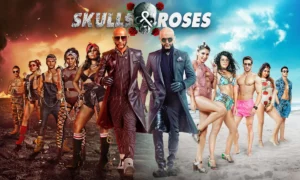 IMDb Rating: 4.2
Starring: Angel Bhandari, Pearl Almeida, Lydia Walters
Season: 1
Up next on our list of the best desi new web series is Skull And Roses, which is a reality show. In a game of trust, love, and survival, couples go through various tasks to test their relationship. On Skull Island, couples are out to the test and go through various challenges. This Indian desi web series is entertaining and a break from the usual.
11) Inside Edge (2017)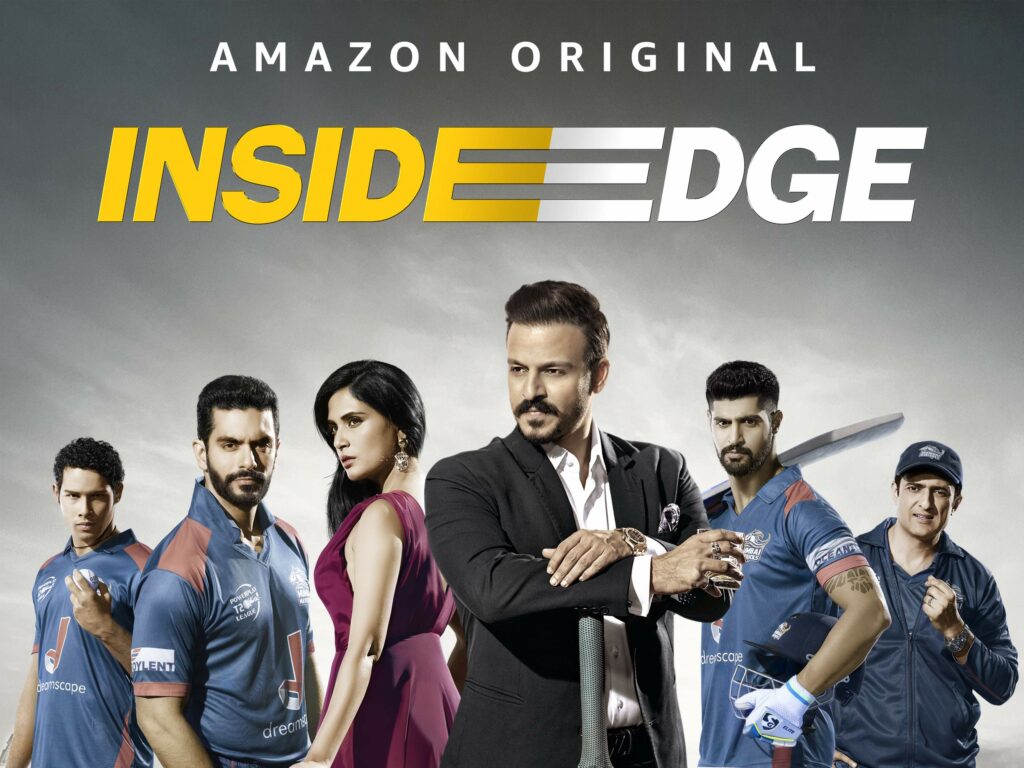 IMDb Rating: 8.1
Starring: Sayani Gupta, Richa Chadha, Tanuj Virwani
Season: 1
Inside Edge is the story of a T20 cricket franchise, the Mumbai Mavericks, playing in the Powerplay League. Conflicting interests, selfishness, intimacy, money, and power are explored in this series. The series is highly rated by IMDb and the performance of the actors, the direction, the plot is on point.
12) Date gone wrong (2018)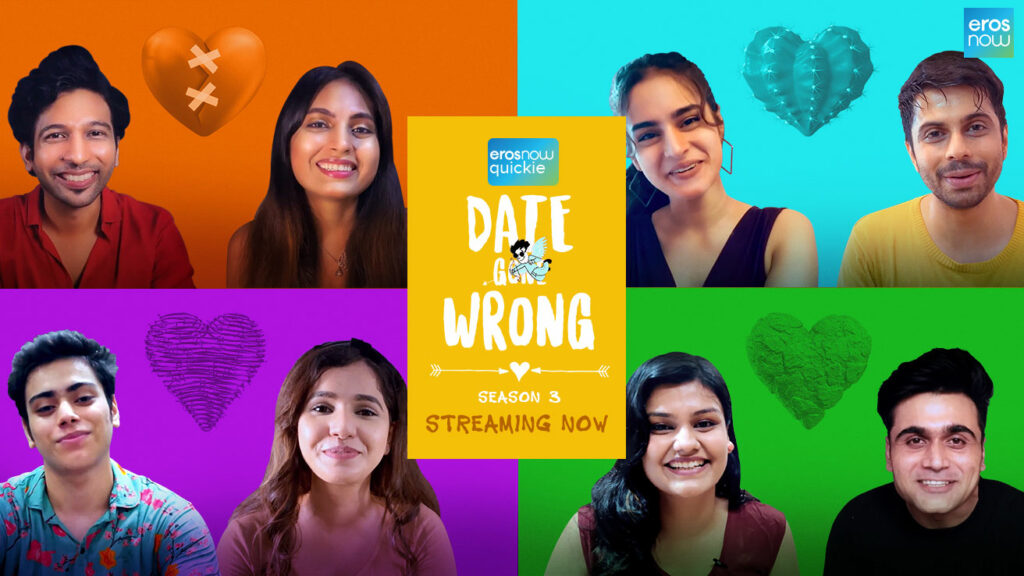 IMDb Rating: 6.1
Starring: Vikas Rawat, Kangan Barua Nangia
Season: 1
No one can predict First dates, either they go well or go really bad. Watch this series on people who share their weird first-date experiences. You can watch this entertaining series on Prime Video.
13) Aisa Waisa Pyaar (2021)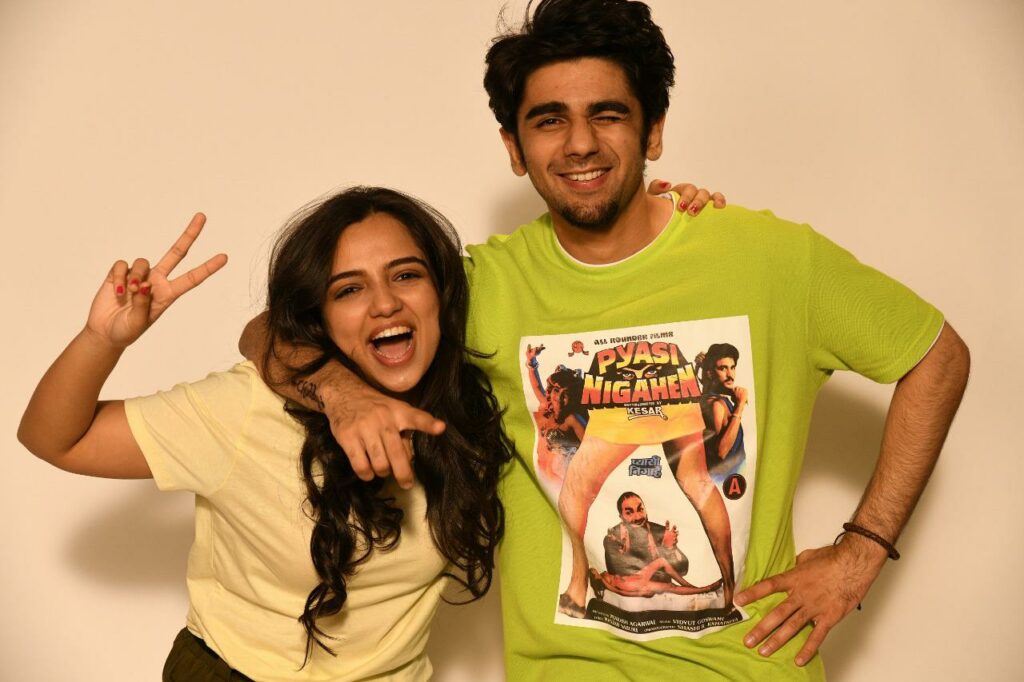 IMDb Rating: 7.8
Starring: Ahsaas Channa, Rajit Kapoor, Sheeba Chaddha, Adah Sharma
Season: 1
Anthology series of four stories that explores character development at different ages and love and relationships at different stages of life. Look out for some noteworthy performances by some prominent actors.
14) Hiccups and Hookups (2021)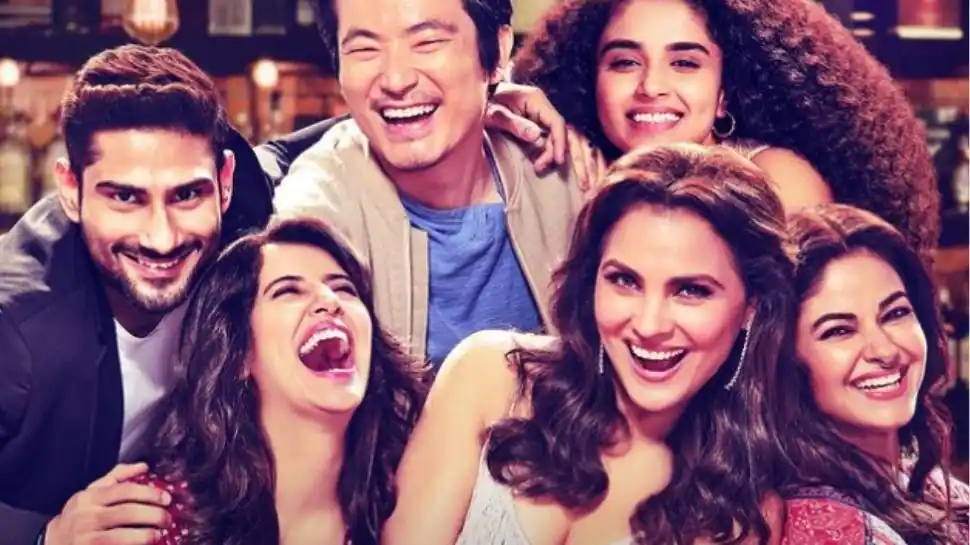 IMDb Rating: 8.9
Starring: Lara Dutta, Prateik Babbar, Shinnova
Season: 1
The story revolves around a family of a separated single mother, her confused teenage daughter, and her commitment-phobic younger brother. The unconventional family of three tries their best to handle relationships, dating, and life.
15) Yeh Meri Family (2018)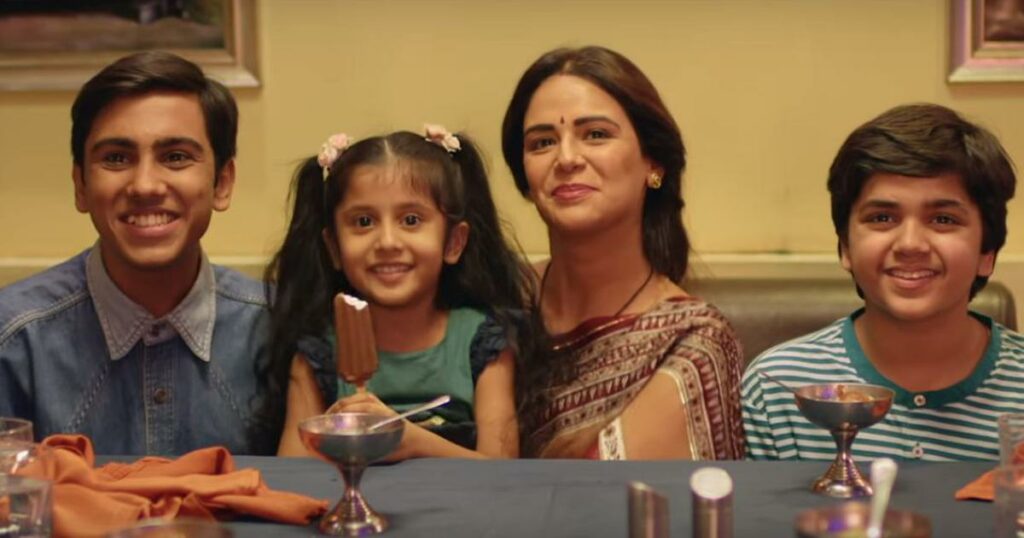 IMDb Rating: 9.3
Starring: Vishesh Bansal, Mona Singh, Akarsh Khurana, Ahan Nirban. Mona Singh
Season: 1
The story is based in the year 1998, Jaipur, it follows the journey of a 12-year-old middle child Harshu who balances family, school, friendship, love, and other challenges of daily life. The series stars many prominent characters and secured a high rating from IMDb and other platforms.