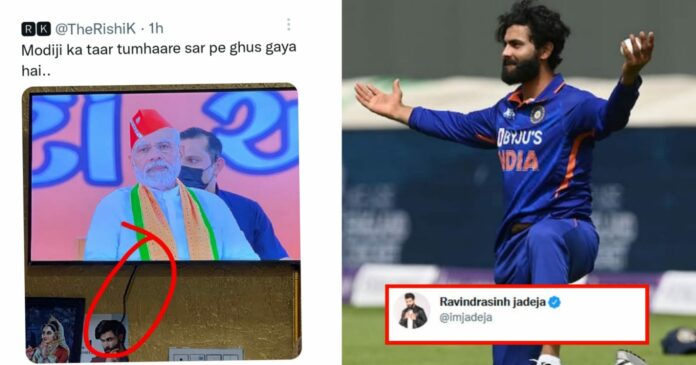 Internet loves it when celebrities respond to common men. Be it Bollywood Stars or Cricketers, powerful replies instantly make it to the headlines. Today's protagonist is Ravindra Jadeja.
Sir Jadeja is spending a lot of time on Social Media these days, although that isn't something he would have thought a few weeks ago. He is suffering from a back injury, which has kept him out of action since the Asia Cup.
Jaddu is an integral part of the T-20 Side and would have provided impeccable balance to the side in the World Cup, alongside Hardik Pandya. Anyway, all that isn't happening and we've to settle with a Jadeja-less side.
Now let's talk about the heart of the matter.
Ravindra Jadeja is hyper active on Twitter and the reason isn't always Sanjay Manjrekar, as you'd think.
His wife is politically associated with BJP and even though Jadeja hasn't shown his political stance publically, people do have their theories regarding which side he's inclined towards.
Today, he tweeted a picture of his Television Screen where Indian PM Narendra Modi was shown addressing a rally. The Indian PM is currently on a tour of Gujarat and visited Jamnagar to launch multiple development projects.
Jadeja, who also hails from Jamnagar, was ecstatic on seeing the Prime Minister visit his hometown and instantly showed his happiness on Twitter.
Welcome to my hometown our Hon'ble prime minister @narendramodi saheb🙏🏻#jamnagar pic.twitter.com/PrRXbelmpE

— Ravindrasinh jadeja (@imjadeja) October 10, 2022
Jadeja's welcome of Modi Ji was received positively by many while some fans weren't too pleased. One of them tried to mock World's Best All-rounder and pointed out something from the picture.
Modiji ka taar tumhaare sar pe ghus gaya hai.. pic.twitter.com/QwmropMNEA

— 🆁🅺 (@TheRishiK) October 10, 2022
As Newton's third law says, every action has an equal and opposite reaction. And with a guy like Sir Jadeja, who always gives savage replies to his rivals – both on and off the field – getting away after commenting something mean could never be an option. This is what Sir Jadeja replied :-
Yes direct connection

— Ravindrasinh jadeja (@imjadeja) October 10, 2022
The witty response was loved by many and people said things like 'Not for nothing do we call him Sir'. One user called him 'Chad' while another user wrote 'Seedhi baat no bakwas'.
What is your opinion on Celebrities interacting with fans on Socials?