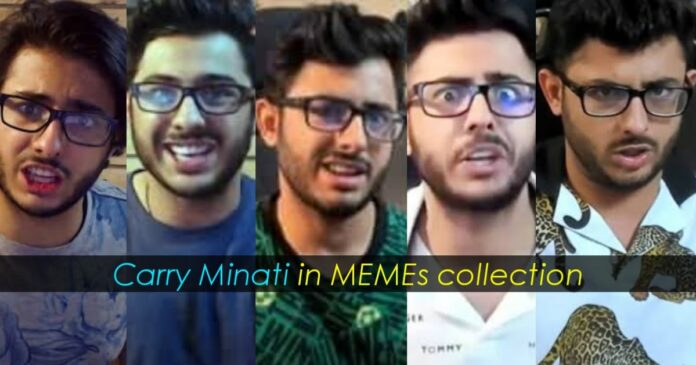 Carryminati has become a legend in recent times. The TikTok war only added to his fame and finally when the Indian Government banned Chinese Apps in India then we all knew who was the happiest man earth that day!
Anyways we were all enjoying the things that were happening in the recent past while Carryminati and TikTok were said together and they always meant War or Troll only! We can't say much about the TikTokers but this YouTube creator has made history!
The MEME community couldn't stop but kept on enjoying things and extended the humour with their MEMEs. The world is still enjoying a lot with these MEMEs on social media. Don't waste time and start sharing these MEMEs featuring Carryminati.
Don't forget to check us back on the same page because MEMEs never stop, we will update this section soon.
MEMEs Featuring Carryminati To Make You Laugh
#18 Kya apke area ka 4G Network bhi sajawat ke liye hai?
#17 Situation of cover designers perfectly explained by this Carryminati MEME.
#16 Salman Bhai se Panga MEME!
#15 'Internals kha jaunga mai' MEME shows us the problem faced by college students very well.
#14 Carryminati after his YouTube Video was deleted!
#13 'Mehnat barbaad' dialogue is perfect to explain what play store Didi with TikTok App before the ban on Chinese Apps.
#12 Carryminati must have been the happiest person after TikTok ban. We all know how badly he hated TikTok App and its users. This MEME shows us the truth though.
#11 Amit Bhadana had reason to be afraid of Carryminati then.
#10 On the face for YouTube, Cryyminati's video delete ka badla subscriber se!
#9 Carryminati after the release of his new music video on YouTube follows this timetable as explained in the MEME above.
#8 'Kha Jaunga mai' dialogue by Carryminati is epic! Explains perfectly in MEME the situation of Bollywood.
#7 This is what every mom does at home. MEME with Carryminati's dialogue explains it perfectly.
#6 Carryminati explains in this MEME why RCB is included in IPL
#5 Carryminati faces copyright claim for using his own song in a new video! Now it's obvious for YouTube to face such trolls and MEMEs.
#4 This is how Carryminati says good morning! Share this MEME to everyone you want to share wishes every morning.
#3 Facebook bhi bas sazawat ke liye laga rakha hai ise! Jo bhi ho MEME acchi banti hai ispe…
#2 Result announce hona akarshak bhi hai aur khatarnak bhi because jiski acchi marks aegi wo to sahi hai, par jiske marks kharab ati hai unse pucho ghar me kaise rehte hai!
#1 2020 me Positive can be really dangerous because of Corona but again you need to stay positive to be fine in the lockdown. This MEME perfectly describes the situation.