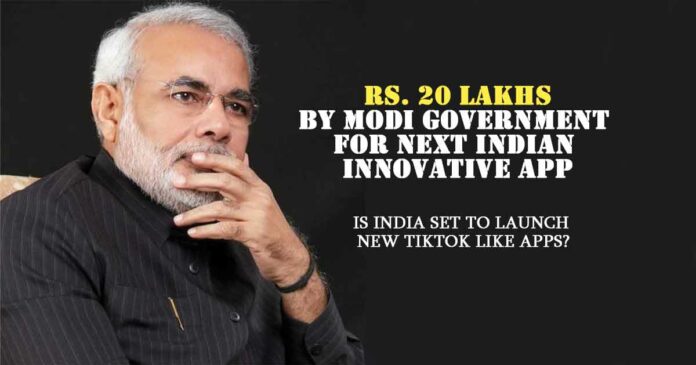 The Government of India banned 59 Chinese Apps creating a void in the Indian Market for new homegrown Apps to fill the space. The need is immense because people are waiting for a new world-class App that can meet their standards.
TikTok was one of the most widely used Apps that was banned, and the people are already missing it hugely. It's the best time to launch a new app that is as good as TikTok or even better than that. Ánd whichever company successfully fills the space is undoubtedly going to earn huge out of it. So the Competition is fierce, and everyone is eyeing on this opportunity!
Narendra Modi is well aware of the fact as he was behind the ban of 59 Chinese Apps. And, to fill the App Space he created with the ban, now Modi Ji has come up with a plan. Some might say it is an investment plan by Modi Ji in the Tech Space.
As per Modi Ji's new plan, he has launched 'Aatmanirbhar Bharat App Innovation Challenge' for techies and start-up communities. The Challenge aims to identify the best App in categories like Social Network, Entertainment, E-learning and Gaming. And not just that, the winner also gets a sum of Rs. 20 Lakhs to invest in his App or Idea.
Narendra Modi took to twitter to inform techies about the 'Aatmanirbhar Bharat App Innovation Challenge' and also expressed that it's a joint endeavour of Ministry of Electronics and Information Technology along with Atal Innovation Mission.
Today there is immense enthusiasm among the tech & start-up community to create world class Made in India Apps. To facilitate their ideas and products @GoI_MeitY and @AIMtoInnovate are launching the Aatmanirbhar Bharat App Innovation Challenge. https://t.co/h0xqjEwPko

— Narendra Modi (@narendramodi) July 4, 2020
In another tweet, he urged the tech community having the potential to compete to join and be successful in the Challenge. Also, he mentioned that the details of the Competition would be shared in his LinkedIn Post.
This challenge is for you if you have such a working product or if you feel you have the vision and expertise to create such products. I urge all my friends in the tech community to participate.

Sharing my thoughts in my @LinkedIn post. https://t.co/aO5cMYi4SH

— Narendra Modi (@narendramodi) July 4, 2020
Modi's LinkedIn post provides details about the Aatmanirbhar Bharat App Innovation Competition, along with his views on the need of this Initiative. He has stated that the Competition will have two tracks: where one will focus on the promotion of Existing Apps and the other will focus on Development of New Apps to compete with world technology.
He also stressed the need of the hour where India and the world are looking for solutions to solve specific problems, and there lies the opportunities. He urges the creators to think if we can make traditional Indian games more popular via Apps? If we can develop Apps with targeted and smart access to the right age group for learning, gaming, etc.? If we can we build gaming apps for people in rehabilitation or getting counselling to help them in their journey?
Click here to check out Modi's Original LinkedIn Post.
Modi Government is smart enough to play the card of 'Aatmanirbhar Bharat App Innovation Competition' at the right time. With Chinese Apps gone, the public is ready to take in Indian Apps that can perform well, and that creates an opportunity in the market which will not only build new Indian multinational companies but will also bring in more jobs and revenue for India.
In case if you are the one who is frustrated with Chinese App Ban and not getting any proper Alternative App, then you can click here to find a list of Alternative Apps that you can use instead of the Banned Chinese Apps.