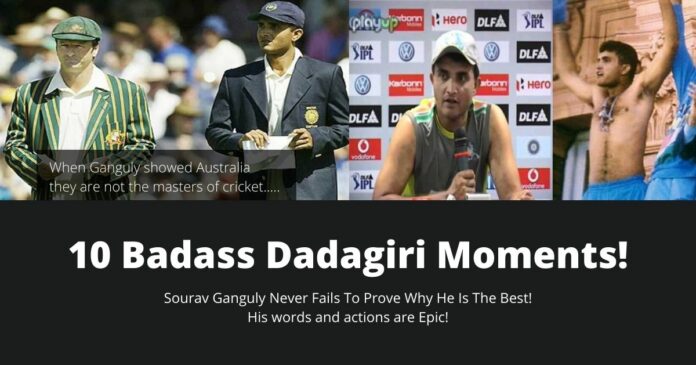 Sourav Ganguly, one of the finest cricketer India ever got. He is known for his cricketing skills no doubt, but his wittiness and a never-give-up attitude are at a different level. He is one of the important people who put all their efforts to bring Indian Cricket to the heights it now sees.
People in Kolkata and his Home call him Maharaj! Indeed he truly is a Maharaj, as he proves it always with his actions. His witty replies and revenge actions are too amusing at times. He very well knows to draw a fine line between offensive and witty responses. People often question him about his so-called arrogant behaviour to which he replied saying: "Some people have called me arrogant or believe that is my reputation, which is far from what I really am like."
Indian love Sourav a lot, and we have brought you a collection of moments from his life where he has proved to be the real Dada by showing his Dadagiri the right way!
10 Dadagiri Moments
We all know about Chappell–Ganguly controversy as it's one of the most famous in Indian Cricket. When someone asked Ganguly about Chappell owing an apology to Tendulkar, Dravid and Ganguly in a press conference, Ganguly said that Chapell could call his teammates but dare he call Him!
"During the time Sourav Ganguly was the captain most bookies wanted him to fix matches. But they also knew that it could never happen, because Dada was one of the most patriotic captains," a former bookie was quoted as saying in a report in Sportskeeda.
"The bookies were scared to approach him as they knew he would turn them in. So, it was a grown consensus that Ganguly cannot be sold and no one had the guts to approach him, as it could put their business into jeopardy," he added.
Harbhajan's selection: In the 2001 series against Australia, the selectors were reluctant to select Harbhajan. But Ganguly was reluctant and said, "I am not leaving this room until I see Harbhajan's name on that list."
Interestingly, Harbhajan was the man of the series.
Steve Waugh in a press conference said, "This will be Australia's 16th, 17th and 18th wins."
Ganguly replied to it by saying, "Waugh needs to forget 16th, 17th and 18th."
India won the series by 2–1
Selectors: "Kumble doesn't pick wickets outside India."
Ganguly: "I won't go without Kumble."
Selectors: "If Kumble doesn't do well, and the team doesn't do well, the team will have a new captain."
Kumble turned out to be the highest wicket-taker during the Australia tour in 2003-04. The meeting which went on till 2 a.m. and where selectors threatened to select a new captain turned out to be a successful bet.
Dada intentionally made Australian skipper Steve Waugh wait for the toss during the first test of the 2001 Border-Gavaskar Trophy match. He wanted to convey the message that Aussies were not masters of the game.
We can never forget this moment from July 13, 2002, where India was playing England at the Natwest final, and the hosts piled up a target of 326. Team India chased down the massive total and finally won the match. Sourav Ganguly removed his shirt and waved it from the Lord's balcony in an iconic Dadagiri moment.
During the India and England tri-series at Perth in January 2015, there were only 7,653 people at the stands. When Sunil Gavaskar was impressed by it, Sourav famously said: "The attendance today is 7,653. We have that attendance in Durga Puja." That's right!
Ravi Shastri once asked Dada whether there should be a Sourav Ganguly stands at Eden Gardens. Dada gave an epic reply saying, "The entire stadium belongs to me, Ravi." Just a grand Dadagir statement!
Harsha Bhogle once asked Ganguly whether he had seen the new Mauka Mauka ad, Sourav replied, saying: "Yes I have seen that ad and this ad will remain the same for the next 10 to 12 years because Pakistan will never beat India in the World Cup." Dadagiri, at its best, isn't it?