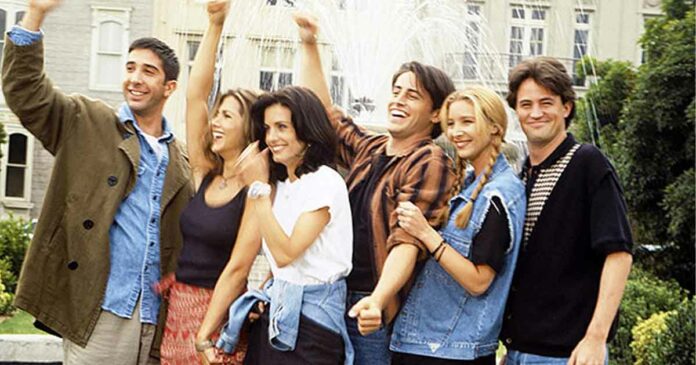 The internationally-known sitcom FRIENDS is comprised of a cast that has it's name written in golden letters, Courteney Cox, Lisa Kudrow, Jennifer Aniston, Matt LeBlanc, Matthew Perry, and David Schwimmer. Although over two decades has passed since its premiere date, FRIENDS still has a cult-like following. People from every generation and group are falling in love with this iconic sitcom. Its longstanding success likely comes at the hand of streaming services too where the show is readily available to watch.
The show came in during a time that is often looked back on with nostalgia. Perhaps that is one of the reason why people are much interested in this sitcom. It was filmed throughout the '90s just like the show's timeline, a period where social media was not even a thought yet. Life was modern but simpler at the same time back then. And watching it gives the nostalgia that we love and want to experience.
And now, after the FRIENDS reunion special that happened on May 27, 2021, people are feeling nostalgic again. After watching the entire cast coming back together on the iconic Central Perk's orange couch, viewers are keen to know more about the good old days when the cast met and created FRIENDS. Many are digging the internet to get to know them even better or perhaps to see the pictures back from the days of the 90s.
So, to save your time and to feed the fan in you, here we have gathered some rare pictures of the FRIENDS cast from different photoshoots which they did majorly to promote the show. Could this BE any more exciting?
1. The Classic Rope Fight…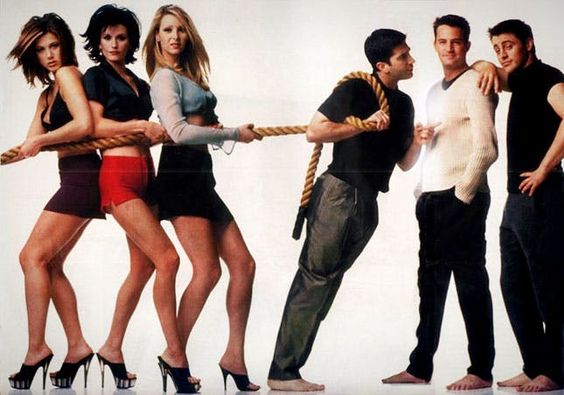 Just like in the show, it is again girls vs boys. However, it seems like only Schwimmer is up for the game, while Perry and LeBlanc are just gonna ignore him. It feels like girls have got this round. From another perspective, some might figure out the David alone is enough to handle the 3 girls. Well, we'll leave that to you now…assume whatever suits you.
2. FRIENDS In A Car Junkyard…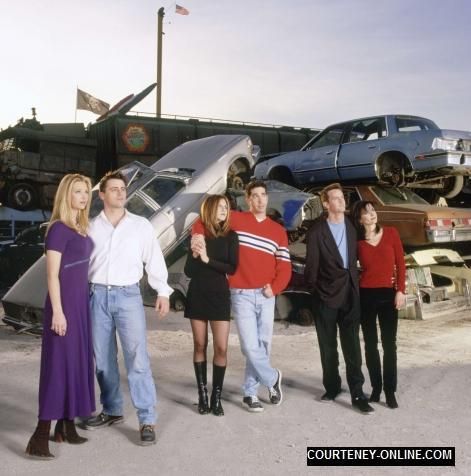 There are many kinds of promotional pictures of the cast on social media, but this one where the cast is casually posing in a car junkyard is something you would have not seen before. The image had nothing to do with the show but we kind of like it…
3. Possible Future Of Mr. And Mrs. Geller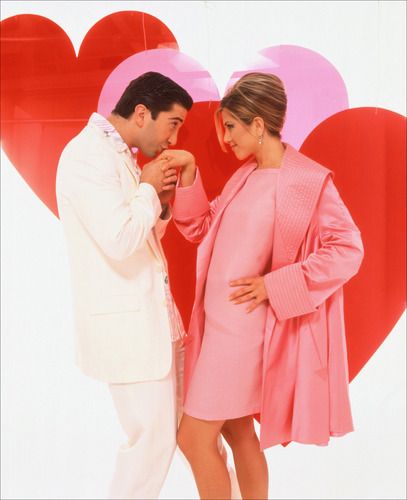 David Schwimmer's Ross Geller and Jennifer Aniston's character Rachel Green had an ongoing and off-going relationship on the show. Fortunately, they had a crush-kind of relationship off-screen. Probably, this is just a glimpse of what you might have seen if things worked out between them.
4. Only The Fountain's Missing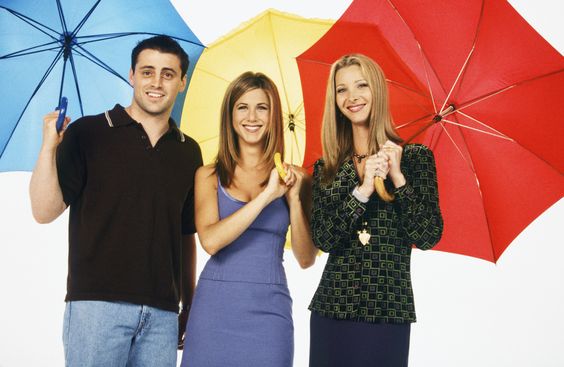 The cast of FRIENDS are the only people who can pull off primary-colored umbrellas. The trio is looking super cute in this picture. Aren't they?
5. Love For Geometry!!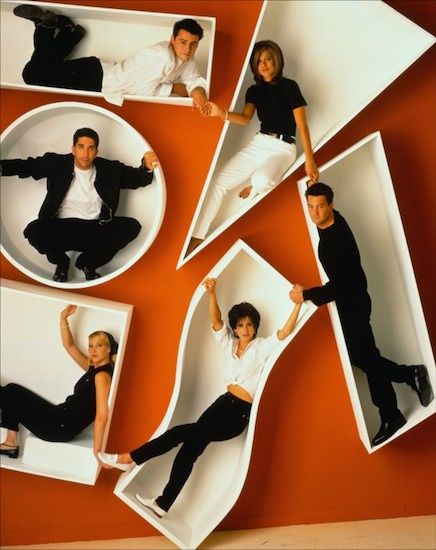 Could this BE any more cooler? Fitting into big geometric figures and having photos clicked is quite cool. Look, they even made a chain by holding each other's hands and legs, but why did they leave behind Ross? Poor Ross!
6. The Guy Gang…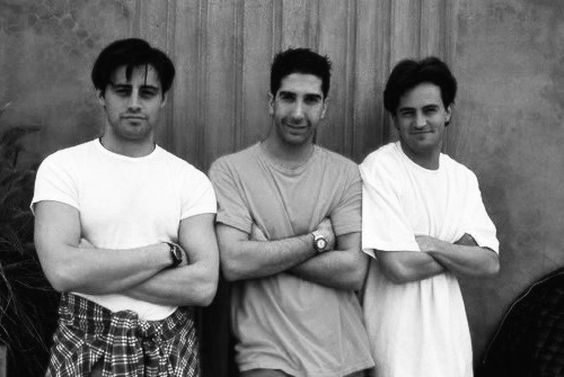 The classic 90s style of fashion. It's all there – the oversized t-shirts, shirt around the waist, and a look to die for. Could they look any more charming?
7. FRIENDS Cast Chilling Around…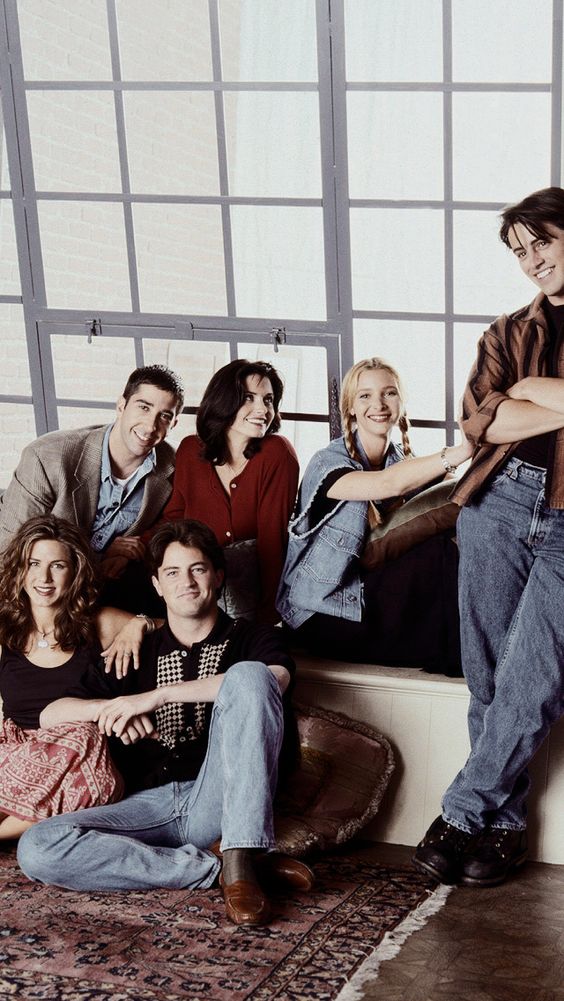 As we all know, the cast quickly became some of the most famous actors in the world. But, they never forgot to chill around the set between the shots while filming for the show. Or was it a planned pic? We don't know that for sure because the chemistry they share makes it difficult to distinguish their work from real life.
8. They Look Like Babies…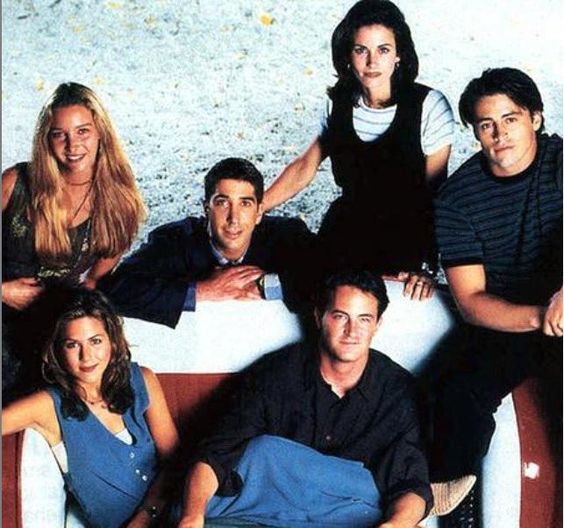 There's nothing like the cast bonding together while going for a trip. Even though their expressions seem pretty genuine, this appears to be a planned photoshoot. Look how seriously they are posing for the photo. The pic clearly states the time it was taken, just look at the genuine fashion from the 90s.
9. Could They Be Any More Classy?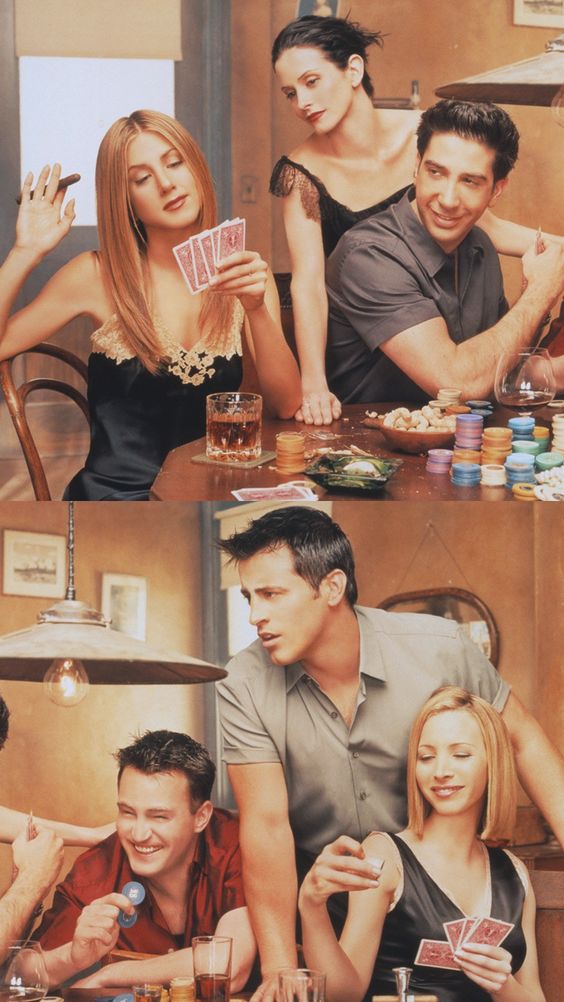 This photo gives the pure nostalgia of high-class friends group who are playing cards and enjoying their time together. Is it just me or it reminds you too about the time when cast played poker and Ross let Rachel win. Well it surely back in some memories from the show for me.
10. Looking Sharp!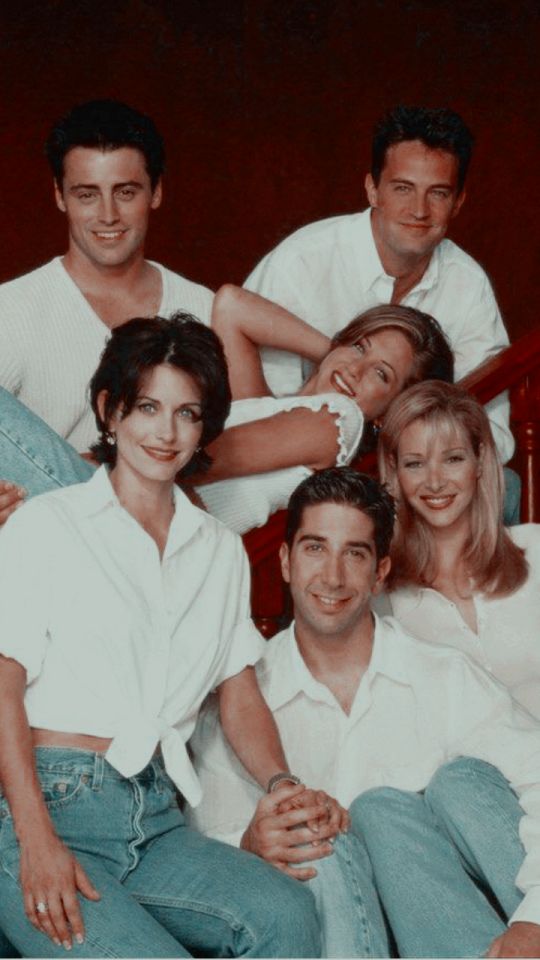 Recognize anyone? All the cast members dressed up and matched in all-white outfits for a promotional portrait. Aren't they looking amazing?
11. Girl Squad!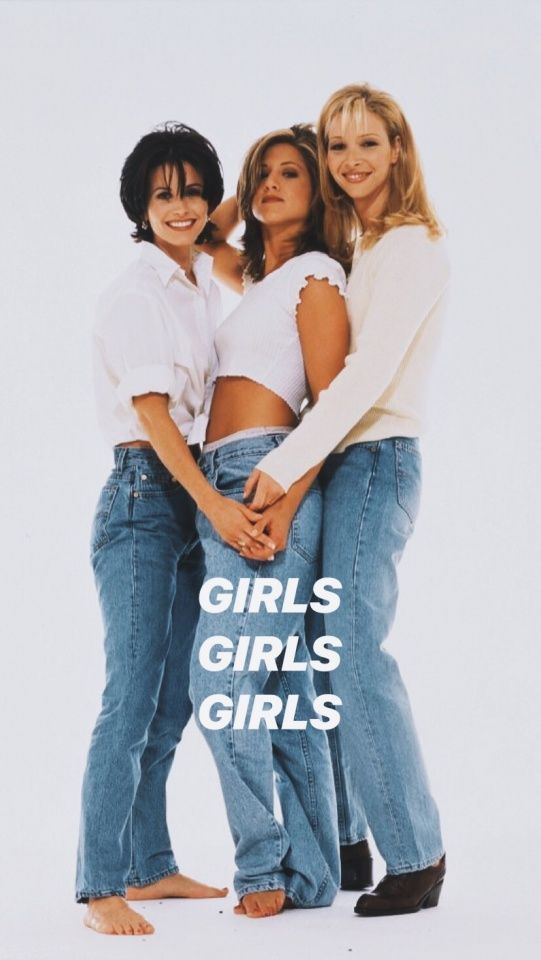 The on-screen friendship shared between the girl's squad was special, but the off-screen girl gang made up of Courteney Cox, Jennifer Aniston, and Lisa Kudrow is so much amazing. It's amazing to know that not just on screens, but they are together even in real life. And they surely look amazingly beautiful in these denims with whites.
12. Photo Signed By The Cast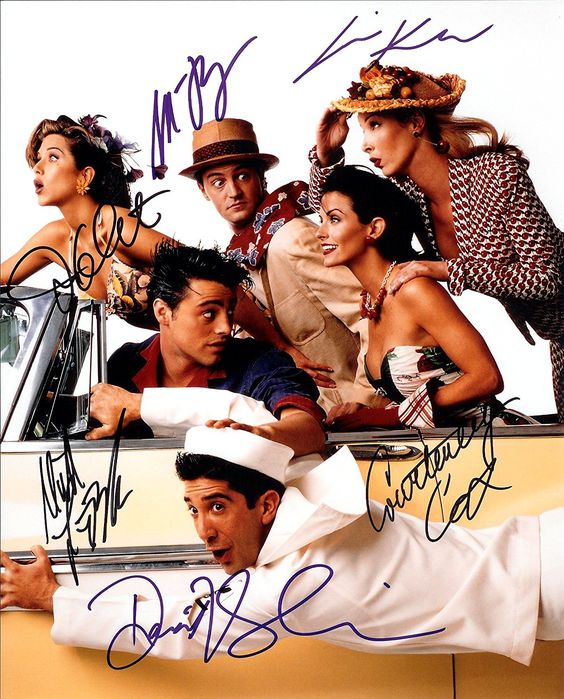 This photo is captured by Rolling Stone and it is signed by the cast members as well. It appears that the cast is running away from someone. Might be the crazy fans wouldn't let them be alone after the show became a hit back in the 90s!
13. Mafia Squad!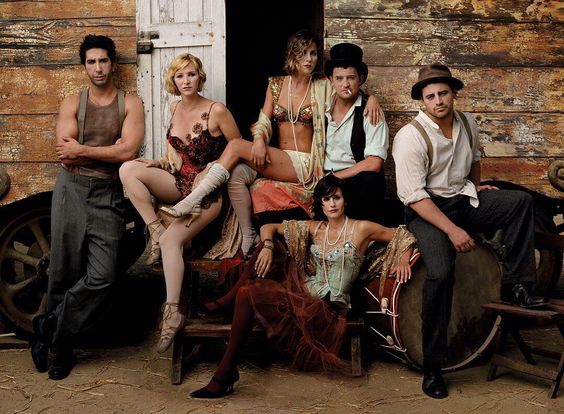 FRIENDS cast turned into Mafia gang, and their look alone was enough to kill us all. This is nothing related to the show that we have seen but they surely look amazing.
14. This Photo Is Confusing On So Many Levels…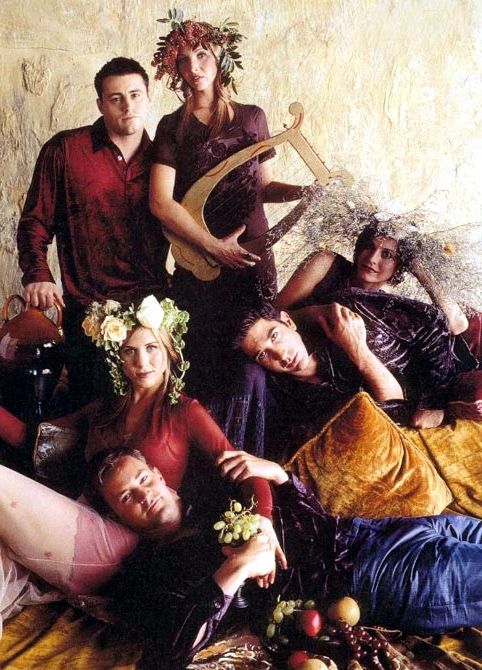 Not sure what they exactly wanted to portray with this pic. Maybe a blunt attempt to look like the greek gods or they just brought in the things they like. Whatever be the case, the cast looks cute but the pose seems confusing. And having seen all sorts of props in one pic, we wonder if there's anything left out to include in the shoot?
15. Do They All Went To Jail?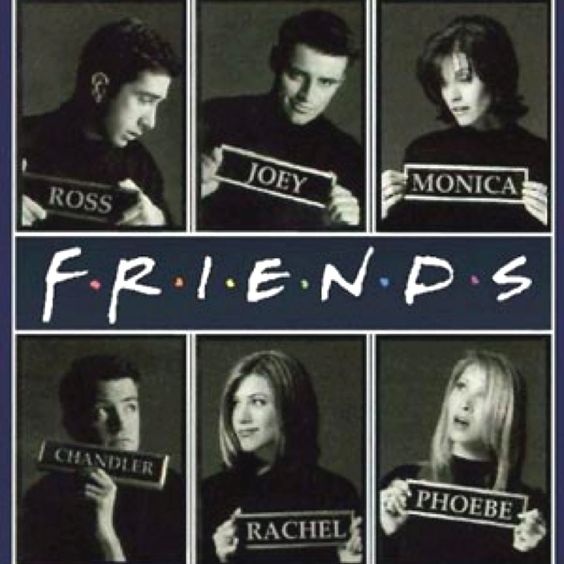 It looks like they all went to jail but how is that possible? The 90s advertisement tried several ideas and this is a result of the same. The show is nothing close to the poster but this is how they used to market it often. But they look so desirable in this pic, even though it was a jail they wanted to convey. This might be the most adorable picture you would come across featuring the cast of FRIENDS.
16. Lisa Kudrow And The Boys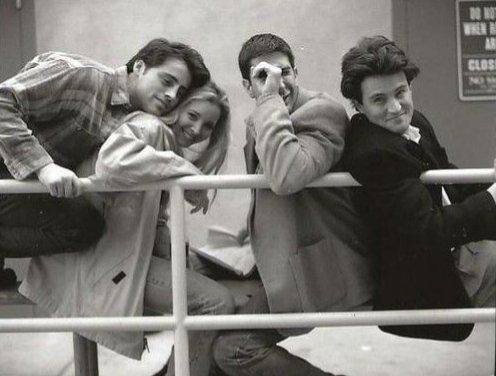 Lisa Kudrow was often identified as the eccentric one in the group. She was occasionally found doing her own thing away from the group. Even the girls found it difficult to understand her at times. But she was pure from heart and words. Just a click of her with the boys. Looks like a random click while they were having fun.
17. FRIENDS chilling in Monica's Apartment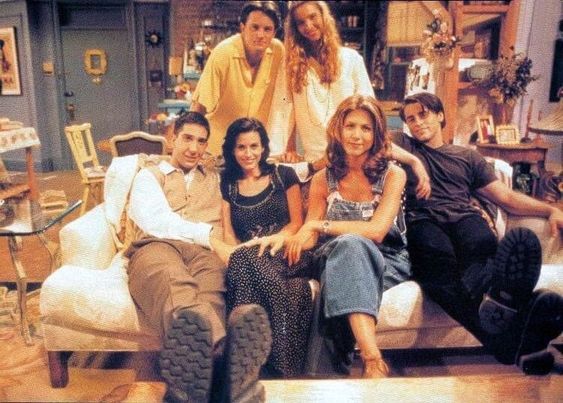 Without a doubt, they give a vibe of how life should be. Surrounded by friends, sharing things with each other, and most importantly, killing time by just sitting around. They surely look like the best group ever, and mind you, this is taken off screen.
18. Brother – Sister Bond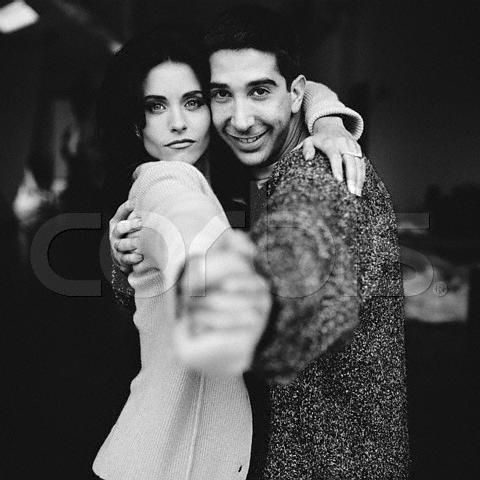 FRIENDS fans love the comedic yet relatable bond that Ross and Monica Geller shared. Obviously, after playing siblings for ten years, Courteney Cox and David Schwimmer certainly might have developed a similar relationship. And it looks like they get along, Schwimmingly! Were they trying to do the routine again?
19. Let Me Sleep Some More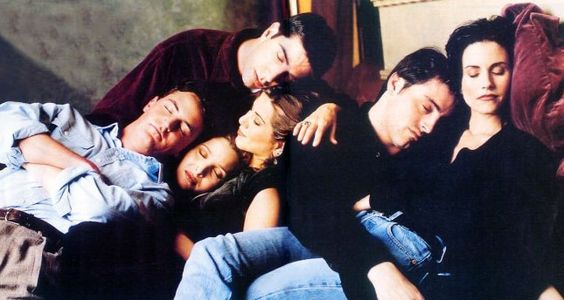 Even if this is a pose for their photoshoot, it appears like they are relaxing for a while and are in a deep sleep. Look, they look so peaceful too. And the closeness speaks it all how comfortable they were with each other.
20. This Is Called True Friendship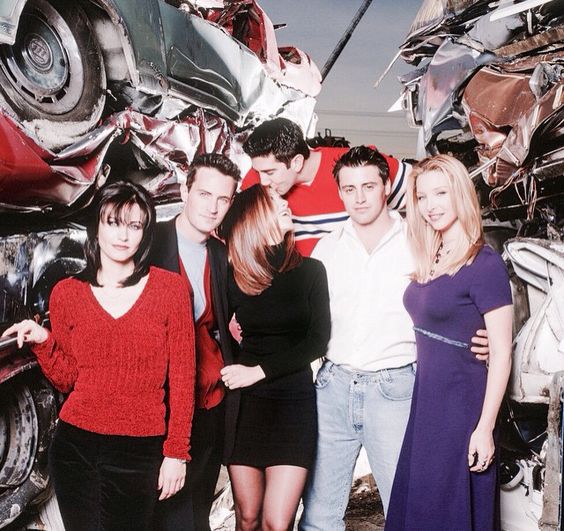 Wherever you will go, I will come with you. And what can be a better place than a car junkyard to prove this? However, the highlight of this picture is Ross and Rachel. After their confession at the reunion special, it is hard to ignore their affection towards each other which is oozing from this pic. But one question still rings me, what the hell were they doing in a junkyard?