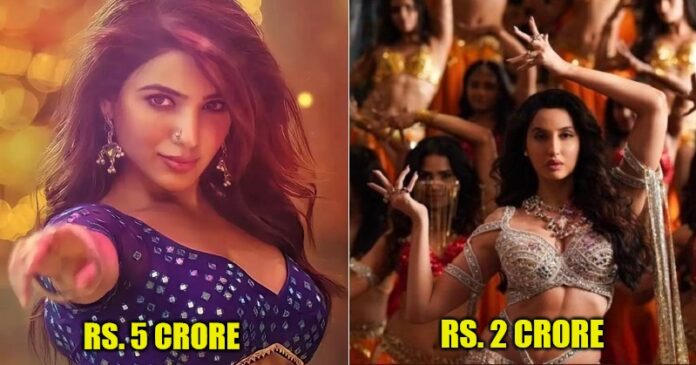 Item songs or special numbers in any Bollywood film play an important role in the marketing of the film. Apart from that, it also sometimes helps to build the narrative in movies. Be it unveiling an important secret related to the protagonist's life or an important character's death, most of the time these songs end with shocking moments in a movie. And that is why the actresses in these item songs charge huge fees for featuring in them.
Have you ever wondered how much these amazing actresses like Jacqueline Fernandez or Chitrangada Singh charge for just an item song? So, without any delay, let's find out here how much these actresses charge for an item song.
1) Nora Fatehi
We all know that Nora Fatehi is the dancing queen of the Bollywood film industry. When it comes to being versatile, she has surely got no competition. Her fluid movements and amazing expressions leave anyone in awe. If you don't know, the actress charged around Rs 50 lakhs during her "Dilbar" and "Saki Saki" days. However, reportedly, she now charges around Rs. 2 crores for a song.
2) Samatha Ruth Prabhu
Even though "Pushpa" is a movie in itself, the song "Oo Antava" made its own place. Thanks to the crazy moves of Samantha Ruth Prabhu, people have forgotten everything else. Interestingly, the beautiful actress at first denied the role of lead character Srivalli in the movie. However, she took the big task of taking up this dancing song. Apparently, the actress took a whopping Rs 5 crores to feature in this song.
3) Chitrangada Singh
Chitrangada Singh is undeniably one of the hottest and most beautiful actresses in the Bollywood film industry. Even though she has not done many movies, she has always been quite popular for her item songs. Thanks to Chitrangada's performance in the song, the "Kundi Mat Kharkao Raja" song was a huge hit and fans cannot get enough of it. Reportedly, the actress charged around Rs 60 lakhs for this blockbuster song.
4) Sunny Leone
Do you remember Sunny Leones's item song "Laila Main Laila" in the superhit film "Raees"? It was one aesthetic feast with Sunny's brilliant dance moves which was flawless and effortless. It is said that earlier she charged Rs 25 lakhs for the songs. However, now it is been reported that she has hiked her price to a whopping Rs 3 crore.
5) Katrina Kaif
Katrina Kaif's blazing performance in the famous song "Chikni Chameli" from the superhit movie "Agneepath" is unforgettable. Reportedly, the "Bang Bang" actress used to charge Rs 50 lakh for an item song earlier. But now, as per the sources, she has hiked her prices from the movie "Dhoom 3". Apart from that, Katrina is also known for obliging her friends by her special appearances in the movie.
6) Jacqueline Fernandez
Jacqueline Fernandez is always known for her sexy looks, charming behavior, and groovy moves in the songs. On various occasions, she crushed the floor with her flawless moves. She also famously grooved to the remixed version of Madhuri's Dixit iconic hit song "Ek do teen" in the Tiger Shroff starrer movie "Baaghi 2". As per the reports, the actress usually charges around Rs 3 crore for featuring in an item song.
7) Malaika Arora
When it comes to item songs in Bollywood films, we cannot complete the list without mentioning the name of megastar Malaika Arora. From "Munni Badnaam Hui" to "Honth Raseele" songs, she has featured in many superhit item songs. Interestingly, the actress charged around Rs 2.5 crore just to perform the song. She is undoubtedly one of the most talented dancers in the Bollywood film industry.