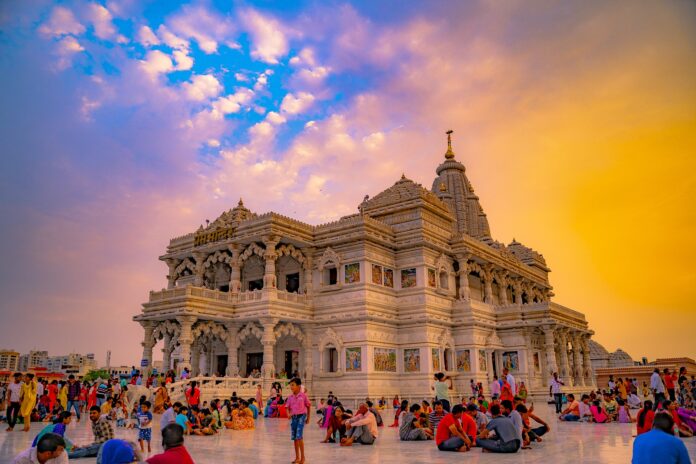 Vrindavan also known as Brindavan, a place where one can feel the divine spiritual vibrations by seeing the places where Krishna performed his divine activities. Here one can witness the devotees of Lord Krishna coming from different regions of the world and soaked in spiritual vibes. Are you also a devotee of Radha Krishna? And are you planning your first trip to Vrindavan? Then do not miss a chance to visit the most Famous temples in Vrindavan, such as Prem Mandir, Banke Bihari Ji ka Mandir and many more. Need not to worry, Here's a complete list of 10 popular temples in Vrindavan that you should visited at least once in a lifetime.
List of Temples in Vrindavan
Banke Bihari Temple
ISKCON Vrindavan Temple
Prem Mandir
Nidhivan Temple
Sri Radha Raman Temple
Shri Ranganatha ISKCON Temple
Shri Radha Vallabh Temple.
Sri Govind Devji Temple.
Rangji Temple
Shahji Temple
1. Banke Bihari Temple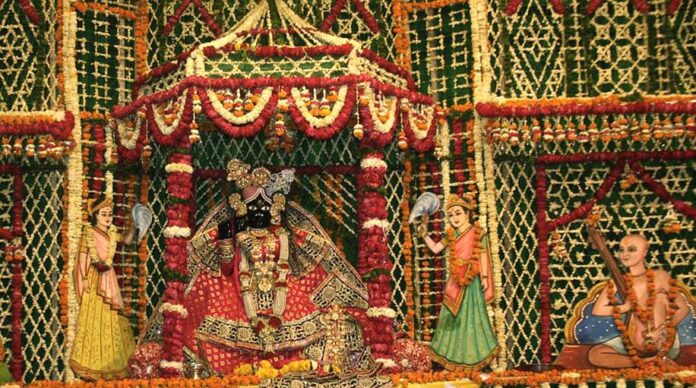 One among the best temples to visit in Vrindavan, this temple tops the list when it comes to experience the divinity within. Lord Krishna is worshipped at Shri Banke Bihari Mandir, a Hindu temple located in the holy city of Vrindavan in the Mathura district. This temple is among the 7 temples of Thakur Ji which also include Sri Radhavallabh Ji, Shri Govind Dev Ji and many more. The temple indeed has a magical vibe where the divine presence of Thakur Ji(Lord Krishna) can be experienced.
The word 'Banke' comes from the image of Lord Krishna standing in the Tribhanga Posture, while the word 'Bihari' means supreme enjoyer.  The idol in Banke Bihari Temple was originally worshipped under the name of Kunj- Bihari which means enjoyer of lakes. The sewa of the Bihari Ji is uniquely done with so much of devotion. This sewa is performed in three parts every day i.e. Shringar, Rajbhog and Shayan.
Temple Timings: All Days 7:45 AM – 12:00 PM; 5:30 PM- 9:30 PM
2. ISKCON Temple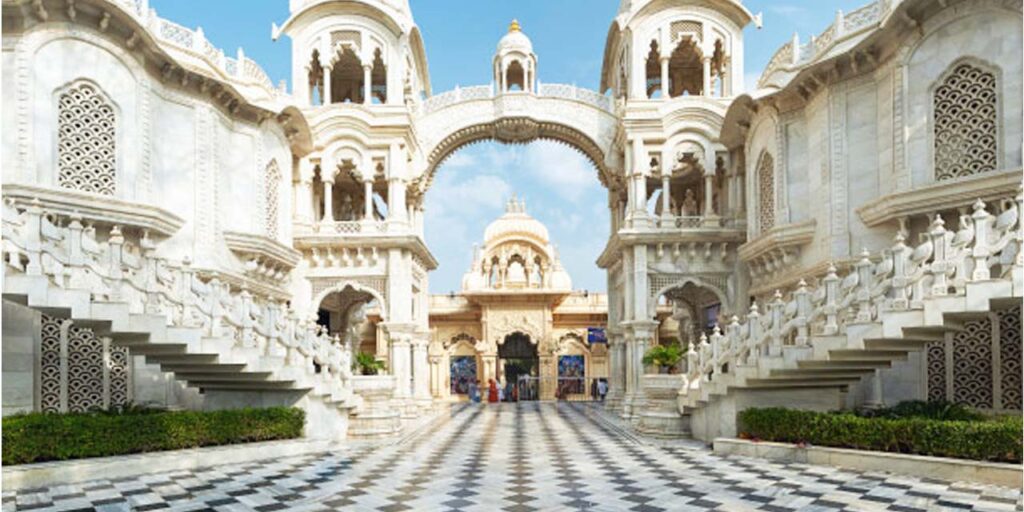 ISKCON Temple, also referred to as Sri Sri Krishna Balram Mandir, is one of the popular religious places that must be visited in Vrindavan. The founder acharya of ISKCON, Swami Prabhupada who dreamed of a temple of Sri Krishna and Balrama in the holy city of vrindavan, where they spent their childhood. People visiting here in the divine temple of Lord krishna are mesmerized by the Aarti and Bhagavad Geeta classes held here every day.
Temple Timings: All Days 4:30 AM – 1:00 PM; 4:30 PM – 8:30 PM
3. Prem Mandir Vrindavan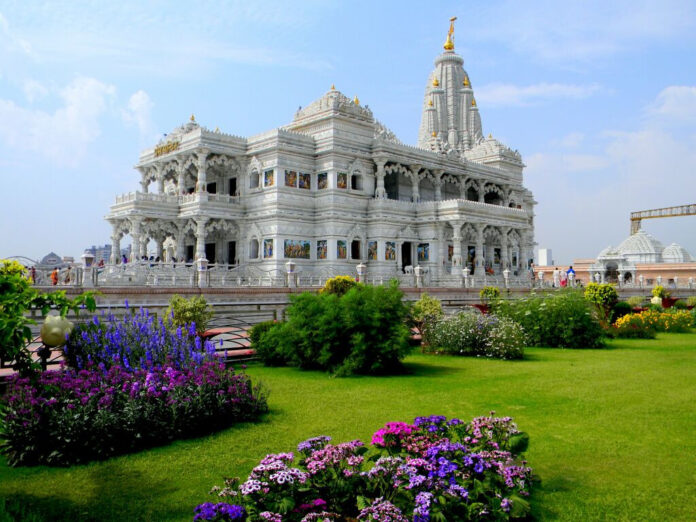 Prem Mandir in Vrindavan is not just a temple for the Hindus, but it is an alluring piece of architecture, which is widely admired by the visitors. Also Known as "Temple of God's love", Prem Mandir is dedicated to Radha Krishna as well as Sita Ram. The Prem Mandir is a massive temple that was shaped by Jagadguru Shri Kripalu Ji Maharaj in the year 2001. Located in Vrindavan, the holy city in the district of Mathura in Uttar Pradesh, Prem Mandir is enveloped with serenity and spirituality.
Temple Timings: All Days 8:30 AM – 12:00 PM; 4:30 PM – 8:30 PM
4. Nidhivan Temple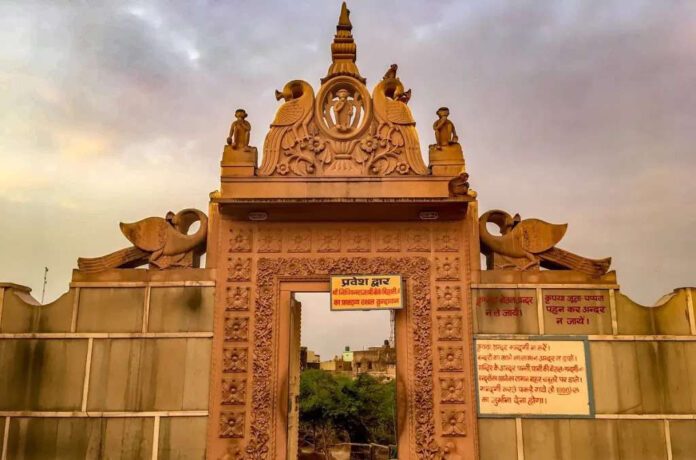 Nidhivan Temple in Vrindavan is a secluded place amidst dense green forests. According to Vrindavan saints, the trees near this temple are believed to be the devotees of Lord Krishna. Nidhivan is also known as Madhuvan. Thousand years ago at the same place a divine saint named as Shri Haridas Ji Maharaj used to please his priyatam, Bihari Ji(Lord Krishna) by singing songs and rejuvenating the surroundings of temple by Captivating music. Haridas Ji  also used to meditate in the secluded area near by Nidhivan Temple.
Timings: During Summer – 5:00 AM – 8:00 PM; During Winter – 6:00 PM – 7:00 PM
5. Radha Raman Temple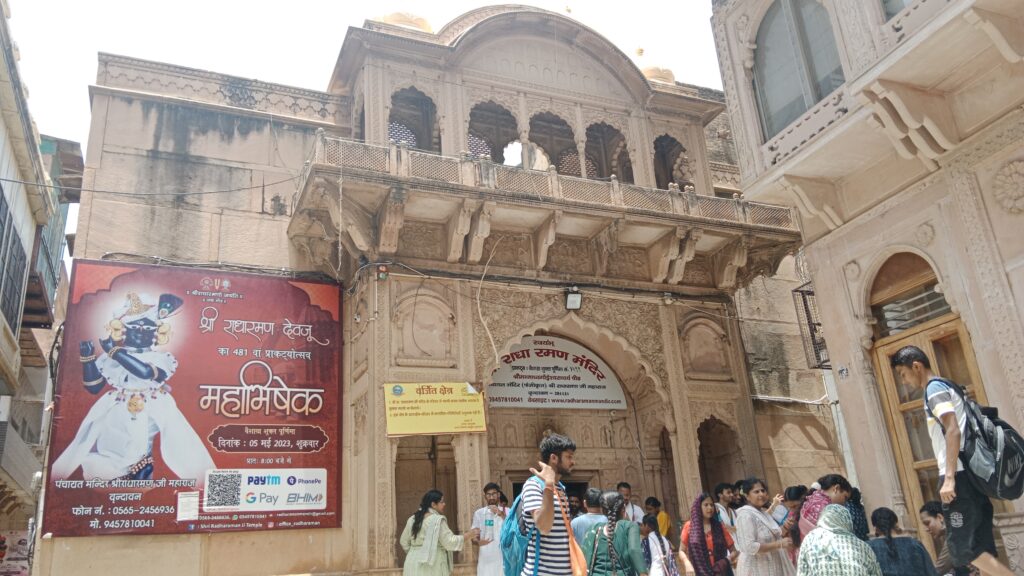 Radha Raman Temple is said to be one of the most divine temple among the 7 temples of Thakur of Vrindavan. It is of great significance, particularly to those who follow Gaudiya Vaishnavism. This temple is devoted to Lord Sri Krishna, who is also known as Radha Raman in Vrindavan. Radharamana is one of the significant name of Krishna. Radharaman means as a lover (ramana) of his Radha.
The temple is known to have the original Shaligram deity of Krishna alongside Radharani, which is the self-manifested deity from Shaligram Shila and has a magical smile on his face. The Radha Raman temple complex also has the samadhi of Gopal Bhatta, located right next to the appearance place of Radha Raman.
Temple Timings: All Days 8:00 AM – 12:30 PM; 6:00 PM – 8:00 PM
6. Shri Ranganatha Temple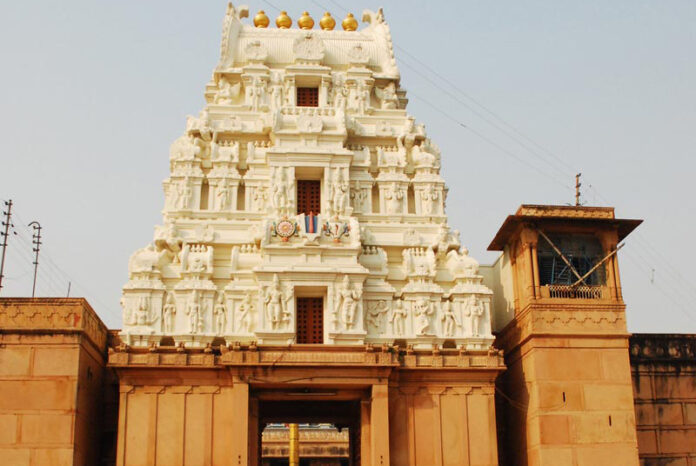 Do you know, Vrindavan is popularly known as the 'Town of Temples' since there are about 5500 temples dedicated to worship of Krishna and his divine consort Radha. Vrindavan is also known as 'The Land of God'.
The Shrine of Sri Ranganatha Temple is an eminent and famous shrine situated in Vrindavan. This temple is also the largest temple in the locality of Vrindavan. It is dedicated to Lord Vishnu and his consort, Lakshmi. The Sri Ranganatha Temple also showcases the devotees of Rama, Sita and Lakshmana along with Lord Narasimha, Venugopala and Ramanujacharya.
Temple Timings: All Days 5:30 AM – 6:30 PM
7. Shri Radha Vallabh Temple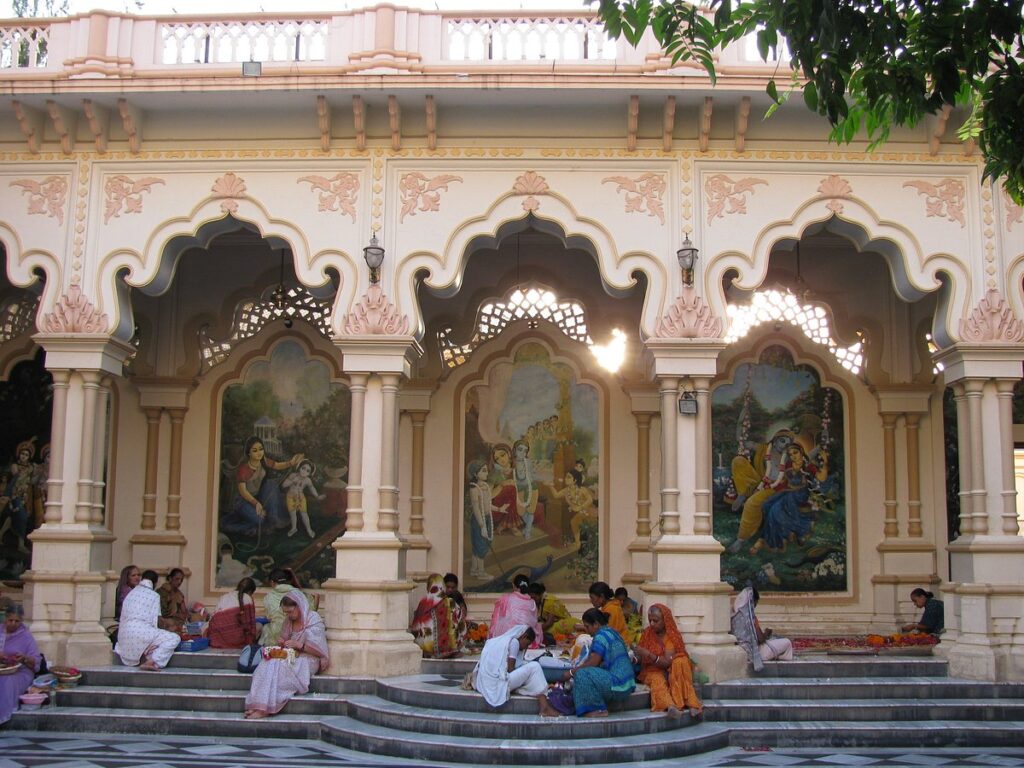 This temple is the epitome of the sacred and divine pure love of Radha and Krishna, displayed in the rarest form 'Ras-bhakti'. The temple has no deity of Radha, but it is idolized by Lord Krishna. Instead, it has a crown placed next to Lord Krishna to signify her presence.
Radha Vallabh Mandir stands out due to its impressive architecture and wonderful decor. Constructed in 1585, the Radha Vallabh temple is one of the oldest and divine temples,built using red sandstones at a time when they were used for building only high palaces, imperial buildings and royal forts. The wall of the temple is 10 feet thick.
Temple Timings: 7:00 AM – 12:00 PM; 6:00 PM – 9:00 PM
8. Sri Govind Devji Temple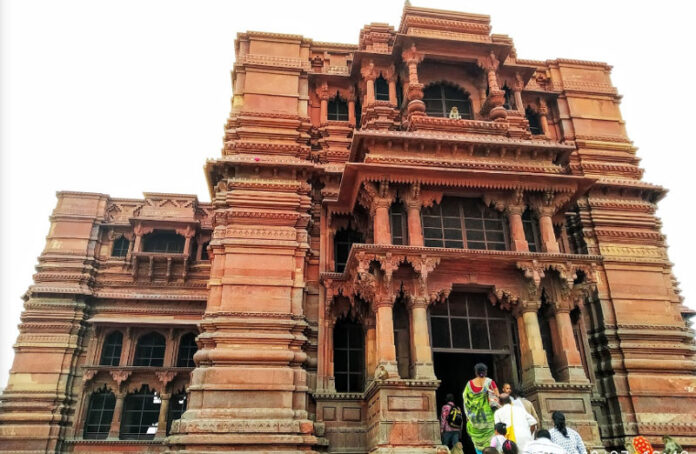 Lord Krishna is believed to have spent his childhood, the Govind Devji Temple stands as an architectural marvel since the past five centuries. This temple is dedicated to Lord Krishna in his childhood home. Vrindavan is a twin town to Mathura, where Sri Krishna was born and adjacent to Gokul, where he spent his initial years of childhood. This temple is a wonder for the Hindu pilgrims as one can witness the purity & divinty of the place where the Lord was once believed to have beenresided and performed all his miracles.
Temple Timings: All Days 4:30 AM – 12:30 PM; 5:30 PM – 9:00 PM
9. Rangji Temple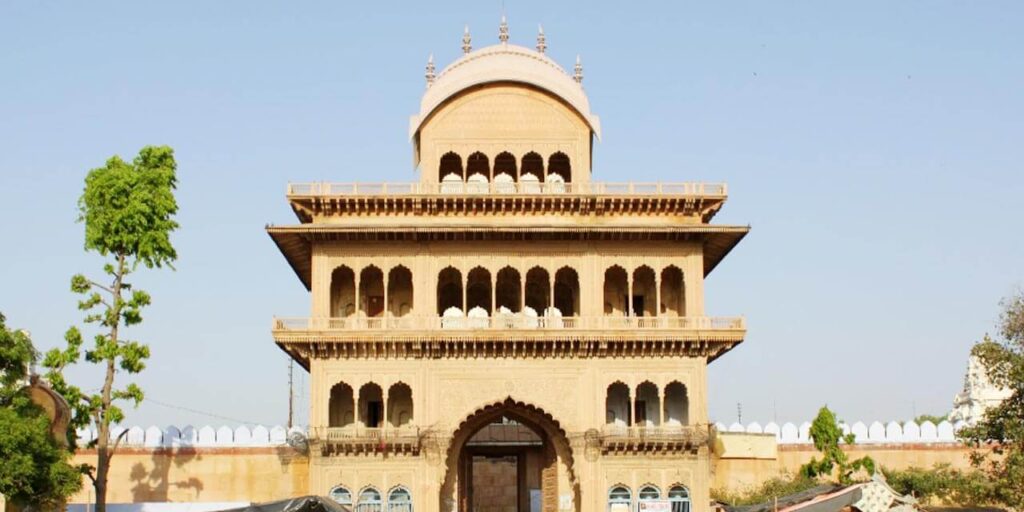 Rangji Temple is situated on the Vrindavan – Mathura Marg in Vrindavan, Mathura. This temple is dedicated to Lord Sri Goda Ranagamannar – a South Indian goddess and Lord Ranganatha – an incarnation of God Vishnu. The interior of this temple follows South Indian architectural pattern with a 50ft gold-plated dwajastambham (pillar) and a water tank whereas from outside it is designed in the North Indian fashion. Rangji Mandir is also one of the 108 Divyadesams of the Vaishnavas.
Temple Timings: All Days 5:30 AM – 12:00 PM; 4:00 PM – 9:00 PM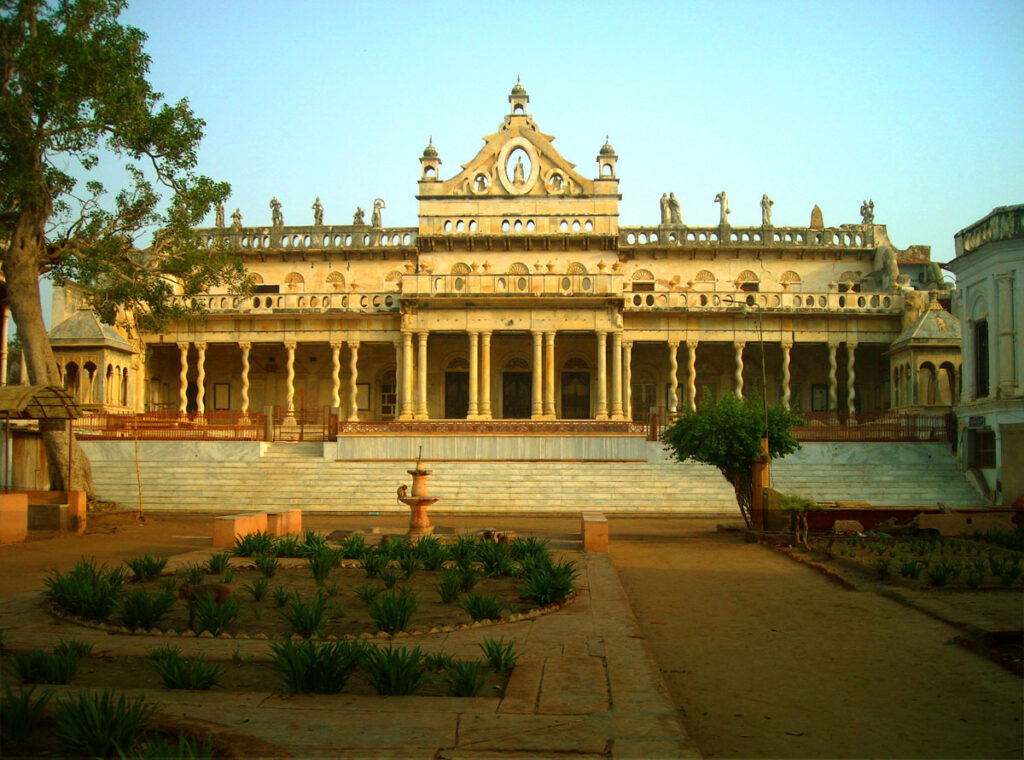 The Shahji temple was built by Shah Kundan Lal in the year 1876 and is dedicated to Lord Krishna. The main deity here is known as Chhote Radha Raman. Its impressive marble structure features 12 beautiful spiral columns of a height of 15 feet each and also the Basanti Kamra which is a hall with Belgian glass chandeliersf and intricate paintings placed within.  Shahji Temple is mainly visited by religious devotees and tourists to admire the remarkable architecture.
Temple Timings: All Days 8:00 AM – 11:00 PM; 5:30 PM – 7:30 PM