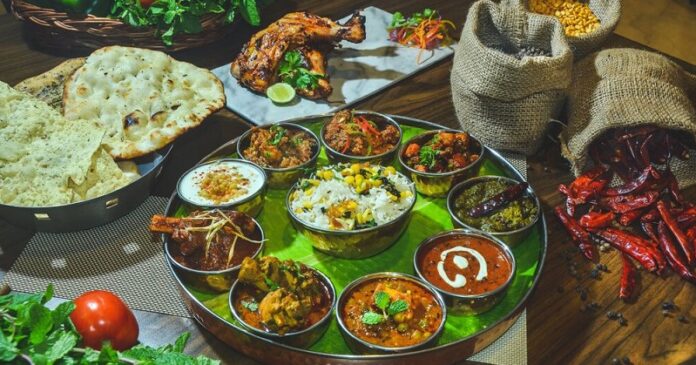 One of the most impressive aspects of Punjabi food items is their variety. While meat lovers can never get enough of the ever-popular Butter Chicken, Bhuna Gosht, Tandoori Chicken, and Amritsari Macchi, vegetarian fare is just as delicious. Sarson ka Saag, Chole Bhature, and Dal Makhni are just a few of the vegetarian Punjabi food items specialties that have fans all over the world.
When you think of Punjab, you imagine its earthy heritage of lush green fields and a robust way of life. What distinguishes Punjab from the other states is its culinary heritage; it is a state synonymous with food. Punjabi food is similar to Punjabis in that it is rich, robust, and full of life. Punjabi food is well-known throughout North India for its bold textures and hearty ingredients.
Here is the list of the 30 most delicious Punjabi dishes that you should try:
1. Palak Paneer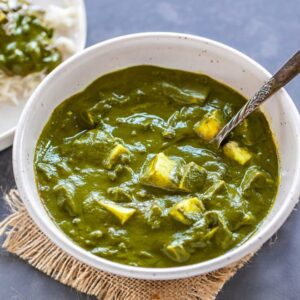 Palak Paneer is a popular food of Punjab and Indian dish that combines succulent paneer cubes (Indian cottage cheese) with a smooth spinach sauce. It demonstrates two methods for preparing this healthy dish: a homestyle version and a restaurant-style version with a charcoal smoking method. Both recipes for vibrant green palak paneer use fresh spinach leaves (palak in Hindi), aromatics, herbs, and spices.
2. Chana Masala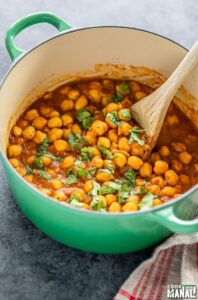 White chickpeas, freshly powdered spices, onions, tomatoes, and herbs, used to make this authentic food of Punjab, also known as Chole Masala. This tasty vegetarian dish is naturally vegan and rich in beneficial minerals, protein, and fiber, and it gets prepared in 45 minutes less the chickpea soaking time.
3. Aloo Baingan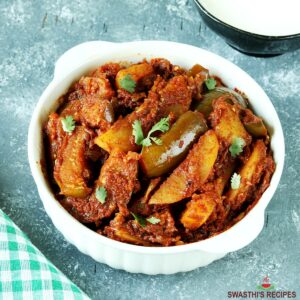 A simple and savory dish, aloo baingan gets made with a mixture of eggplants and potatoes cooked with onions, tomatoes, and spices. Because aloo means potatoes and baingan means eggplant, the food from Punjab reveals the main ingredients. It's a form of sabzi (dry curry) that's typically served with flatbreads like roti and naan.
4. Pindi Chole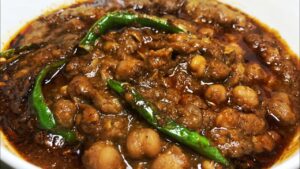 Punjabi chole is a typical Indian food from Punjab. Chickpeas (Kabuli chana), split Bengal gram (chana dal), cardamom, cinnamon, cumin, ginger, chili peppers, tea leaves, baking soda, turmeric, onions, garlic, tomatoes, garam masala spices, and coriander are commonly used in its preparation. The tea leaves give this curry a dark brown color and make it acidic, which also tenderizes the chickpeas.
5. Sarson Da Saag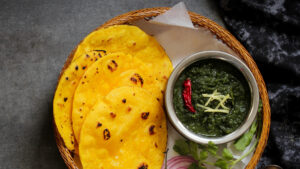 Sarson da saag (also known as mustard greens or Sarson ka saag) is a traditional food of Punjabi, made of mustard plant leaves, spinach, green chili, fenugreek, ginger, and salt. Over low heat, the dish is patiently cooked in its own juices until it produces the characteristic buttery smoothness. It's served with fried onions and fresh handmade butter in Punjab. However, in Uttar Pradesh, the meal gets topped with yogurt and tomatoes to softening the harsh and spicy flavor.
6. Gajar Matar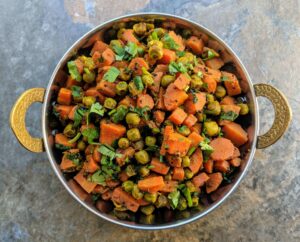 Gajar Matar is a traditional Indian vegetable-based food of Punjabi and is a wintertime favorite. Peas, carrots, oil or ghee, cumin, onions, hot chili peppers, garlic, ginger, coriander, tomatoes, and salt are commonly included in this stir-fry. The chopped tomatoes, peas, and carrots get added near the end of cooking, after all of the ingredients have been stir-fried, frequently with the addition of water.
7. Baingan Bharta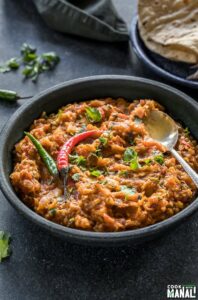 Baingan Bharta is a vegetarian side dish with a strong scent and flavor that is popular in India, Pakistan, and Bangladesh. It's made up of minced and grilled eggplants mixed with coriander, onion, chilies, and mustard oil, making it a perfect winter dish to serve with Indian flatbreads or rice. It gets created by Punjabis, but as time passed, it spread beyond Punjab's borders, becoming popular throughout India and beyond. It is also known as the traditional food of Punjab.
8. Aloo Matar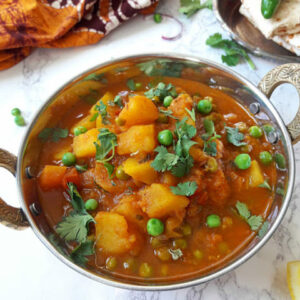 Aloo Matar is a traditional food of Punjab made of sautéed potatoes (aloo) and green peas (Matar), as well as tomato sauce with a variety of spices such garlic, ginger, coriander, onion, and cumin. It's commonly served as a side dish with roti, puri, or naan, and it's normally served sizzling hot.
9. Mattar Paneer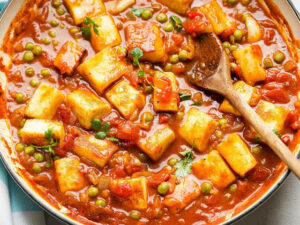 Mattar paneer is a famous food of Punjab cooked with peas and paneer cheese in a tomato sauce flavored with garam masala. The thick, creamy curry is a Punjab specialty, although it's popular all over India. The meal is traditionally eaten for lunch or dinner with rice and Indian flatbreads such as naan, kulcha, roti, or paratha.
10. Shahi Paneer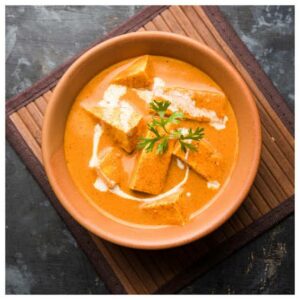 Shahi paneer is a cheese curry made of paneer cheese, onions, almond paste, and a rich, spicy tomato-cream sauce that originated in India's Moghul cuisine. The dish is usually served with Indian bread like naan, roti, or puri. Known as the Royal paneer, it is traditionally served as a vegetarian main meal on important occasions and festivities.
11. Dal Makhani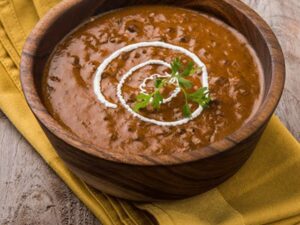 Despite its origins in Punjab, dal makhani has become one of the most popular Indian lentil dishes both within and outside of the country. It gets made up of red kidney beans and whole black lentils, which are also known as urad. The dish gets made with a lot of ghee and various seasonings like ginger garlic paste and chili, and it's cooked slowly in a rich, tomato-based sauce.
12. Lassi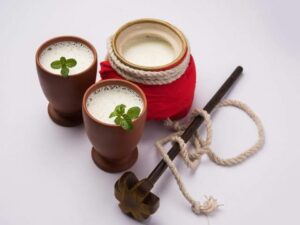 Buttermilk, a traditional (yogurt)-based drink in the Punjab region, is known as lassi. Lassi is a yogurt-based drink made with water, spices, and sometimes fruit. Namkeen Lassi is comparable to doogh, whereas sweet and mango lassis are comparable to milkshakes.
13. Chole Bhature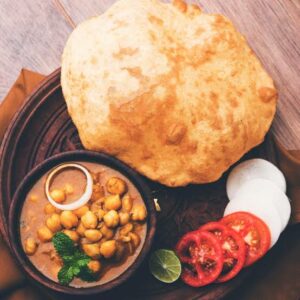 This is unquestionably a famous food of Punjab specialty, and you now have all the tools you need to make the best chole-bhature veg recipe in Hindi at home. The combination of spicy channa and crisp yet soft bhatura is ideal for a Sunday brunch.
14. Amritsari Murgh Makhani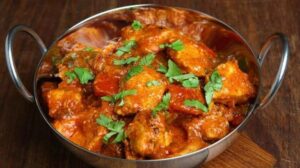 The Amritsari Murgh Makhani non-veg recipe in Hindi is the original version of the Butter Chicken, which is a popular dish in North Indian restaurants. Follow this fantastic step-by-step recipe to recreate the same flavor at home. This is one of the Punjabi famous food.
15. Kadhai Paneer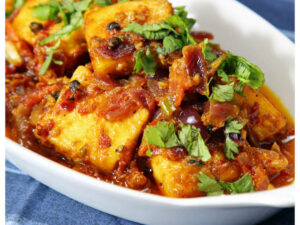 In Hindi, kadhai paneer is a semi-dry curry made with capsicums, paneer chunks, tomatoes, and spices. The dish's flavor is primarily derived from freshly ground coriander seeds and red chilies. The dish gets prepared in a 'Kadahi,' as the name implies.
16. Chicken Tikka Masala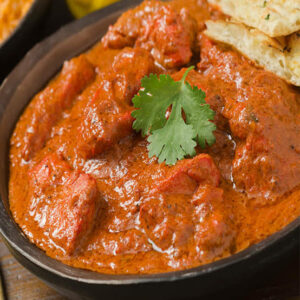 The Chicken Tikka Masala non-veg recipe in Hindi is not only popular in India, but also around the world. This delectable curry gets served in many Indian restaurants around the world. Juicy pieces of chicken get marinated, roasted, and curried in a rich gravy in this dish.
17. Dhaba Da Keema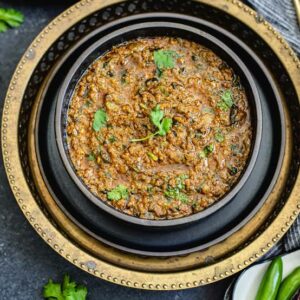 The Chicken Tikka Masala non-veg recipe in Hindi is not only popular in India, but also around the world. This delectable curry gets served in many Indian restaurants around the world. Juicy pieces of chicken get marinated, roasted, and curried in a rich gravy in this dish.
18. Atta Ladoos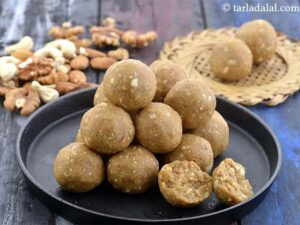 Atta Pinni is a traditional Punjabi winter treat made of wheat flour, ghee, and a generous amount of dry fruits. The sweetener can be either jaggery or sugar, and the outcome is a healthy sweet that is perfect for North India's hard winters. This is one of the Punjabi famous food.
19. Amritsari Chicken Masala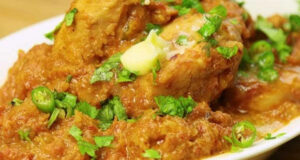 A stunning chicken curry recipe from Punjab's capital city. Masala-marinated chicken chunks get cooked in creamy and buttery gravy. It goes well with naan or tandoori roti. The use of tomatoes gives the dish its bright orange color.
20. Aloo Samosa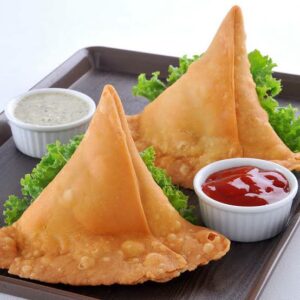 How could we possibly forget our beloved samosas? This simple recipe allows you to make the ultimate street snack in Punjab at home. There's nothing quite like freshly fried samosas from hot oil. The traditional filling gets mashed potatoes and peas, but you can also try paneer, mushrooms, or even noodles!
21. Punjabi Lemon Chicken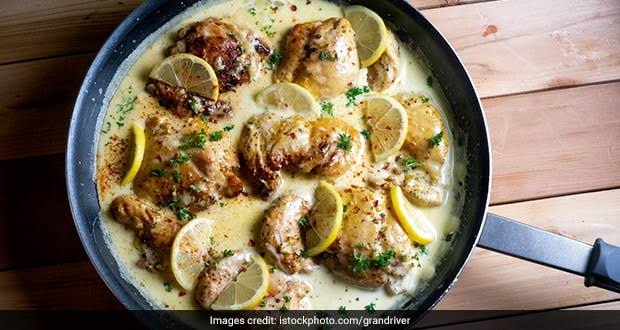 A tangy chicken recipe that melts in your mouth. Citrus juices, sugarcane juice, and basic Indian spices are used to make Punjabi lemon chicken. Try a different yet delicious version of a chicken and you won't be able to stop coming back to this chicken recipe.
22. Punjabi Style Nutri Kulcha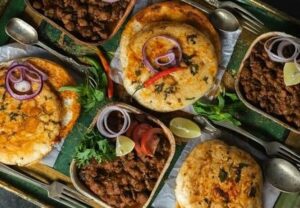 This Punjabi-style Nutri kulcha is not only delicious but healthy as well. It is a nutritious and tasty dish that will surely liven up your dinner/lunch table. So, without any delay, serve these Nutri Kulchas with mint chutney to family and friends and enjoy!
23. Bhatti da Murga Pindiwala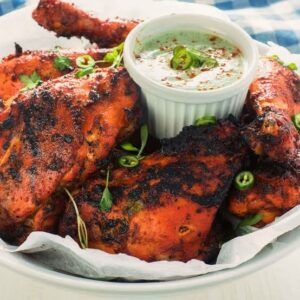 Bhatti da Murg is a Punjabi street food where the chicken gets cooked on a charcoal grill. These marinated chicken legs in fine spices will melt in your mouth! It's a chicken recipe with a tandoori twist.
24. Hariyali Chicken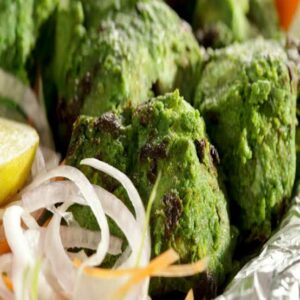 Hariyali Chicken Recipe is a popular Punjabi Chicken Dish. Boneless chicken gets cooked in rich and creamy spinach, mint, and cashew nut gravy. Hariyali Chicken or Chicken Hariyali gets prepared in the traditional gravy style by combining all of the green vegetables such as spinach, cilantro, green chilies, and mint leaves.
25. Chicken Do Pyaza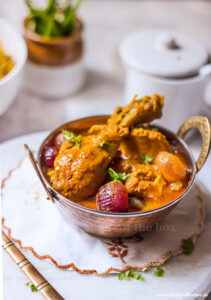 One of the most delicious chicken recipes is Chicken Do Pyaza. Marinated chicken gets cooked in rich Indian spices and served with vegetable rings as a garnish. Just for you, one of the most famous Punjabi dishes gets prepared in traditional style.
26. Dhabe da Meat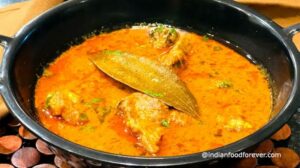 Dhabe Da Meat is a special Punjabi delicacy of lamb meat cooked in pure ghee with cardamom, poppy seeds, and whole dried spices.
27. Murg Makkai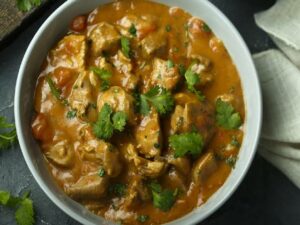 Murg Makkai is a delicious chicken dish from Punjabi cuisine. Boneless chicken breast gets cooked with corn kernels, garlic flakes, and fresh Indian spices.
28. Palak Gosht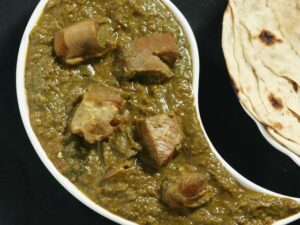 Palak Gosht is a fantastic and delectable combination of spinach and goat meat. It is a unique Punjabi delicacy that gets cooked in Indian spices and served with a roundel of fresh cream.
29. Punjabi Fried Fish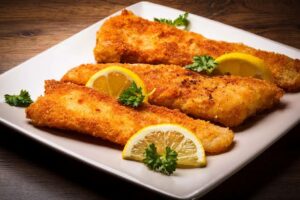 Punjabi Fried Fish is a traditional preparation of fresh fish fillets. Here, fish fillets are thoroughly coated in a batter of besan, semolina, and spices before being deep-fried in hot oil. It is one of the best fish recipes from Punjabi cuisine, ready to fill your home with its aroma.
30. Butter Chicken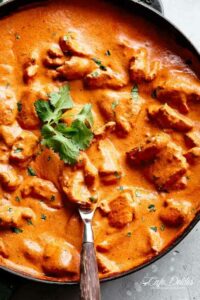 Butter Chicken, like Chicken Tikka Masala, is one of the most popular curries in any Indian restaurant on the globe. This Butter Chicken recipe is one of the greatest you'll ever try, with aromatic golden chicken chunks in a delectable creamy curry sauce. You'll appreciate how simple it is to make at home, especially with garlic butter rice and fresh baked Naan bread.