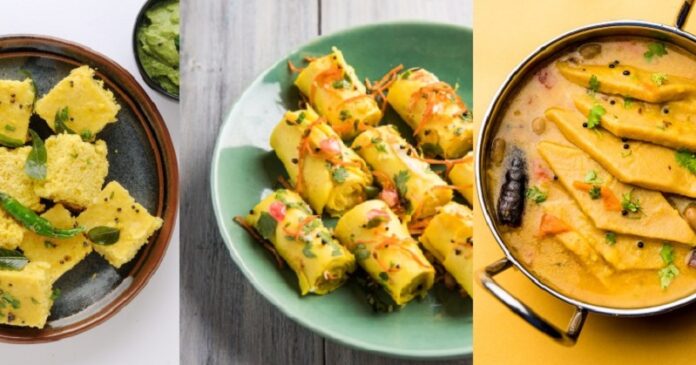 Gujarati cuisine is predominantly vegetarian and is one of India's oldest culinary jewels. It offers a large variety of vegetarian dishes, each with its own cooking style, as well as pickles, farsans, chutneys, and high-nutrition foods. On the other hand, the true essence of Gujarati cuisine is in the inventive use of common vegetables and mild spices. Sweet undertones dominate meals such Gujarati Kadhi, Dhokla, and Fafda, making for a great flavor combination. Sugar, tomatoes, and lemon are commonly consumed to keep the body hydrated in Gujarat's hot and dry coastal climate.
Here is a list of some of the famous Gujarati food:
1. Ghugra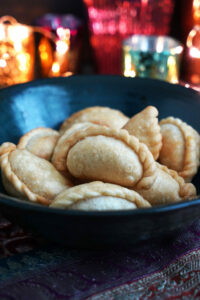 Ghugra or Gujiya is festive snack food from Gujarat. It is also known as Karanji in various parts of India. This food from Gujarat gets prepared by using a refined flour dough and gets stuffed with a filling before deep frying. Formed in a half-moon shape, where the round edge gets twisted to create a pattern.
2. Dabeli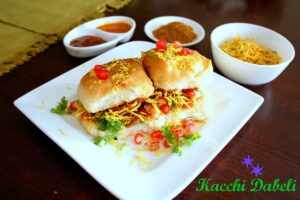 'Pressed' is the meaning of the phrase Dabeli. Spices, onions, tamarind chutney, coconut, pomegranate seeds, peanuts, coriander, and to make this dish cooked potato gets used. Sandwiched between two bread buns, this potato mixture gets fried in oil on a Tawa. The Dabeli gets its name from the pressed and flattened buns. It's a crispy, savory, and tasty fast food in Gujarat. Dabeli is one of the most delicious food in Gujarat.
3. Chorafali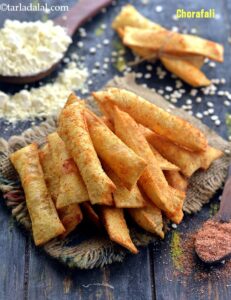 Another excellent and crispy food of Gujarat is chorafali. It's created with flours such as urad and gram flour, as well as spices including chili powder, dry mango powder, and black salt. The dough is thinly rolled out and deep-fried in hot oil. They become fluffy while remaining crisp due to the frying process. After getting coated in dry spices at the end, this delectable snack is ready to consume.
4. Doodhpak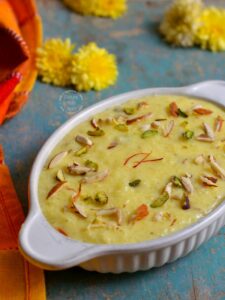 A popular sweet food of Gujarat is doodhpak. It's famous for its delectable flavors and textures. Milk, Basmati rice, sugar, cardamom, saffron, and dried fruits including almonds, pistachios, raisins, and other nuts, as well as a splash of Desi Ghee, gets used to make it. The milk (along with rice and sugar) gets cooked and thickened to achieve this gorgeous, rich texture and to enhance the flavors.
5. Khakhra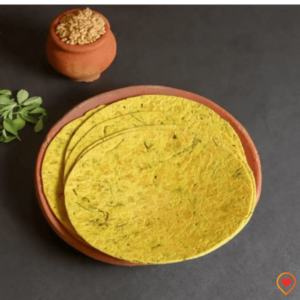 Khakhra one of the famous food of Gujarat is a thin cracker prepared with a base of moth beans and wheat flour. These non-fried, tasty crisps are ready to enjoy with a few carefully picked seasonings and a drizzle of oil. Khakhras is a popular breakfast and light evening snack in Pakistan. They're not only light and tasty, but they're also good for you. These tasty, thin tortilla-like crisps are available in a variety of flavors.
6. Ghari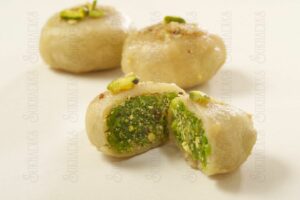 Surati Ghati, as it is widely called, is a sweet dish named after Surat, Gujarat, where it is principally prepared for consumption during the Chandani Padva festival, this is the food in Gujarat which is hard to find elsewhere. The cooks of Tatya Tope (freedom fighter) made Ghari on a moon day in 1857 to lend extra vigor to the freedom fighter's warriors. Ghari gets created from milk, ghee, and puri batter, and then molded into circular forms with sweet fillings inside.
7. Murghanu Shaak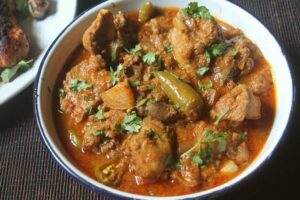 Murghanu Shak celebrates the authentic Gujarati flavors of the drumstick, potatoes, and Gujarati masala in this sweet, sour, and acidic chicken meal. The chicken gets marinated in an oil, yogurt, and spice mixture before cooking in a delectable gravy of onions, garlic, ginger, chili powder, garam masala, and any additional vegetables you desire. It's a delicious, quick, and simple Gujarati-style chicken recipe you can make at home.
8. Mohanthal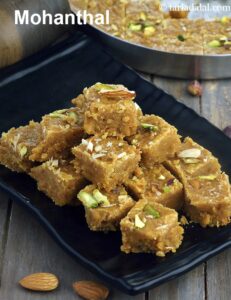 Saffron, cardamom, and nuts such as almonds and pistachios get used to flavor Mohanthal, a soft fudge-like confection made from sweetened gram flour (besan). Many Gujarati houses serve it as a signature meal, with each housewife adding her own unique twist to the classic recipe. It's said to be Lord Krishna's favorite dessert and is accordingly prepared with particular care during the Janmashtami celebration.
9. Gota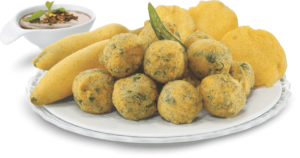 Every state in India, including Gujarat, has its unique form of golden, crispy, and delectable pakodas (fritters). Gota, a Gujarati pakoda gets made using gram flour and fenugreek leaves. Gota is a Gujarati traditional meal that originated in the Gujarati village of Dakor. During Holi, it's a wonderful treat. It's quick and simple to make, and the soft texture makes it a delicious evening snack, especially when it's raining outside. Serve with ketchup or a sweet and sour date and tamarind chutney.
10. Khichu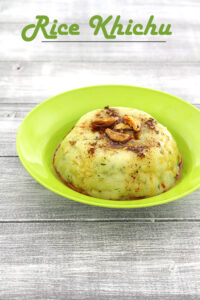 What started off as a dough for khichiya papads has developed into a delightful delicacy in its own right. It's a rice flour dough with green chilies, cumin seeds, and sesame seeds added to boiling water, then cooked in steam and seasoned with groundnut oil. During Navratri, it's customary to see it on food vendors in various Dandiya and Garba locations.
11. Gujarati Kadhi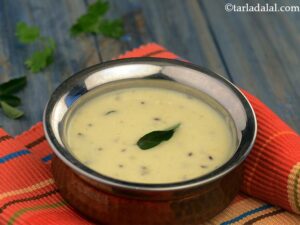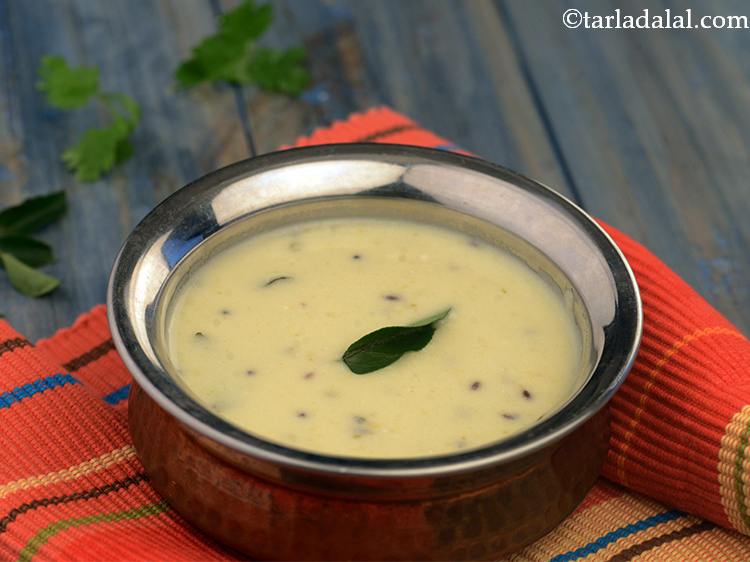 No Gujarati thali meal is complete without kadhi. The white color of this classic dish comes from sour curd seasoned with thickened gram flour and sweetened with jaggery or sugar. The texture of this sweet and spicy, thin soup-like kadhi gets improved by adding koftas or pakoras.
12. Sev Tameta nu Shak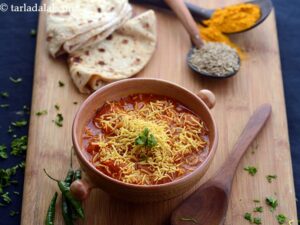 A popular Gujarati dish among children is a sweet, salty, tangy, spicy shak (vegetable preparation) made from tomatoes and sev. To make this dish, diced tomatoes and onions are sautéed in oil with spices before it gets cooked in steam. Crispy sev gets garnished with freshly cut coriander at the end of the meal. It's simple to make and delicious to eat.
13. Lilva Kachori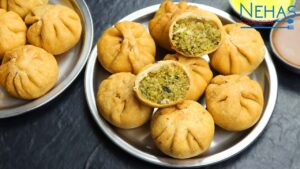 Kachoris are flour balls stuffed with your choice of filling. They're perfect for a winter or monsoon teatime snack. They are a popular delicacy in the western and northern parts of India. Lilva Kachori is a Gujarati delicacy stuffed with pigeon peas. Make a kachori dough out of white flour and semolina, roll it out, fill it with lilva (pigeon peas, green chilies, coriander, and spices), roll it into balls, and fry it.
14. Fafda-Jalebi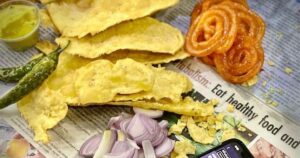 One of the most famous food from Gujarat. Gujarati's dream cheat-day breakfast. Jalebi is a sweet, deep-fried wheat flour pretzel dipped in sugar, whereas fafda is a crunchy, fried chickpea flour snack. When they're together, they're a match made in heaven. When you pair a piece of crispy, salty, spicy fafda with a piece of crunchy, sweet jalebi, you'll be in food nirvana.
15. Handvo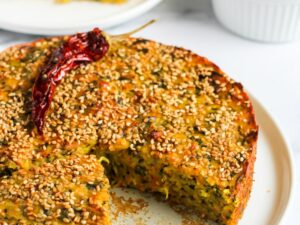 Handvo is a savory cake that is traditionally cooked over charcoal or in a pressure cooker. Handvo gets made from a batter of lentils and rice that gets fermented overnight before getting baked. They can also be pan-fried to make them crispy and golden, and the sesame seed spice makes them delicious! In Gujarati households, these nutritious pan-fried or baked lentil cakes are popular one-dish dinners.
16. Muthiya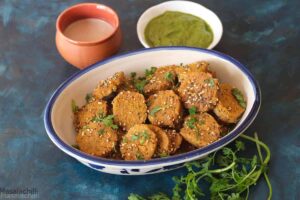 These fist-cakes are a great breakfast or evening snack, named after the movement needed to mold the dough. Chickpea flavor gets used during the process, bottle gourd, and spices, then steamed, pan-fried, and seasoned. If the pan-frying gets skipped, it becomes a great supper for health-conscious persons. Spinach, fenugreek, amaranth, and bitter gourd are among other options.
17. Undhiyu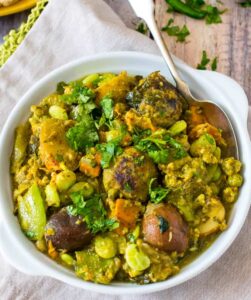 A Gujarati looks forward to winter because of the king of Gujarati food, Undhiyu (and, of course, Uttarayan). It's a traditional Gujarati dish cooked in an inverted clay pot that takes its name from the Gujarati word undhu, which means "inverted." It's a unique winter treat produced with the freshest ingredients available throughout the colder months.
18. Khandvi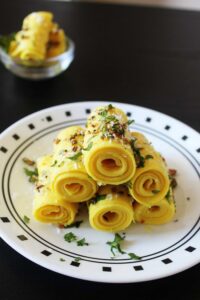 That's khandvi: thin layers of gram flour baked in buttermilk and rolled up in mushy bliss, seasoned with sesame seeds and a few other spices. With the simple but aromatic garnishing of curry leaves, coriander, sautéed cumin, mustard, and coconut, it's just tempting. It's a favorite Gujarati food.
19. Thepla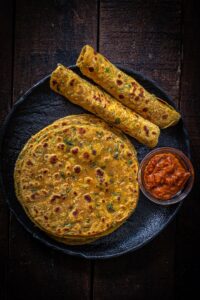 No Gujarati excursion, picnic, international trip, or even business trip is complete without this omnipresent snack. These flatbreads have a long shelf life and get made using gram flour, whole wheat flour, fresh fenugreek leaves, and spices.
20. Khaman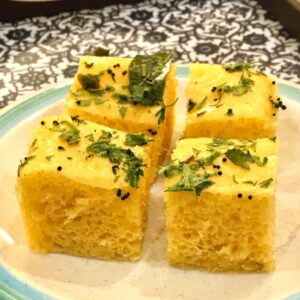 It's a delicious and nutritious steaming Gujarati food made with freshly ground lentils and chickpea flour, similar to the world-famous dhokla. The khaman flour combination gets cooked with turmeric, salt, and baking soda to make it light and fluffy. It's then cubed and sprinkled with mustard seeds, coriander leaves, sev, and chopped onions.