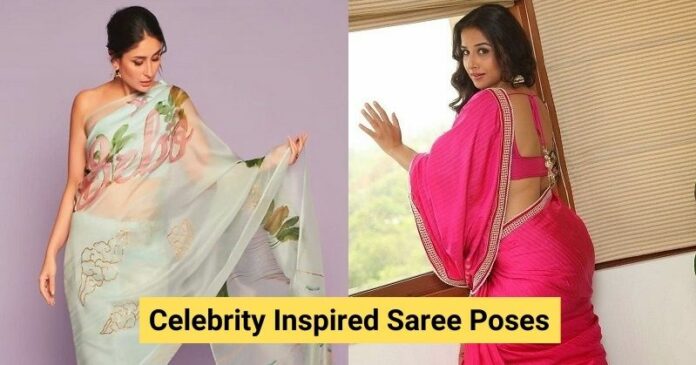 This year was certainly different from the rest. When the world was changing, we all had to adjust to a major change in our lives as well, staying inside all day every day. This meant no more weekend parties, marriages, family functions, meetings, etc., basically no reason for us to dress up. But this taught us one important lesson, to appreciate the present. While we all still may not be able to party out like before, we can appreciate the moment and have a dress party at home. To look good just for ourselves is important and what does a desi girl look better in than a saree.
Confused about how to have a photoshoot at home, the first step is going to be to set your saree poses. Now for all types of saree poses for photoshoots for girls, we can all look up to our celebrities.
Read on to find out our top picks for saree poses at home.
1) Kangana Ranaut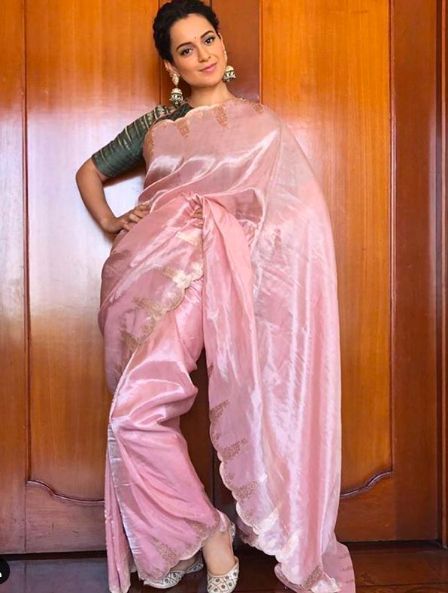 Kangana Ranaut and a classic silk saree seem like a match made in heaven. No matter be an airport look or an event her saree poses for photoshoot are the perfect inspiration for you to scavenge your entire closet, get a perfect look on and get a perfect indoor saree pose. One of her classic poses has to be the neck tilted, body curved, and leg slightly out. This pose is fun, creative, and perfect for saree poses at home for photoshoots.
2) Priyanka Chopra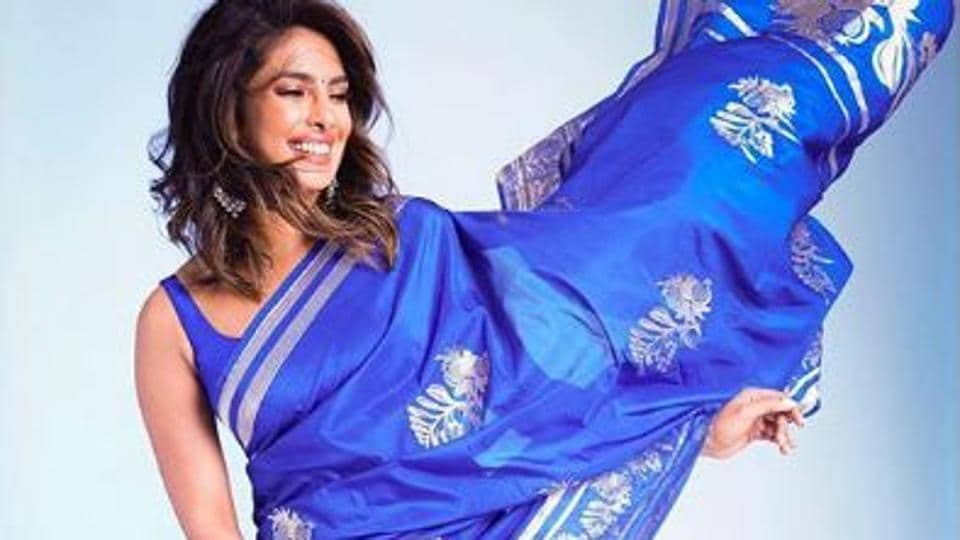 Our desi girl might have gone international in her recent looks but Priyanka can still rock her saree. Her effortless style is still an inspiration for saree poses for girls. Her go-to pose – Let it flow. Priyanka looks stunning in her saree while it flows behind her. This look is easy to replicate and would be beautiful for a saree photoshoot poses at home.
3) Kareena Kapoor Khan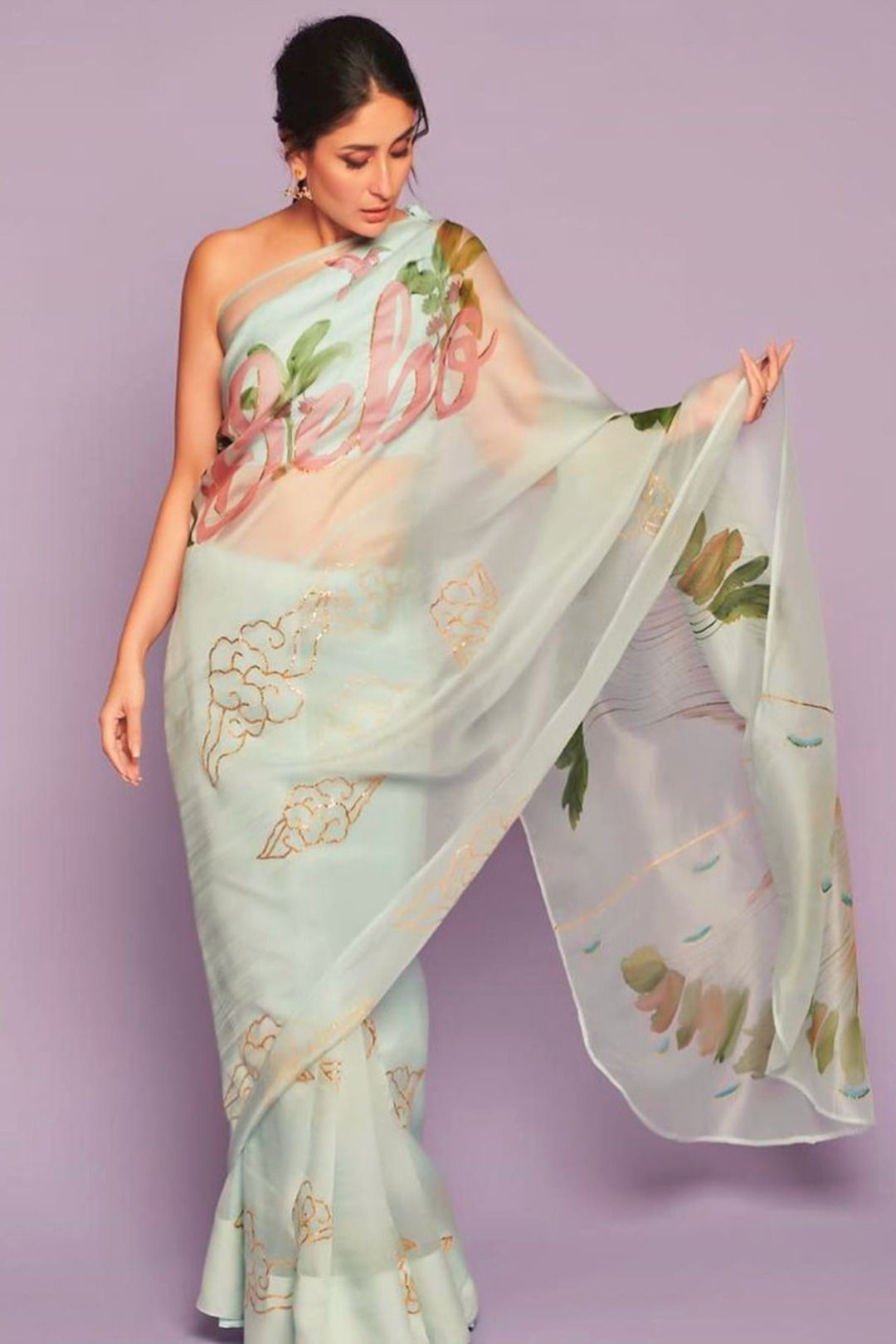 Kareena Kapoor is the perfect muse for saree poses for a photo shoot at home. Be it her red saree in the song " Chamak Challo" or her various red carpet looks, she always comes ready to rock. This pose from Kareena is a great example of one of the many saree poses for indoors. A slight bend in the knees, one hand out to show your saree and look down, and you are good to go.
4) Rekha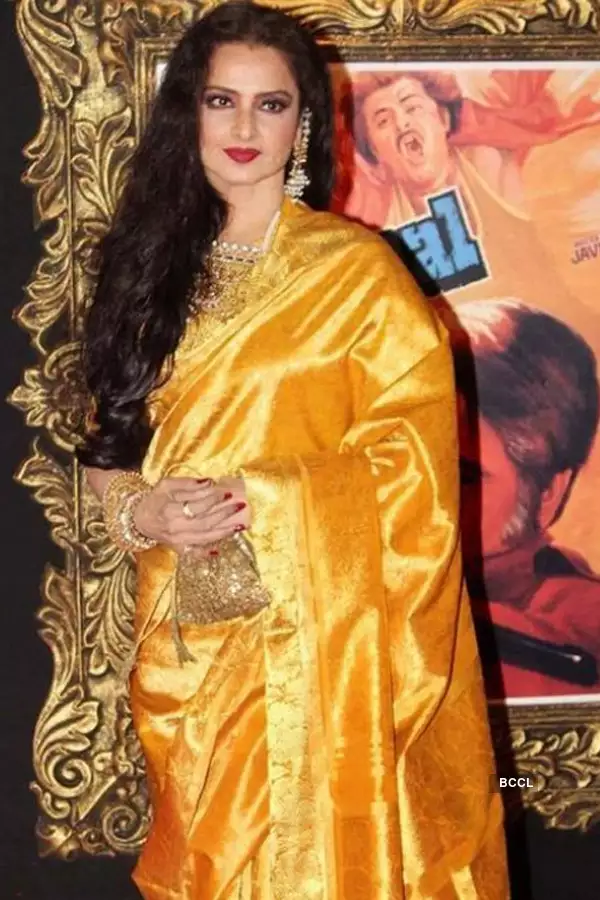 No list about sarees can ever be completed without mentioning the queen of sarees, Rekha. Her look of gold jewelry, hair ties back, and elegant saree is something to look forward to on every red carpet. So, if you are looking for saree photo poses at home for the first time, you can't go wrong with Rekha's classic hands joined in front, body straight, and a gentle smile. This is the perfect photoshoot poses at home for girls.
5) Vidya Balan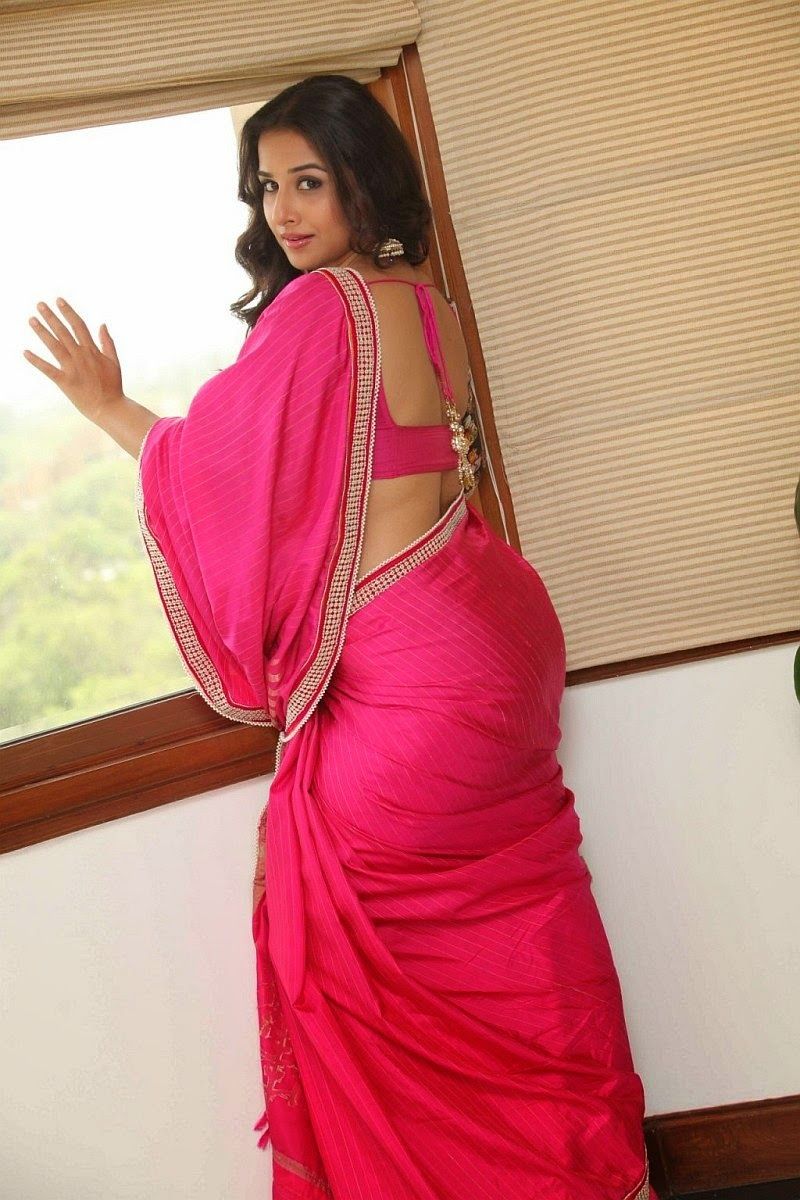 Vidya Balan almost always goes for a timeless saree whenever on the red carpet. Her multiple looks have given us multiple poses for indoor photoshoots. Her gorgeous pose of facing the body to the back, looking into the camera over the shoulder and a bend in one knee is both seductive and classy.
6) Deepika Padukone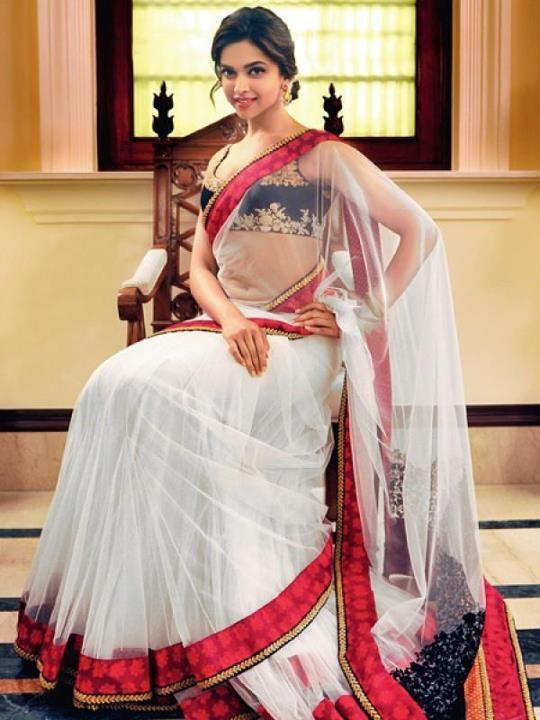 The queen of serving looks on national and international carpet certainly does not disappoint us in a saree. Her graceful poses and charm are a perfect recipe for a fun saree photoshoot pose at home. Just grab a chair, sit down comfortably and let your hands do the talking.
7) Anushka Sharma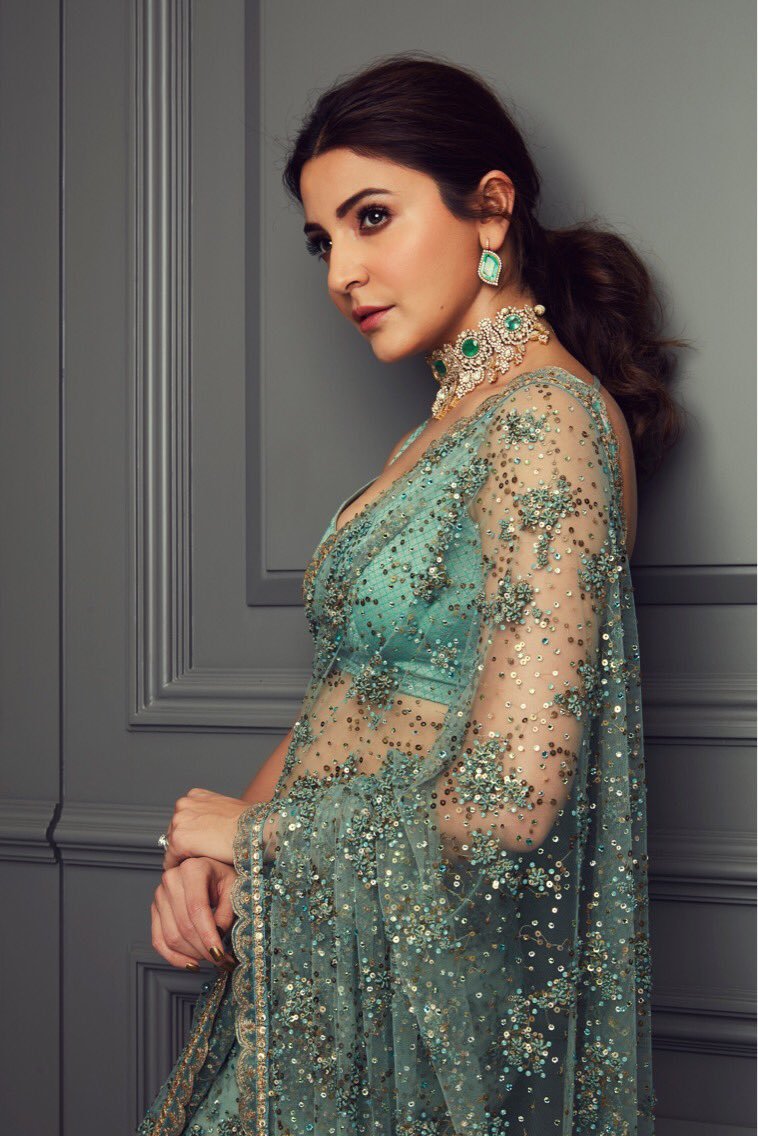 The beauty certainly knows how to make heads turn and her charm in a saree makes her even more beautiful. For more refined poses on the saree, follow her body to the side, hands at the front, and gaze at the front look.
8) Alia Bhatt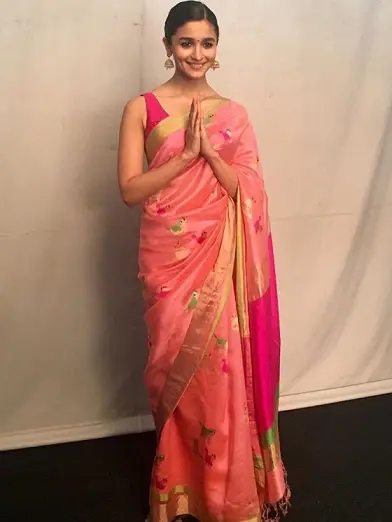 Fun, quirky and youthful has always been Alia's style and she pairs this personality elegantly with her sarees. For a youthful and timeless look follow her hands at the front in a 'namaste' and body straight pose. This is perfect for saree photo poses at home.
9) Katrina Kaif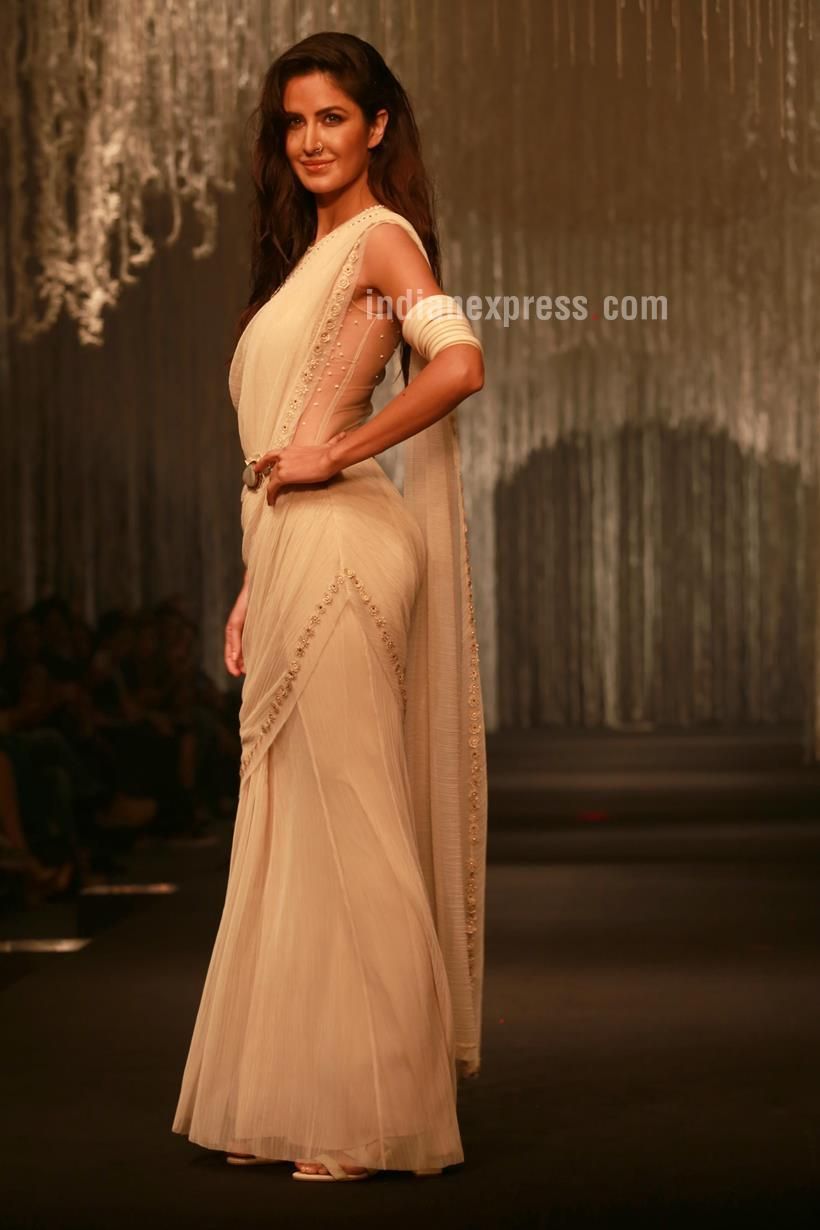 Be it a western dress, a ball-gown or an Indian saree Katrina always knows how to turn up the heat. She is the perfect muse for at-home saree photoshoots. Spotted on the ramp walk, you can copy her saree poses indoor easily. Just keep one hand on the hip and pose with no pain and be ready to shine.
10) Aishwarya Rai Bachchan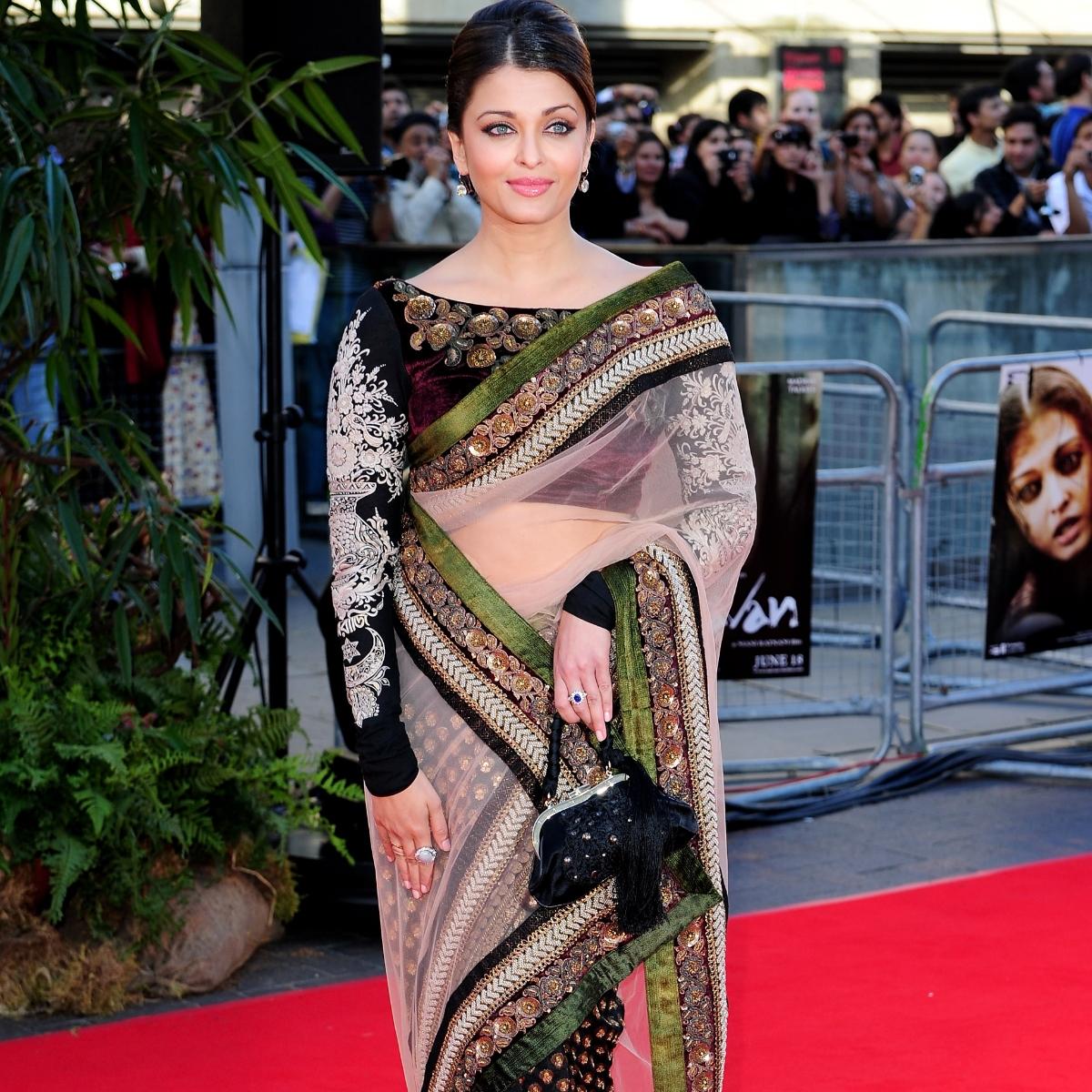 The stunning actress is a sight to behold in her sarees. Be it the late '90s fashion or her recent movie looks, she never fails to look drop-dead gorgeous in a saree. For an easy-to-replicate look, follow her hands at the front holding on to a piece of the saree look. This is the ideally easy but great saree pose for an indoor photoshoot.
11) Bipasha Basu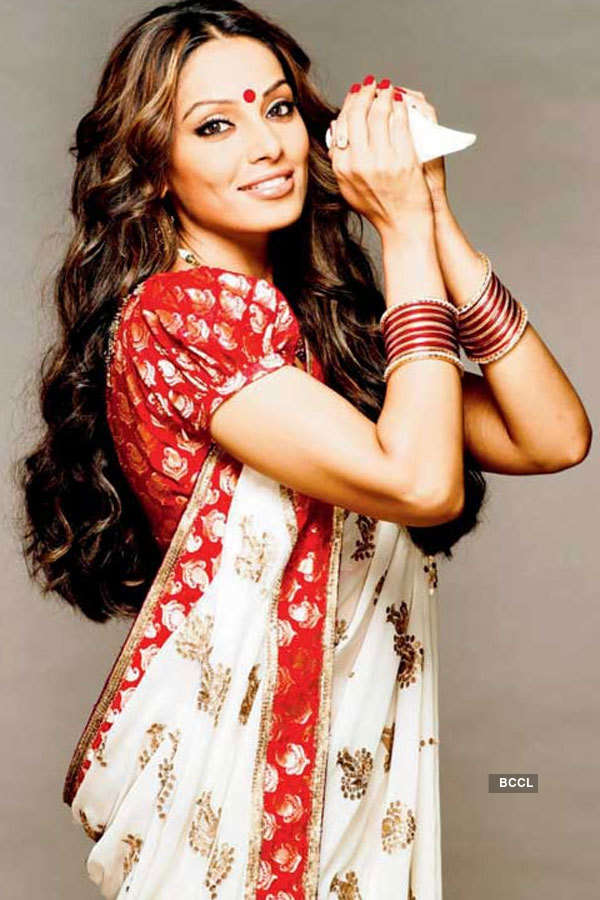 The Bengali beauty is no stranger to turning up her style in a saree. The traditional Bengali saree is a time-honored staple piece in every Bengali woman's collection and Bipasha is no exception to this rule. One of her saree poses to copy could be with this ornament – a Shankh. An innovative pose with a cultural backdrop is the way to go for your next pose on a saree.
12) Janhvi Kapoor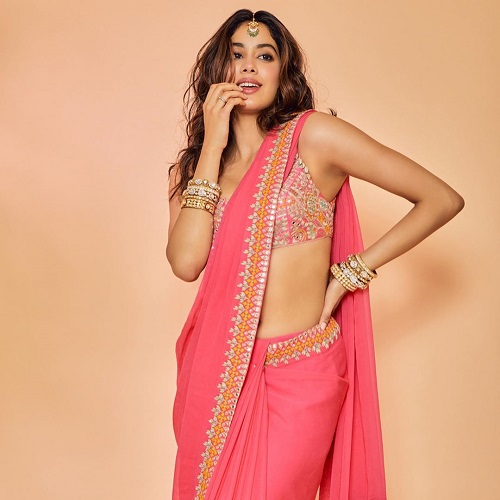 The young starlet is slowly but surely stepping up her saree poses indoor game. Her young and vibrant style is perfect for young girls to try. For an effortless and cute look go for Janhvi's pose of putting one finger to her lips and smiling away. A cute and fun saree photoshoot pose.
13) Madhuri Dixit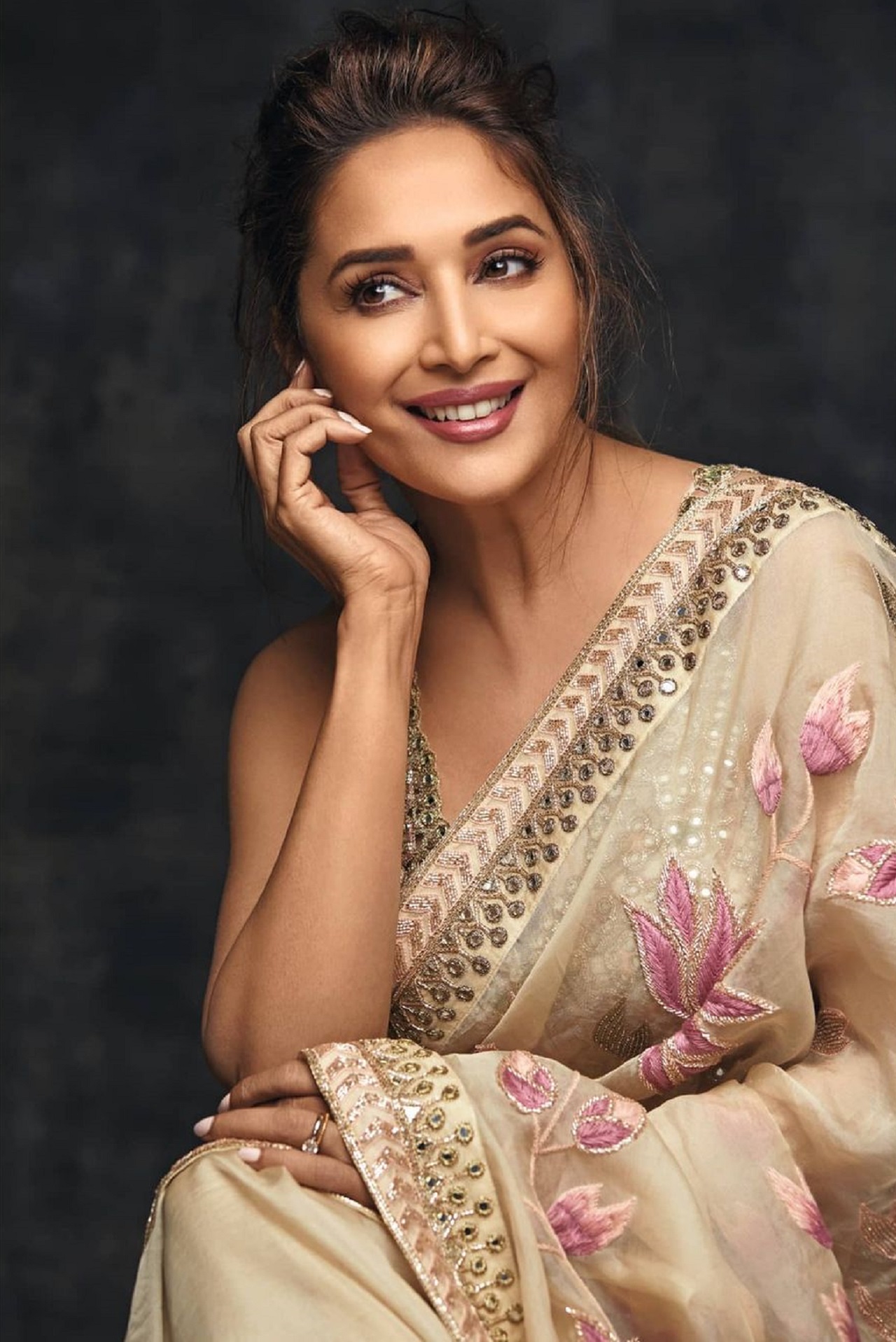 The epitome of grace and elegance, Madhuri has been a fashion inspiration for decades now. Be it the early part of her career featuring polka dot sarees and vibrant colors or her now more traditional looks, Madhuri is always the one to look up to for at-home saree photoshoots. The elegant pose that she shows here is simple, it's just one hand to her cheek and her head tilted, but it just goes on to show how a simple pose can still be classy.
14) Shruti Hassan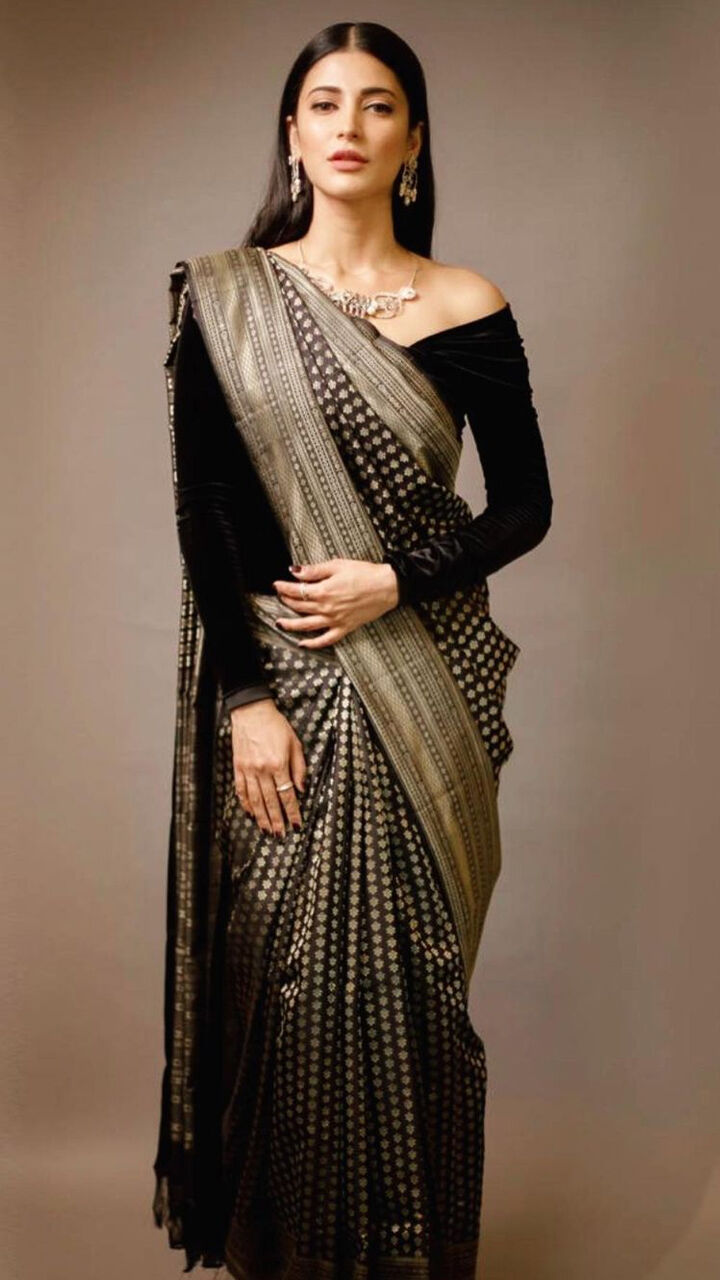 This beauty from the south certainly has quite a saree collection. Her simplicity adds to the grace of the saree and gives us an important lesson, simple is beautiful. Shruti's simple look of one hand over the other and looking coyly away from the camera is simple yet her gaze is mesmerizing. A perfect saree pose for those who are looking to be simple and elegant.
15) Malaika Arora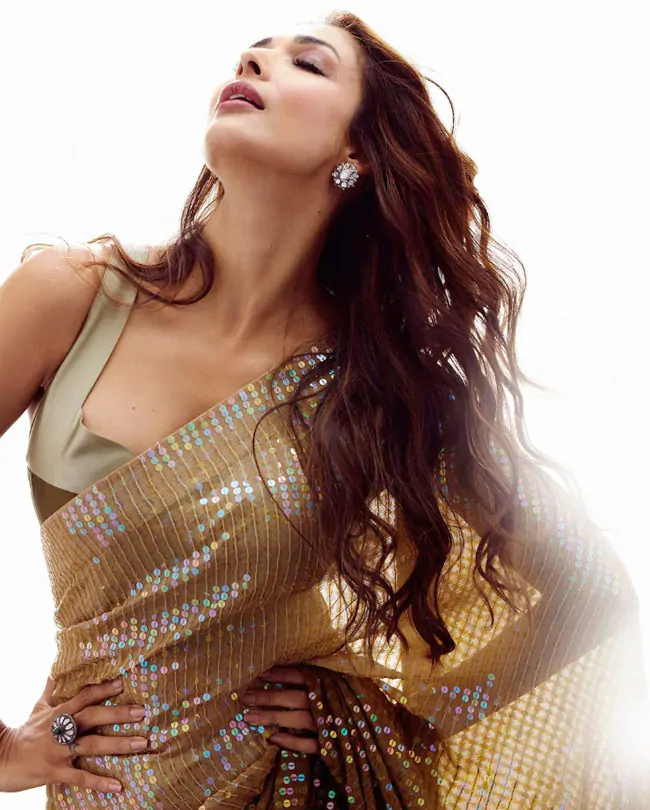 Malaika Arora always brings the 'Oomph' factor with her style, and her saree game is no less. With her sultry looks, Malaika makes an enchanting model. 'Aim for the sky' is Malaika's effortless pose, just put your hands on your hips and look up with confidence.
16) Kajol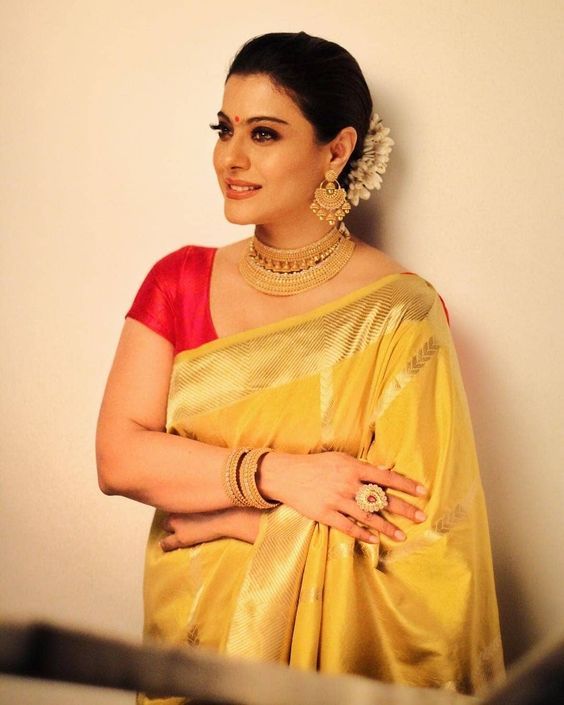 With her witty humor and acting chops, Kajol has always been a Bollywood sweetheart, and she looks even sweeter in a saree. Her elegance is unmatched, but we can sure try. Just fold your hands gently in the front and give camera a little smile and voila! You are ready for your saree photoshoot.
17) Yami Gautam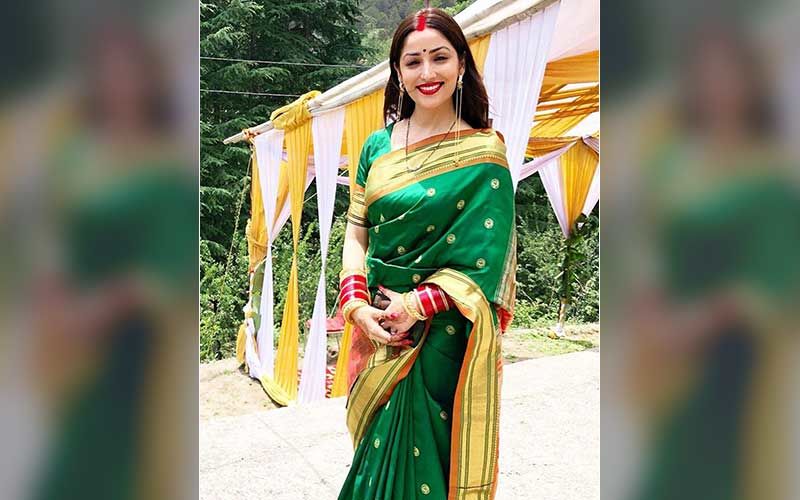 The newly married actress certainly has the newly married glow. Yami always looks impeccable in a saree and the entire style from her wedding was no exception. In a simple look, Yami carried a green saree with grace, as she stood hands joined in the front, with a smile to the camera. This is one of the best poses on saree for photoshoot at home.
18) Neha Kakkar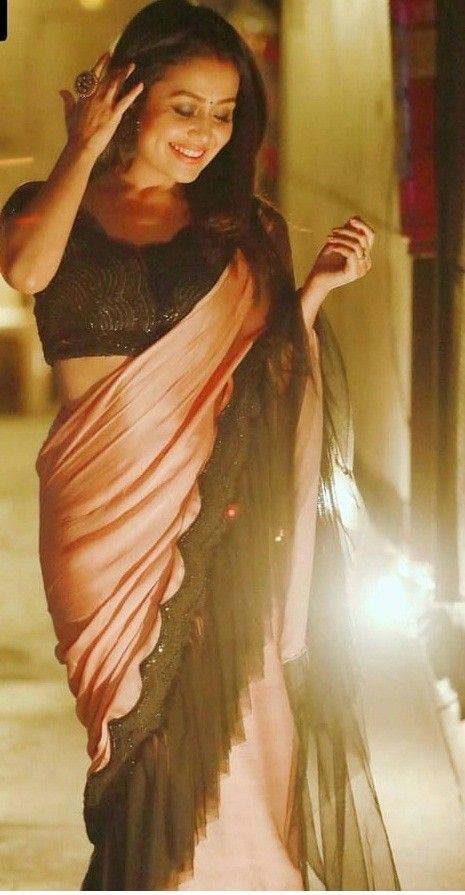 The songstress has quite a resume in saree fashion. Her traditional looks from her wedding were regal and her general style is impeccable. For a fun twist to a traditional style, Neha has added a sexy black blouse and frills in the saree. To replicate her fun picture, all you have to do is dress up, play with your hair, and look down shyly. A sweet and simple home saree shoot pose.
19) Sara Ali Khan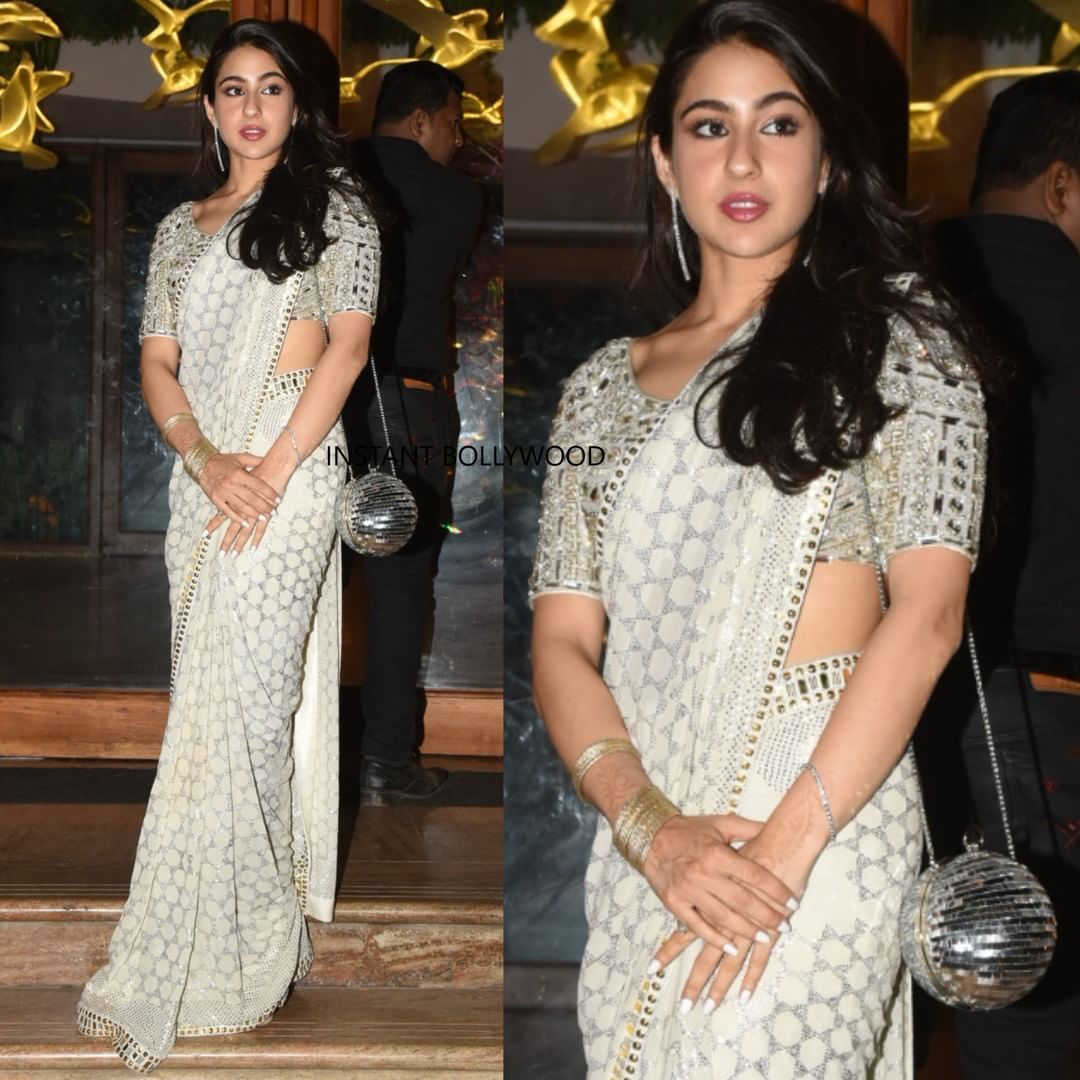 The young diva has in her short time in the limelight, has shown many western and traditional saree looks. For young and peppy poses in a saree for girls, Sara's poses are a must. All you have to do is turn sideways to the camera and bend your neck and look straight to the camera with confidence.
20) Sonakshi Sinha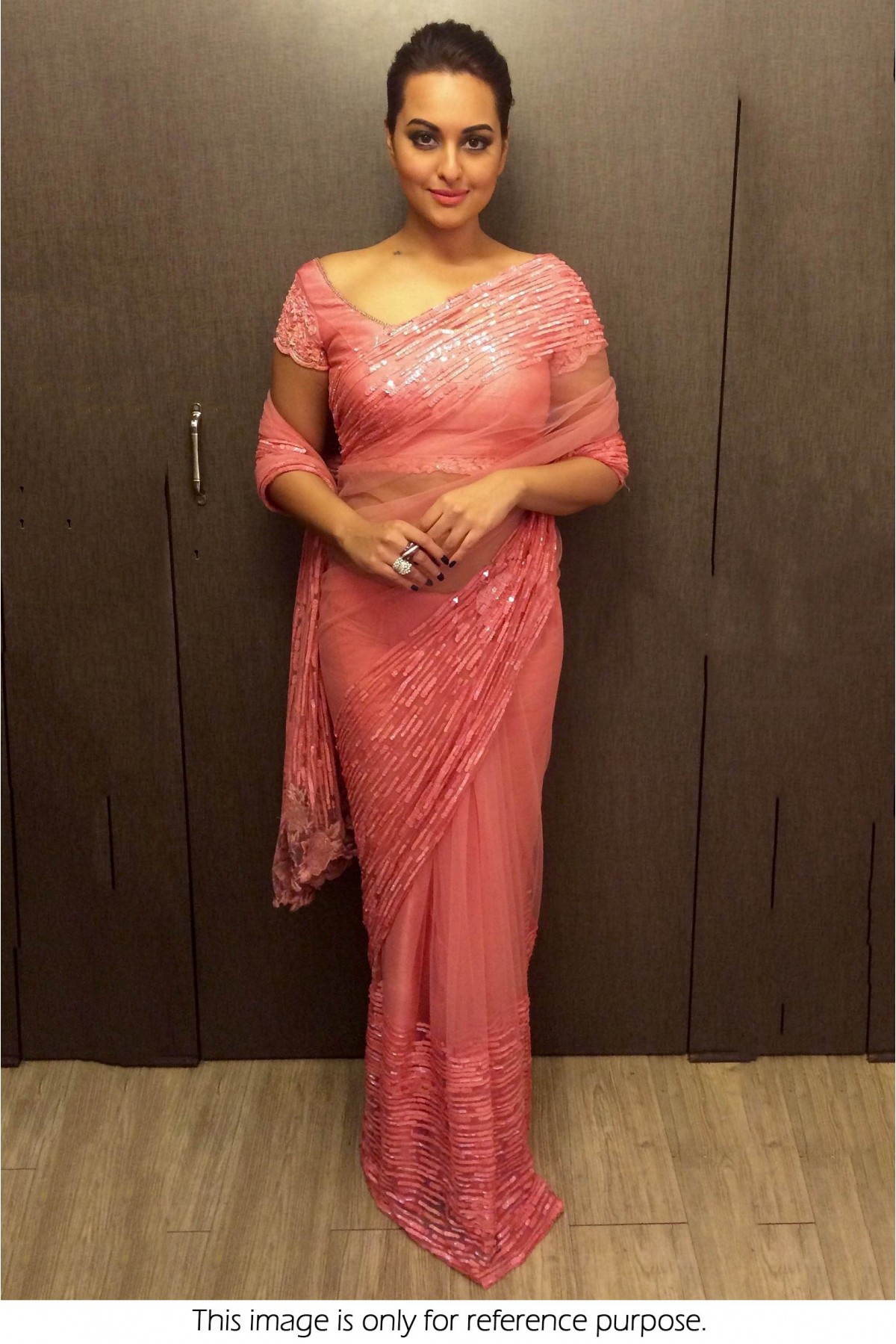 The actress has more often than not chosen a saree as her favorite red carpet look. Her confidence and charm make her look complete with a saree. Wave all your photoshoot worries goodbye with this saree pose for an indoor shoot by standing between an open door just as Sonakshi is doing pictured here.
21) Aditi Rao Hydari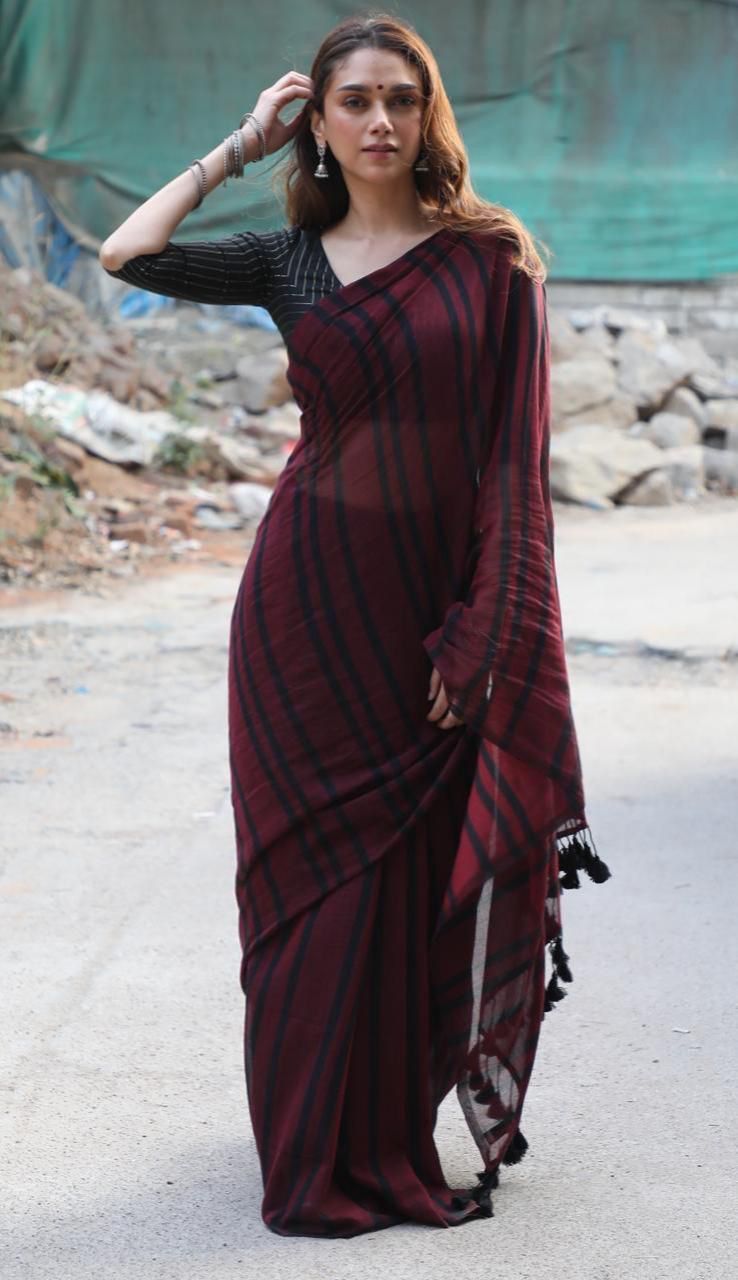 The actress has a simple and subtle fashion style. But her simplicity should not be mistaken with lackluster, as the actress has a more subdued but graceful fashion. For her subtle look, put one hand up to your head and gaze into the camera. Pair this look with the simplicity of a bindi and earrings like her and you are good to go.
22) Nita Ambani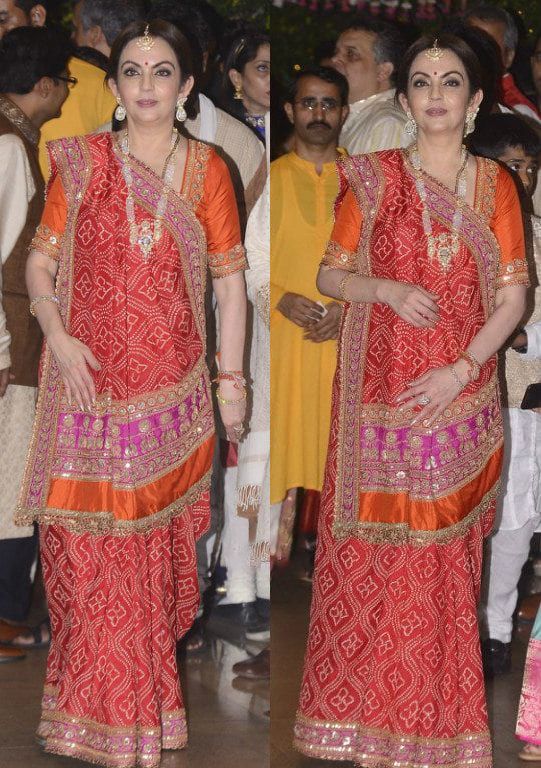 The evergreen Nita Ambani is a sight to behold at every event. Her elegance is known and her saree looks are always to die for. Nita Ambani is the queen of grace. For a saree photoshoot at home, just drape a saree in lehenga saree style and strike a pose.
23) Mahira Khan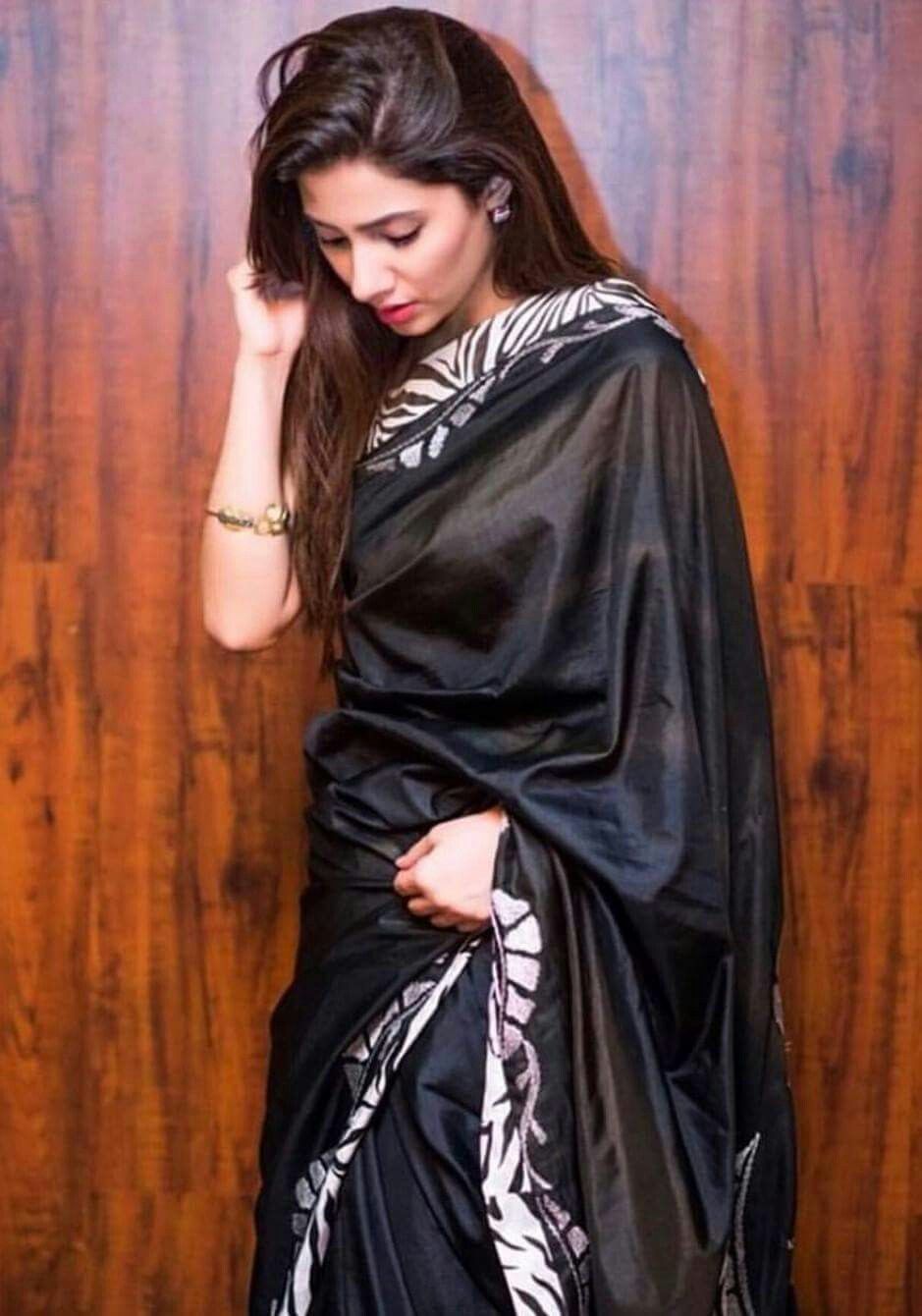 Mahira has the elegance to carry a saree without any effort. Her whimsical looks complete the traditional saree and make her look classy. To try her look, just hold on to your saree from one hand and look down. A great saree pose picture.
24) Kiara Advani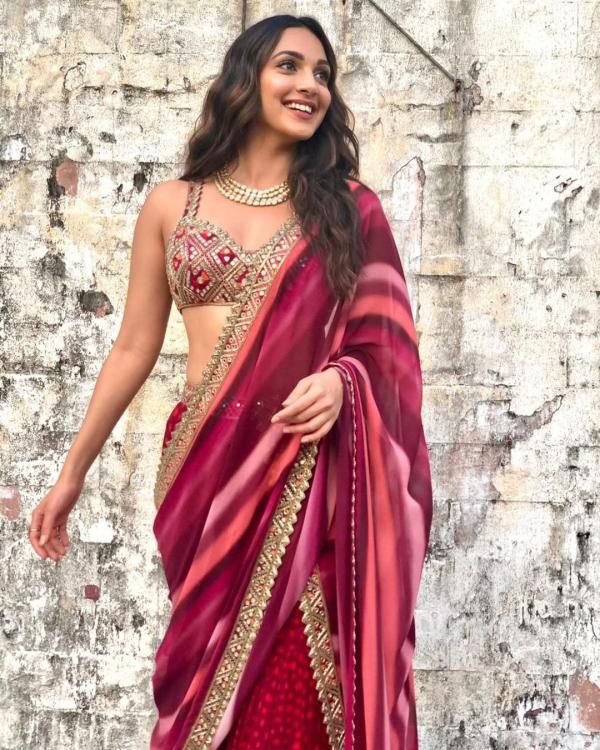 The dynamic and stunning actress always keeps it fresh with her look, be it a saree or a western dress. Her love for Indo-western style is reflected in her western approach to a humble saree. Steal her look for an indoor photoshoot by draping a saree of your choice, a sweetheart neckline blouse, and a staple gold necklace. All that is left to do, is to look away from the camera, one hand behind the body, and smile away. This would be the perfect saree poses for photoshoot at home.
25) Gauri Khan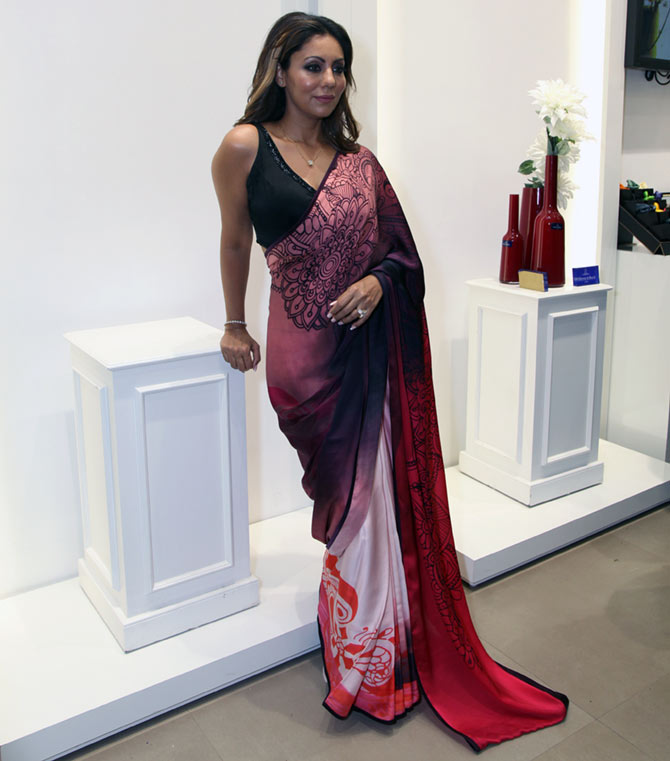 The radiant style of Gauri Khan looks perfect poses on saree. The times when Gauri steps into the red carpet with her husband, Shah Rukh Khan, she and her classic sarees grab all the attention. To recreate her look for an at-home saree photoshoot, just lean back and hold onto a table with one hand and gracefully let the other hand show the saree off.
26) Tapsee Pannu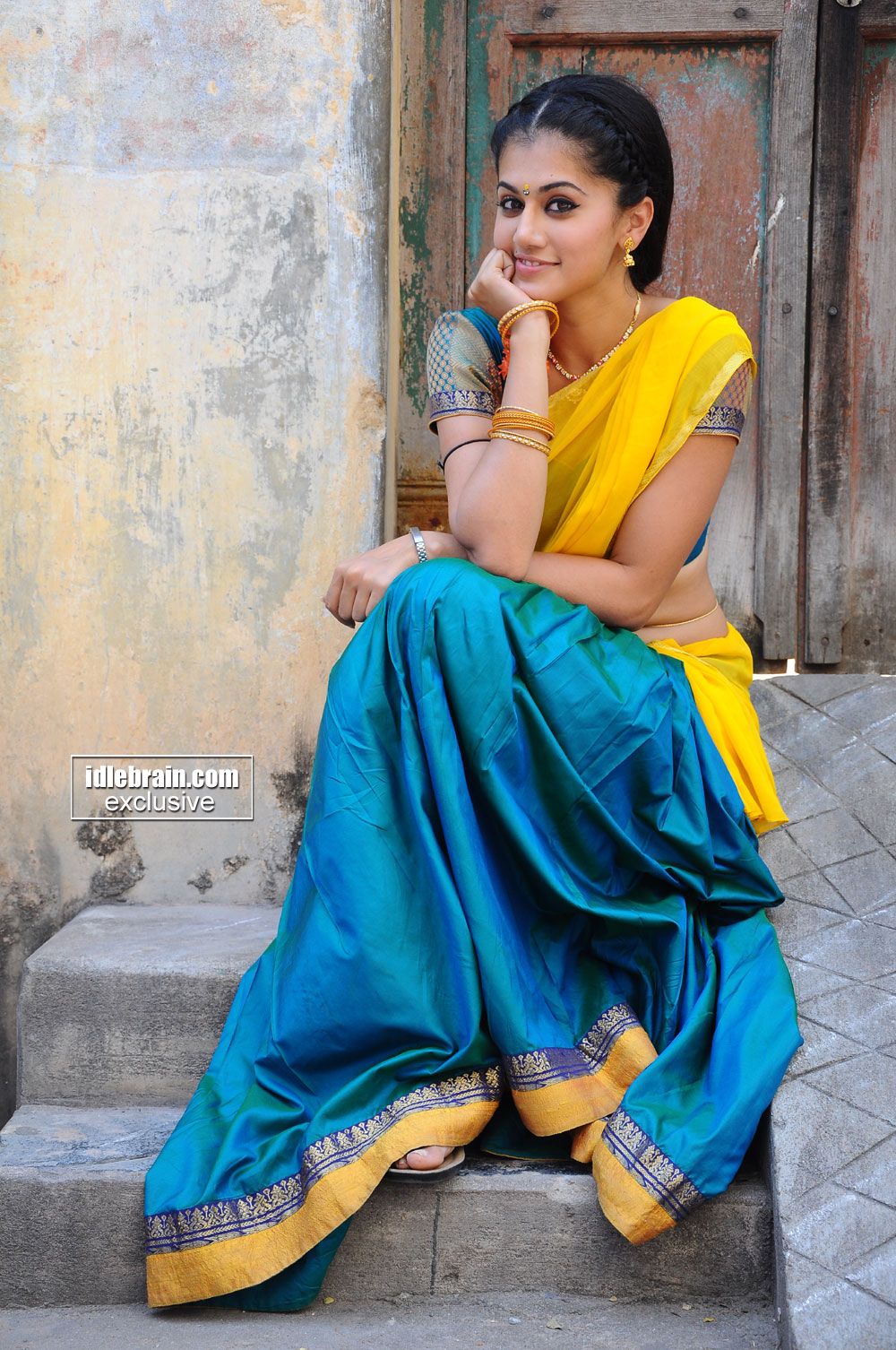 Tapsee has created multiple looks in the past by joining her western and traditional South Indian style. This look of hers is simple and sober. Hair tied back, minimal makeup, a good saree and sit down on stairs with your one hand holding your cheek. A quick and easy pose for girls in a saree.
27) Naomi Campbell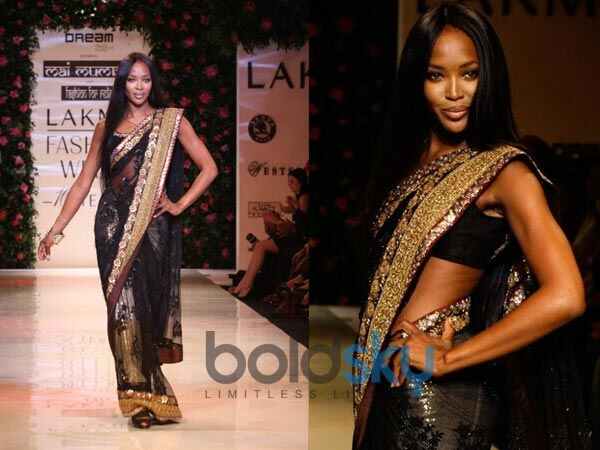 The supermodel wore a gorgeous black saree at a rampway. Naomi is an ultra-successful model who has worn clothes of various cultures around the world and rocks a saree. To follow just put one hand on your hip, look the other away and walk with elegance.
28) Victoria Beckham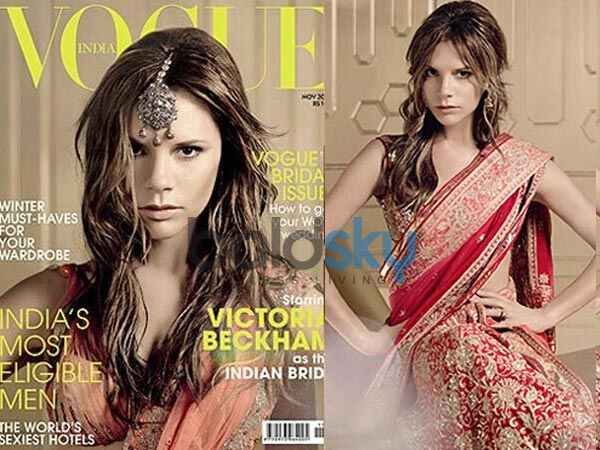 The former spice girl turned fashion designer has quite an appreciation for Indian culture and has been spotted incorporating Indian elements into her pieces. Her look here is fierce and beautiful. To recreate it, sit down on a stool and look straight at the camera. Add a mang tika to the mix for an extra feel of the indoor saree look.
29) Paris Hilton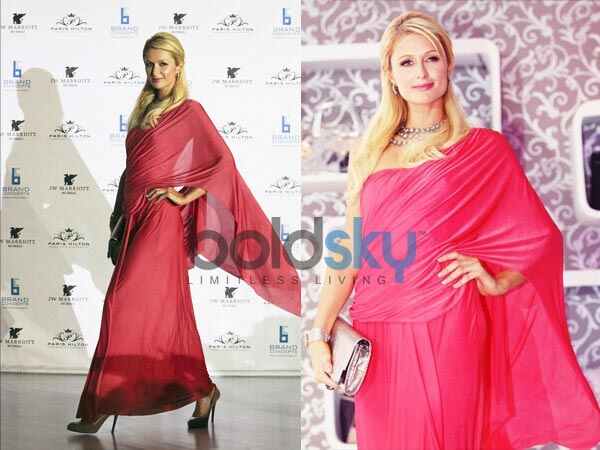 The American socialite is always up to increase her fashion game. When allowed to wear a saree at an event in Mumbai, she turned up in a gorgeous pink number. She kept it simple with a classic one hand on the hip pose which is easy for home saree photoshoots. To increase your style factor pair it with a big clutch like her.
30) Anne Hathway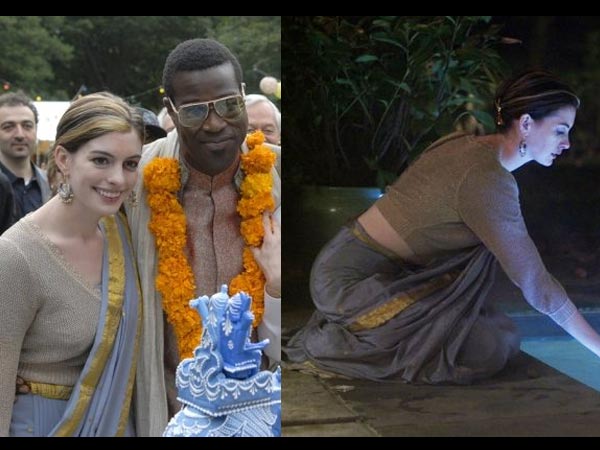 The Oscar-winning actress looked flawless in a simple saree and blouse. Her saree poses for photoshoot at home of dropping a hand into a pool and holding on to your saree with the other is timeless. Pair your simple sarees with traditional jewelry and a smart bun like her and you are good for a saree shoot.