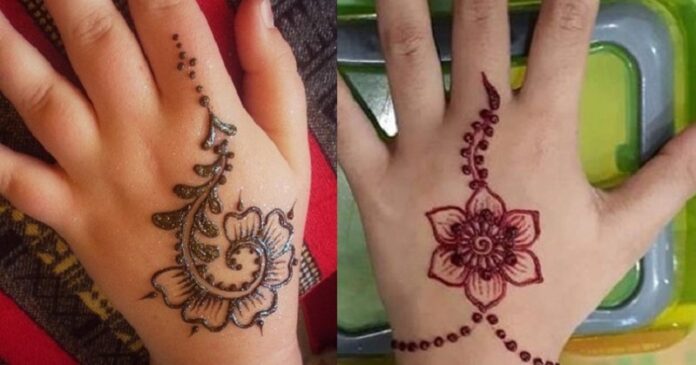 Whatever the occasion, whether it's a religious festival, family gatherings, or other gatherings, our first priority is to meet the needs of the children, whether it's purchasing children's outfits, accessories, jewelry, applying simple mehndi design for kids, or purchasing children's footwear. In any home, children are the most cherished individuals. The cute Mehndi Designs for Kids will enhance the appearance of their fingers and hands. Simple and basic Mehndi Designs for kids should get finished in a short amount of time. The wonderful thing about Mehndi Designs for kids is that you can make them seem great with any Mehndi Pattern.
Here's the list of 30 cute mehndi designs for kids that will make them too gorgeous:
1. Cute Smiley Chakras Mehndi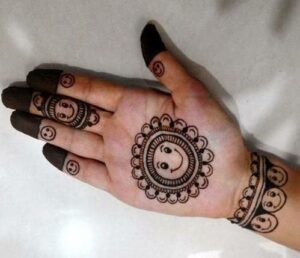 This gorgeous happy chakra mehndi design for kids has us swooning. It's incredibly smooth and neat, with ideal spacing. Because of the concentric rings, it has a very creative sense to it. We're positive you'll love it as much as we do!
2. Simple Trail at Back Hand Mehndi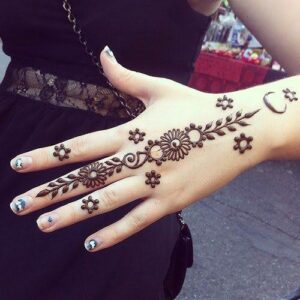 A simple path on the back of the hand with a variety of flowers and leaves is a great alternative for kids. It's easy to apply this henna design to your daughter's hand. It is the most done kids mehndi design.
3. Tattoo Style Mehndi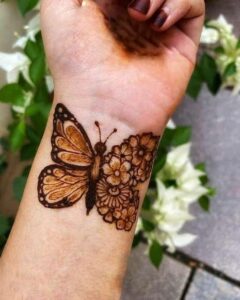 For a magnificent Mehndi design, engraving a tattoo type Mehndi designs for kids front hand or wrist with a name in a unique way will look fantastic. Since it looks amazing and way cuter, you can never go wrong with it.
4. Heart Shaped Mehndi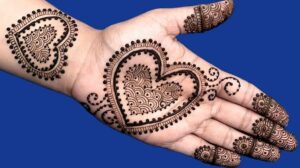 Gaps in sleek lines and curves can simply get filled in a simple and plain heart-shaped Mehndi design for kids. This statement design can get drawn on the palm of your child's hand.
5. Arabic Mehndi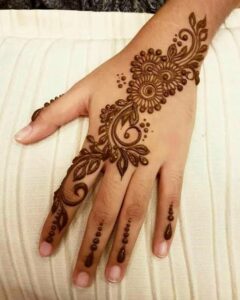 It's easy to make an Arabic Mehendi pattern for kids. Little girls like one of the most attractive and fantastic Mehendi designs for youngsters. It is the most done kids mehndi design.
6. Floral Mehndi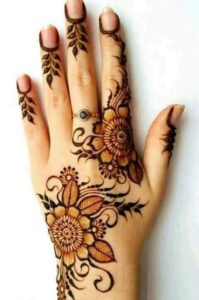 Whether you are wearing it as a dress or applying it as mehndi, floral designs can never go out of fashion. Floral Mehndi designs with gentle flowers, leaves, and peacock themes will surely get applied on the hands of children quickly and easily.
7. Minimal Mandala Mehndi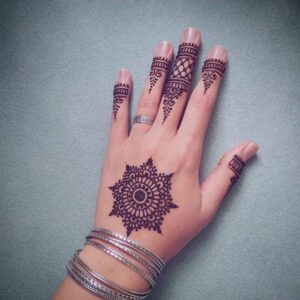 A simple mandala-shaped mehndi pattern on your child's backhand can be the perfect basic mehndi design. It reduces the amount of mehndi cone that gets applied to the child's skin while retaining a fashionable look for the baby. This is one of the most beautiful mehndi designs for kids full hand.
8. Sunflower Mehndi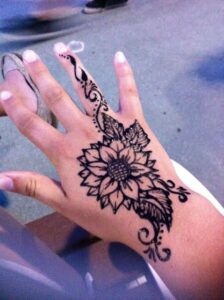 You should attempt this one-of-a-kind sunflower Mehendi design instead of the typical Mehendi patterns for kids. Draw the spiral stars and small dots that connect the sunflower motif on the back of your hand.
9. Abstract Mehndi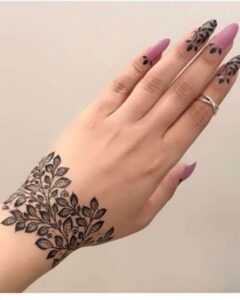 To keep it basic but beautiful is something we want with kids. So, to make it easier for both you and kids, draw an abstract style Mehendi design without any heavy elements. Kids will go crazy about this and it will undoubtedly look cute on their hands.
10. Cartoon Mehndi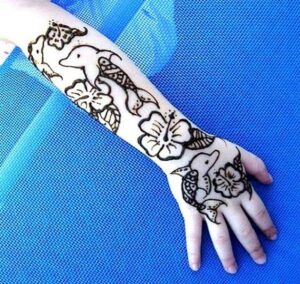 There is no other way to phrase it: kids adore cartoons. Show the mehndi artist your child's favorite cartoon character and ask them to reproduce it as an easy henna design for kids on their hands.
11. Single Flower Mehndi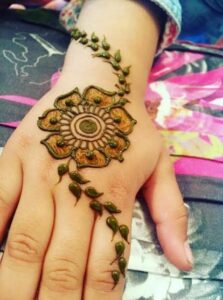 This is yet another little floral mehndi pattern to warm your child's heart is now available! The lone flower in the backhand's center is exquisite. Just draw a flower and work around it with some leaves and you are good to go. 
12. Lotus Backhand Mehndi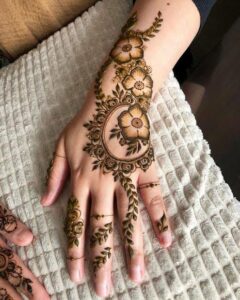 By adding a few circles to a lotus in the center and working around some leaves will give an exquisite mehndi design to your kids' hands. This is a charming backhand mehndi design for kids as well as youngsters to wear at weddings.
13. Star Style Mehndi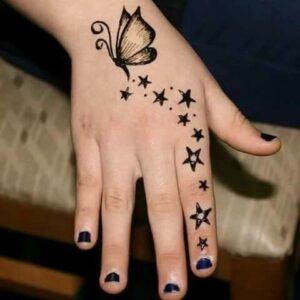 Children get enthralled by the glistening and trendy star Mehndi. This Mehndi design is ideal for the hands of your infant. This is one of the most beautiful mehndi designs for kids' front hand.
14. Simple Rose Mehndi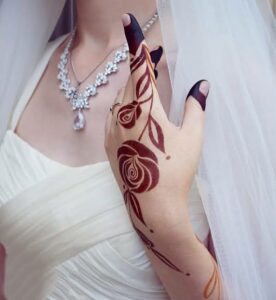 Rose mehndi designs are always intriguing. With the monarchy of rose petals drawn on the skin in brilliant colors, this easy mehndi design for kids gets guaranteed to enchant them. So, in the next occasion, you should surely try these mehndi designs on the hands of kids.
15. Glitter and Stone Style Mehndi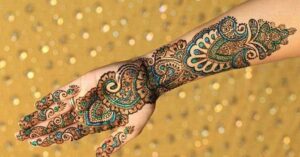 The glitter and stone-style Mehendi decorations drew a lot of attention from the kids. Since they are all shimmery and shiny, children gets easily attracted towards them. Furthermore, the fingertips and gaps can get adorned with a beautiful Mehendi design.
16. Dotted Mehndi Cone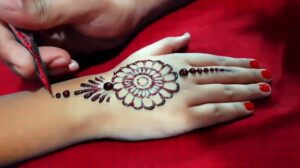 Do we realize how tiny your baby's hands are? Without a doubt! Due of the limited space provided, dots and geometric forms such as circles and squares may be a go-to rapid mehndi design for children.
17. Storyteller's Mehndi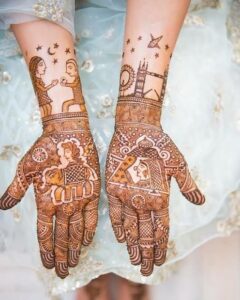 A teddy bear, a mother and child, Aladin's lamp, and other elements from your child's favorite story might get combined to create a charming and simple mehndi design for children. The mehndi artist will certainly find a way to tie everything together in an appealing but easy mehndi design for children.
18. Flower Creeper Mehndi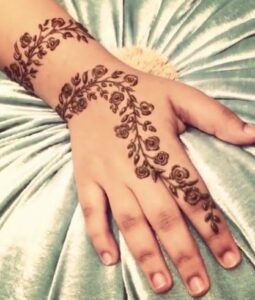 This design is best suited for older children because it takes a little longer to build. If you want to adorn your child's hand with flowers and creepers without making it too heavy, this design is ideal. With interconnecting flowers and a creeper extension generated with the middle finger, the design gets built in a diagonal pattern. The floral motifs on the fingertips add a great finishing touch to the design. This is one of the most beautiful mehndi designs for kids full hand.
19. Lace like Mehndi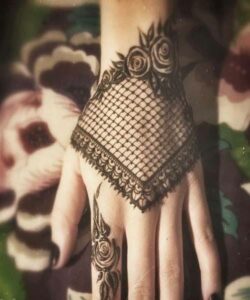 This pattern is perfect for children who enjoy simple Mehndi designs. On one side, there's a small floral motif, and on the other, there's a lacy pattern with interconnected dots. With vigorous strokes, a lacy design gets made on the middle finger. Dots get drawn to fill in the gaps between the dots.
20. Giraffe Mehndi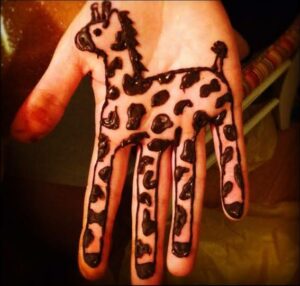 This is a one-of-a-kind Mehndi design for kids. This giraffe mehndi design would entice a child to try mehndi for the first time. A Mehndi designer would always present something new for their Mehndi design to motivate the kids.
21. Bunch of Hearts Mehndi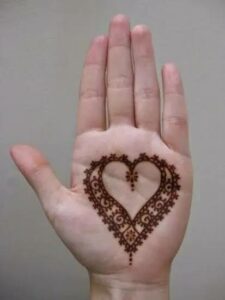 Hearts are the most popular motif right now, and they're also the most basic. Hearts are a child's favorite shape. Children draw hearts all over the place as symbols of love and purity. In this Mehndi, the hand's core gets covered in a variety of small and large hearts that range from simple to pattern-filled. The fingers get decorated in basic trail designs to break up the monotony.
22. Peacock Mehndi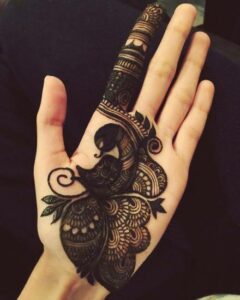 Birds and animals appeal to children, and the peacock is fortunate in that it gets considered an auspicious bird for any Indian occasion. The peacock design is beautifully finished with a peacock feather. With very little delicacy, all of the elements get rendered in bold patterns. Despite this, the design appears to be symmetrical to a fault.
23. Flower Jewelry Mehndi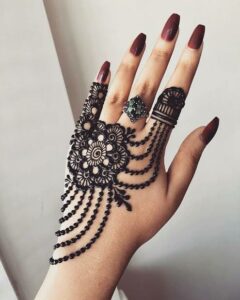 This form of Mehndi achieves two objectives. To begin with, it is not unduly tough. Second, it's a decorative design, so you wouldn't need to wear any jewelry with it. Because it doesn't cover the entire hand, it's also simple. Your child would enjoy the swirly and attractive patterns as well.
24. Bracelet Style Mehndi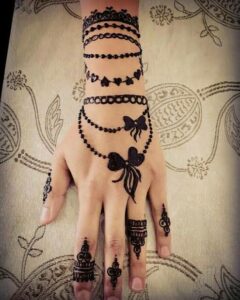 Mehndi bracelet designs are becoming increasingly popular among girls and women of all ages. The dots get connected to make a bracelet-style Mehndi that is simple to make. It's not that difficult if you employ some tactics.
25. Ethnic Paisley Mehndi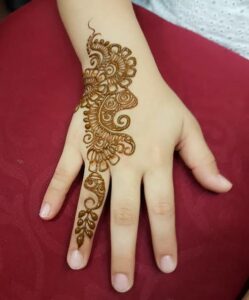 Simple paisleys, flowers, and leaves patterns with circular curves and dot works make up this Arabic Mehndi design. It's a simple design, but it's perfect for kids. Without any second thought, you must try this mehndi design on the next event. 
26. Freestyle Mehndi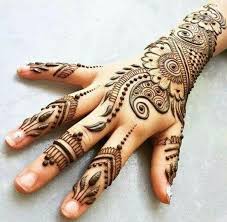 Although there is no precise design for freestyle Mehndi, it can still get done with a free-flowing hand for a lovely and fun Mehndi. You should use this Mehndi design on your baby's hand if you aren't a pro at creating beautiful Mehndi designs.
27. Tree Design Mehndi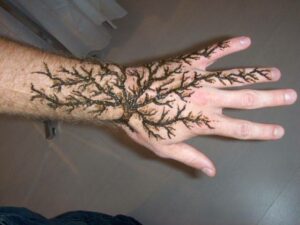 This swirly tree is pretty lovely, and it has a humorous appearance as if plucked from a fairy tale! Is there anything else that makes it a kid's favorite? It's both thorough and straightforward, as well as appealing.
28. Cat Paw Mehndi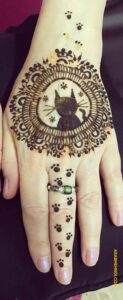 Animals, especially those that can get petted, are popular among children. Cat impressions are fascinating to everyone, and they attract children as well. It's even better if you have a cat! These designs are easy to make and provide joy to the kids!
29. Bird Style Mehndi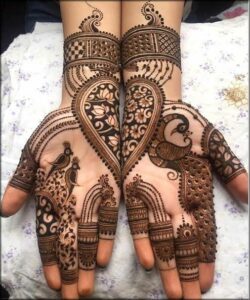 A Mehndi design inspired by birds would be absolutely lovely. Children love and admire birds. That is why this simple yet gorgeous Mehendi design will captivate a child's hand. Also, they will love this design as they love birds.
30. V Shape Mehndi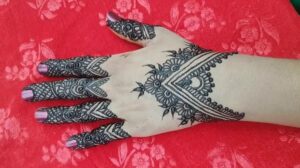 V-shaped Mehndi design on the rear hand is incredibly popular and fashionable these days. Since it's done so fast and with a variety of attractive designs, it is quite popular among children as well as their parents. Besides that, it is one of the classy mehndi designs as well to apply to your kids' hands.