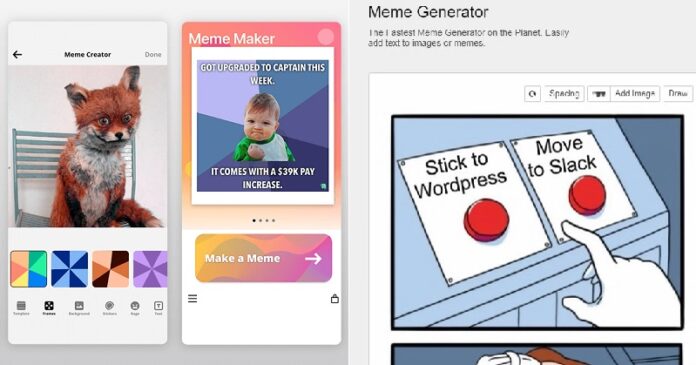 The age of social media has ushered in a new change in expressing our emotions. In the early times, people relied on long letters and postal systems, this gradually changed to emails. While emails were convenient and better than letters, they still were too official for personal touches.
Private messaging apps like Messenger or WhatsApp became the new form of transferring information and making connections. With the new generation, there is nothing that does a better job at the expression of feeling than a good MEME.
MEMEs are any videos or pictures which are taken out of the context of their original meaning and spread with slight variations according to the needs of different users. They can be used to express emotions, thoughts, or any activity.
The social media generation has been using MEMEs to spread their common jokes, thoughts, or hobbies. Bollywood, sports, mundane life, or mental health, you can make a MEME about everything by using Indian MEME maker apps.
Making MEMEs has emerged as a fun activity during the lockdown and now is the perfect chance for you to jump into this hobby.
The following is the list of the best Indian MEME maker apps.
1) IMGFlip – Meme Generator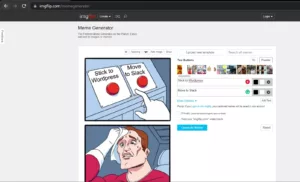 One of the best Indian MEME maker apps, IMGFlip's Meme Generator is a web-based generator that is free of cost to use. The way to use this app is simple – just select a template from the list available, write down the texts in the space given, and click on generate Memes. The website is efficient as it chooses the most trending Memes and makes a list available for you. The entire working of the app is beginner-friendly and easy to use.
If making Memes is a hobby of yours, then you can also log in to your personal account and save all your Memes. The free cloud saving of this app is a specialty. The templates library is huge and funny and can be used in a variety of ways like a Bollywood Meme generator or a Hindi Meme generator. The free version of this app does show a lot of ads but the waiting time for most of them is 10 to 20 seconds only. One condition on this app is that if you would like to remove the watermark on this app, you have to pay a monthly subscription of $3.95.
2) Memasik
This platform is perfect for those with imagination and creativity as Memasik lets you draw over and innovate a normal Meme. If your personal creative touch is important, this Meme maker app is for you. This Meme generator app is easy to use and understand. The interface allows you to add drawings, text, or stickers over Memes by simply clicking on the edit icon in the center. The Memes are the latest and trending as the app is regularly updated.
As a Meme creator app, Memasik has a lot of innovative options. The best feature here is that you can save and share your Memes directly on social media on the Memasik platform. The community on this app is engaging and very active. This platform also provides a feature called, Meme coins which lets you promote your creation in the app. Overall the app is very brilliant, but there are ads on the interface. The premium account offers you no ads and no watermarks along with other fonts and colors for Rupees 320 per month.
3) Make A Meme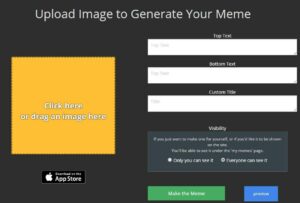 Make A Meme is the best Meme maker app, that is fun and easy to use. The templates available are the most famous and new images from around the world. This app is beginner-friendly and simple- just click on one of the images, an interface will provide you space for top, bottom, and custom text, and then click on 'make a meme' and the Meme would be ready.
With the help of this Indian Meme generator, you can also use personal images by uploading them and adding text on top. Some of the special features of the app are that it lets you add the top, bottom, and custom text easily, lets you preview Memes before making them, and provides a good interface for a Meme generator free of many extra charges.
4) Memedroid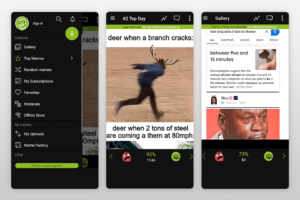 An amazing free Meme maker app, Memedroid has a good interface. This Indian meme templates app is one of the oldest. The unique thing about this app is that it has a number of old templates mixed with newer ones, which can give you an innovative way of making Memes. There are not many additional functions in this.
Apps such as this Meme maker app is better for beginners to use as it lacks any complicated features and is easy and straightforward to use. The downside of this app would be that it has a lot of ads.
5) Video And GIF Memes By ZomboDroid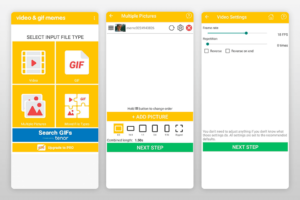 This app is slightly different than other apps on the list as this is a video Meme generator app. You can also make GIFs and other normal Memes through this app. Using this video Meme maker is simple. This interface will show you a collection of pictures that and trending and would likely interest you.
To select a picture, video, or GIF tap on the four option boxes given, after that add captions in the space available, and make other easy edits. The special thing about this Meme generator app is that it lets you look for inspiration by having an example section that can be used as many times as needed.
This is a simple and straightforward app.
6) Meme Creator: Make Dank Memes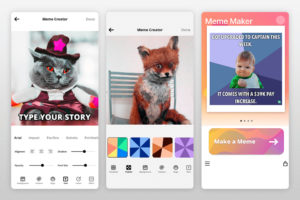 This is one of the best Meme creator app in India. This app is quick and lets you make new Memes as fast as possible. The regular updates to the interface ensure the newest Memes but there is no shortage of the classics in the app.
Using this Indian Meme maker just choose the template that you like, add text in the boxes given and the Meme shall be made. The good that about this Meme creator app is that it lets you share your creation directly to social media from Meme Creator. This is the perfect place for an average user, as the entire process is quick and easy.
7) Meme Maker & Memes Creator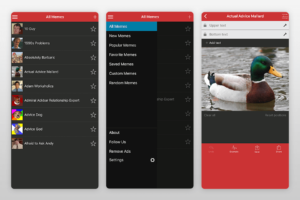 This is one of the most praised interfaces among Meme making apps. The interface has a pleasing design and a systematic interface. This Indian Meme generator allows you to choose from a variety of Memes, some new and trendy and some old and classic.
After selecting an image, you can add text and alter the font, shape, size, color, alignment, etc.
The text option here really makes the Memes come out better. You can use this app to make a variety of ways like a Bollywood meme generator, Hindi Meme generator, Sports Memes, or political Memes generator. The best feature here is that it allows you to add frames, stickers, or other images to an already existing Meme. This app is efficient and easy, making it one of the best Meme maker app.
8) Meme Maker App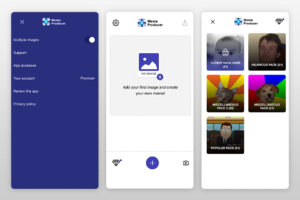 This Meme maker is as quick and efficient as it can get. To use this all you have to do is choose an image, write text over it and you are good to go. An amazing feature of the app is that you can merge several pictures, create a collage and then create a Meme with a single caption. This is also an excellent video Meme generator.
The special feature of this app is that you can create a caption that has several sentences. The downside of the app would be that for more specifications, you need the paid version which is expensive. But if you are happy with simple Memes this Meme generator free version is good enough.
9) Byte Vine Creative Meme Maker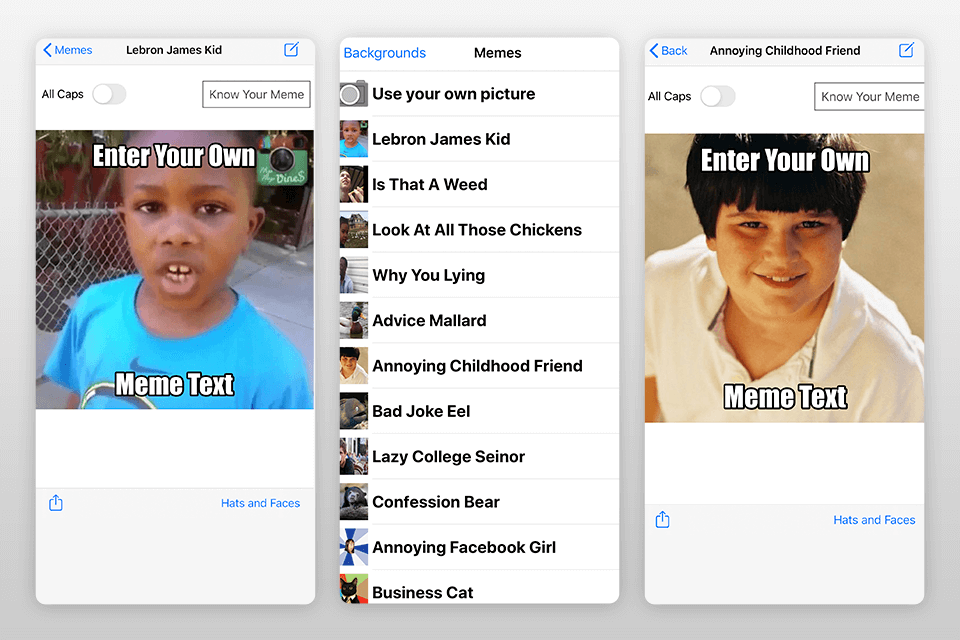 This is one of the most popular Indian Meme maker apps. It was previously called Make a Meme+. The usage of this Indian Meme templates app is simple just choose a Meme template and add text or edits according to your vision and you have a new Meme.
To make the Meme more interesting, you are free to add extra texts or images like bunny ears. The specialty of this app is the huge community it has. It is used by over 4 million people globally. The downside of this app is that it runs on iOS and requires a good and stable internet connection. Overall, this free Meme maker app is simple and useful.
10) Instameme: Meme Generator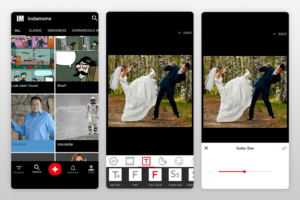 This is a great photo and video Meme maker app. If you want something easy but loaded with features, this is for you. The interface allows you to navigate flexibly between different stickers, templates, or GIFs to find the perfect Meme.
It has over 5000 templates, stickers, and emoticons. You can also use photos from your gallery to make Memes according to your personal needs. The downside would be that sometimes, ads cover the workspace.
Overall, it is a good app with an amazing interface and additional filters.
Read more: Here's What The Internet's Favorite Memes Legends Are Doing These Days