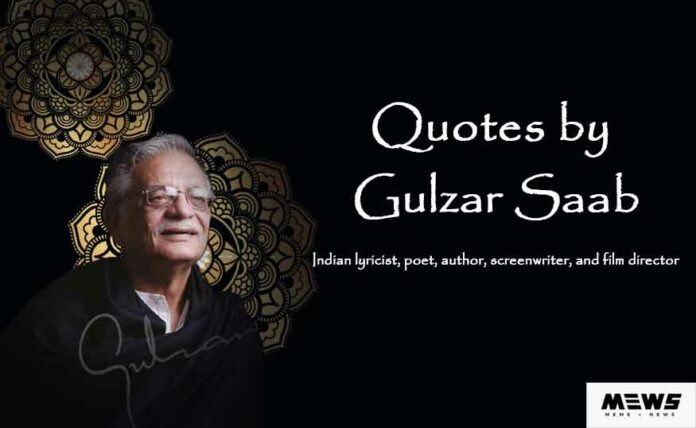 Gulzar has tugged at our heartstrings with his deep and soulful Shayaris. There must be at least one Shayari of Gulzar that is related to your Life. Emotions of pain, love, heartbreak and sadness are well crafted in his words that help you connect with your innermost feelings. Here's a list of 30 excruciating beautiful quotes by none other than Gulzar himself for you to get lost in them. 
When you are in love, new and deep one…
When she leaves you alone, Gulzar has his words to comfort you…
When your dreams shatter…
When loneliness hits you! Gulzar knows it better…
Human nature! We always tend to count the thing we don't have.
You surely have heard these lines, in a song maybe…
The wounded heart can feel it…
When you love your partner more than your life…
Age can't define desires…
Maybe that's why it's better to let it out… Gulzar knew it…
The night when you miss her. Gulzar quotes it perfectly in these simple but effective lines…
Follow yourself sometimes… not others…
True indeed…If you own a heart, it will surely ache… Just wait for your time…
Gulzar's way of saying it….
Some losses are unforgettable…
Only Gulzar can express feelings so well…
Men and Time…Never stay at a place…
When life is unfair, but it's not the first time…
Words and imagination can express it all, Gulzar was a pro in this…
Happens to all, happiness is rare…
If you know this, you will lead a better life…
That one thought…That keeps you awake all night…
Live your life before it ends, take it from Gulzar…
Sometimes it's not the body you need to touch, but the soul you need to feel…
Some stains stay forever…
When you miss someone badly…
It's love…when you have feelings like this…
Everyone deserves a lover like this…
Life's unpredictable…You never know what might happen…
People often hide behind a smile… The real pain goes unnoticed…
With numerous ghazals and Shayaries which Gulzar offered to the Indian cinema, he is highly regarded in Bollywood and has even achieved many awards. His meaningful lyrics pierce through the heart and stays in there forever. If you have any old wounds to be mended, then these Gulzar quotes might help your pain to fade away. We owe you Gulzarji. We really do!